It's 2006 – David Krause (@davidjameskrause) and Nina Zilka (@nina_zilka), each studying fashion design at the Pratt Institute, become fast friends and collaborators. The two developed a sustainable, locally made fashion label that went on to attract the attention of WWD, Elle, and Nylon, to name a few. Fast forward to 2016, with over a decade of design experience in their pocket, Nina and David set their sights on wellness and personal care and launched Alder New York, their line of inclusive and design-forward skin and haircare products.
The product of the duo's design experience, shared passion for wellness, and growing concerns about the lack of regulation in beauty, Alder New York champions vegan, derm-approved actives and plant-derived ingredients that work for everyone, regardless of gender, skin and hair type, age, or ethnicity – all in sleek, modern packaging that you'll want to keep on permanent display. From their best-selling Cooling Hydro Mist and Everyday Cleanser to their Cleansing Body Bar and Texture Powder Dry Shampoo, this Brooklyn brand's uncomplicated formulas are designed to do the most and look good doing it. To learn more about design that the Alder New York founders love in their day-to-day life, we asked them to share their shopping cart with us! Read on for their picks.
"I'm one of those people who wants everything in my life to be beautiful including my portable speaker. They can be so ugly and strange looking. This one on the other hand has a Scandinavian flare and it's a lantern so it brings both style and illumination bedside or poolside." — David
$119
Shop Now >>
"As any NYC renter will appreciate, my bathroom really needed an upgrade when I moved in. This sleek and minimalist toilet paper holder made a surprisingly big difference – it's sophisticated and unexpected, and it makes my rental bathroom feel much more intentional without making any permanent changes." — Nina
$55
Shop Now >>
"I loved designing the limited edition carton for this mist. I wanted to combine the care-free fun of a summer pool day with feelings of queer joy. This mist feels crazy refreshing on a hot day. And the best part is that 10% of sales go to The Ali Forney Center!" — David
$28.99
Shop Now >>
"I love waffle towels – they feel so much more luxurious than any other kind of towel. We have these ones from Slowtide in white, and I always feel a little spark of joy when I use them. They seem a bit bigger than standard towels so I feel extra comfy when I wrap myself in them." — Nina
$195
Shop Now >>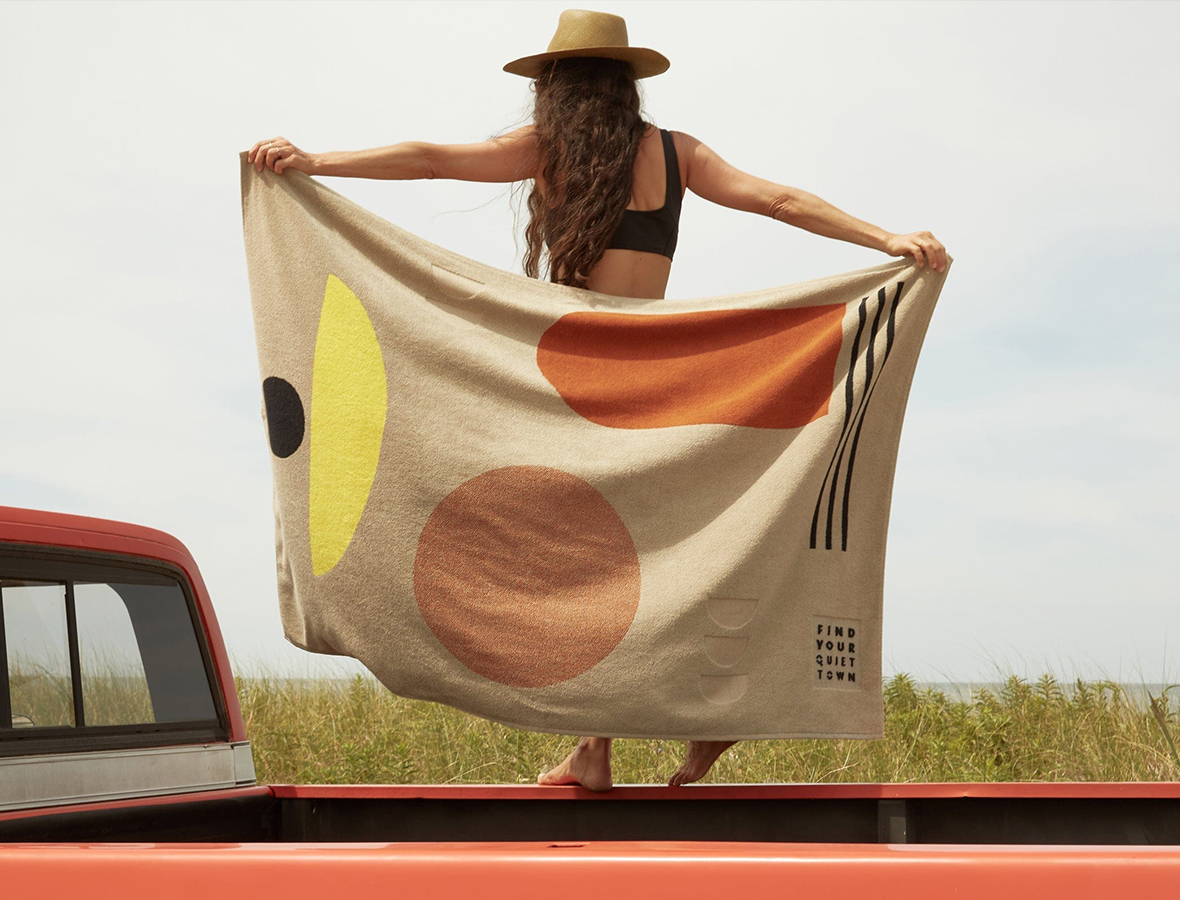 "Sticking with the poolside vibes, this towel from Quiet Town checks all the marks – it's big, it's bold, and made with super absorbent organic cotton. I like that it's tasteful enough to hang in my minimalist bathroom but also bold and fun like a classic beach towel." — David
$72
Shop Now >>
"Speaking of bathroom upgrades, Alder New York's Soap Dish elevated my shower to spa level. It's completely plastic free – the material is plant fiber – but it's super durable so I don't have to worry about it getting slippery and breaking. I always get compliments on it from house guests." — Nina
$19.99
Shop Now >>
Shopping any of Nina + David's picks?
Share your haul and tag us @designmilk to be reposted on our Instagram!