Air Fryer Chicken Fajitas are a great way to enjoy a Mexican dish with tender chicken, peppers, and your favorite fajita seasoning. This amazing recipe takes chicken pieces and mixes them with your favorite fajita toppings for the perfect lunch or dinner. You can even eat these for breakfast!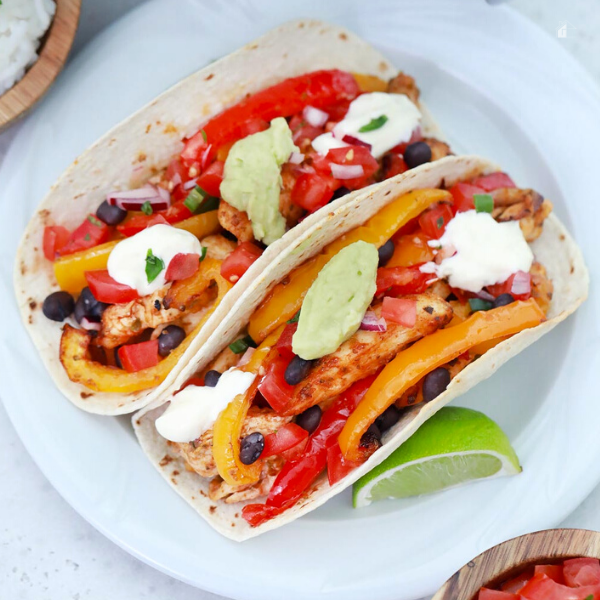 Air fryer chicken fajitas
Our air fryer chicken fajita recipe is a great option for a delicious meal you can have on the dinner table in minutes. The healthy weeknight meal is a great way to get the whole family together with a low-carb dish made in a few easy steps. You will want to make this awesome meal every night.
You might like these recipes: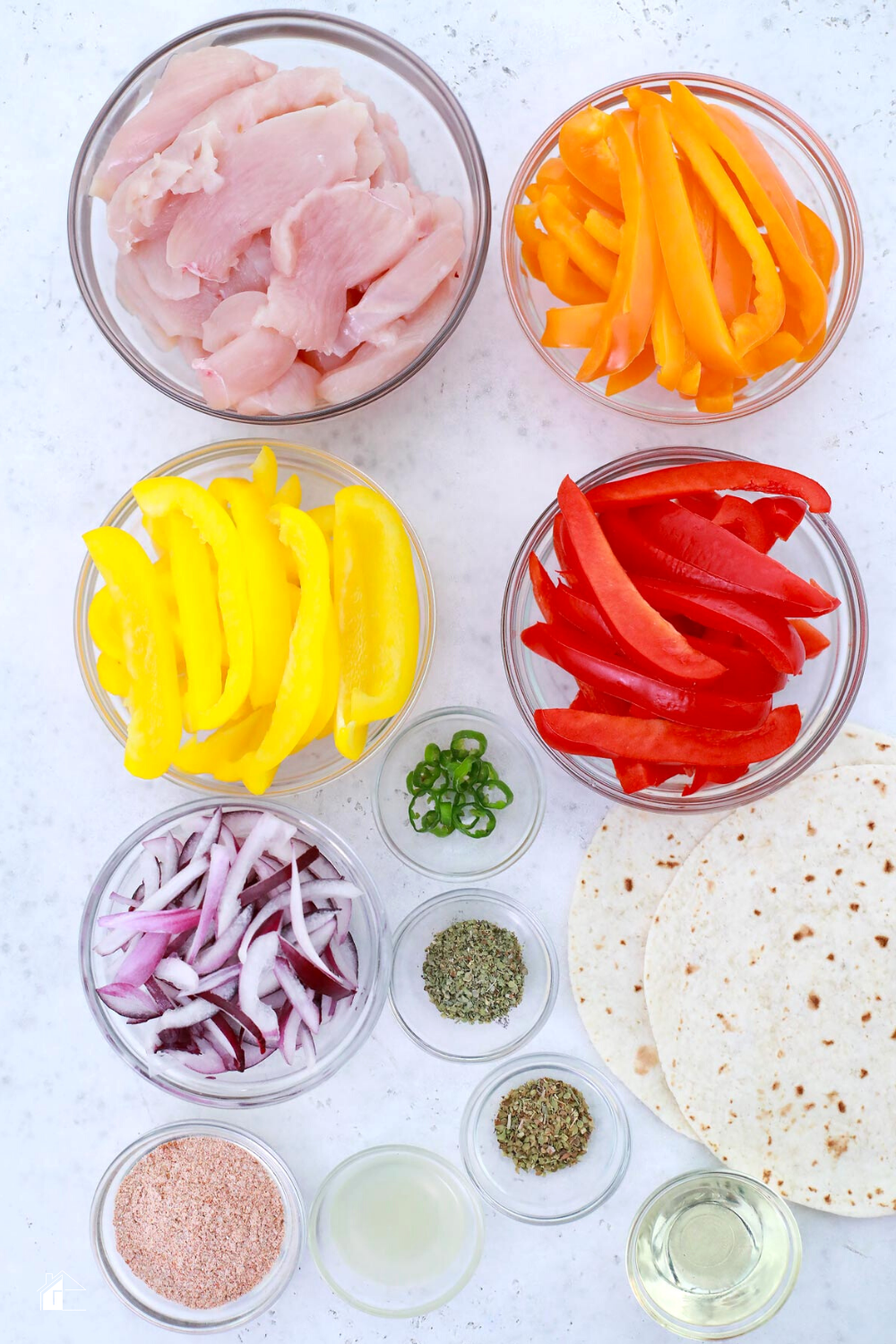 Ingredients needed:
Here are the main ingredients you will need for this easy air fryer chicken fajitas recipe that the entire family will love. Scroll down to our printable recipe card for detailed directions and exact measurements.
Boneless and skinless chicken breasts: Cut into chicken strips.
Red bell pepper: Sliced into ½ inch slices.
Yellow bell pepper: Sliced into ½ inch slices.
Green bell pepper: Sliced into ½ inch slices.
Jalapeno: Deseeded and sliced.
Red onions: Sliced
Juice of 1 lime
Zest of 1 lime
Dried oregano
Dried parsley
Fajita seasoning
Vegetable oil: You can also use olive oil, avocado oil, or your favorite cooking oil.
Corn tortillas: Flour tortillas are fine too.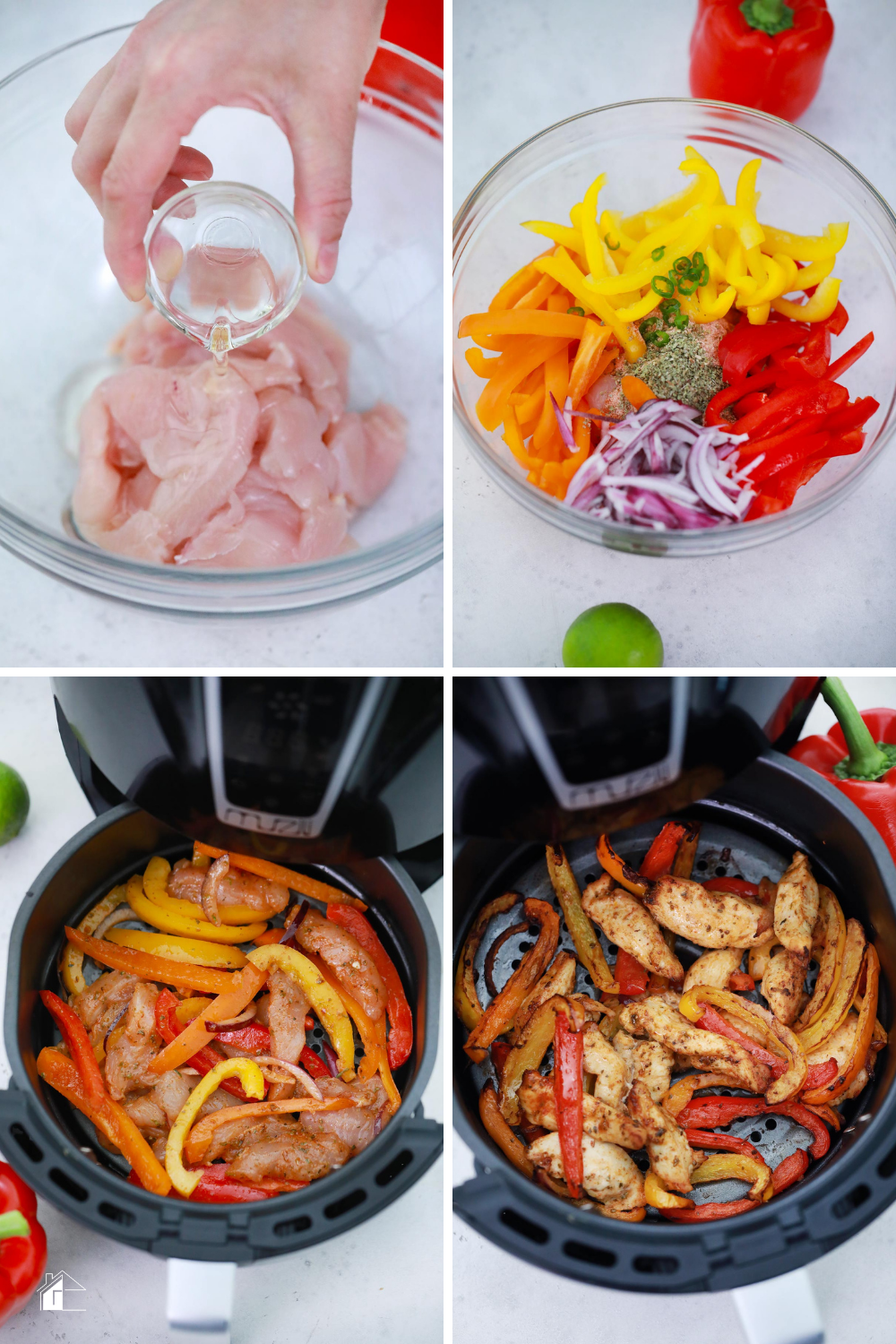 How to cook air fryer chicken fajita from scratch?
Preheat the air fryer: First, preheat your air fryer to 400 degrees F.
Toss the chicken breast strips: Next, add chicken strips, lime juice, lime zest, and oil in a large mixing bowl. Season with the fajita seasoning, parsley, and oregano. Toss until everything is coated.
Add the veggies: Then, add the green, red, and yellow peppers veggies with the red onion and season well. Make sure everything is well coated in fajita seasoning.
Fill the fryer: Last, place everything into the air fryer basket, in a single layer making sure there is room in between for the air to get through. Air fry for 15 minutes, stirring after seven.
Serve: Finally, serve your homemade fajitas with warm tortillas and your family's favorite toppings.
Recipe variations:
Other cut: You can use chicken thighs instead of breasts.
Other meat: Use skirt steak chopped into strips instead of chicken if you like.
Different seasoning: If you do not have fajita seasoning, use taco seasoning or chili powder.
More seasoning: Feel free to add some garlic powder and onion powder to the fajita seasoning. But first, make sure it does not already have garlic and onion in it.
Onion flavor: For more onion flavor, add ½ cup of chopped white onions.
Cilantro: Add fresh cilantro to your seasoning for more Mexican flavor.
Less heat: If you do not like your fajitas spicy, leave out the jalapeno.
More heat: For more heat, add some cayenne pepper or red pepper flakes.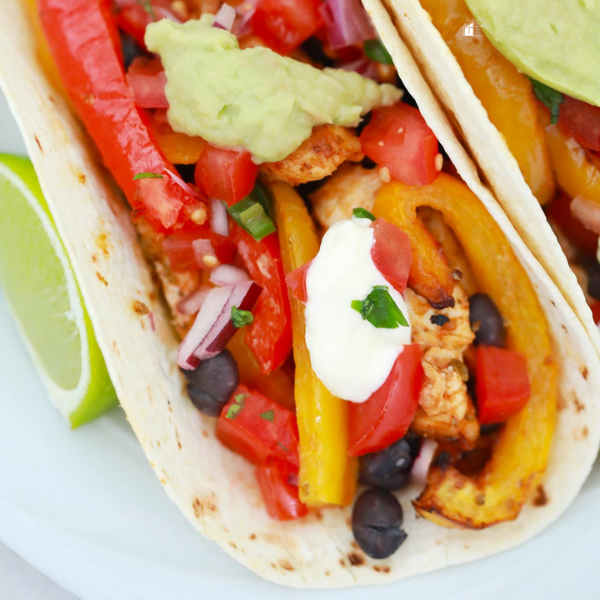 How to serve:
Serve these delicious fajitas with warm tortillas and toppings. This is such an easy recipe; you can make it on a busy weeknight or any other night of the week. Or try one of these awesome serving ideas:
Some of the best toppings for these fajitas are guacamole, pico de gallo or salsa, and sour cream.
A handful of shredded cheese would also be a great topping. We like cheddar cheese on ours, but you can use whatever kind of cheese you like.
Serve with rice and black beans on the side for a filling Mexican meal.
Don't forget to add some refried beans for extra flavor and protein.
Add other toppings like fresh chopped lettuce, tomatoes, corn, or similar spices like thyme, cloves, and Mexican cinnamon.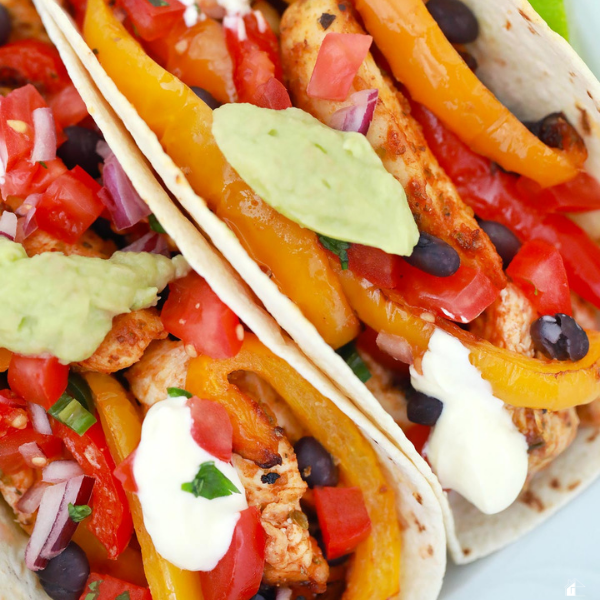 Frequently asked questions
How can I make my own homemade fajita seasoning?
Making your own homemade fajita seasoning is quick, easy, and so much less expensive than those pre-made mixtures. And you will be surprised at the amazing flavor difference. There are different variations but the one we use has sugar, paprika, chili powder, cumin, cayenne pepper, salt, black pepper, onion powder, and garlic powder.
What is the difference between green pepper, red pepper, and yellow pepper?
All of these peppers are made from the same plant, but these are different stages of ripeness. The only difference is the flavor. Green is the least ripe and is the least sweet, red pepper is the sweetest, and yellow is somewhere in the middle. Just remember, the riper they are, the sweeter the taste.
What is the nutrition information for this recipe?
With so many veggies and skinless chicken breast, this is one of the healthiest Mexican dishes you can make. Each serving has 1,800 units of vitamin A, 60 milligrams of vitamin A, 3 grams of fiber and iron, and 65 milligrams of calcium. The calorie count is 365 with 30 carbs, 10 grams of fat, and 35 milligrams of cholesterol.
How to store leftovers:
Store: After the fajita mix is cooled to room temperature, put it in an airtight container in the refrigerator and eat within four or five days. 
Freeze: Alternatively, you can freeze the leftovers in a freezer bag for three months.    
Thaw: Remember to thaw overnight in the fridge for best results.
Reheat: Reheat for one minute in the microwave. Cook time varies depending on how much you are reheating.
Recipe tips:
For less meal prep time, chop your veggies the easy way in a food processor or blender.
Cooking time may vary depending on the size and brand of your air fryer.
Cut your chicken into thin strips for best results and even cooking.
Also, cut all your veggies into thin strips. Try to keep them all similar sizes so they all cook the right amount.
Freezing your chicken for 15 minutes before slicing makes them much easier to cut.
Pat your chicken dry with a paper towel before seasoning it.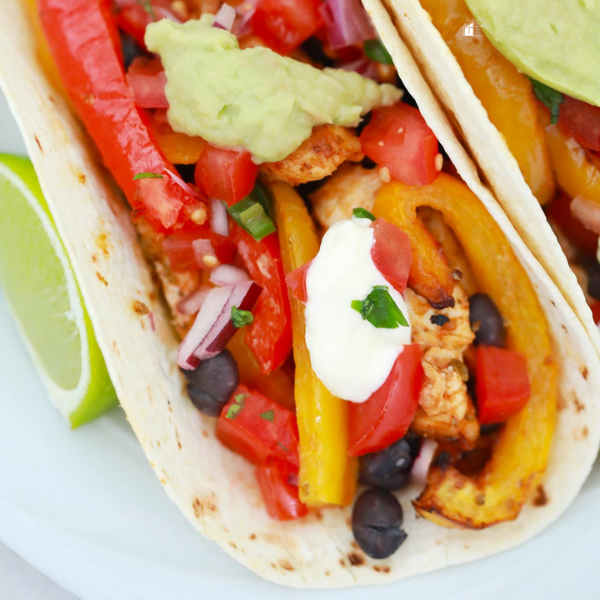 Air Fryer Chicken Fajita Recipe
This easy chicken fajita recipe is perfect for air fryers. Tender chicken, peppers, and your favorite fajita seasoning make this a delicious Mexican dish.
Ingredients
2 chicken breasts/ 1 pound boneless and skinless, cut into strips
1 red bell pepper sliced into thin slices
1 yellow bell pepper sliced into thin slices
1 green bell pepper sliced into thin slices
1 jalapeno deseeded and sliced
Juice of 1 lime
Zest of 1 lime
1 teaspoon dried oregano
1 teaspoon dried parsley
1 red onion thinly sliced
2-3 tablespoons fajita seasoning
2 tablespoons vegetable oil
Instructions
Preheat the Air Fryer to 400 degrees F.
In a large bowl add the chicken strips and drizzle with oil and lime juice. Add the zest, fajita seasoning, oregano and parsley. Toss well until the meat is evenly coated.
Add the veggies, and season. Toss again so everything is well coated in the fajita seasoning.
Add everything to the Air Fryer basket. Air Fry at for 15 minutes, tossing halfway through the cooking process.
Cook until the veggies are tender crispy and the chicken reaches internal temperature of 165 degrees. F.
Serve with warmed tortillas, pico de gallo, sour cream and guacamole. Black beans and rice on the side.

Recommended Products
As an Amazon Associate and member of other affiliate programs, I earn from qualifying purchases.
Nutrition Information:
Yield:

4
Serving Size:

1
Amount Per Serving:
Calories:

228
Total Fat:

9g
Saturated Fat:

1g
Trans Fat:

0g
Unsaturated Fat:

7g
Cholesterol:

51mg
Sodium:

510mg
Carbohydrates:

16g
Fiber:

3g
Sugar:

5g
Protein:

20g
These nutritional calculations might not be accurate. Please speak with a licensed nutritionist to assist you.
Did you make this recipe?
Please leave a comment on the blog or share a photo on Pinterest
The post Air Fryer Chicken Fajita Recipe appeared first on My Stay At Home Adventures.