It's always exciting when airlines add new route-map pins, especially when the new destination is thousands of miles away.
American Airlines recently inaugurated service to its newest destination, Hamad International Airport (DOH) in Doha, Qatar, just a few weeks ago, on June 3.
The airline began connecting John F. Kennedy International Airport (JFK) and the Gulf city with daily service aboard a four-cabin Boeing 777-300ER; this is the carrier's largest jet, which it first started flying back in 2012.
At 6,704 miles and more than 12 hours in the air, this new route is one of American's longest. Although the carrier has been forced to scale back a chunk of its international flying this summer, the Doha route launched as promised.
On paper, the new route makes a lot of sense: Fellow Oneworld member Qatar Airways operates a mega-hub in Doha, which allows American to offer plenty of onward connectivity to Africa, India and the Middle East. Plus, with the FIFA World Cup taking place in Doha this winter, American will likely have some traffic terminating in this Gulf nation, too.
Meanwhile, in New York City, the flight is buoyed by the airline's Northeast Alliance with JetBlue; this way, American can tap into JetBlue's robust network from JFK for additional domestic connectivity beyond the New York City area. For American, the new Doha flight joins the recently launched long-haul service from New York to Athens International Airport (ATH), New Delhi's Indira Gandhi International Airport (DEL) and Tel Aviv's Ben Gurion Airport (TLV).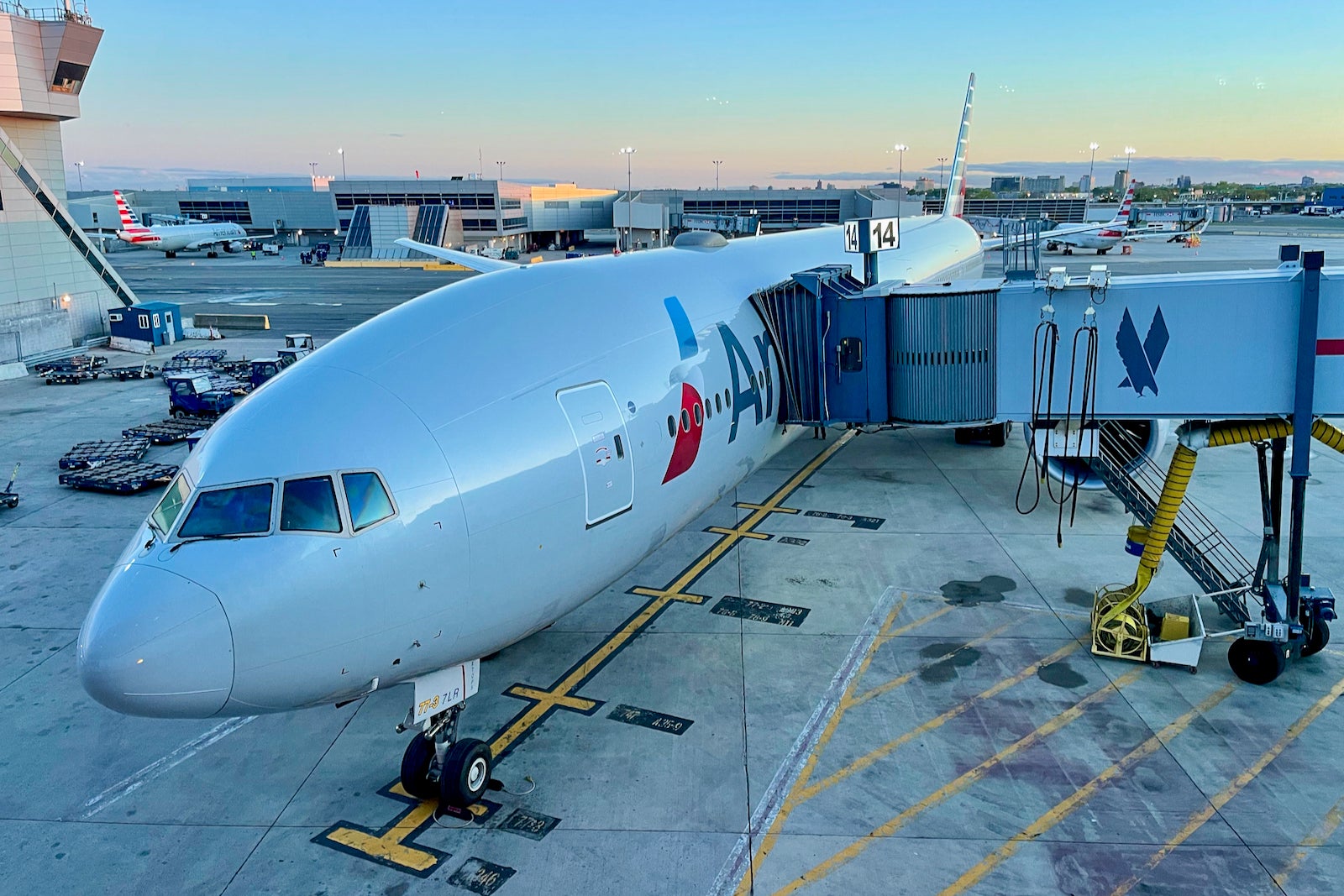 Personally, I've long been a fan of Qatar's award-winning Qsuite business class, and when American announced that it would offer both a business- and first-class cabin to Doha, I knew I'd want to give the latter a try.
After all, American is now the only carrier offering a true first-class cabin nonstop between the U.S. and Qatar. So, when the opportunity presented itself recently to fly American via Doha on a trip to Abu Dhabi, I booked the new American flight in Flagship First.
How was it? Read on to find out.
Want more airport-specific news? Sign up for TPG's free biweekly Aviation newsletter.
Booking
Booking one of the eight Flagship First seats aboard the 777-300ER isn't especially affordable. Round-trip fares for the nonstop flight start at $14,000. Of course, the price will vary based on your exact itinerary and dates of travel, but there are some ways to save on the out-of-pocket cost.
In my case, I purchased a round-trip business-class fare for $3,200, which I then upgraded using a systemwide upgrade certificate. For those who aren't top-tier elites with access to systemwide upgrades, you could instead redeem 25,000 miles and (depending on your fare class) pay a $550 co-pay to move up to first class.
Upgrade availability, especially in first class, is generally readily available within a week of departure. At the moment, American seems to be struggling to fill the cabin with paying customers, with many of the seats going to upgrades and last-minute non-revenue travelers, based on a day-by-day ExpertFlyer search.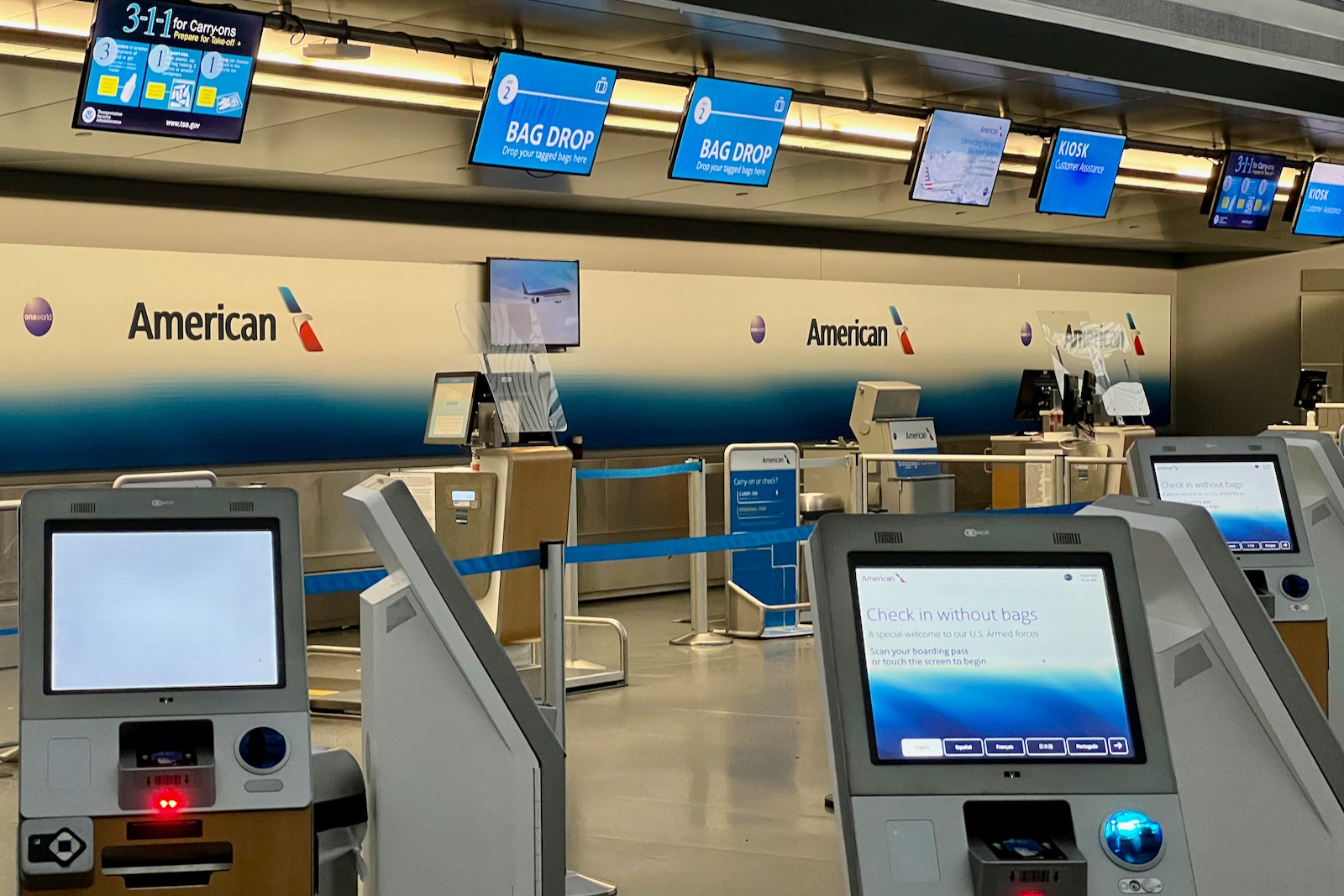 On my flight, five of the eight seats were occupied by employees, most of whom were non-revving to Doha.
Alternatively, you can redeem AAdvantage miles for Flagship First. Rates start at about 100,000 miles for a one-way redemption from New York to Doha. Unfortunately, there's limited saver first-class availability, so your redemption options with American's partners are limited.
That said, American's dynamically priced awards range in cost based on your origin, destination and dates of travel, so it's possible that you may find an attractive redemption for Flagship First.
Ground experience
My time with American began on the ground in JFK's Terminal 8.
After arriving at the airport, I quickly made my way to the temporary Flagship First check-in area, which was located at the end of the departure hall. This exclusive check-in facility is reserved for those flying first class and for top-tier elites flying in any cabin on long-haul flights.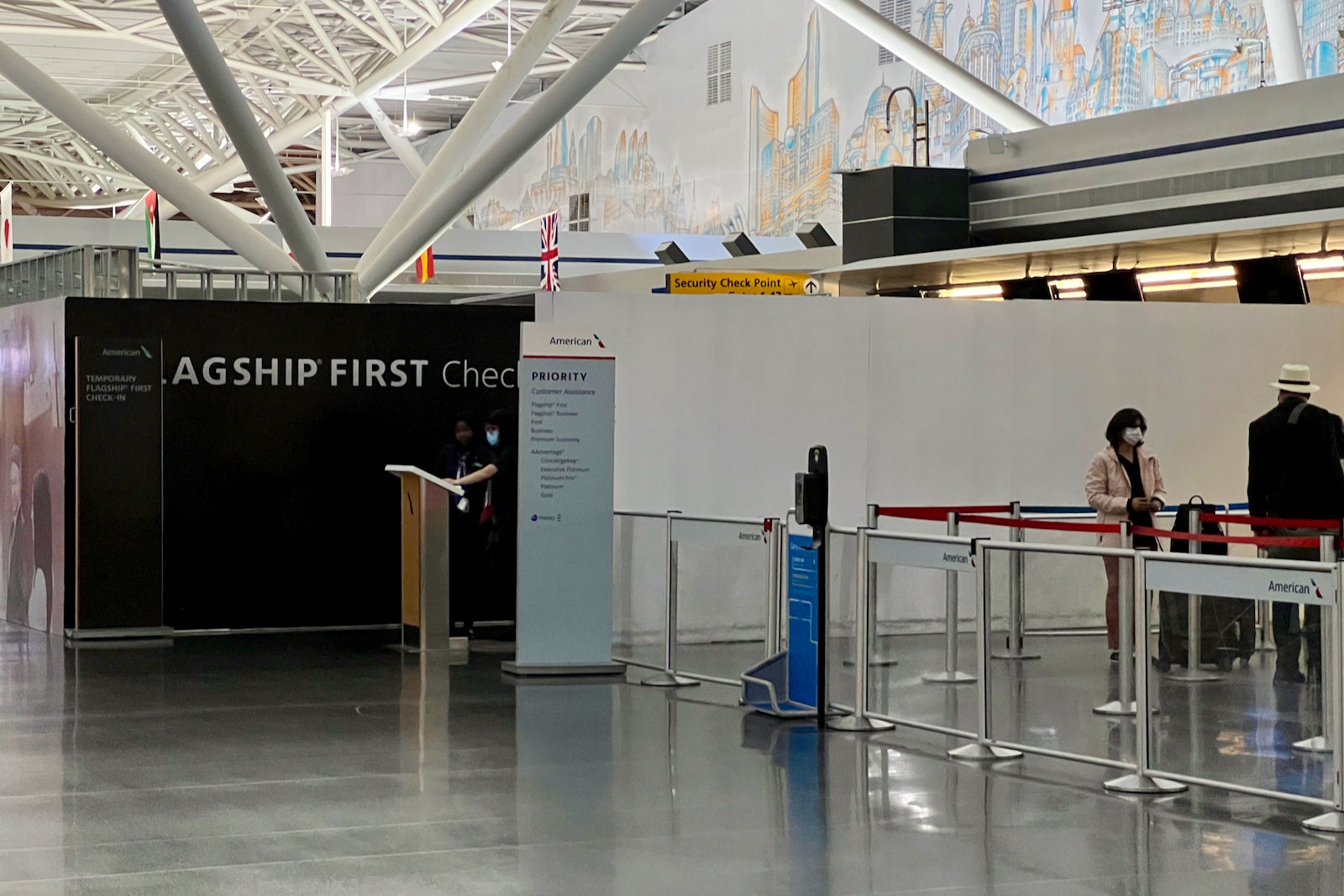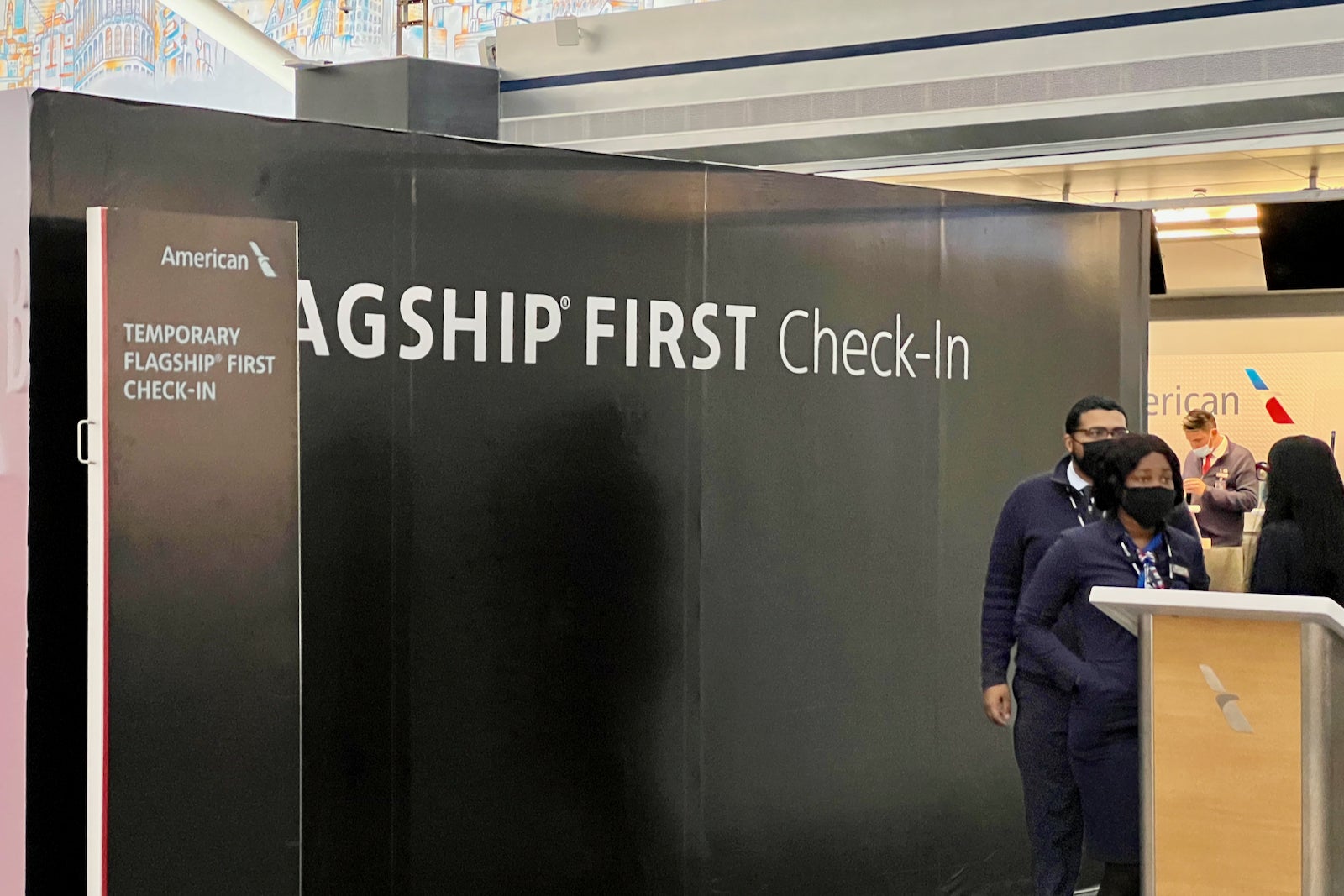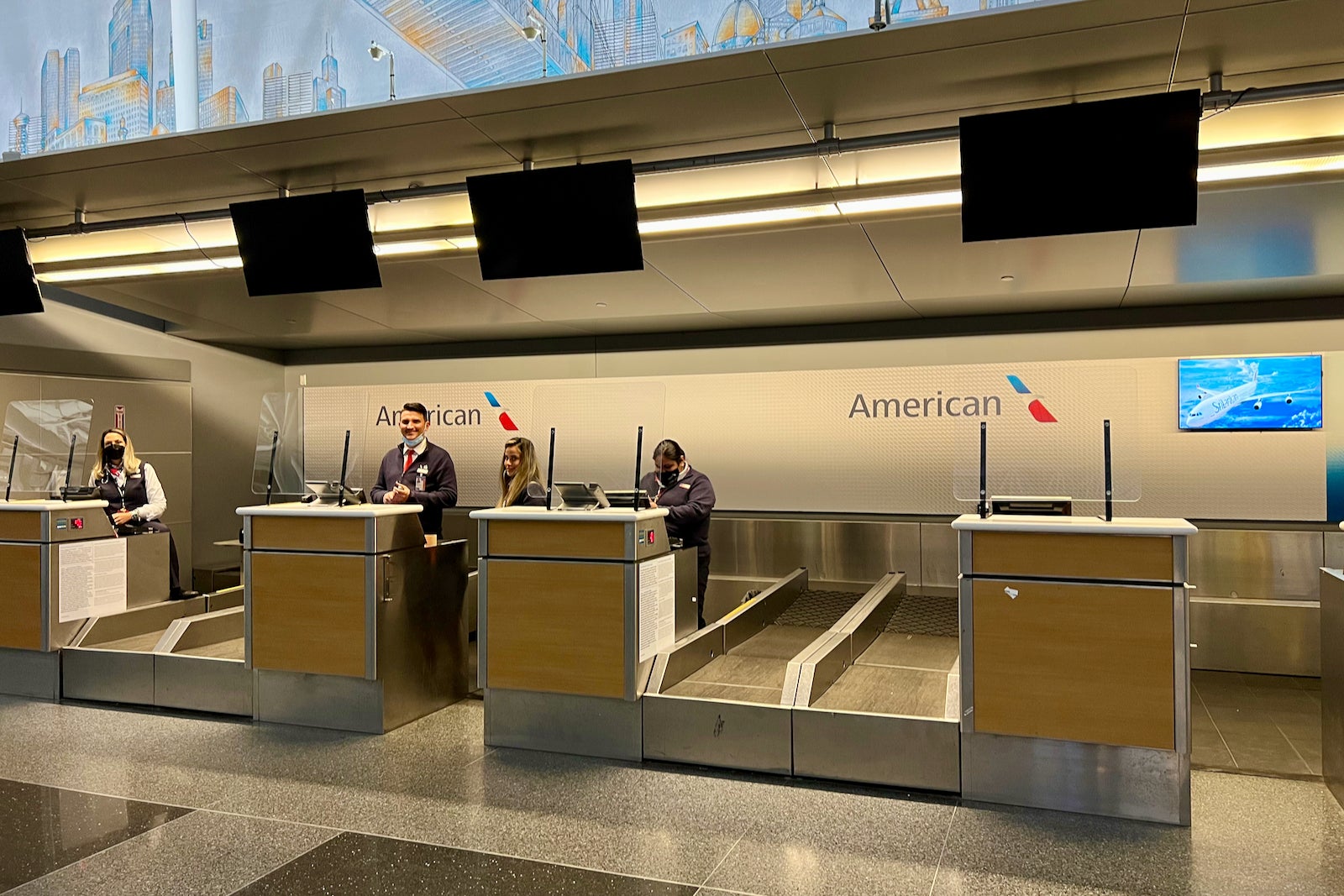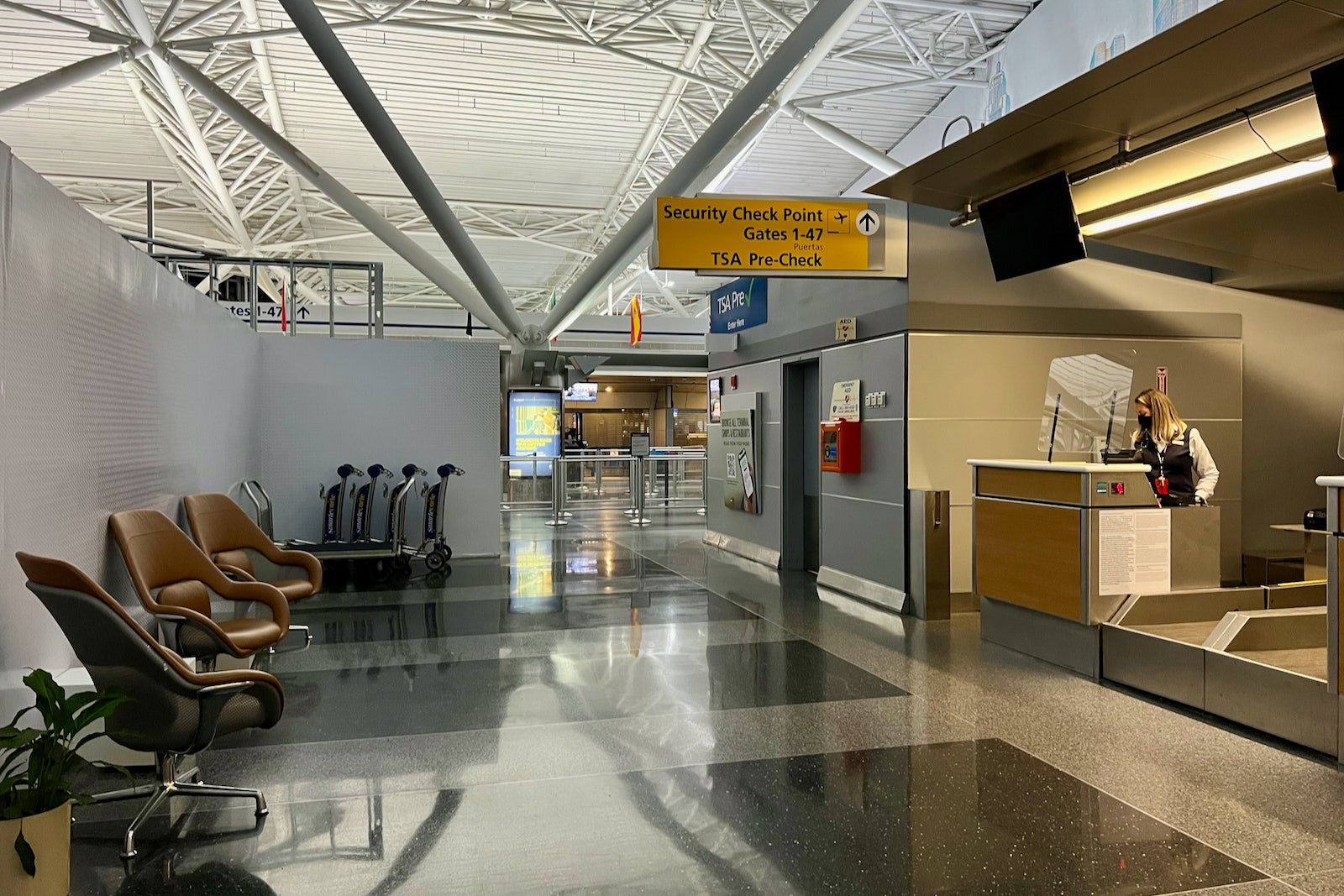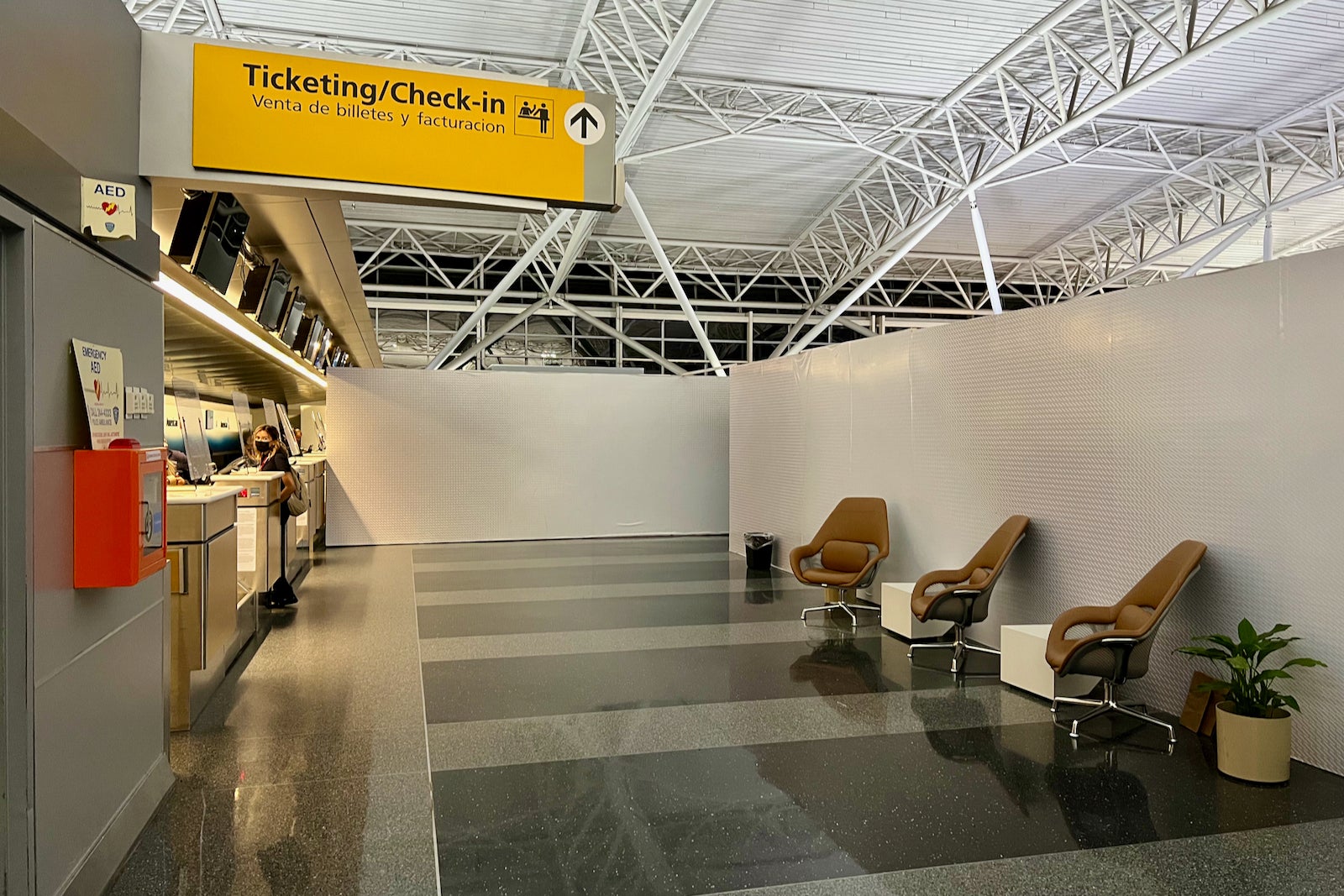 American is currently building a revamped premium check-in experience in anticipation of British Airways co-locating in Terminal 8 later this year. Until then, the three-counter makeshift facility will do.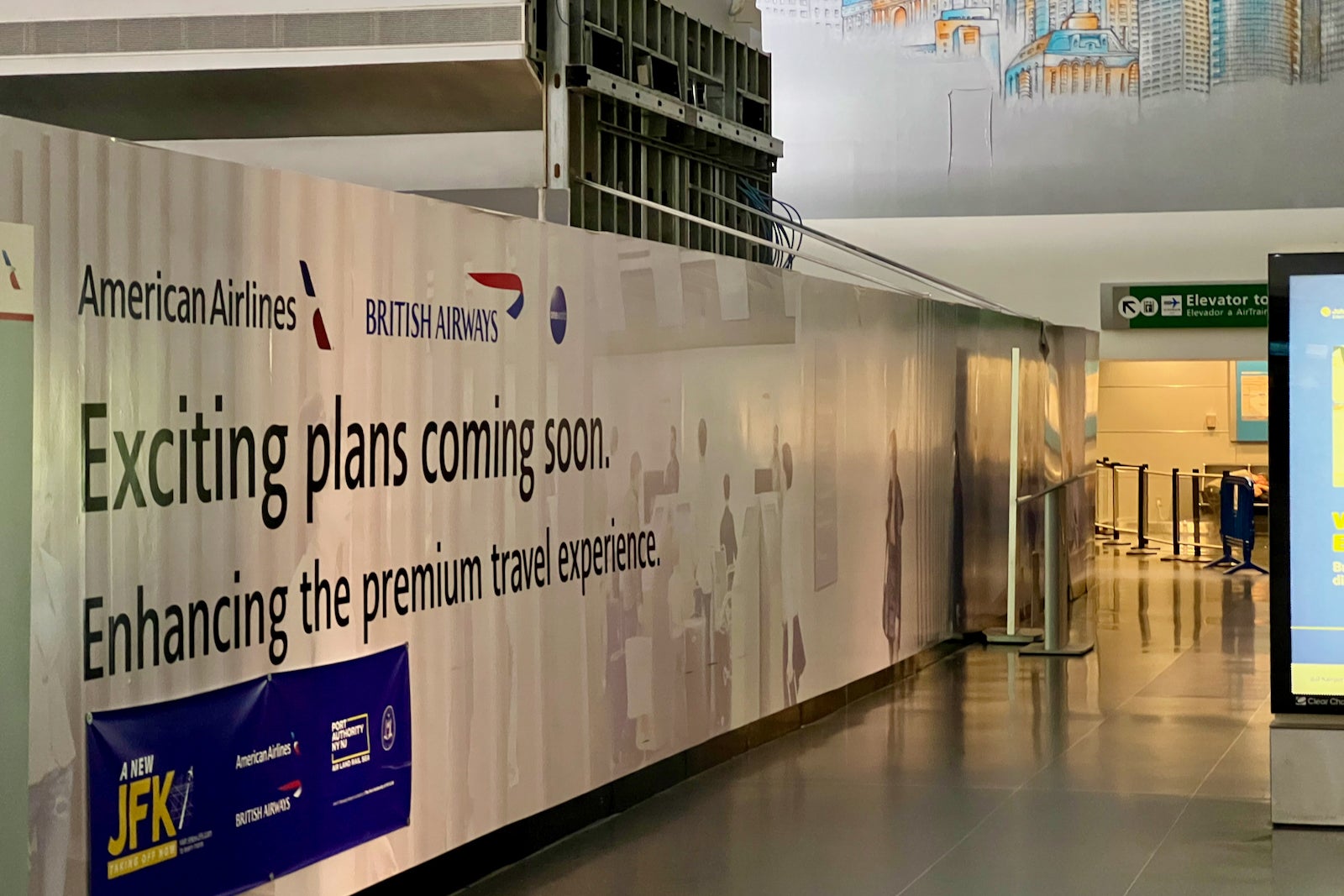 My boarding pass was issued just moments after arriving at the kiosk, and the friendly agent escorted me to the security checkpoint. While the TSA PreCheck lane was closed, the agent escorted me to the front of the general line, and I was able to keep my shoes on and leave my laptop in my bag.
Within minutes, I was airside and ready to explore the Flagship Lounge — American's dedicated club for those traveling in premium cabins (or top-tier elite members) on long-haul flights.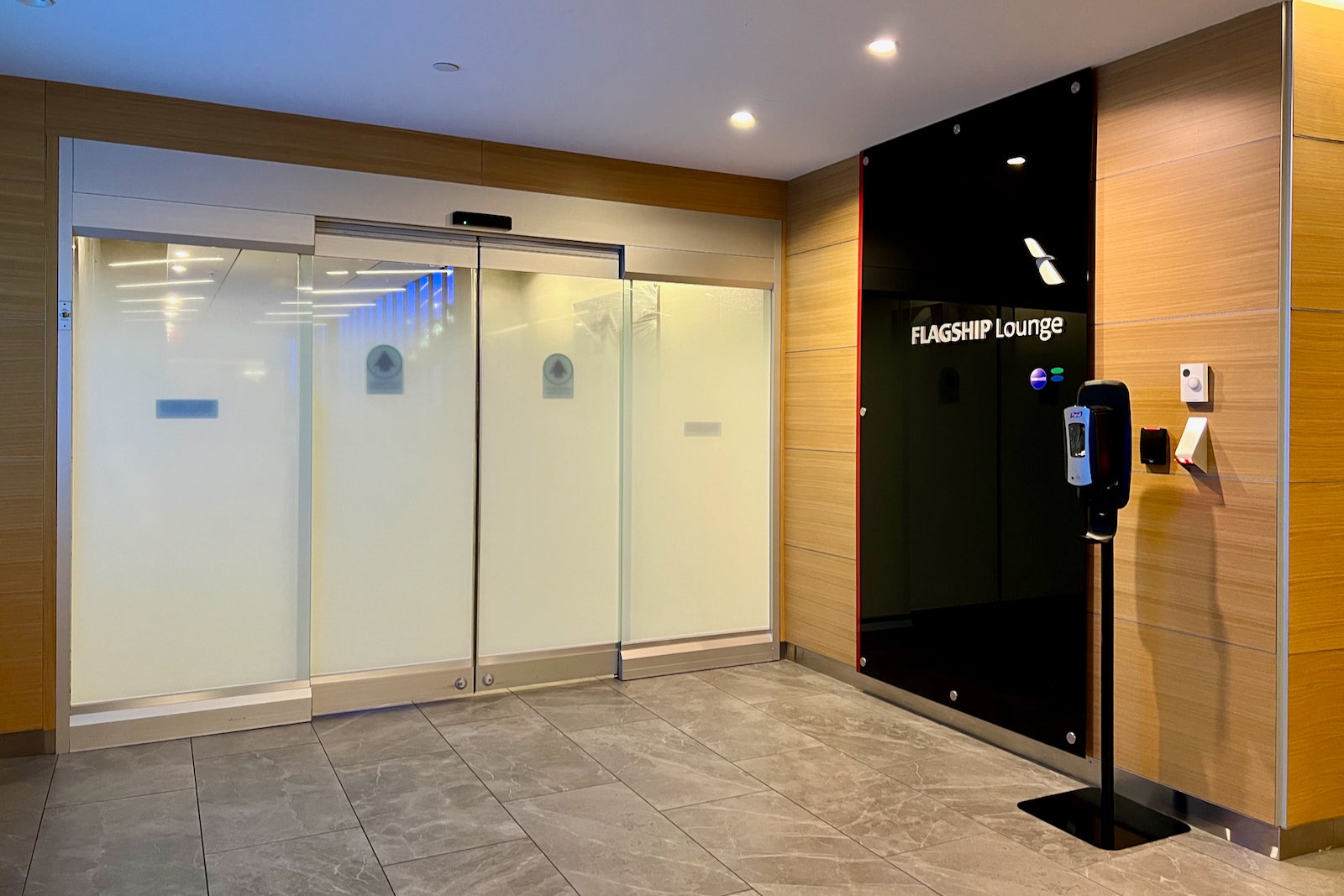 American's Doha flight departs New York at 12:55 a.m., making it one of the last flights of the evening. That also meant that the Flagship Lounge wasn't nearly as crowded as it would've been had I arrived between 5 p.m. and 7 p.m. (the peak afternoon and evening departure banks).
Staff welcomed me into the lounge with a glass of Piper-Heidsieck Champagne — a new pandemic-era amenity that American added when it reopened the Flagship Lounge last September.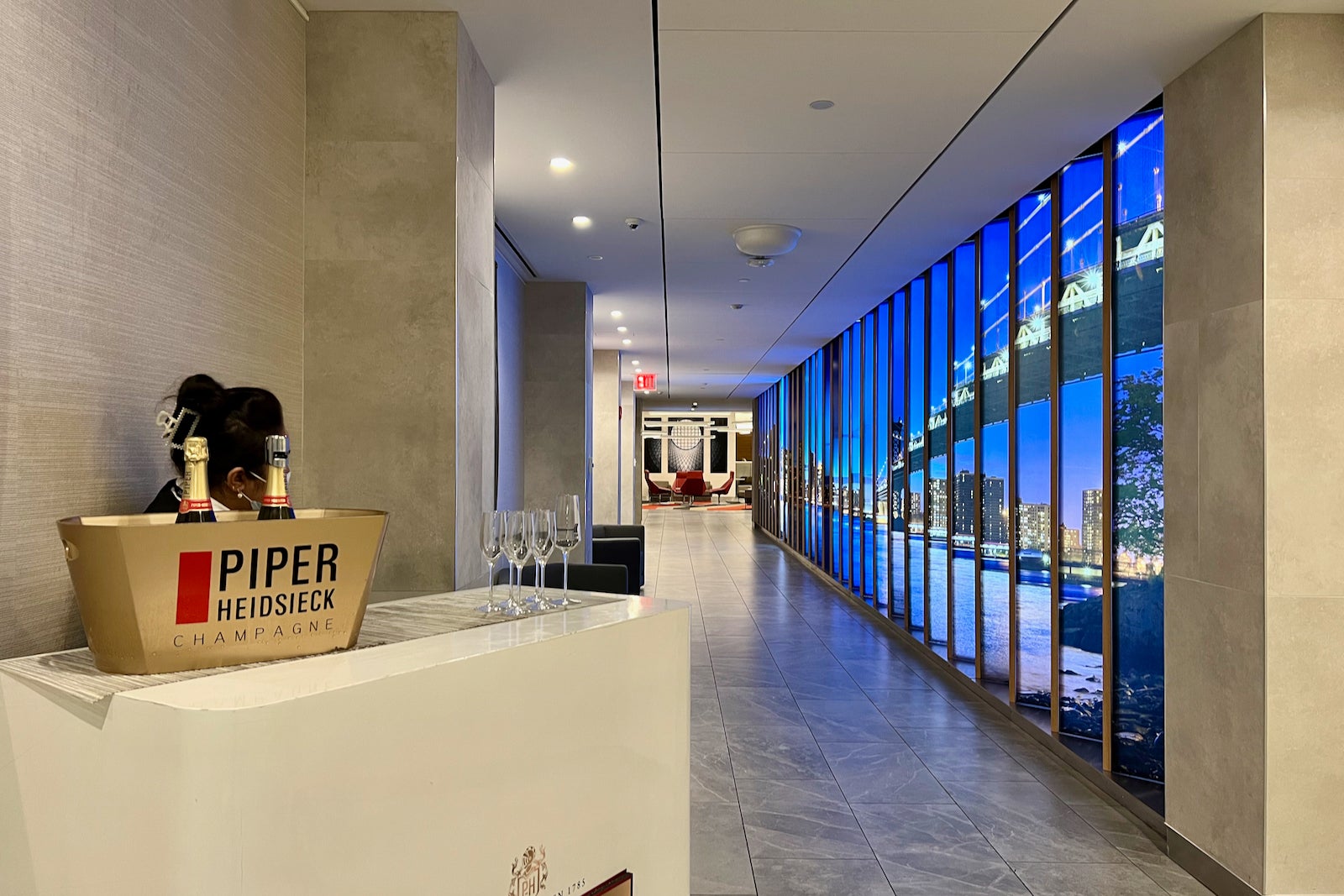 My first order of business was to take a shower since I had just arrived from a concert. I especially appreciated the new D.S. and Durga amenities and Dyson hair dryer (which is bolted into the wall so you can't take it home as s souvenir).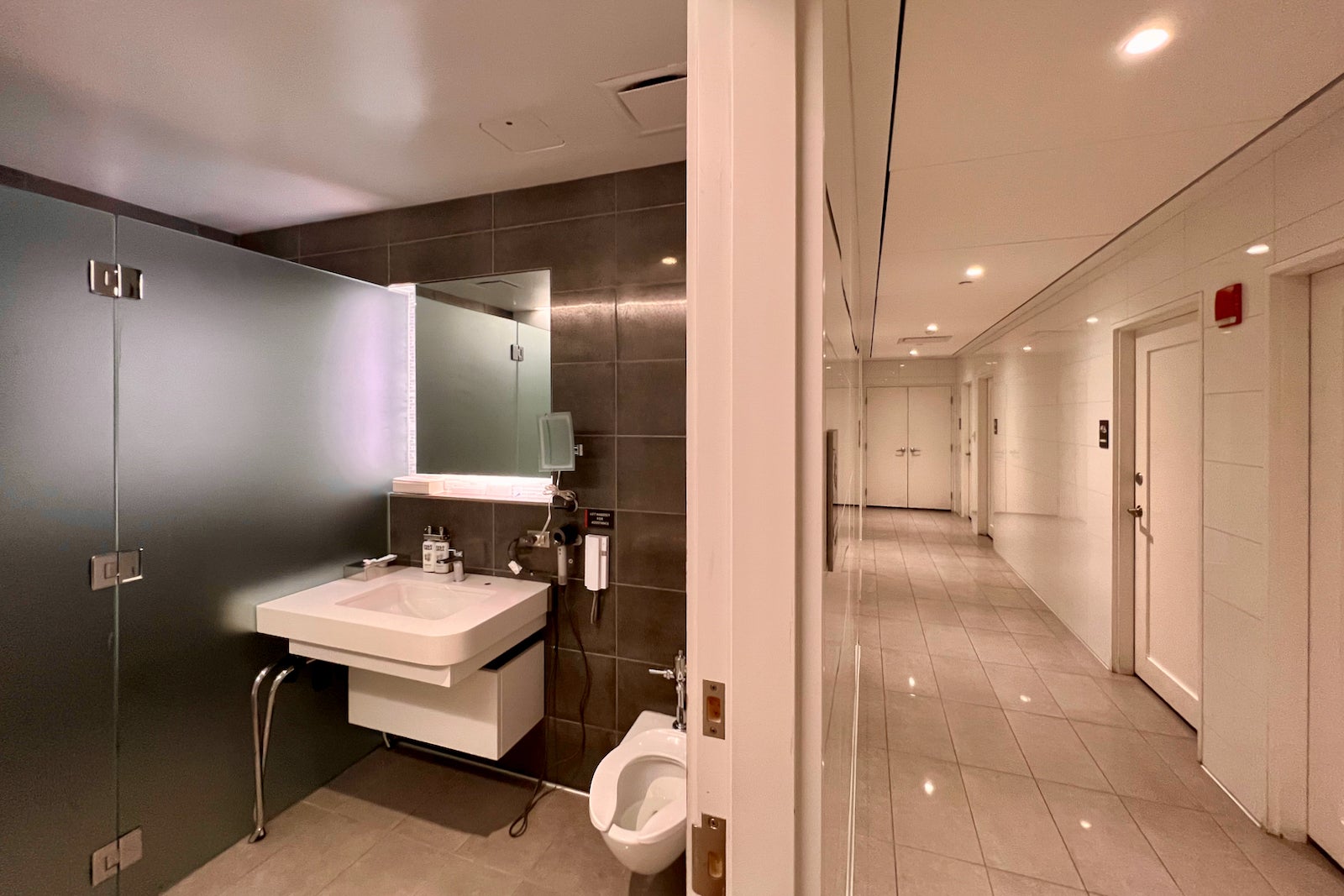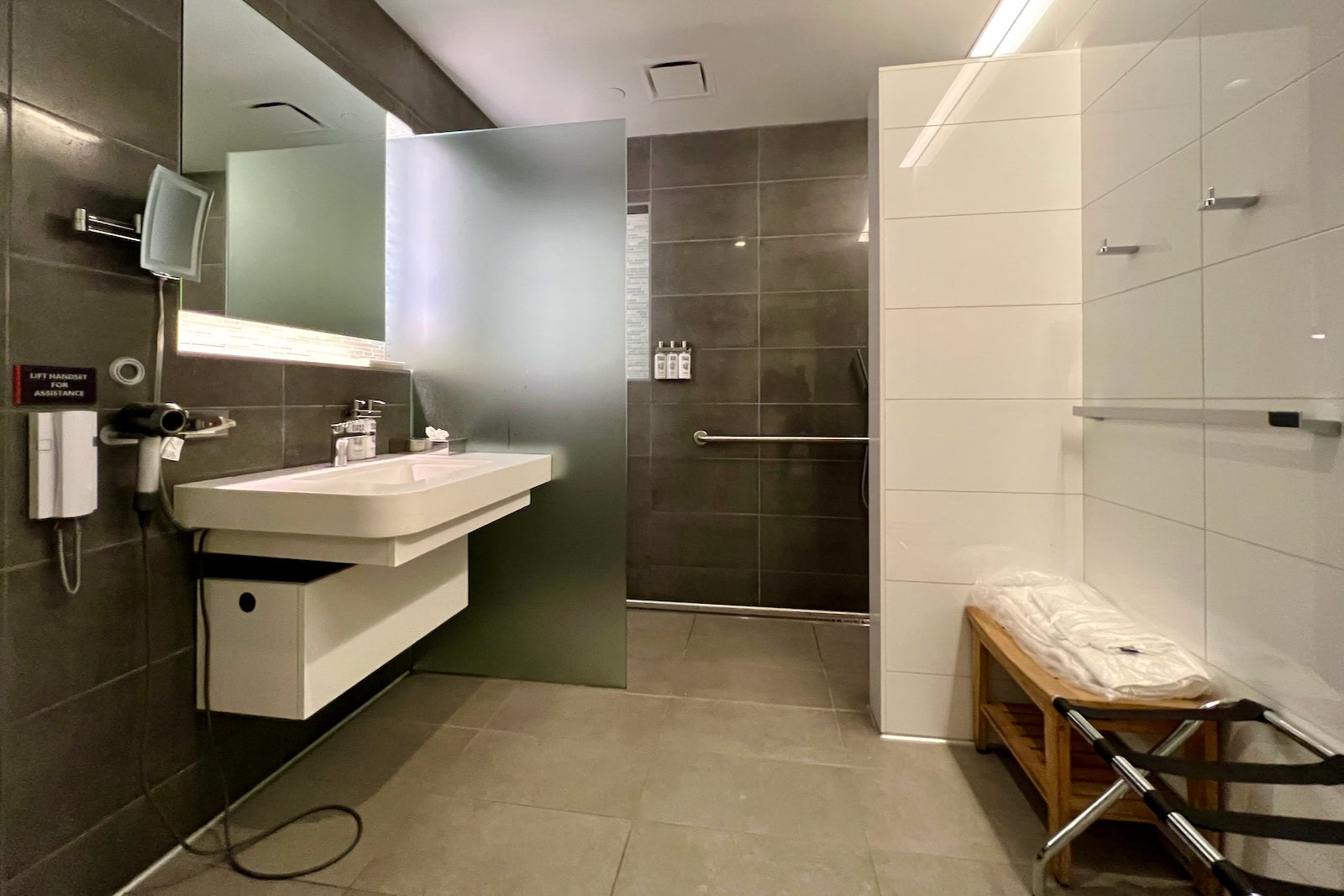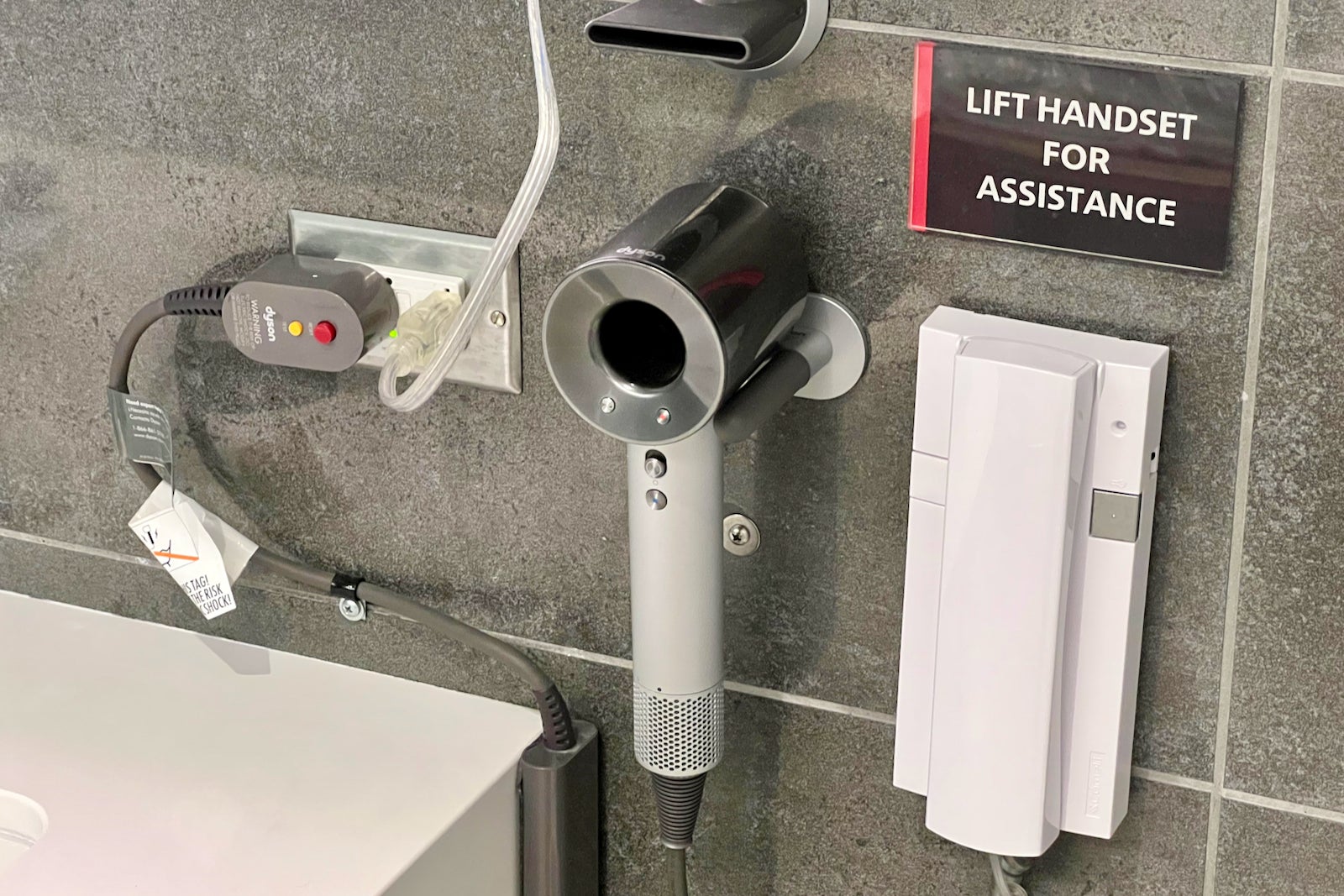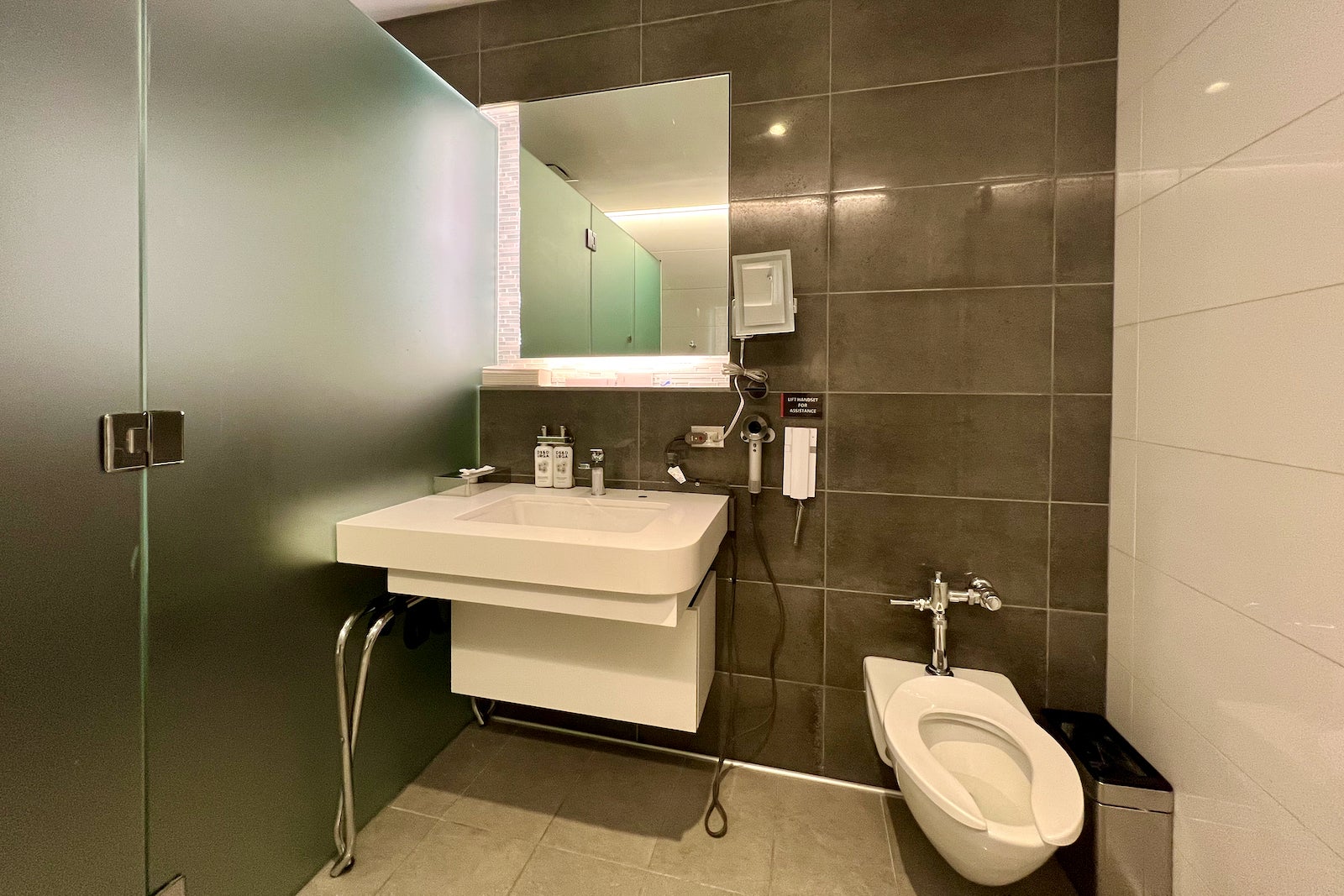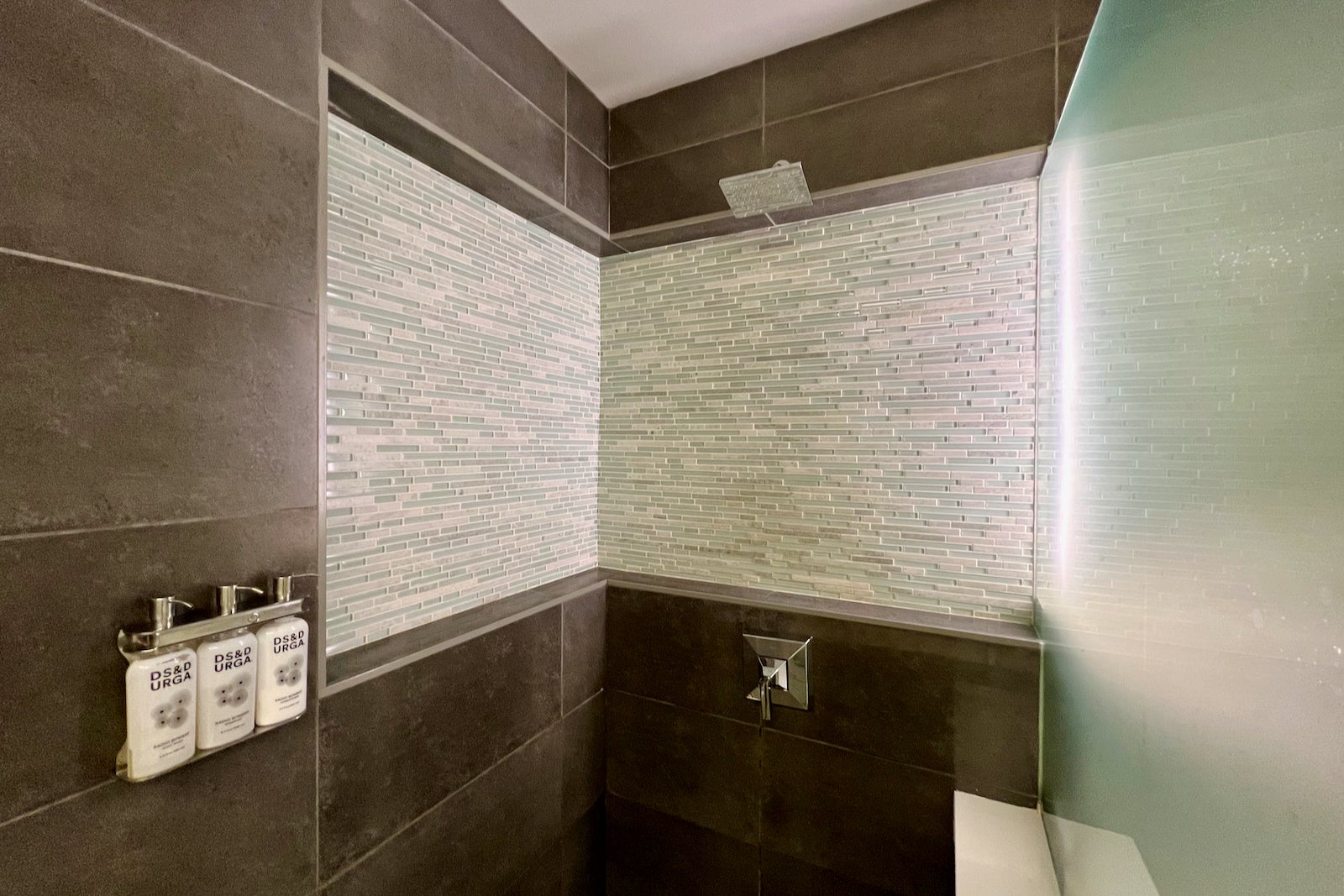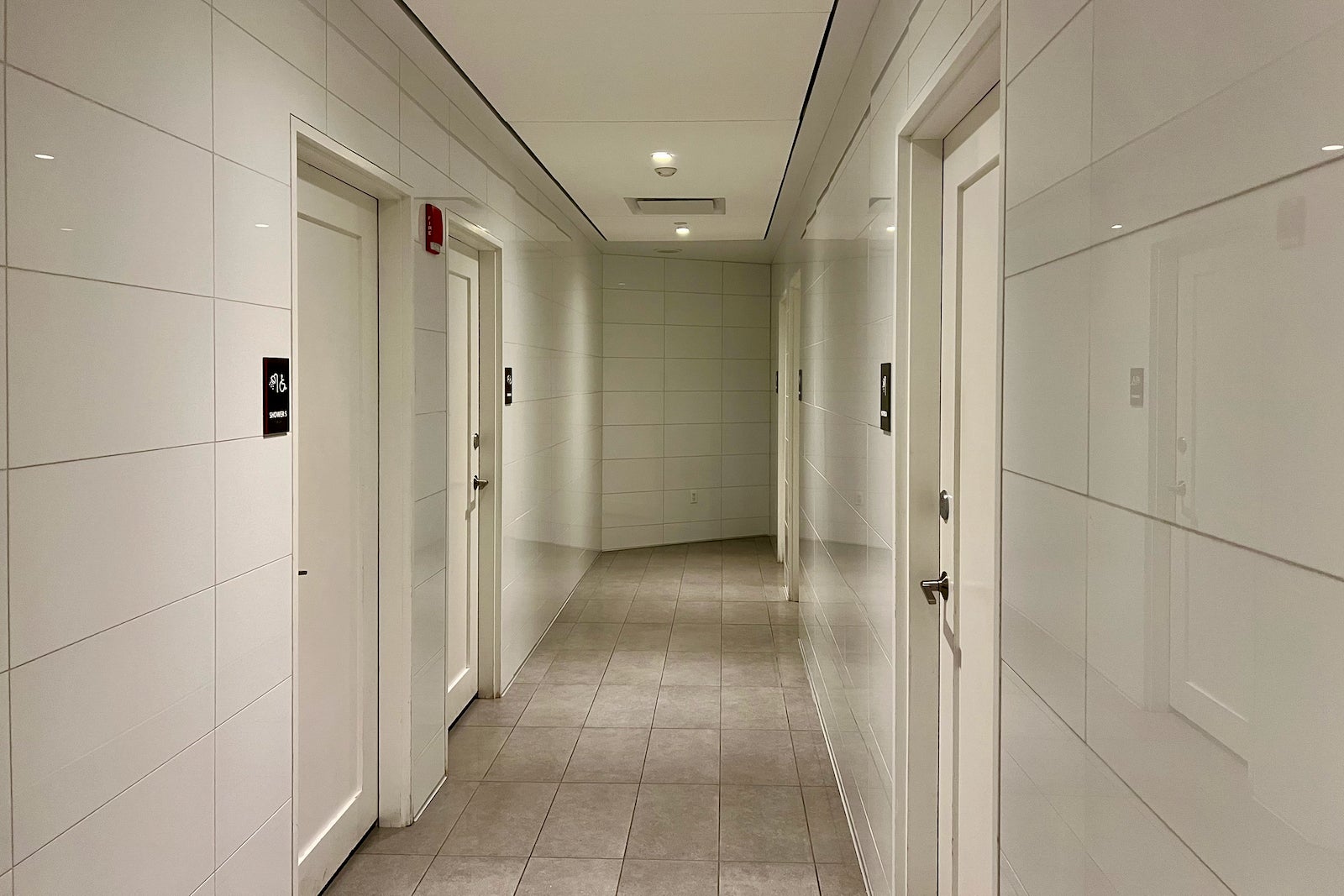 That said, the Flagship Lounge shower suites aren't as luxurious as those in United's Polaris Lounges.
After my shower, I took a brief tour around the Flagship Lounge. There were a variety of seating areas, none of which were overcrowded. The buffet was well stocked with Mediterranean fare inspired by Chef Ayesha Nurdjaja of New York City's Shuka and Shukette fame.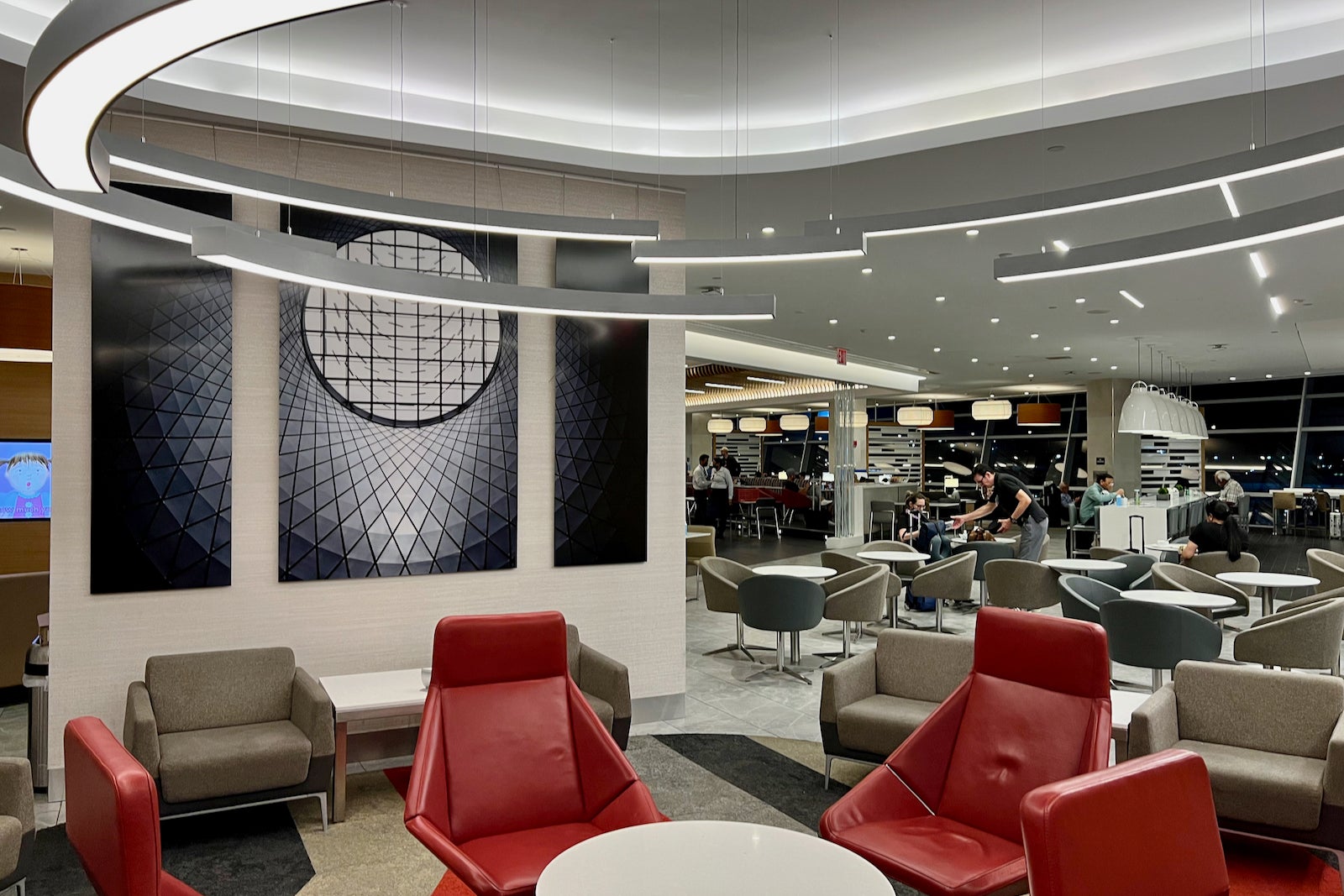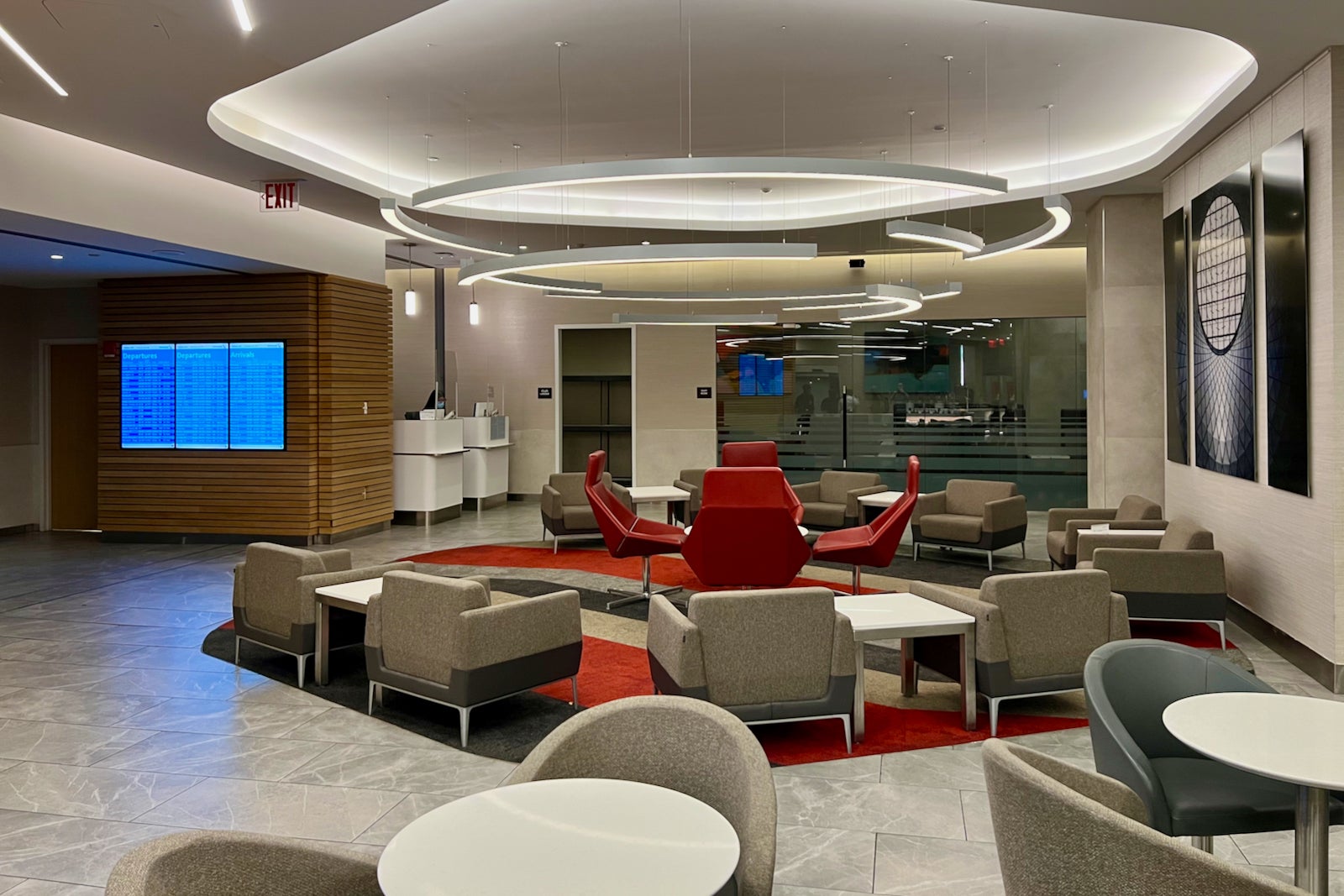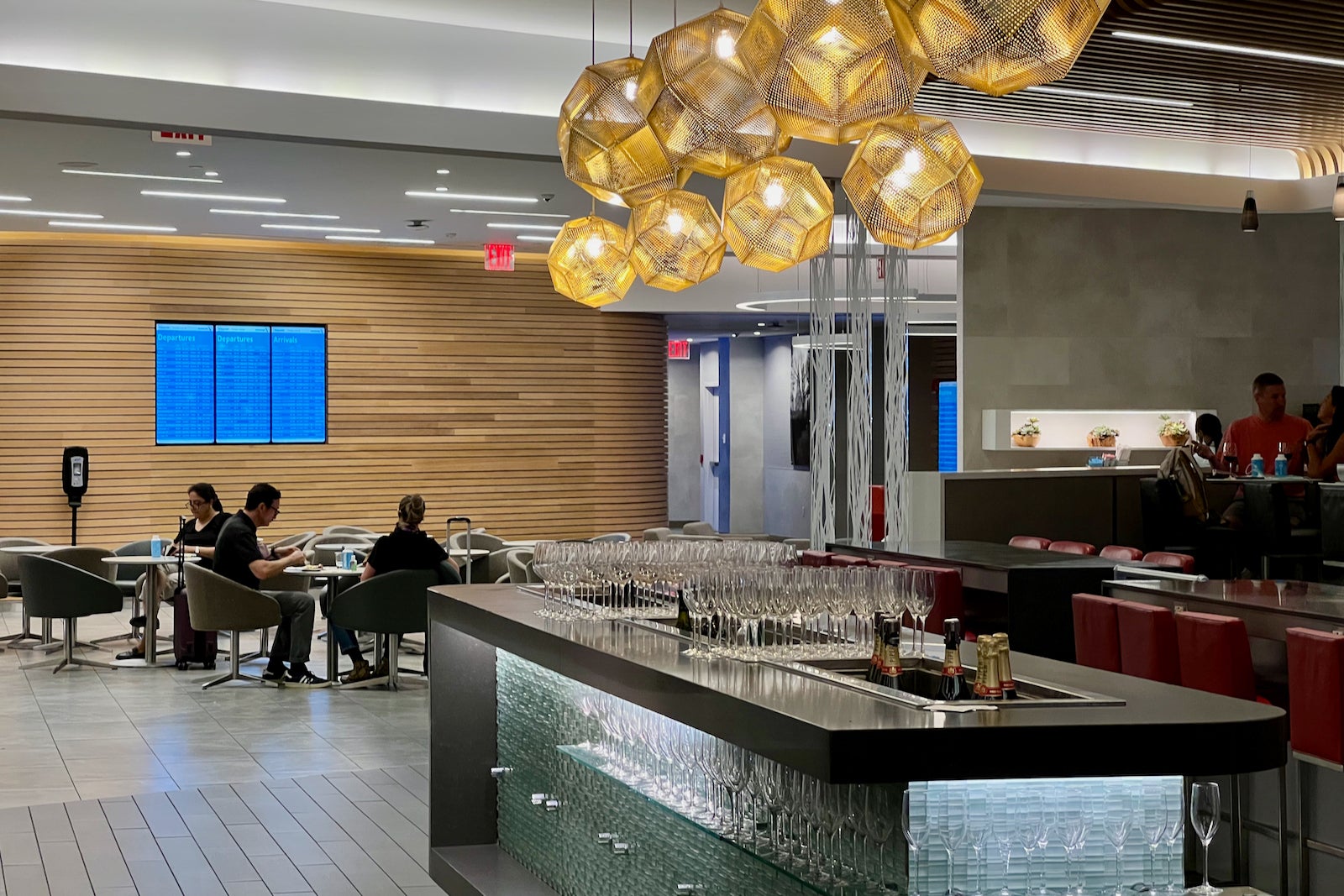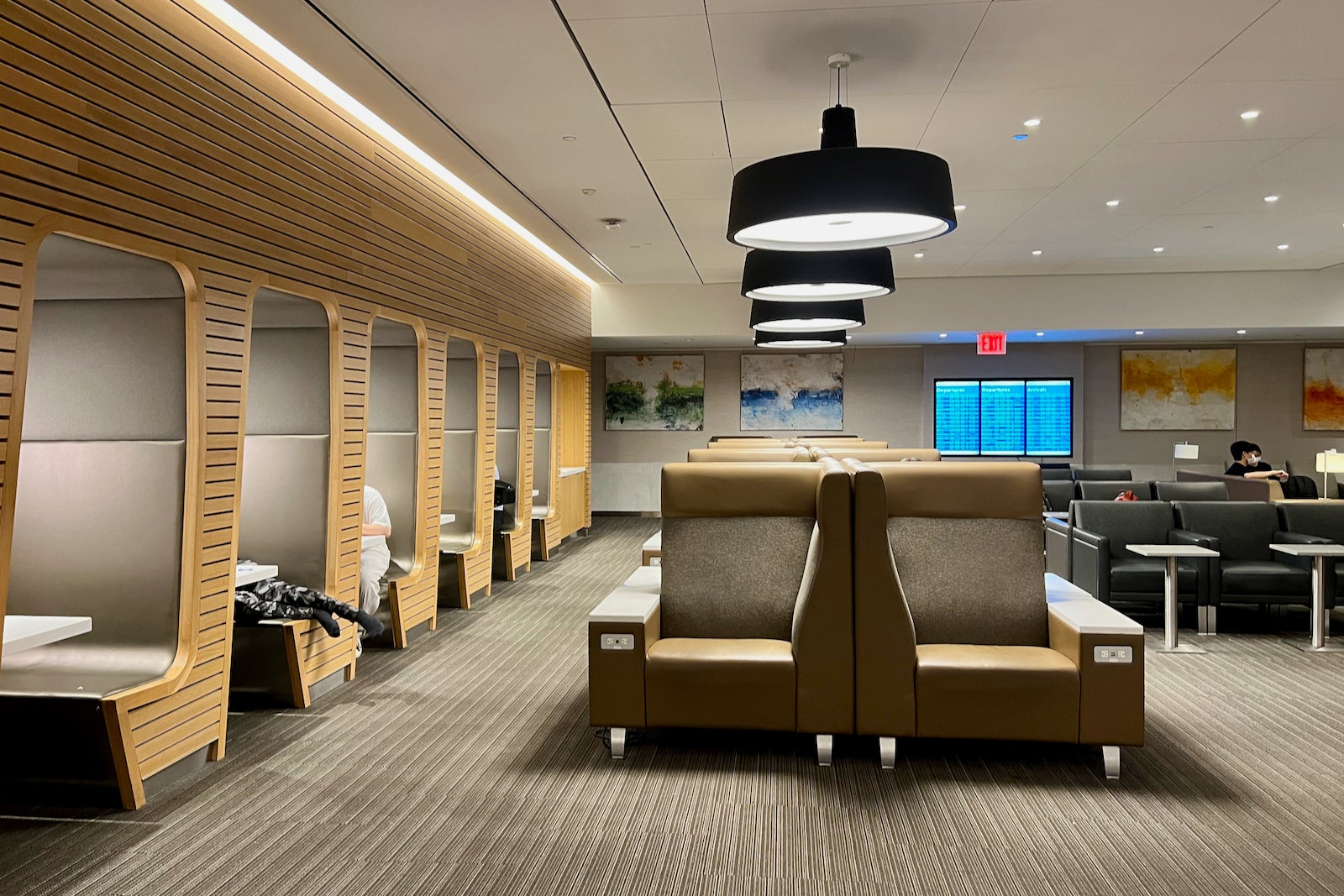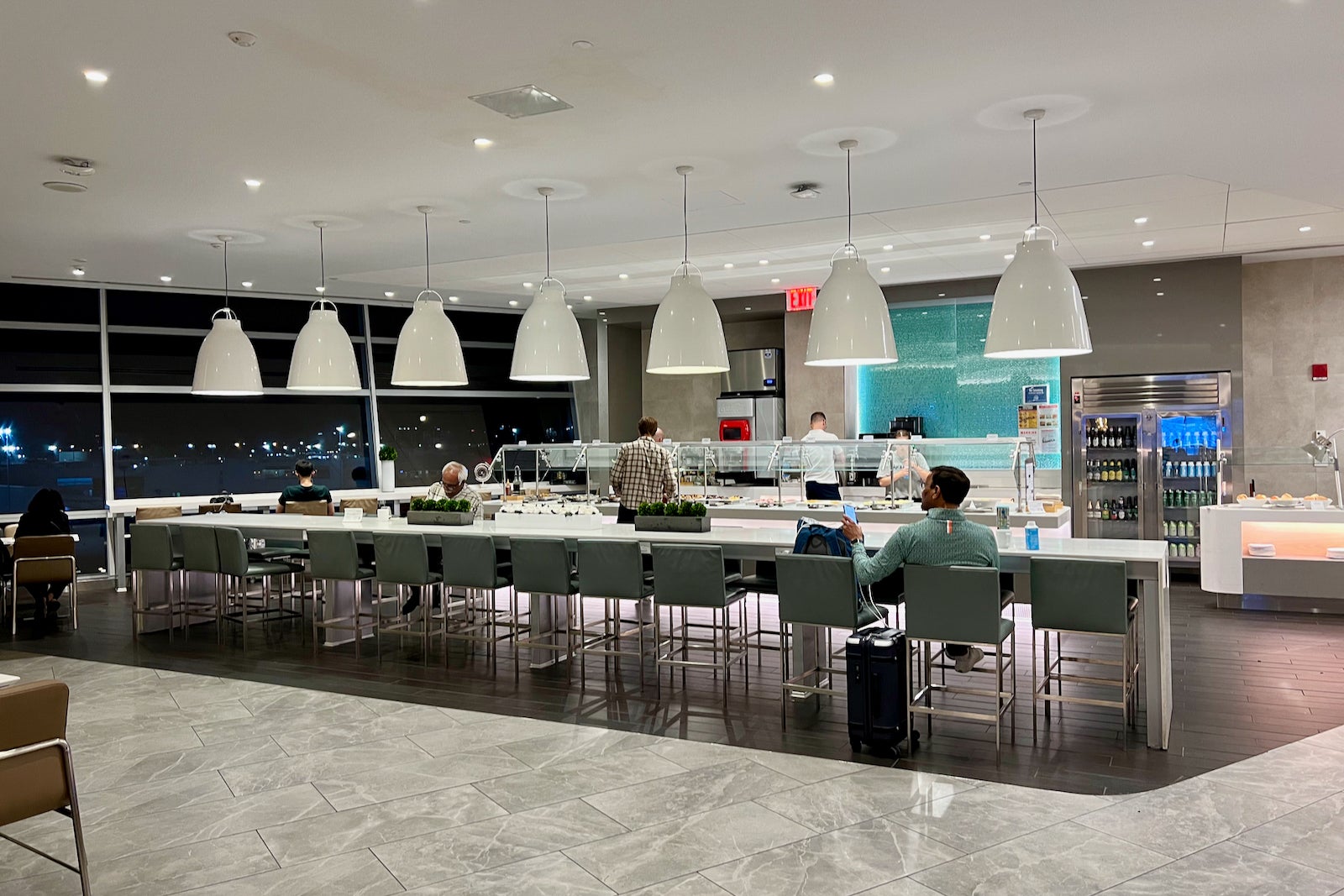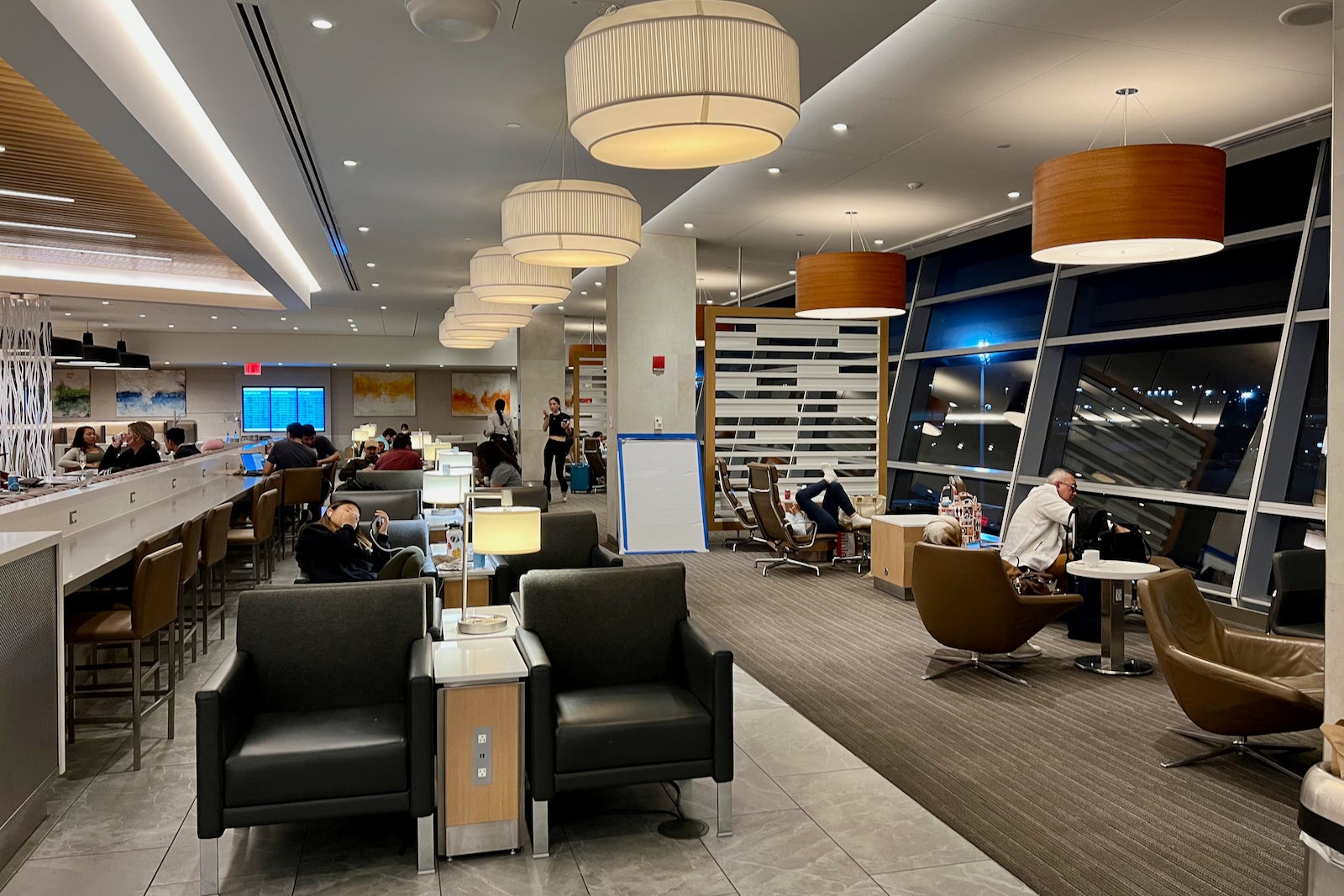 While the lounge experience is definitely more premium than what you'd find in the standard Admirals Club, it gets even better for those traveling in Flagship First.
This is because those travelers can enjoy the Flagship First dining facility, which is essentially a "lounge-within-a-lounge." American operates Flagship First dining facilities at four of its Flagship Lounges lounges, and they're only open to first-class passengers (and those splurging for Flagship Business Plus fares).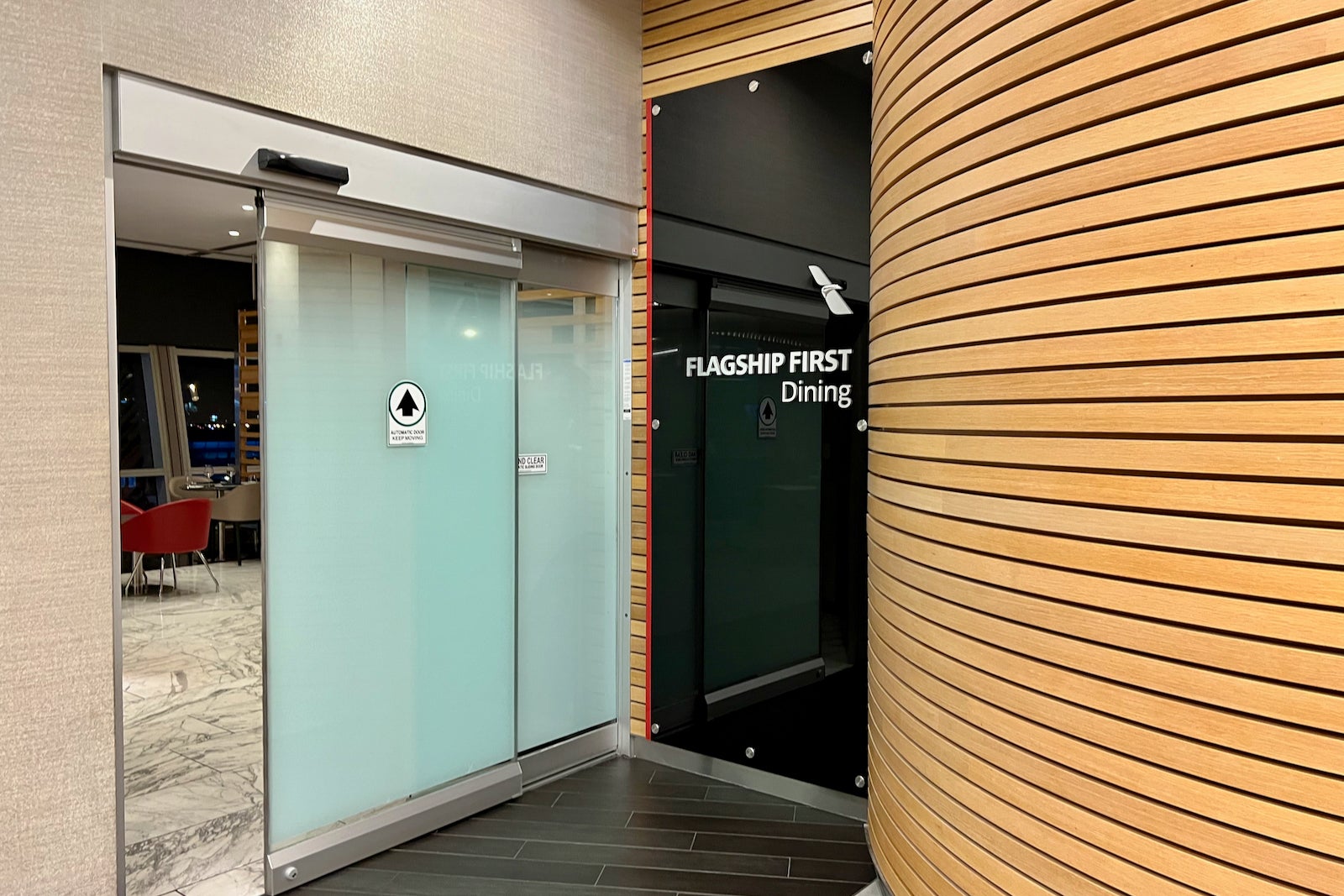 With floor-to-ceiling windows, a snazzy bar and plenty of two- and four-top tables, as well as some booths, the JFK facility is one of the nicer Flagship lounges.
I didn't have much time (or appetite) for a full meal, but I ordered a few dishes to get a sampling of the experience.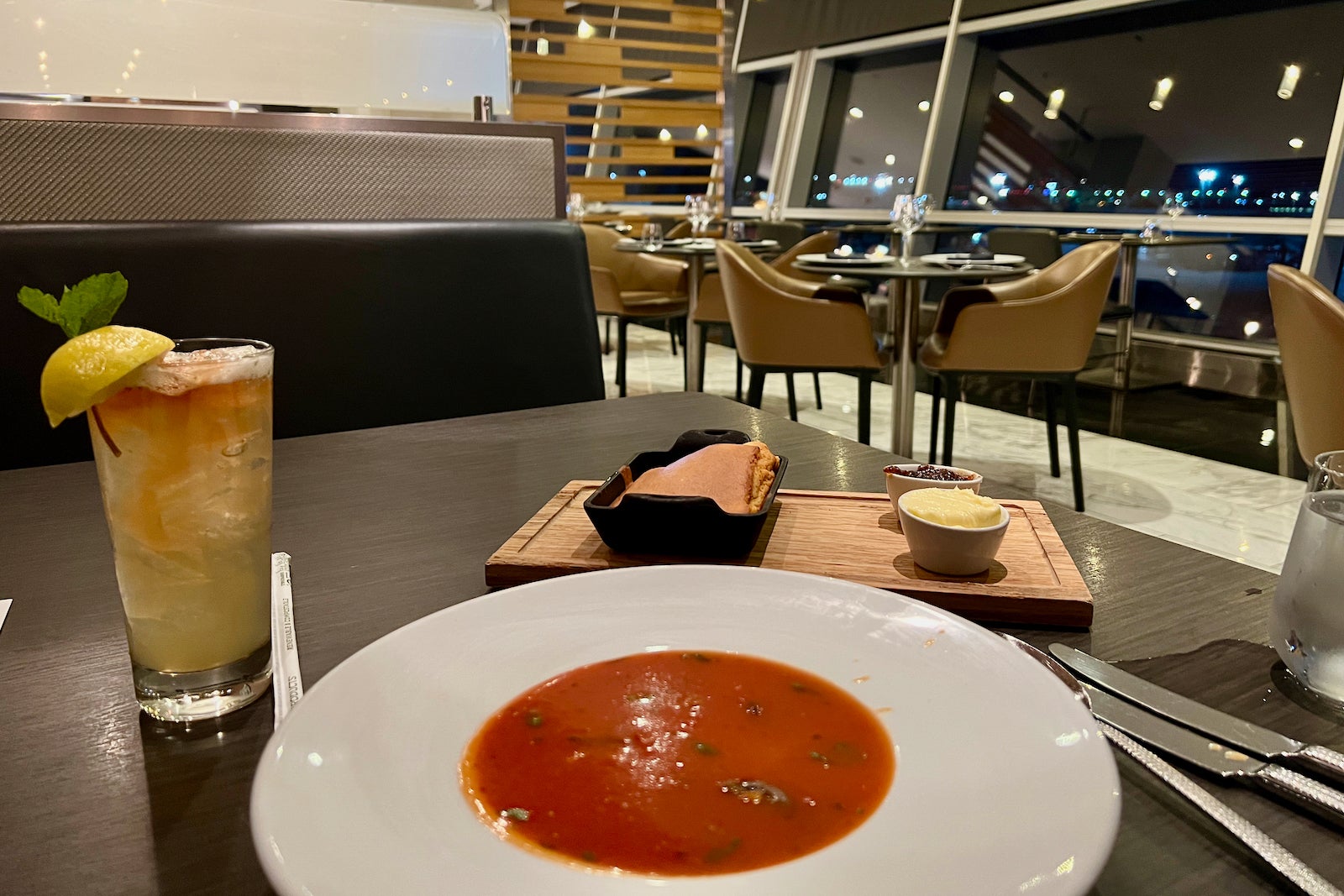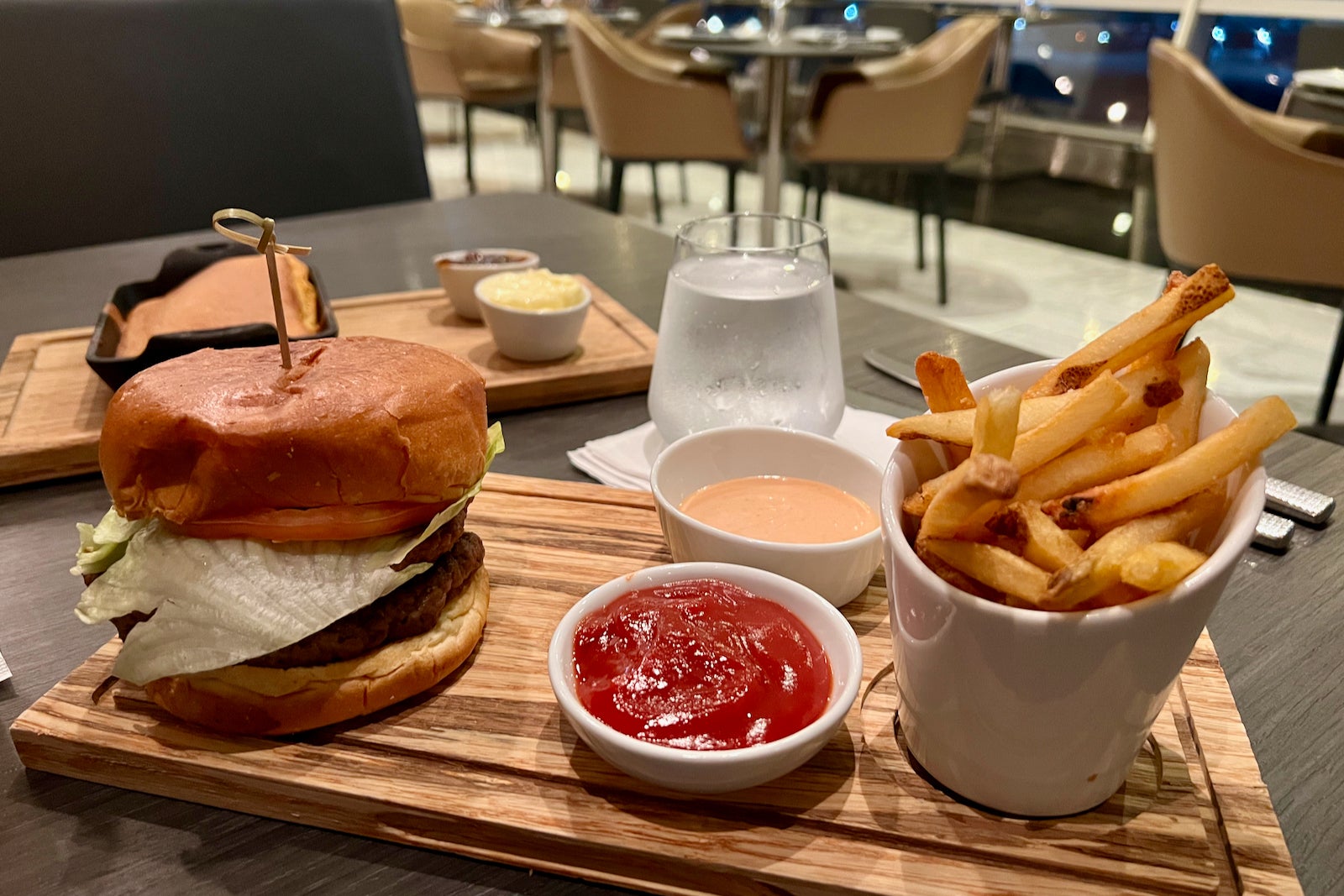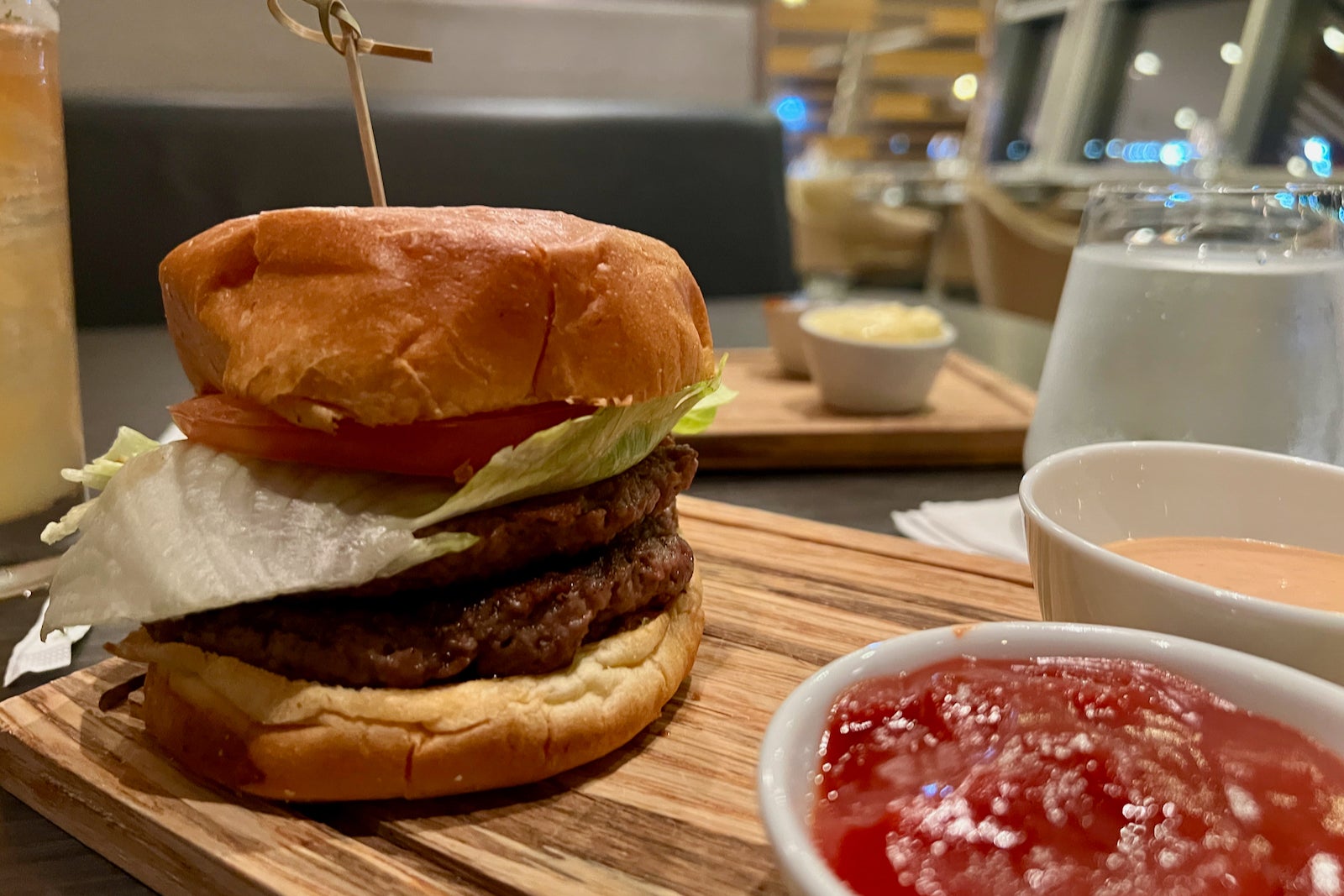 The minestrone soup — which the server poured beside my table and served alongside a piece of (reheated) cornbread — was a highlight. I also enjoyed the meatless Impossible Burger as an alternative to the airline's Flagship Burger.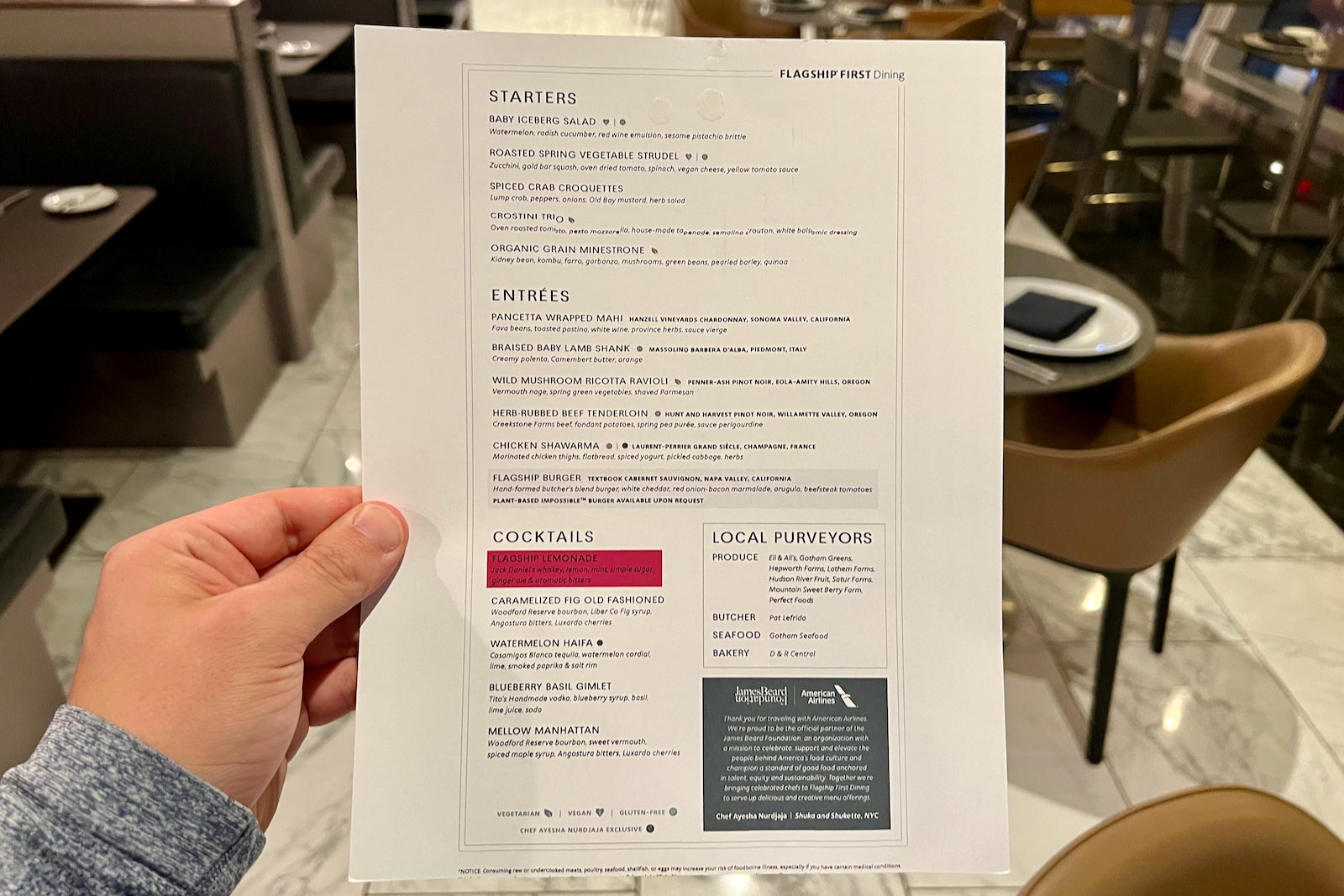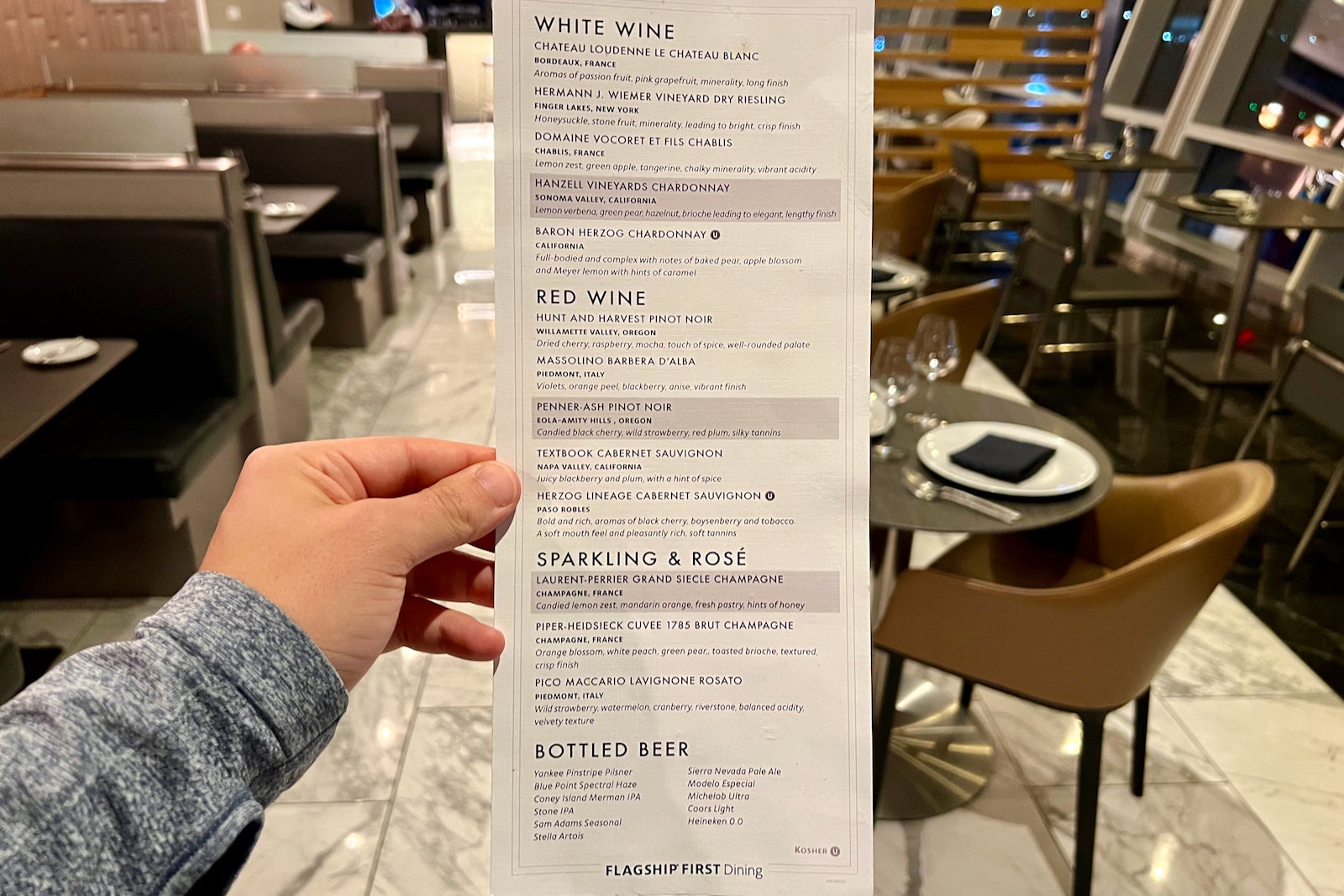 American used to serve Krug Champagne in Flagship First dining, but that's since been replaced with Laurent-Perrier Grand Siecle.
Before long, it was time to make my way to the gate, which was conveniently located just steps away from the lounge in the center of Terminal 8's main concourse.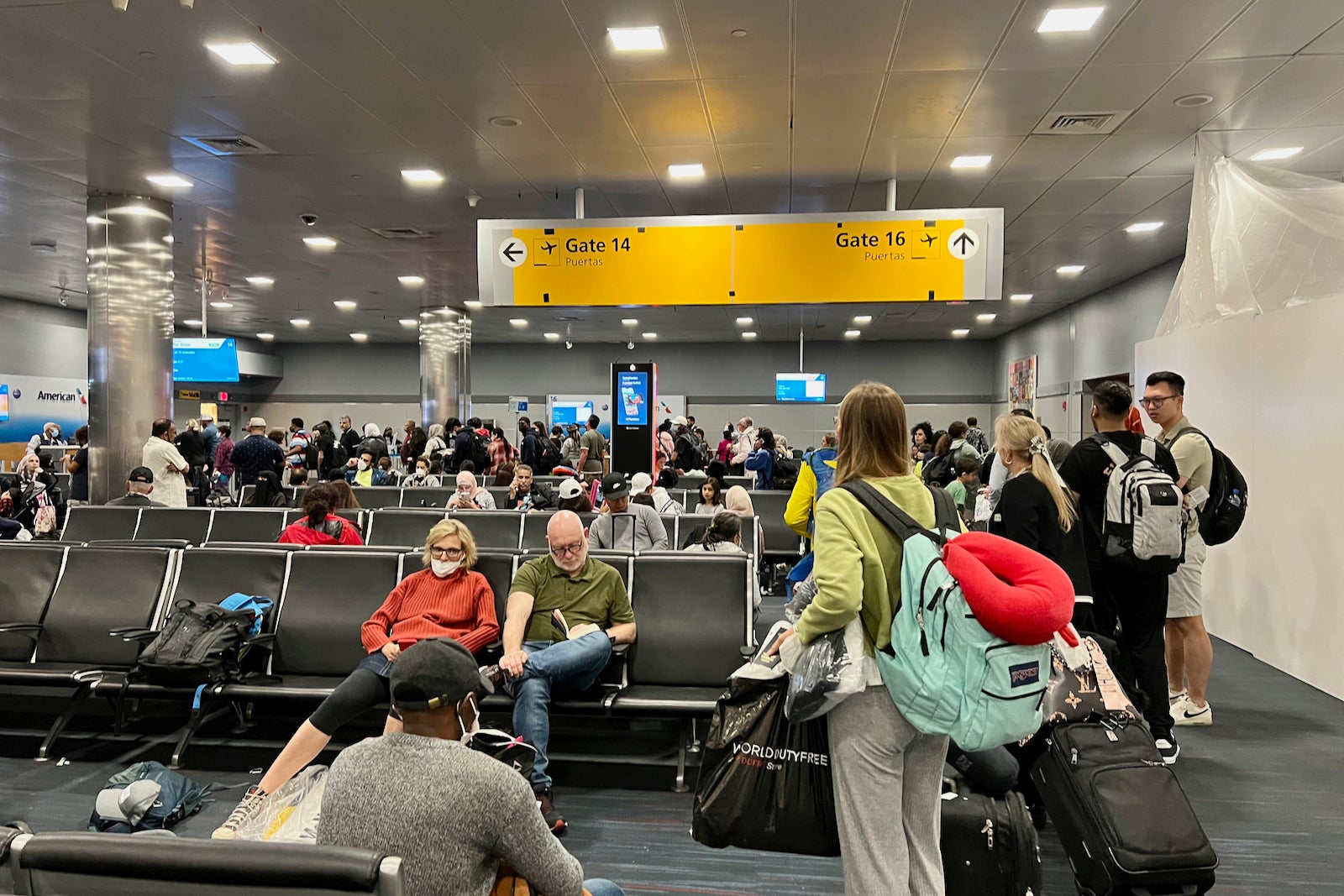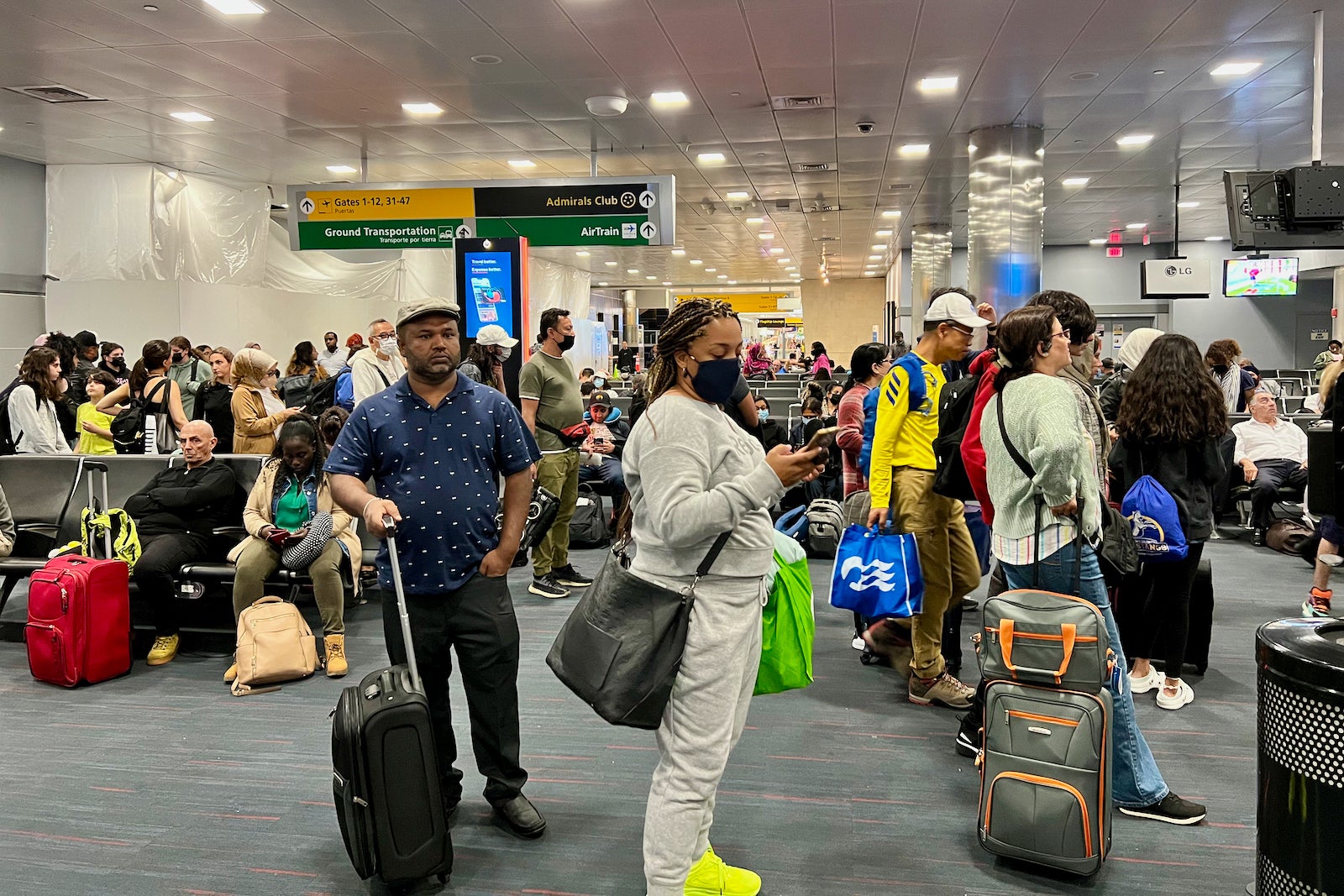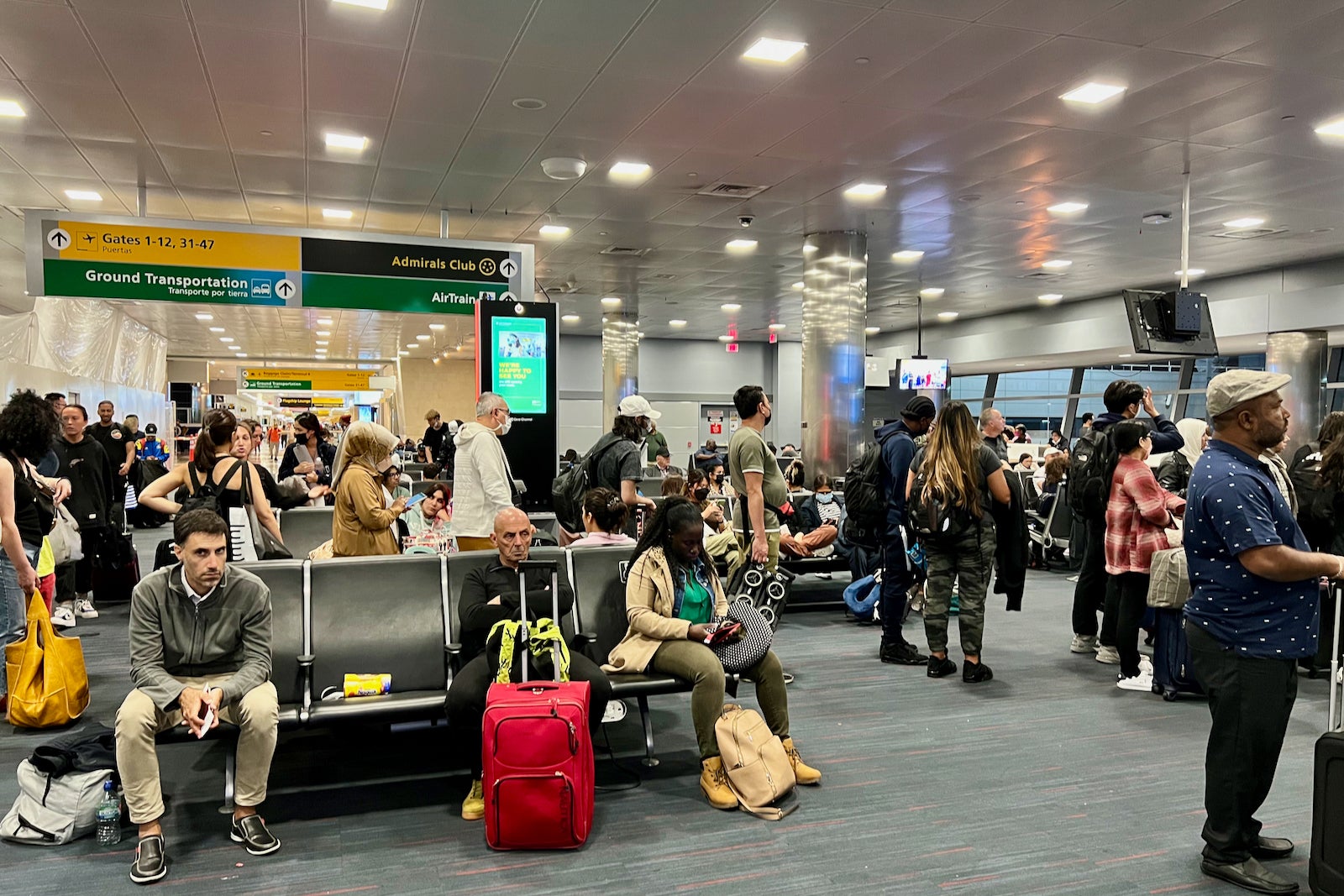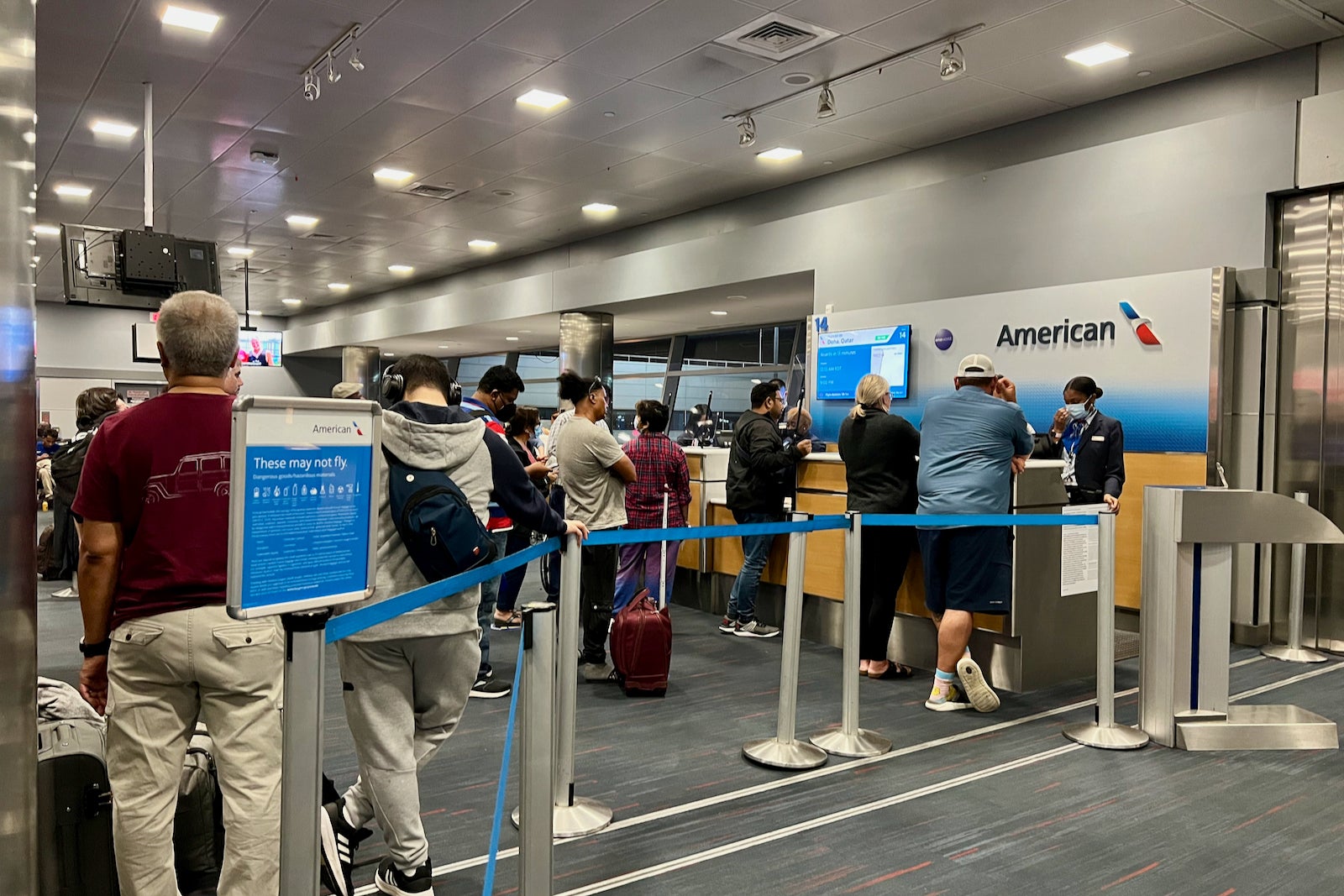 When I arrived, I witnessed chaos: a line of at least 75 people waiting to get their documents checked. With nearly everyone on the flight making a connection to a different destination, the process took a while.
Fortunately, my documents had been checked when I arrived at the airport. Those who made connections onto the Doha flight weren't as lucky, and they were paged one by one on the PA system to wait in line.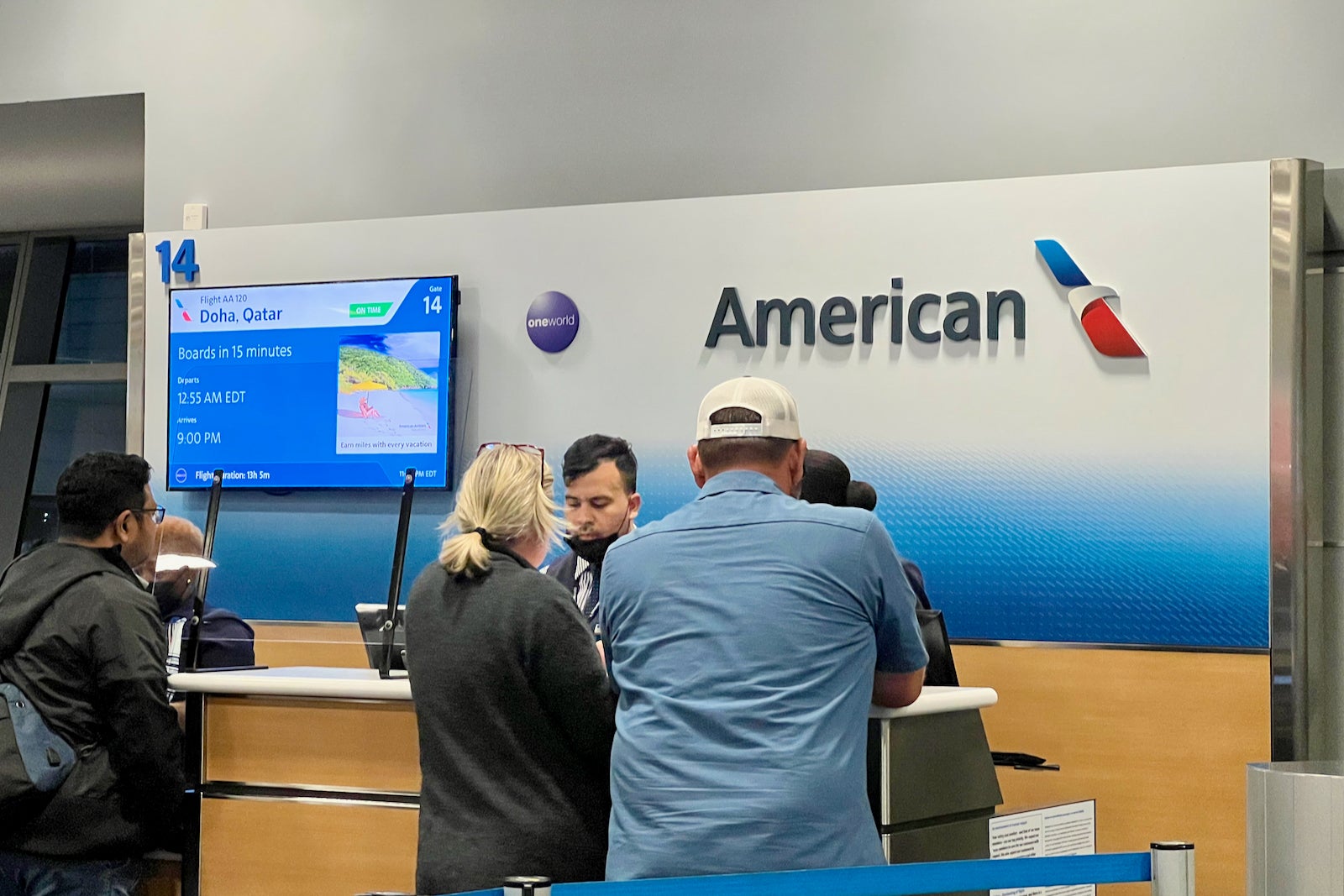 Boarding started on time at 12:05 a.m., but it wrapped up about 15 minutes late due to the document check process. This didn't bother me, as I had a few extra minutes to enjoy American's top cabin.
Cabin and seat
While American's first-class product may not be industry-leading, it sure is exclusive.
The airline offers just eight seats on each of its 20 Boeing 777-300s. (It also offers a first-class product on its Airbus A321T, which it exclusively deploys on premium transcontinental routes.)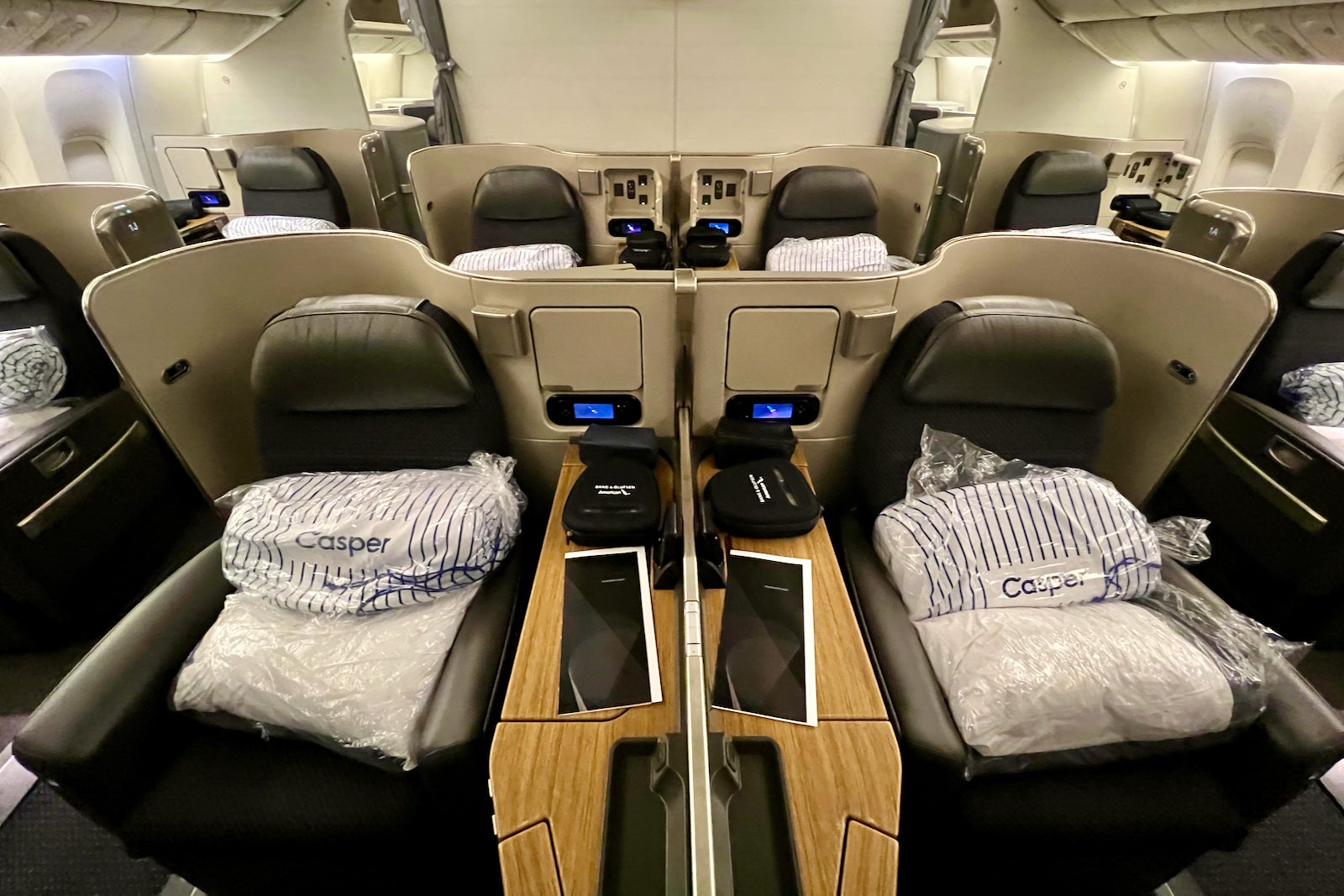 Flagship First occupies the first two rows of the 777-300. With an open 1-2-1 arrangement, each traveler gets direct aisle access.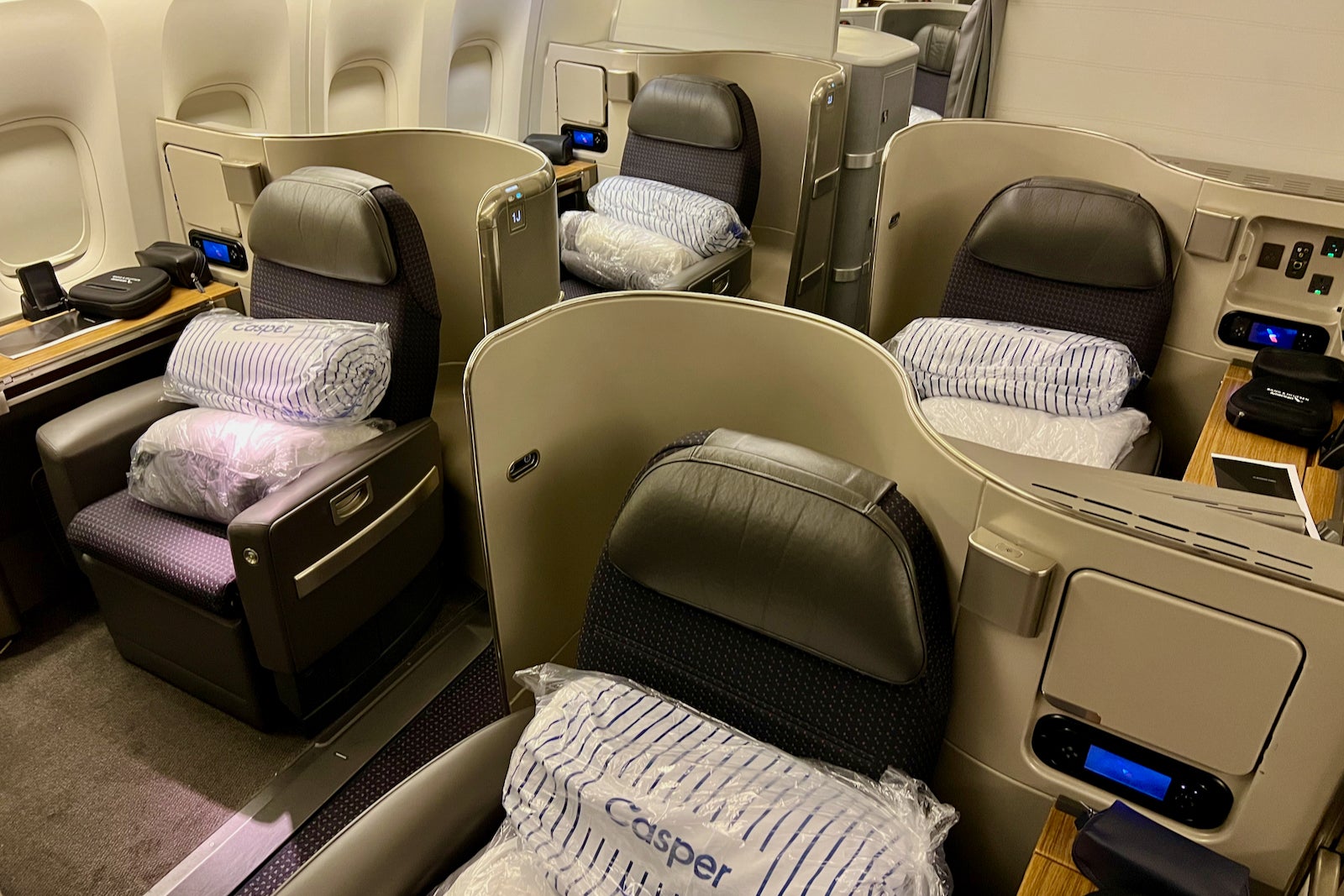 Solo travelers should select one of the four window seats for additional privacy.
The footprint of each seat is undoubtedly much more spacious than business class, as each passenger gets prime access to three windows.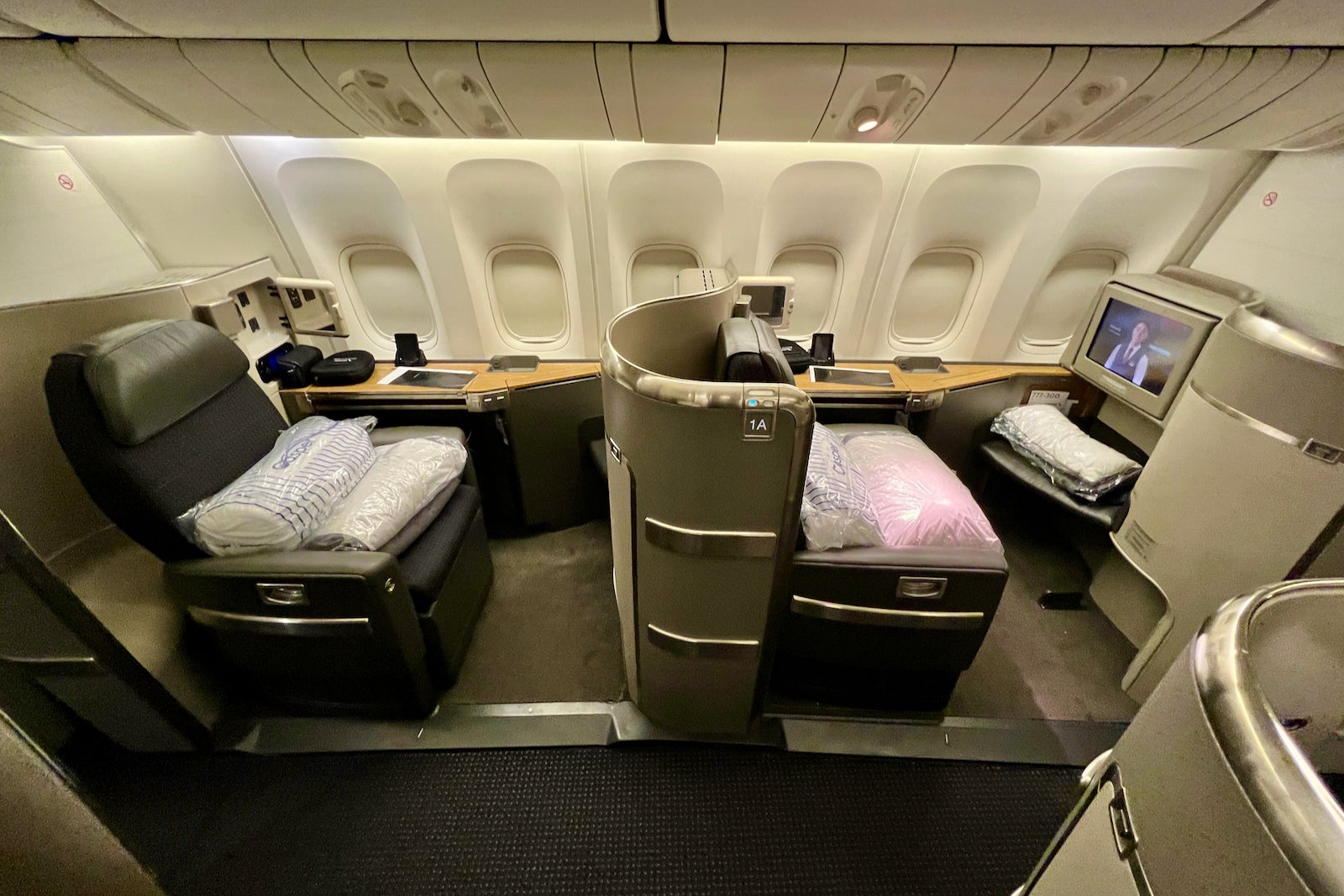 (One of my windows had been decorated with a smiley face, possibly by a child on a recent flight.)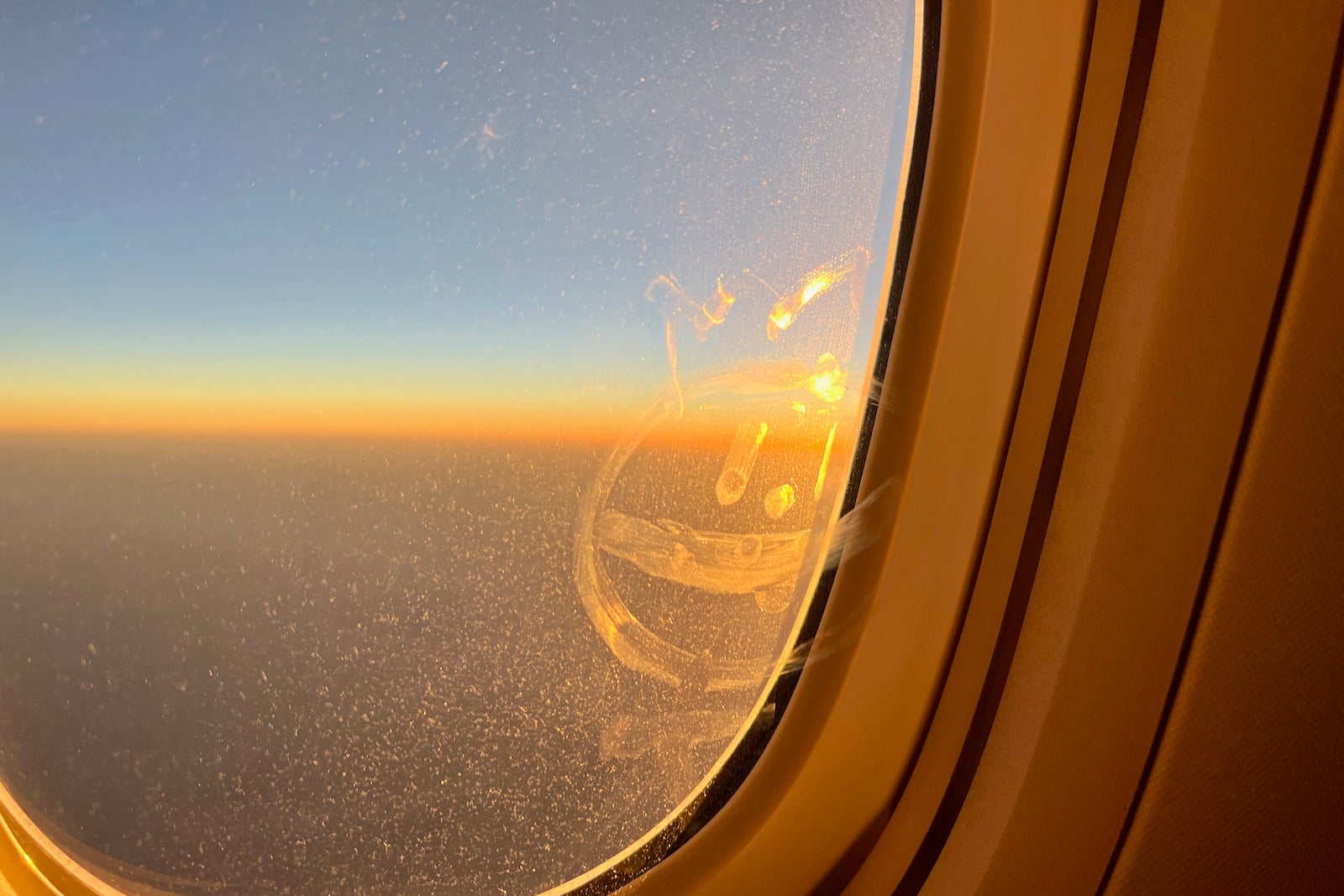 While there is a privacy divider between the two center seats, it needs to remain down during taxi, takeoff and landing.
This Flagship First product was unveiled back in 2011, and it's definitely starting to show its age. The privacy divider between the center seats in the second row was inoperable, and there was considerable wear and tear along the sides of the seats (including my window design).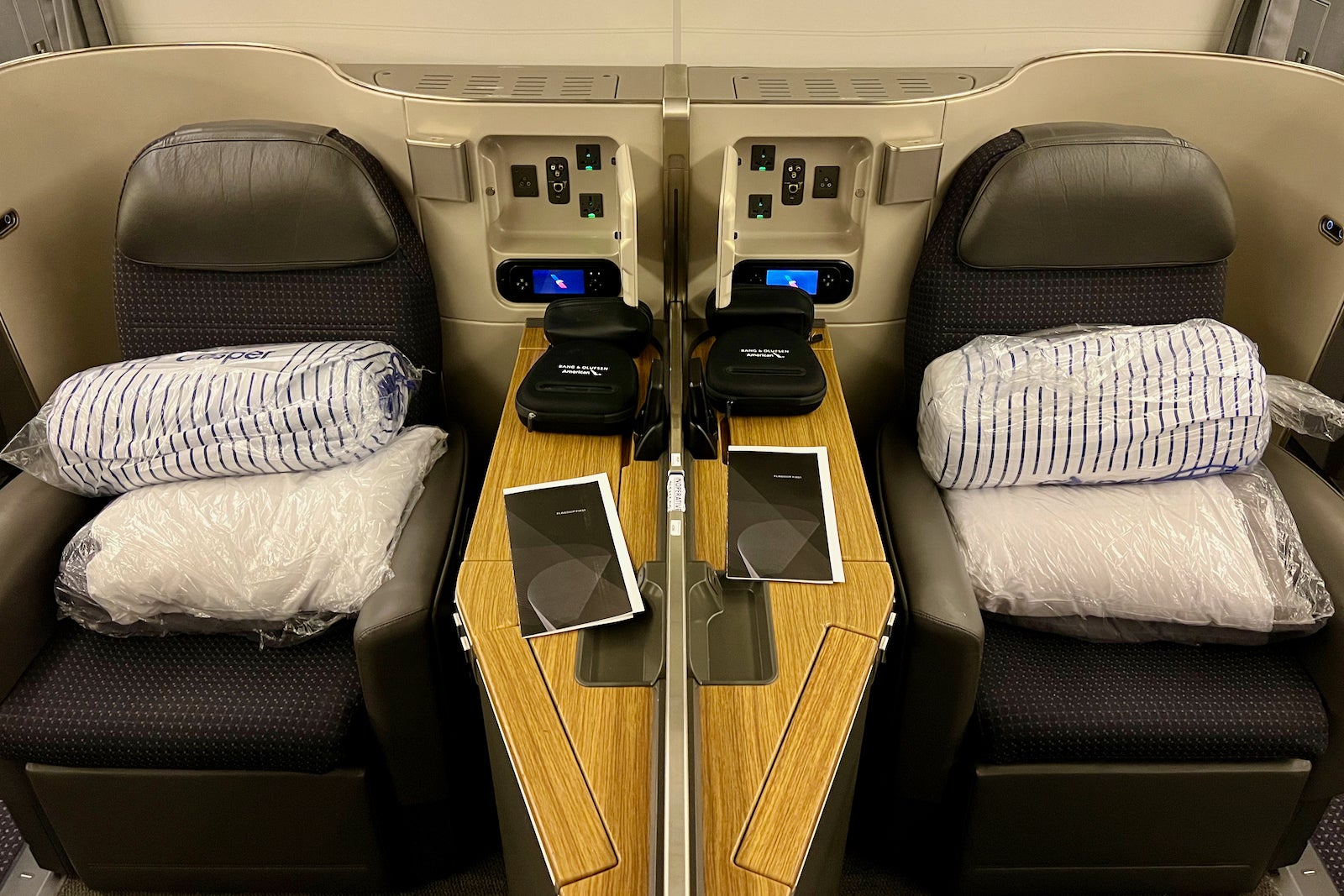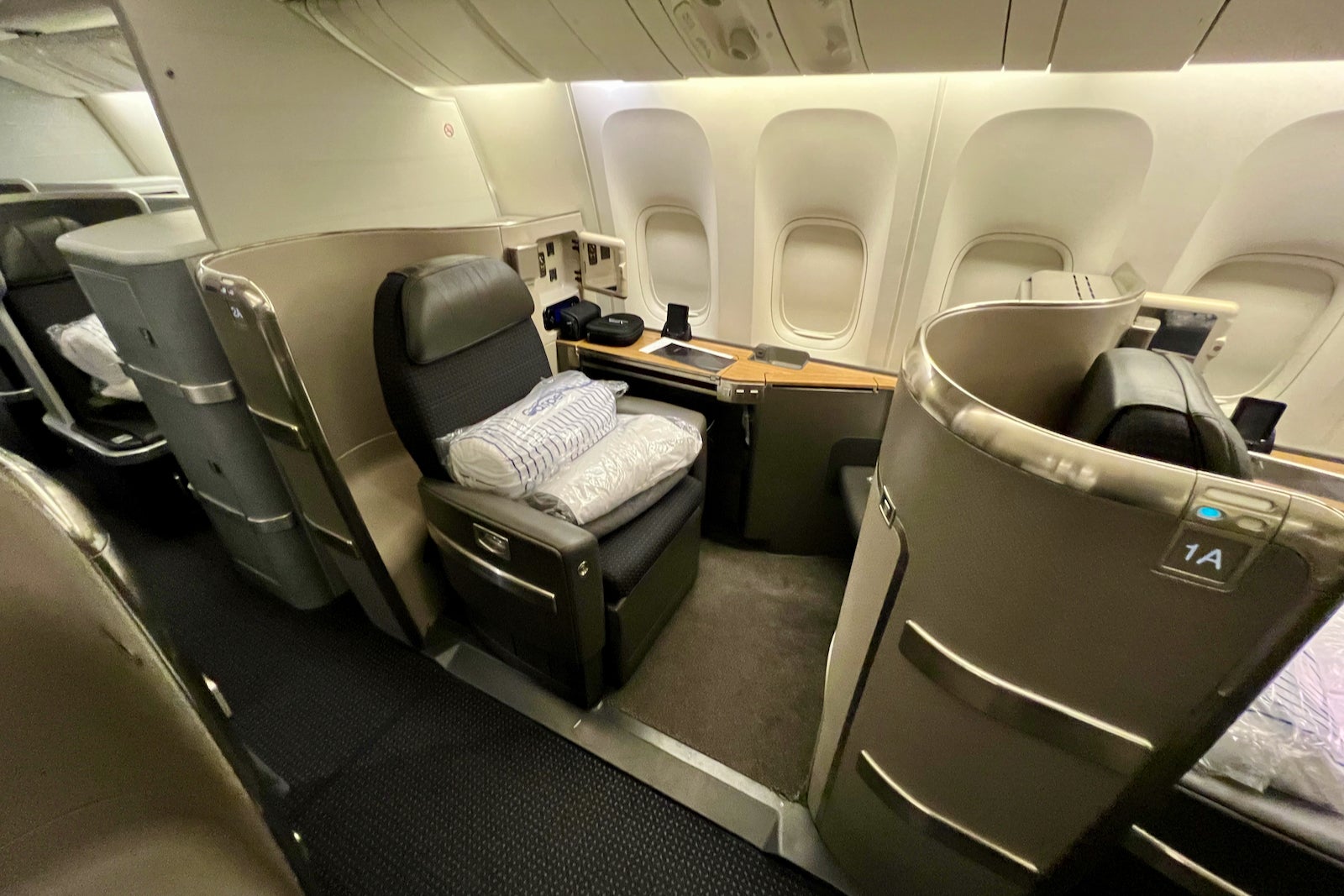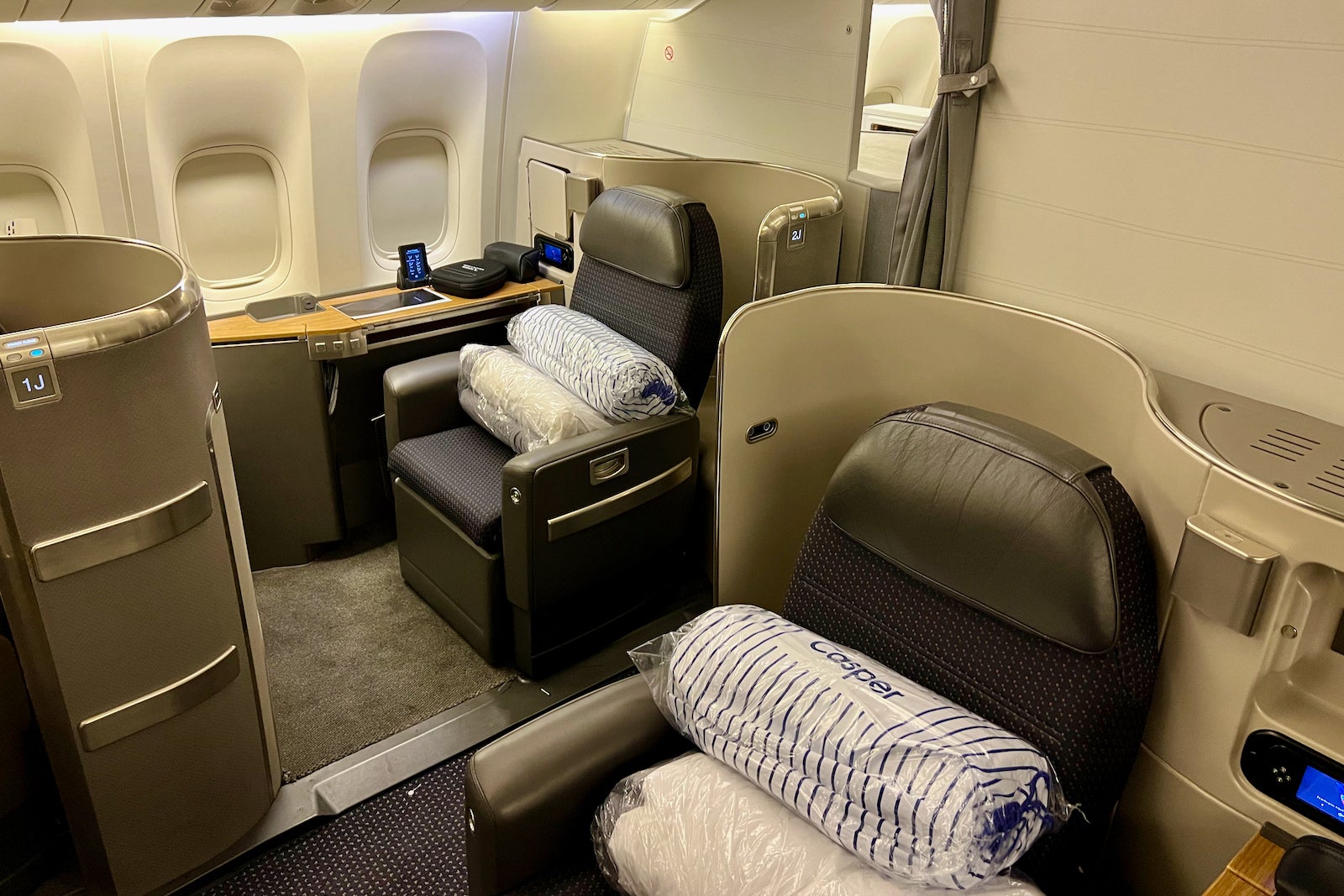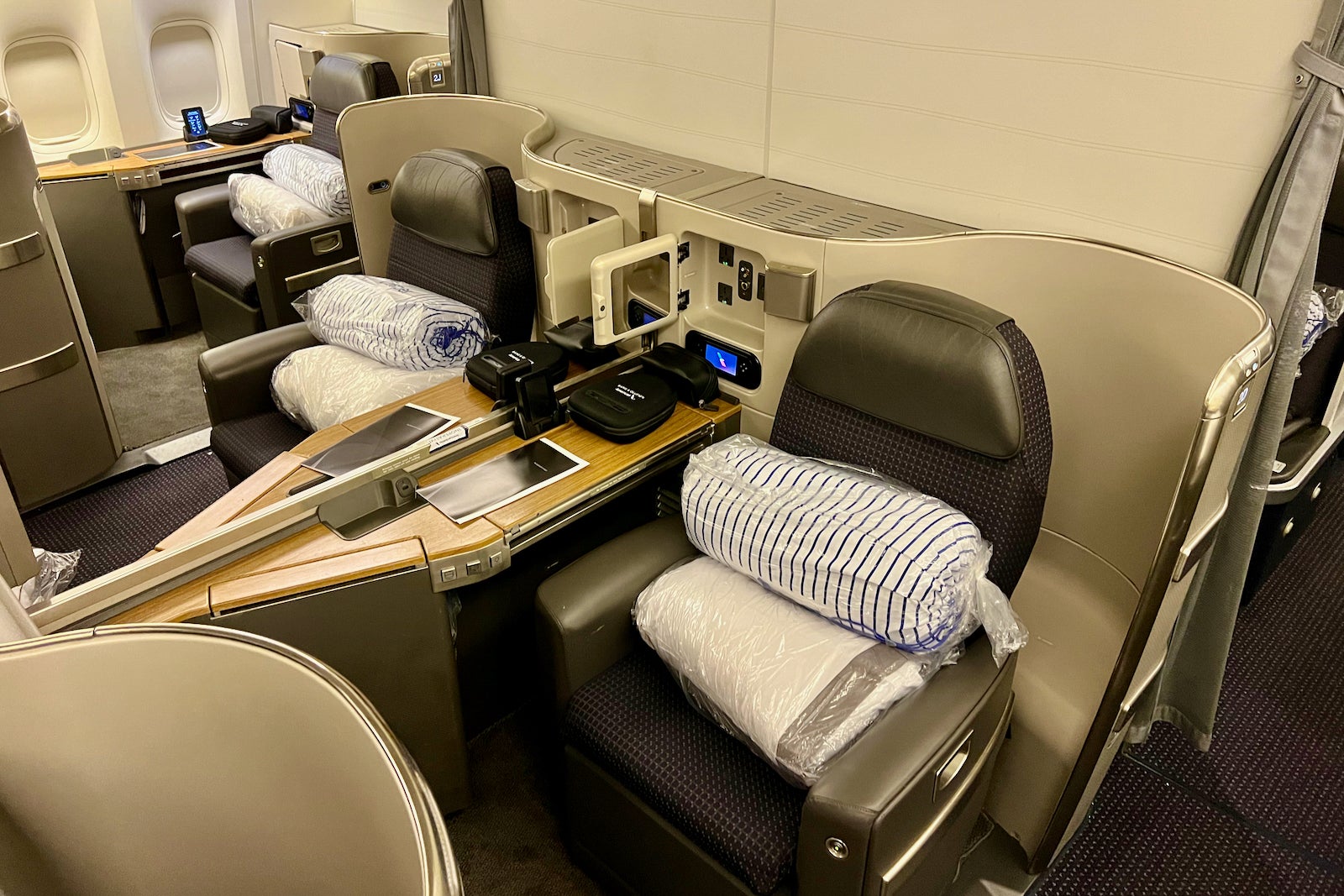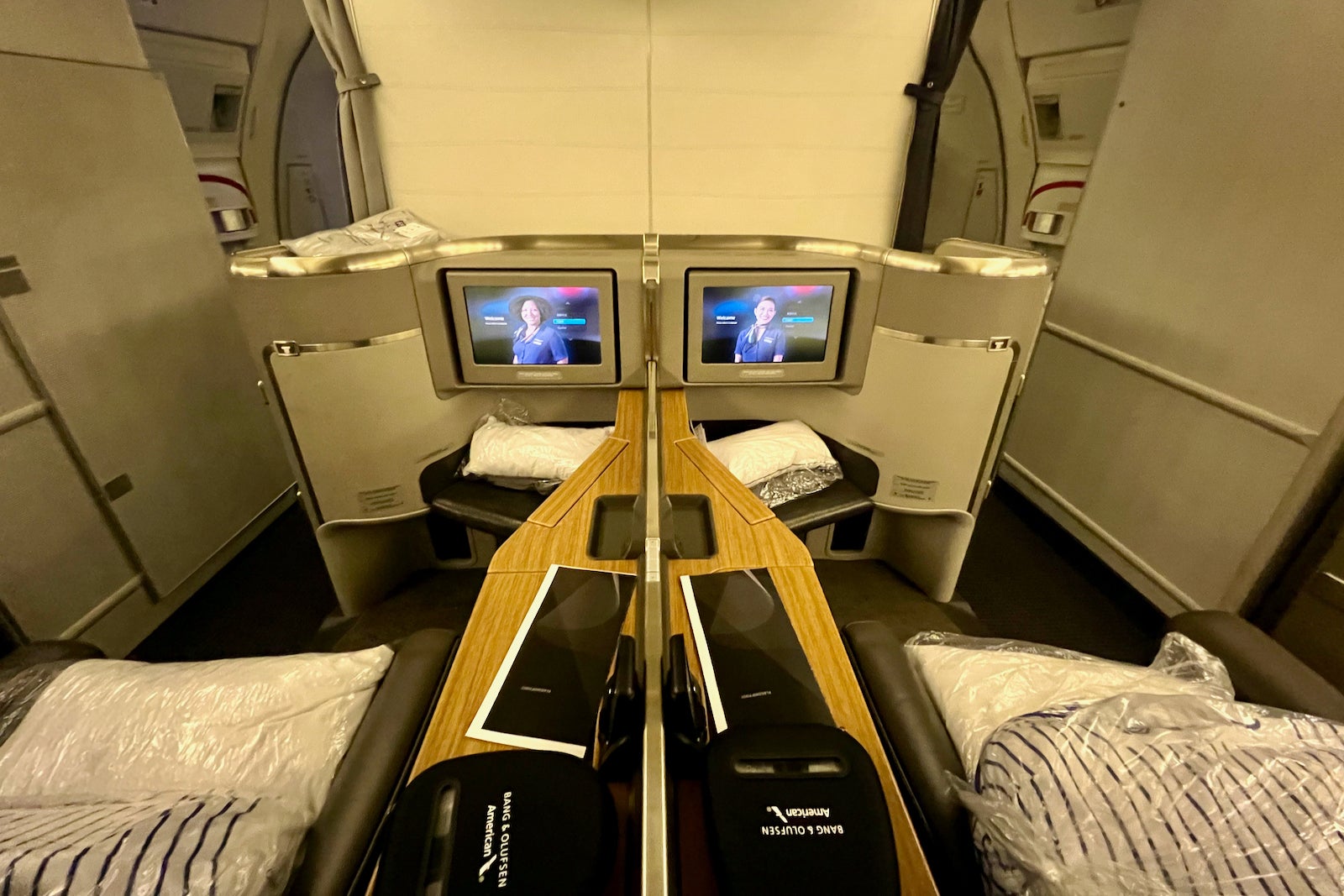 While the airline's gray and brown design motifs may have felt fresh ten years ago, it now feels like a design suited more for a healthcare setting than an international first-class cabin.
As far as international first-class cabins go, American's isn't especially competitive. While you'll enjoy more personal space than in business class, the seat itself doesn't feature many of the bells and whistles you'll find in the world's nicest cabins.
For one, there are no sliding privacy doors (something you'd find in Qatar's Qsuite business class on the same route). The center seats don't convert into a double bed (another Qsuite feature), and there's no enclosed storage area.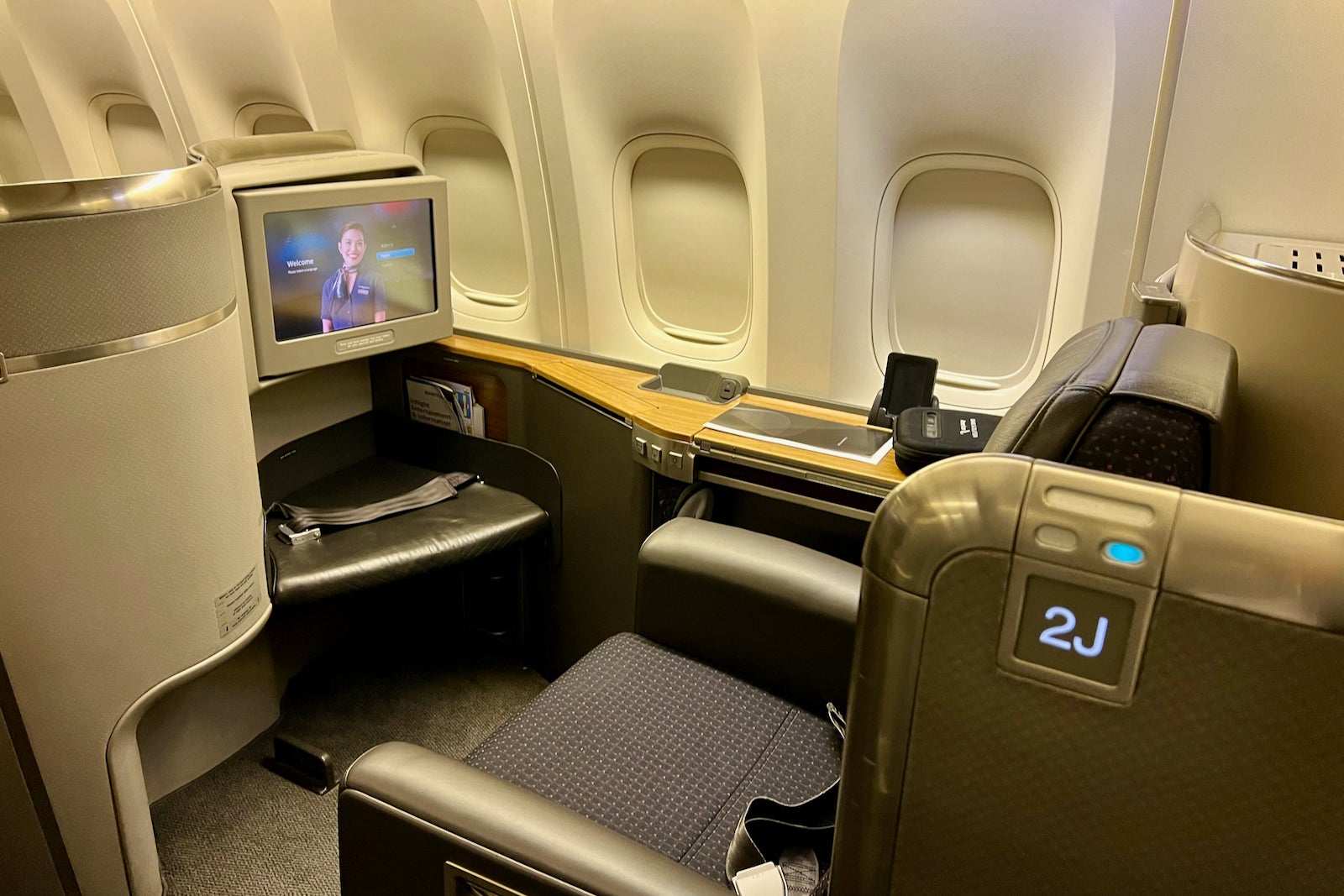 That said, American's first-class product is unique in that it swivels in three different orientations.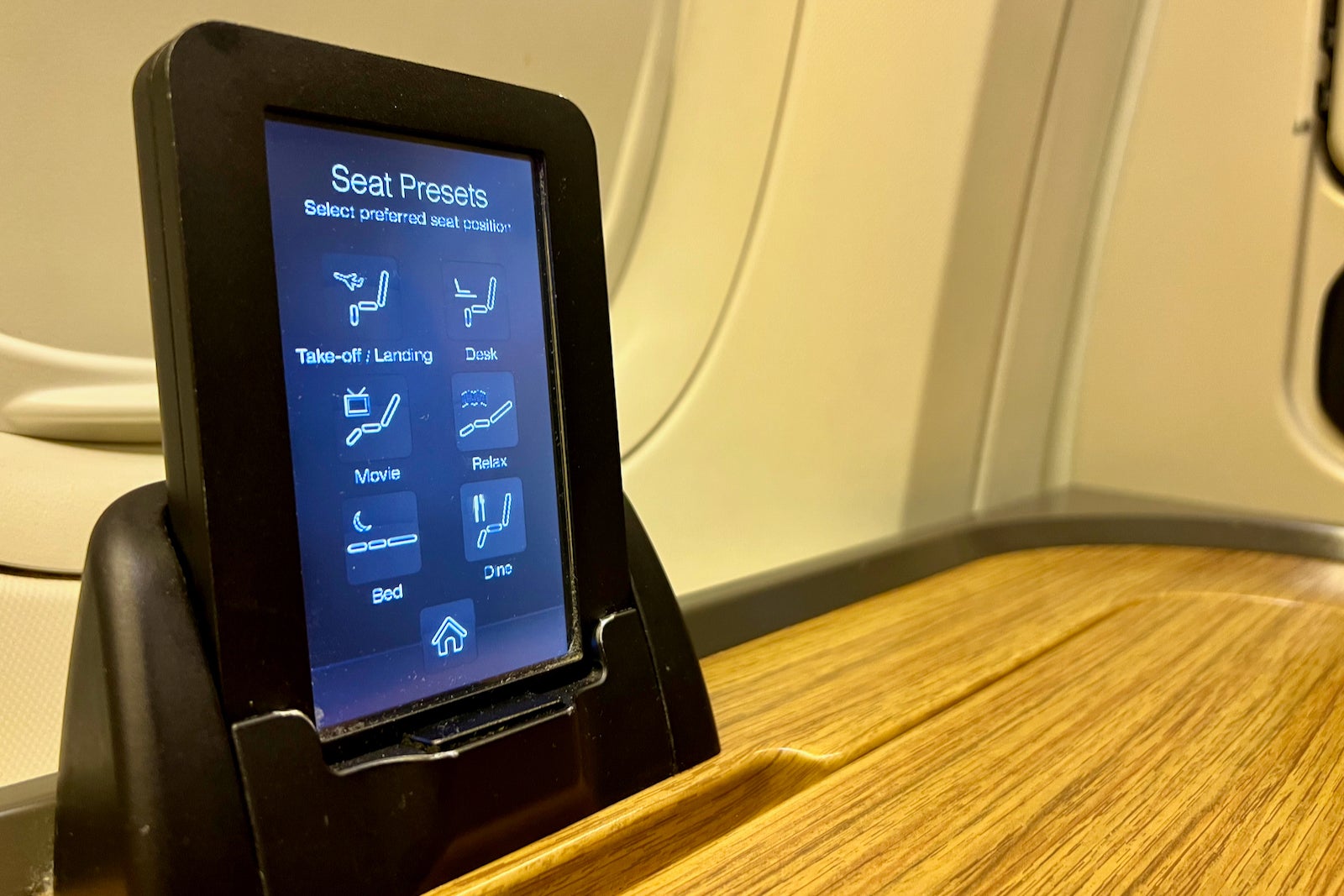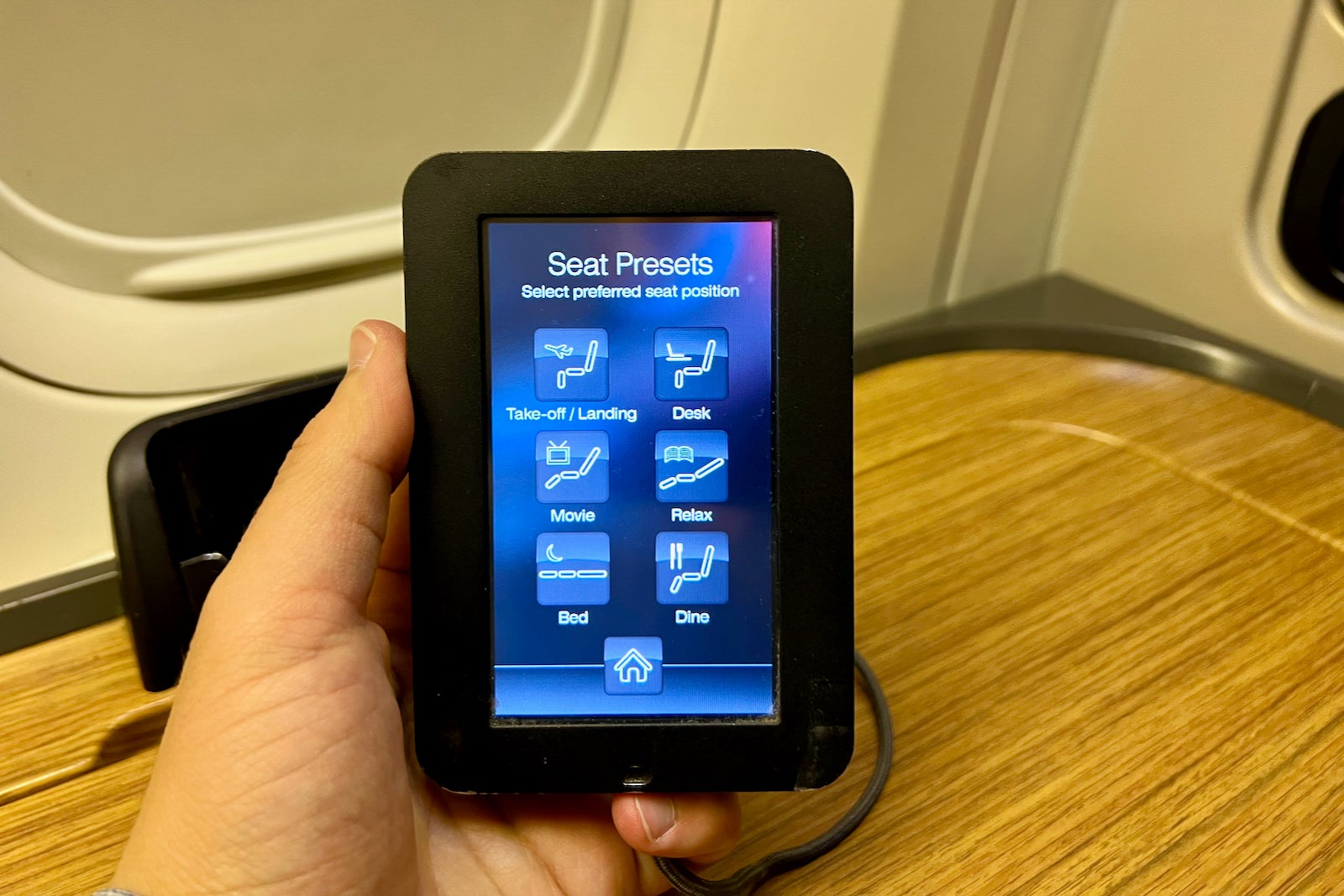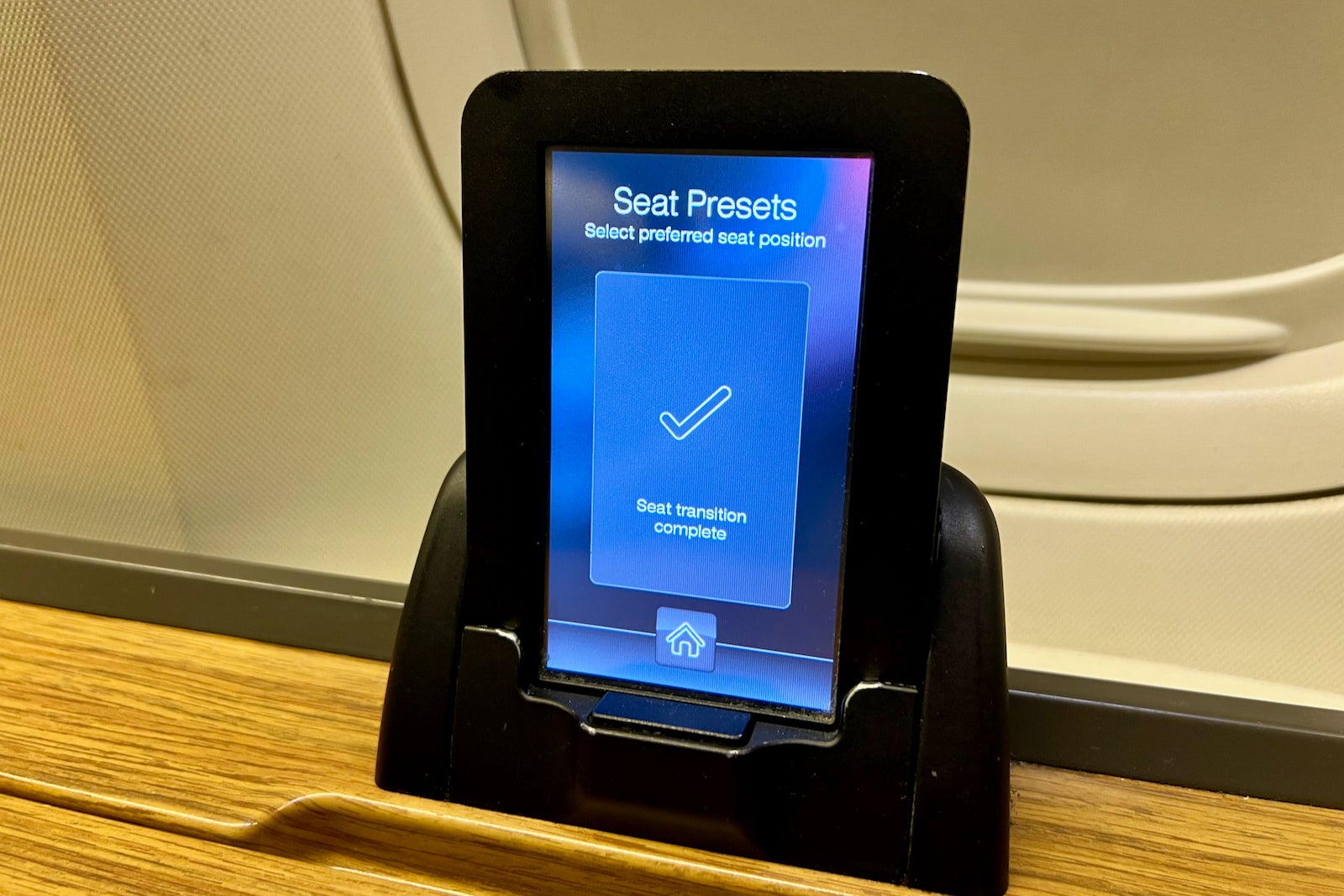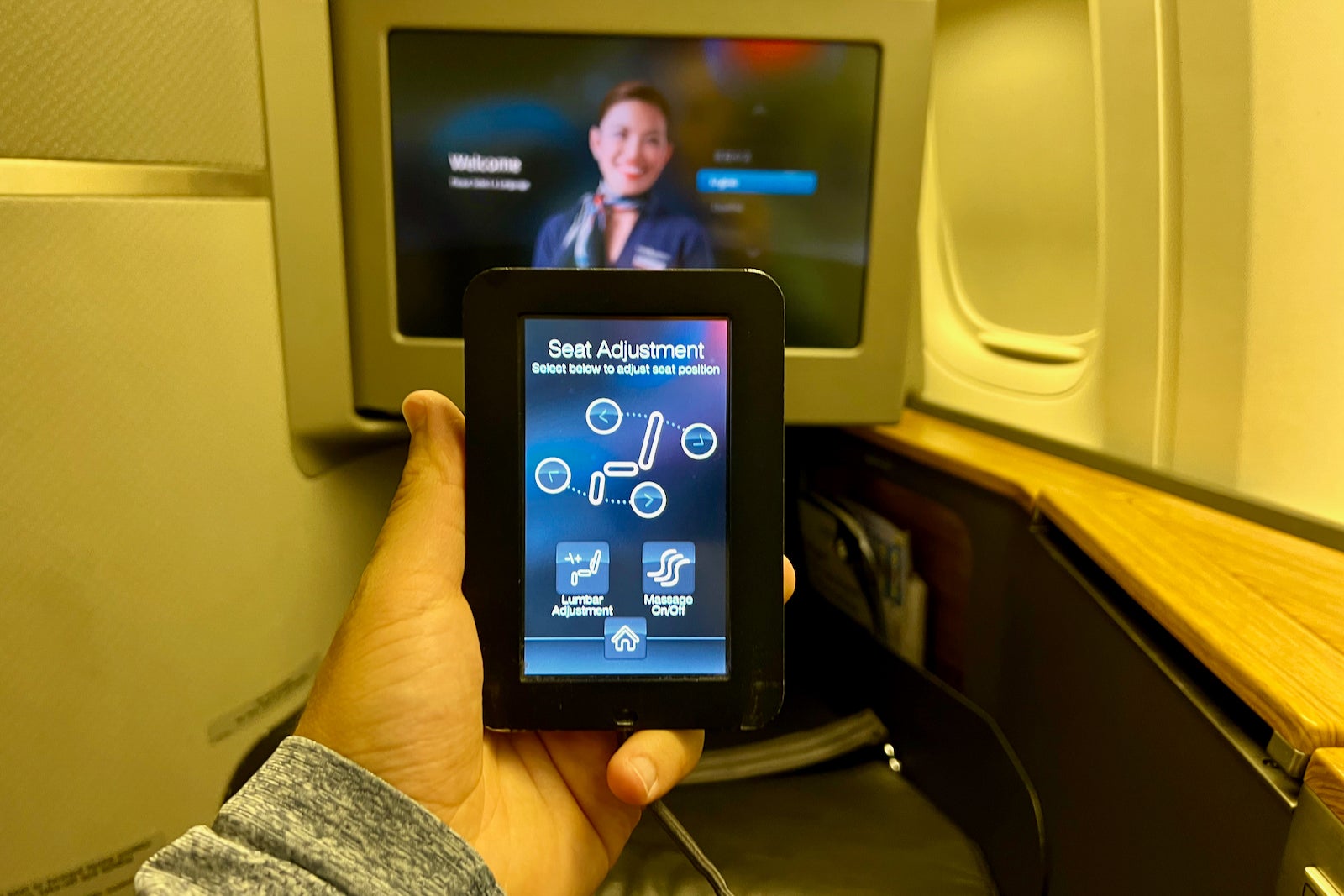 The most common is angled away from the aisle, in a reverse herringbone configuration. This is also the configuration that turns the seat into a bed.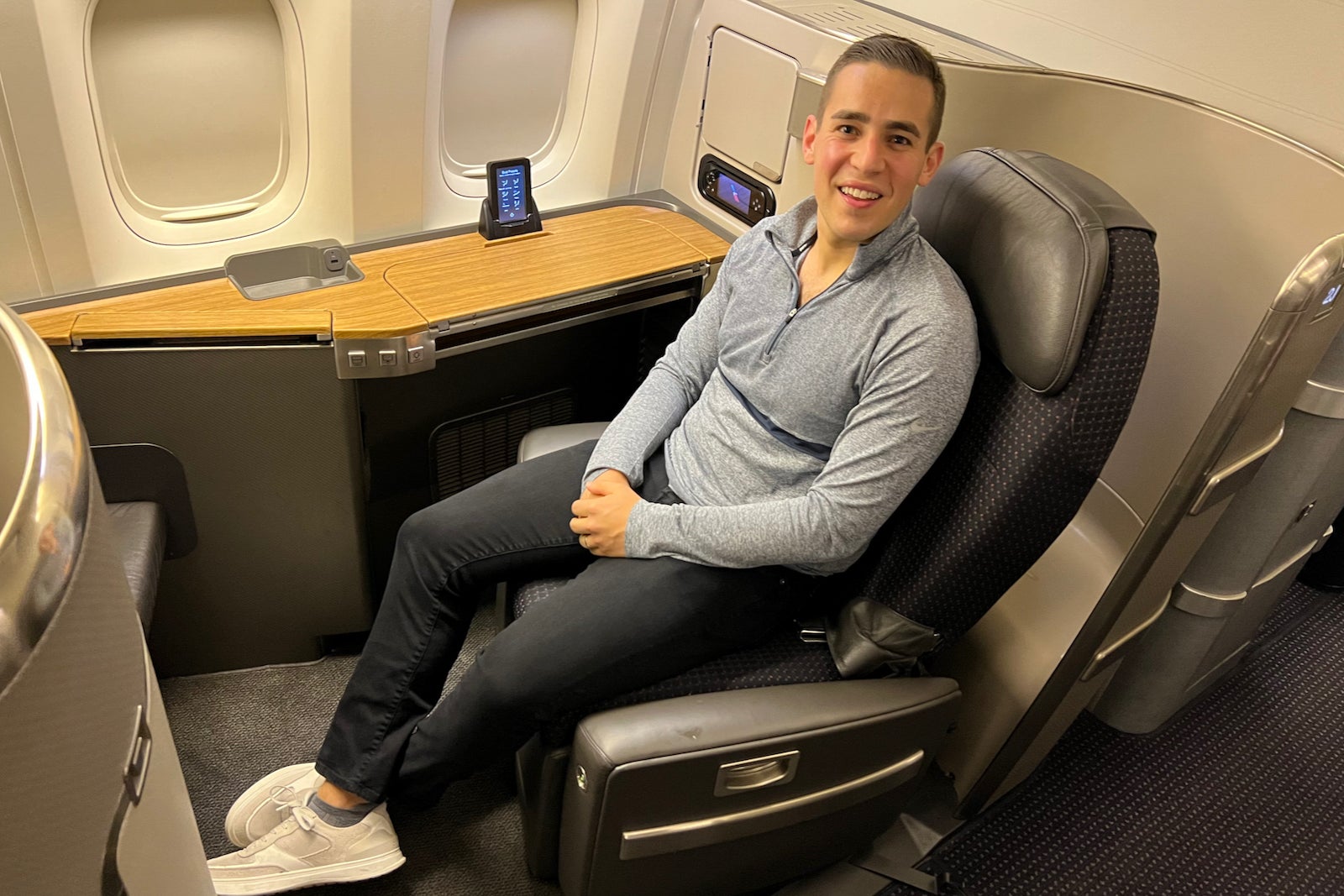 During taxi, takeoff and landing, you'll need to move the seat into a forward-facing arrangement.
Finally, once airborne, you can swivel the seat into desk mode, which turns the seat perpendicular to the aisle. This unique configuration is perfect for those who need to focus on some work.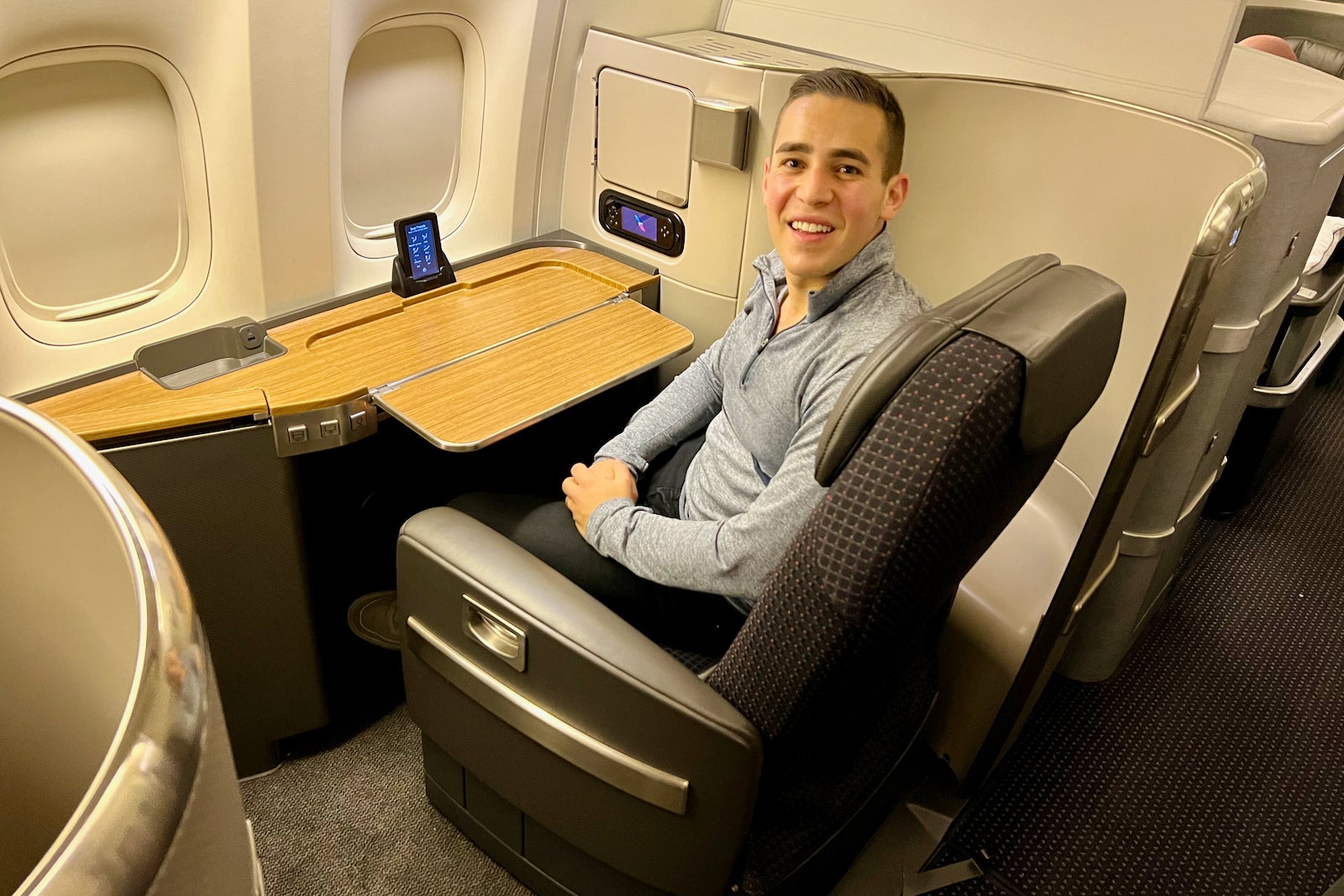 There's even a bi-fold table (large enough for a 16-inch laptop) that can be extended when you're in desk mode.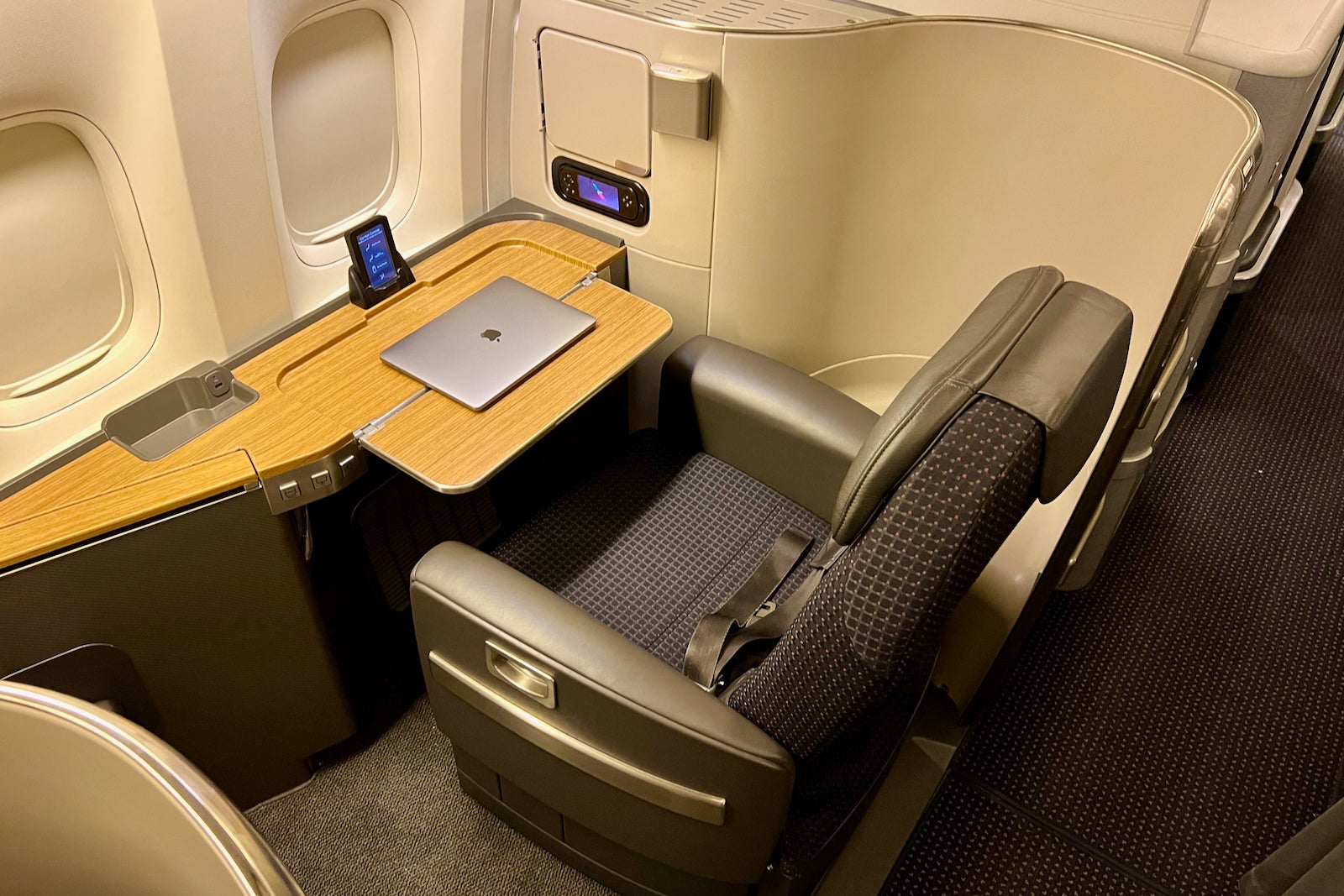 The standard tray table pops out of the side of the seat and measures 24 inches long by 20 inches wide. It slides on its track, making it easy to get out during a meal.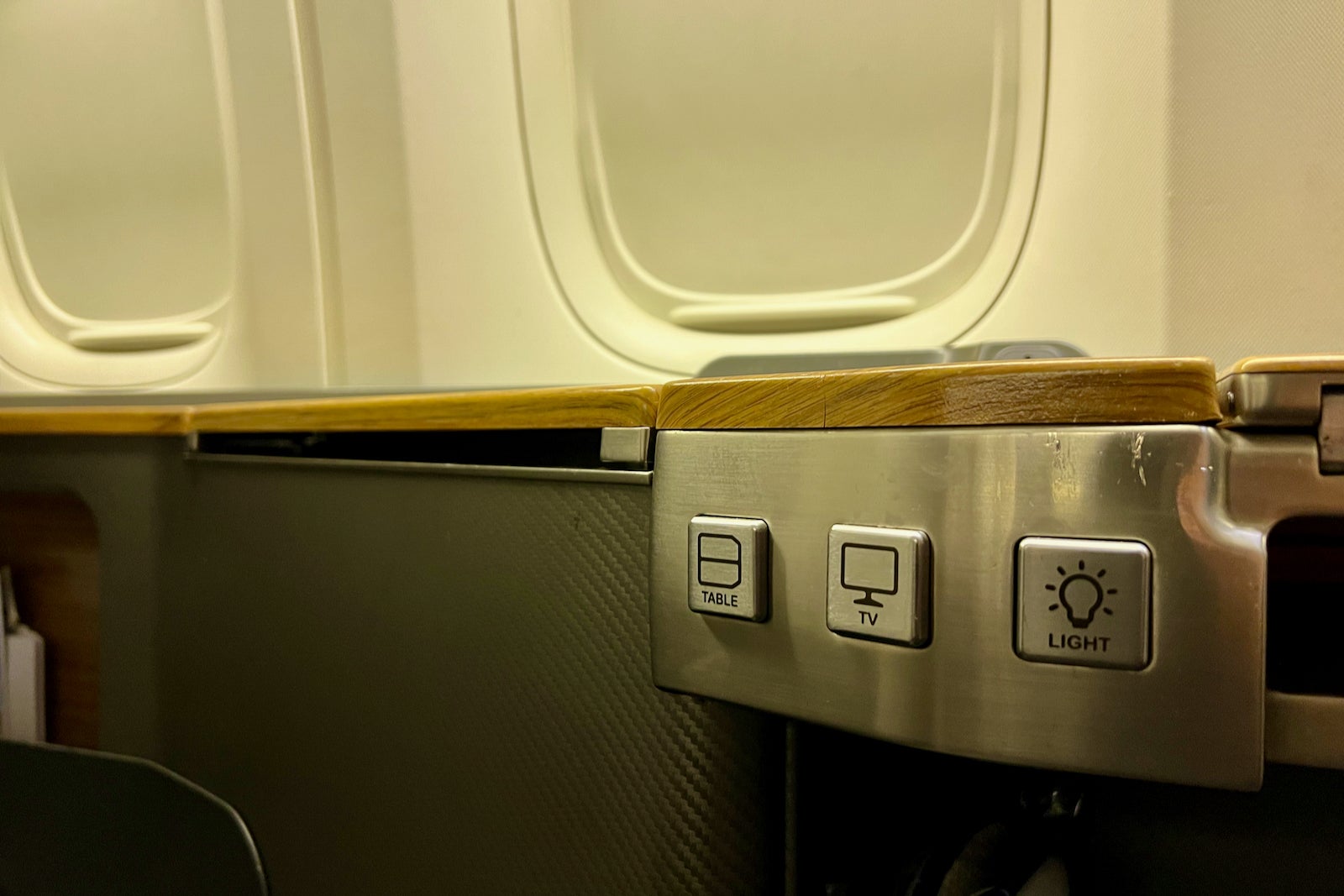 The ottoman area doubles as a buddy seat, so you can enjoy a meal or catch up with a colleague during the flight.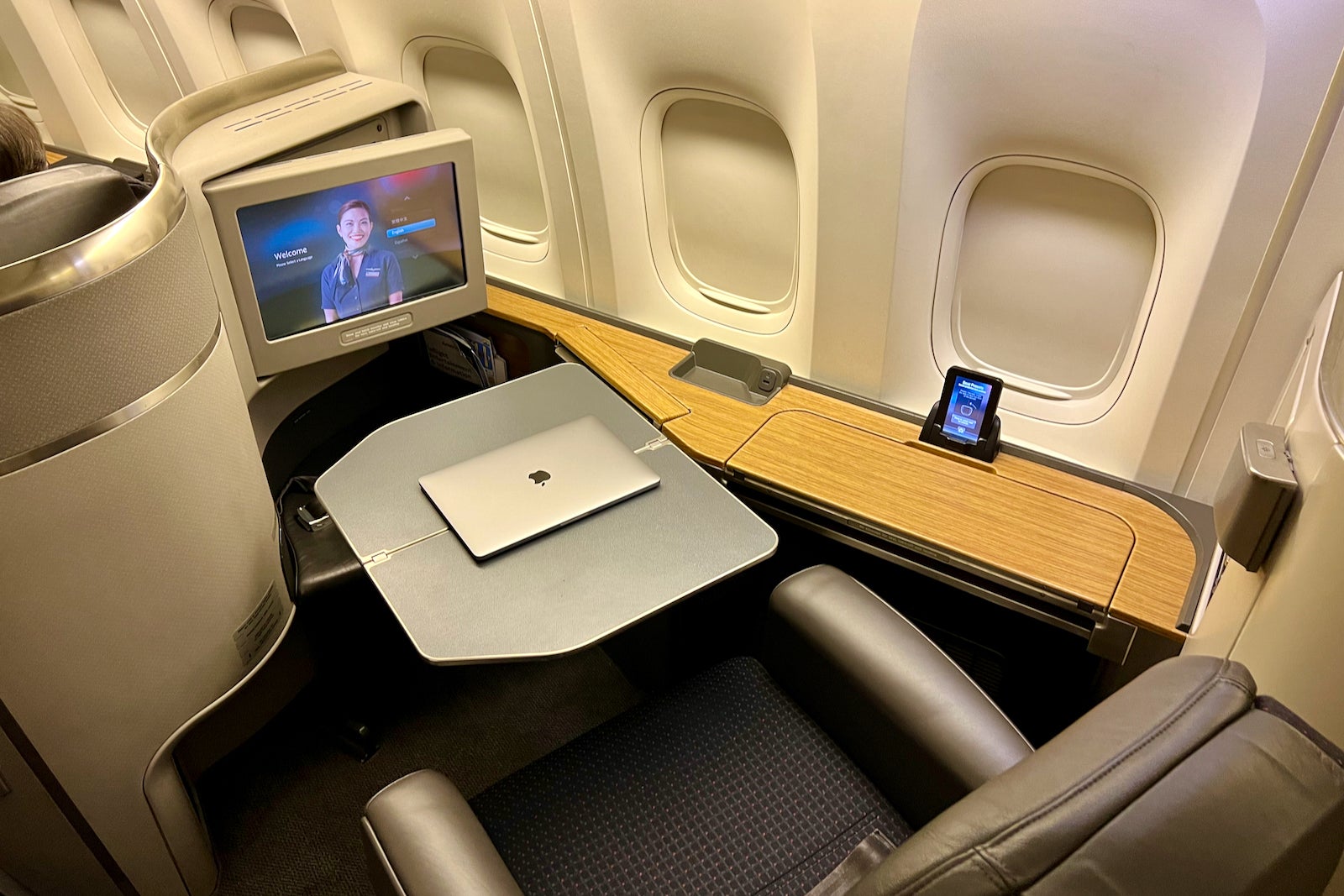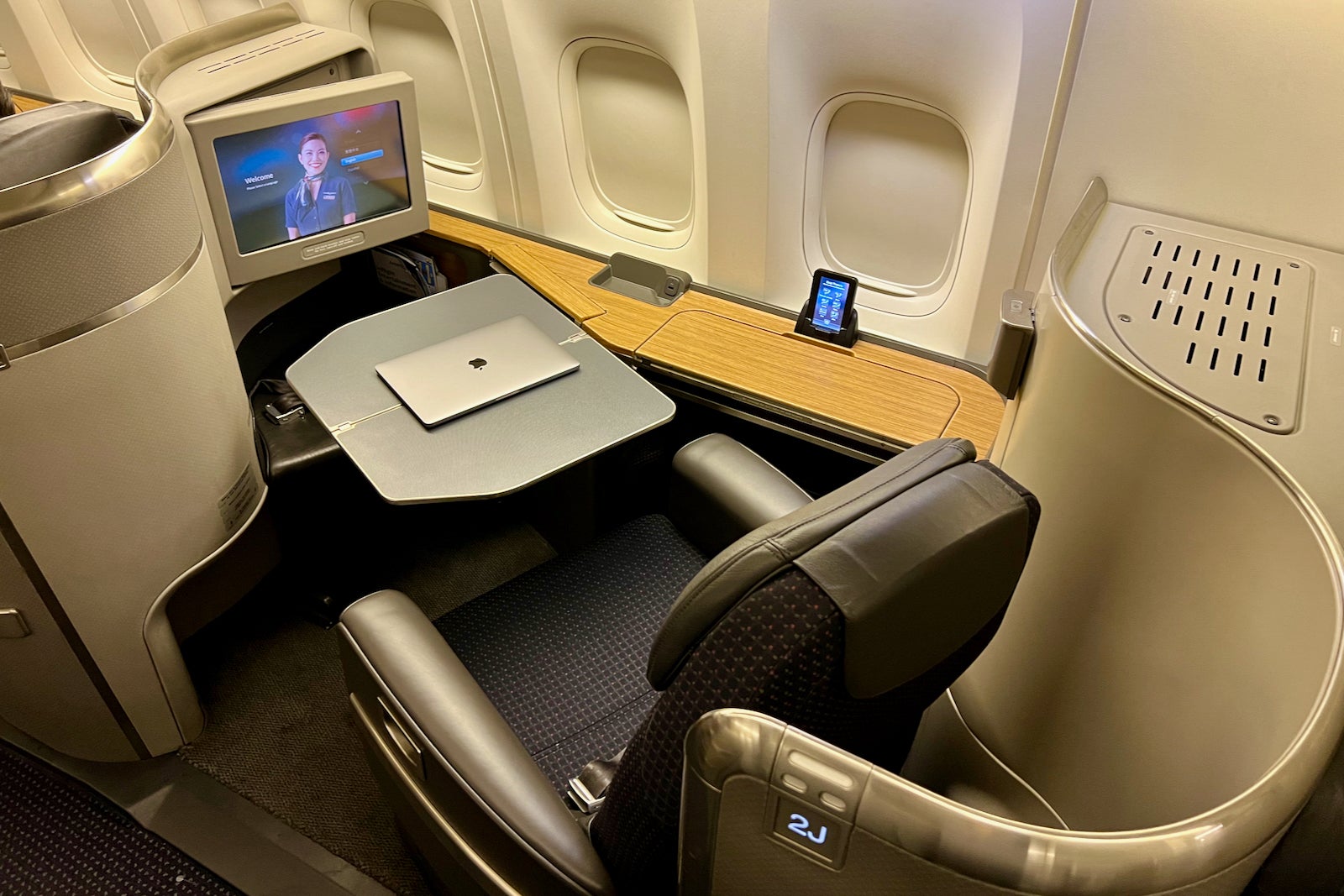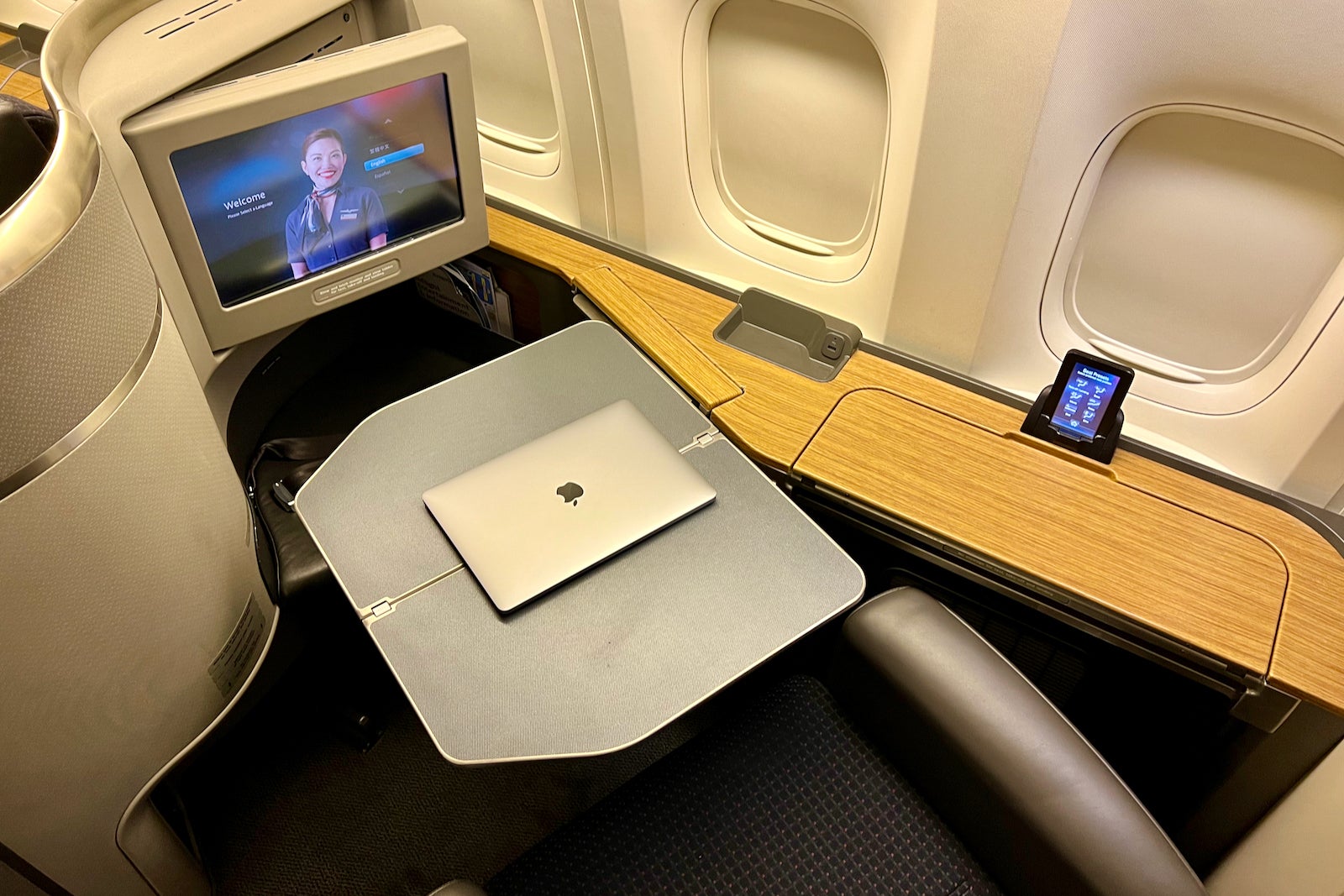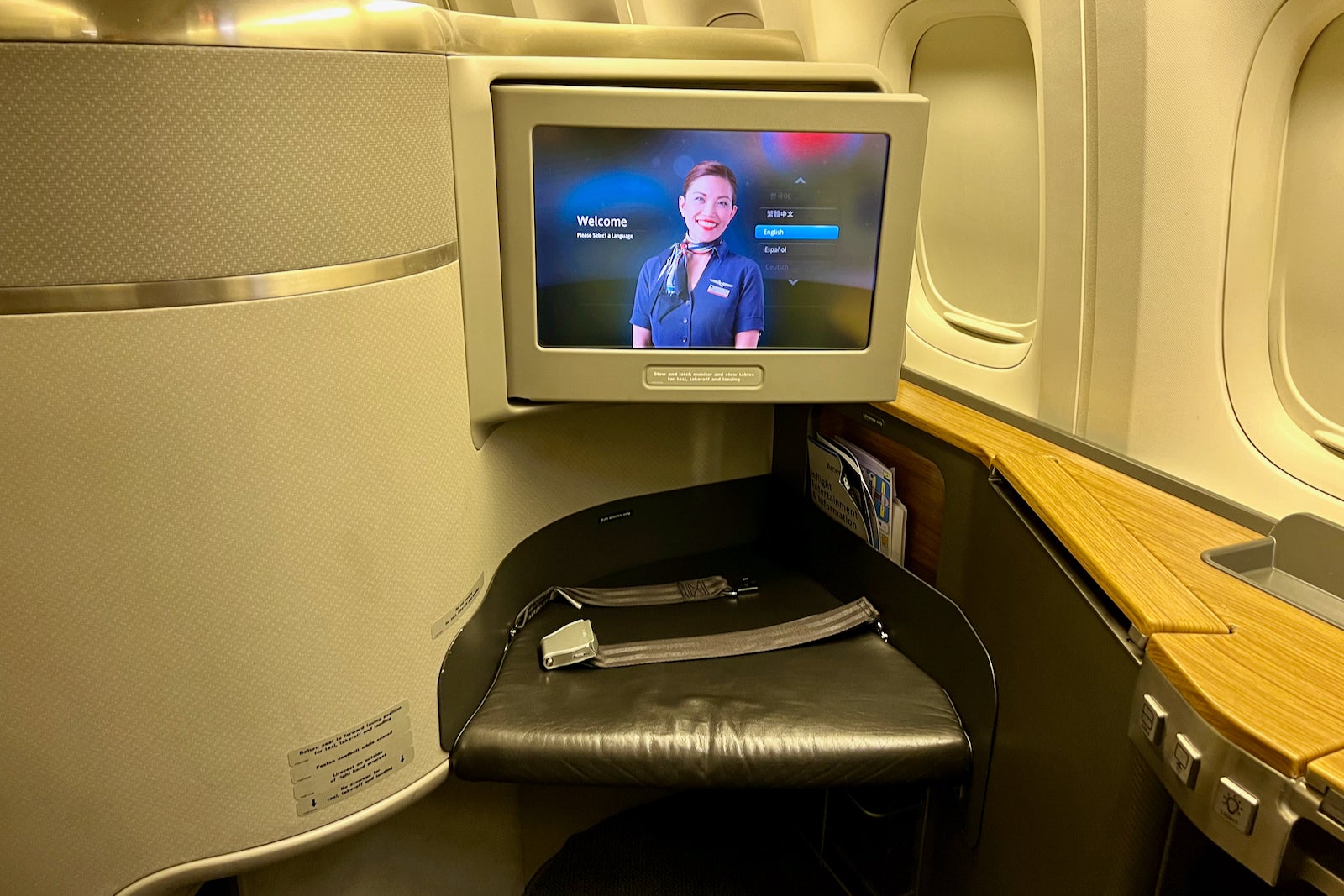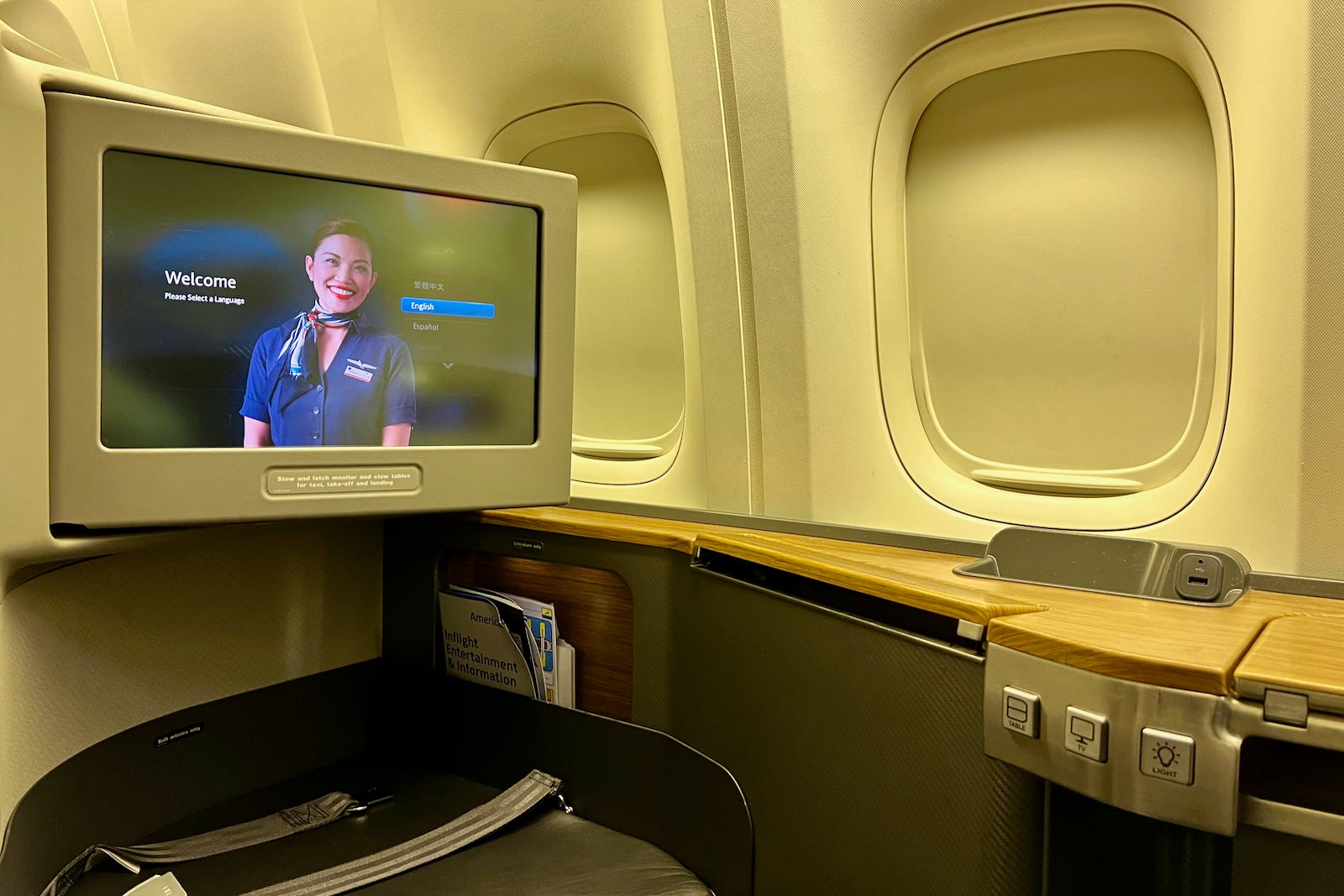 When it's time for sleep, the seat converts into an 82-inch-long bed. (The small tablet screen on the side of the seat is used to customize your seating preferences.)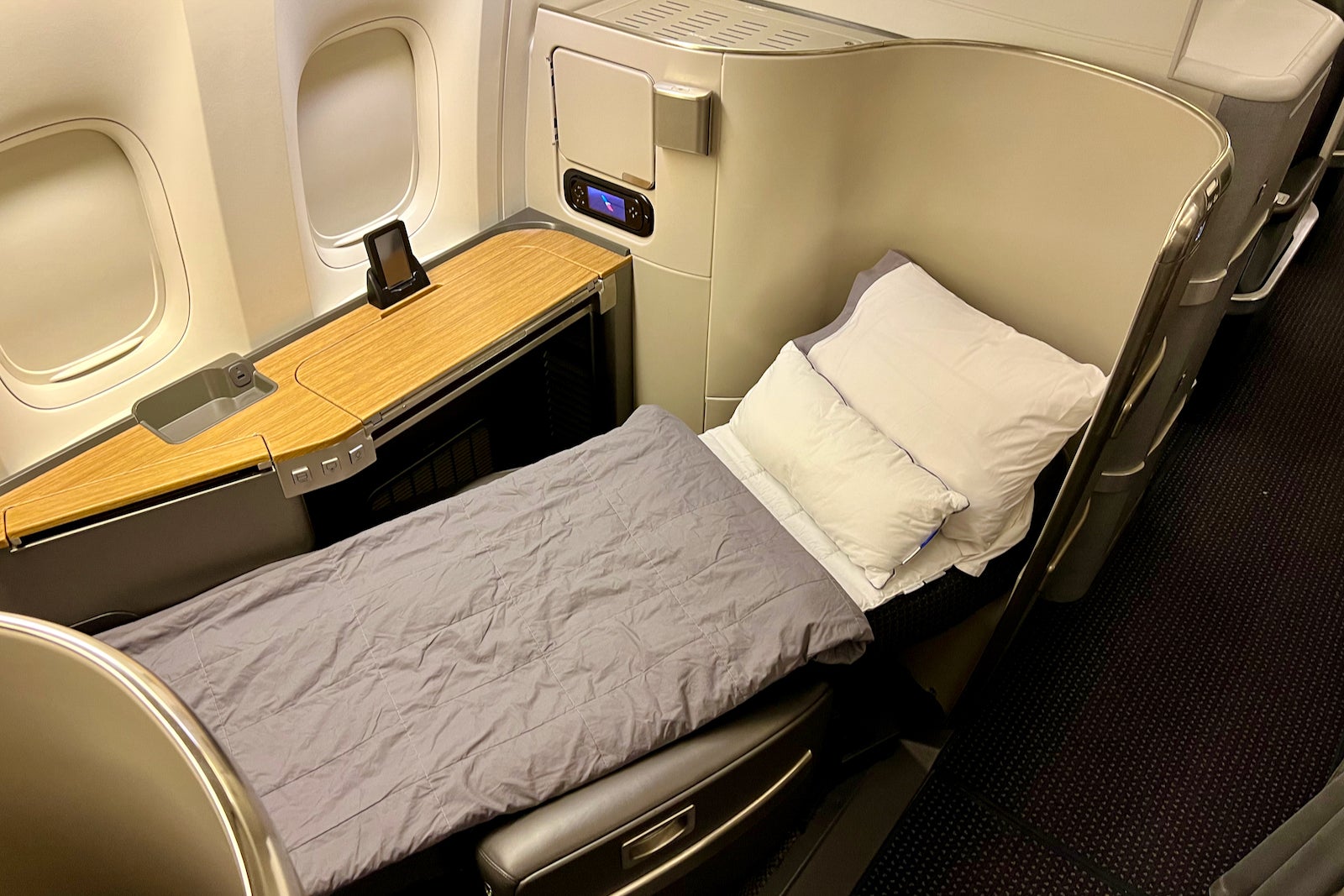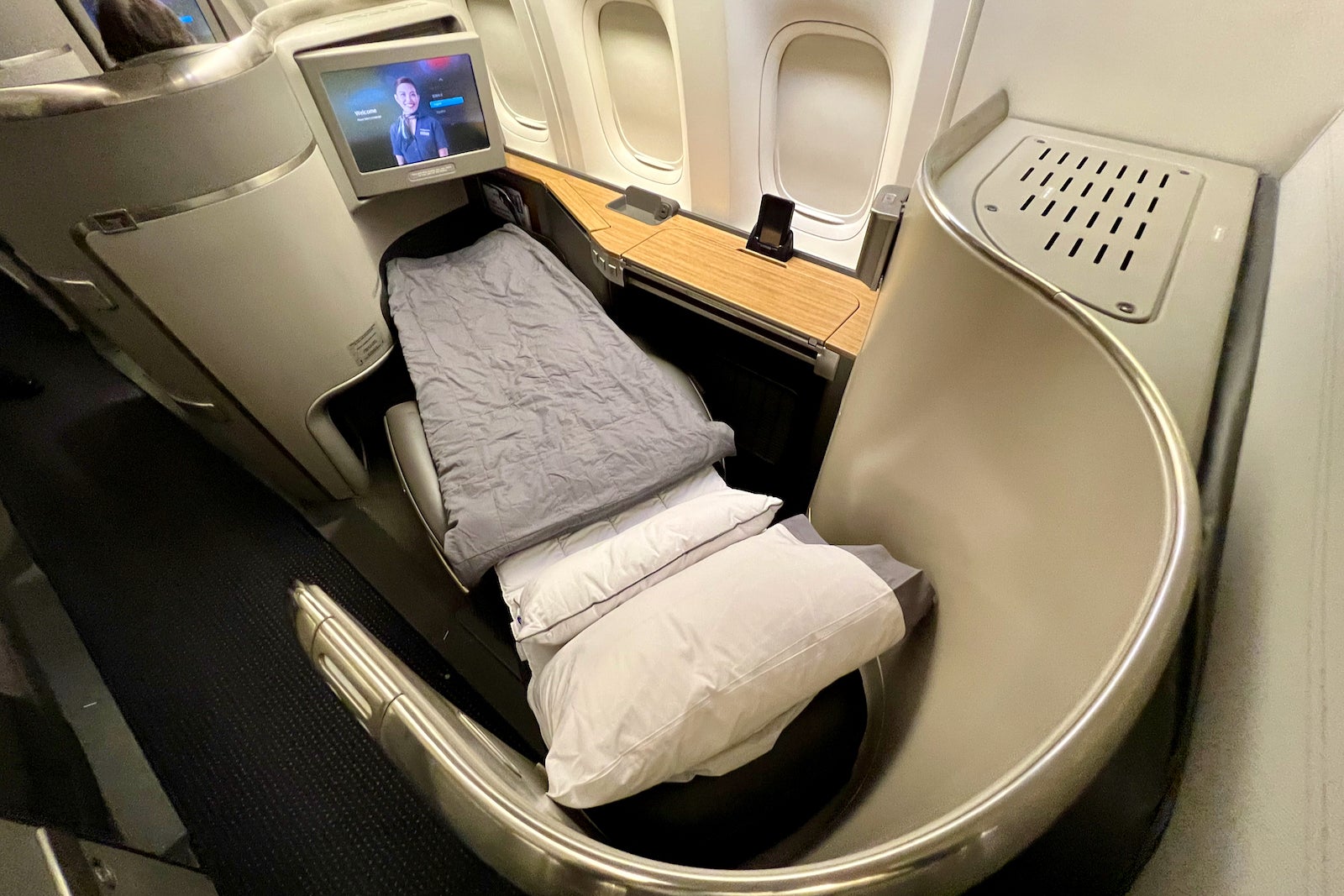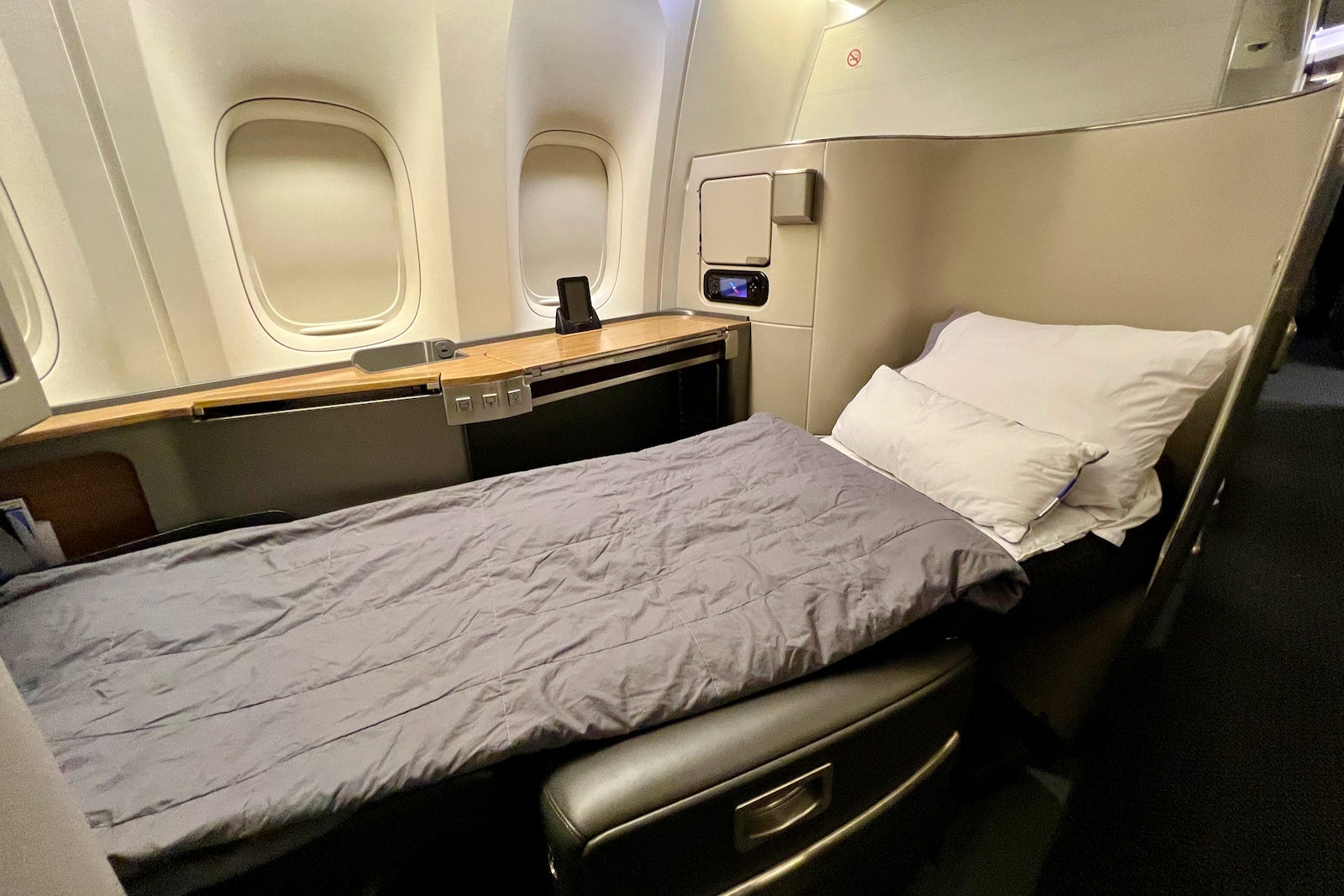 The bed itself was extremely comfortable. There were no footwells or plastic partitions to worry about interfering with your rest. Plus, the armrests could be raised or lowered at the push of a lever, adding even more surface area to the bed.
I often find that a simple design makes it easier to sleep comfortably, a feeling that I also had on Delta Air Line's "new" Airbus A350.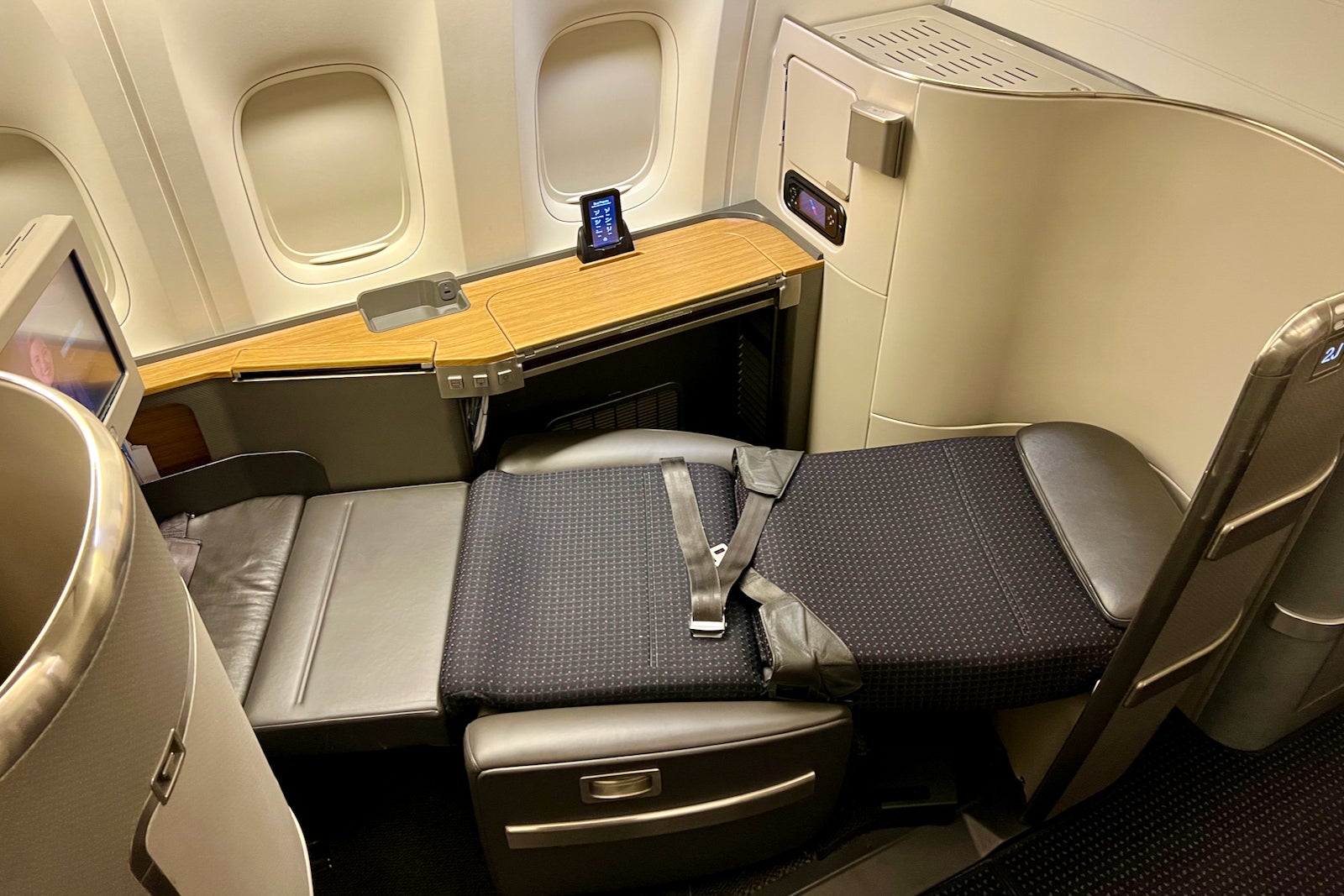 Unfortunately, the seat lacked dedicated enclosed storage space. There was an exposed shelf that ran the entire length of the seat, but there was nowhere to securely store my wallet or AirPods.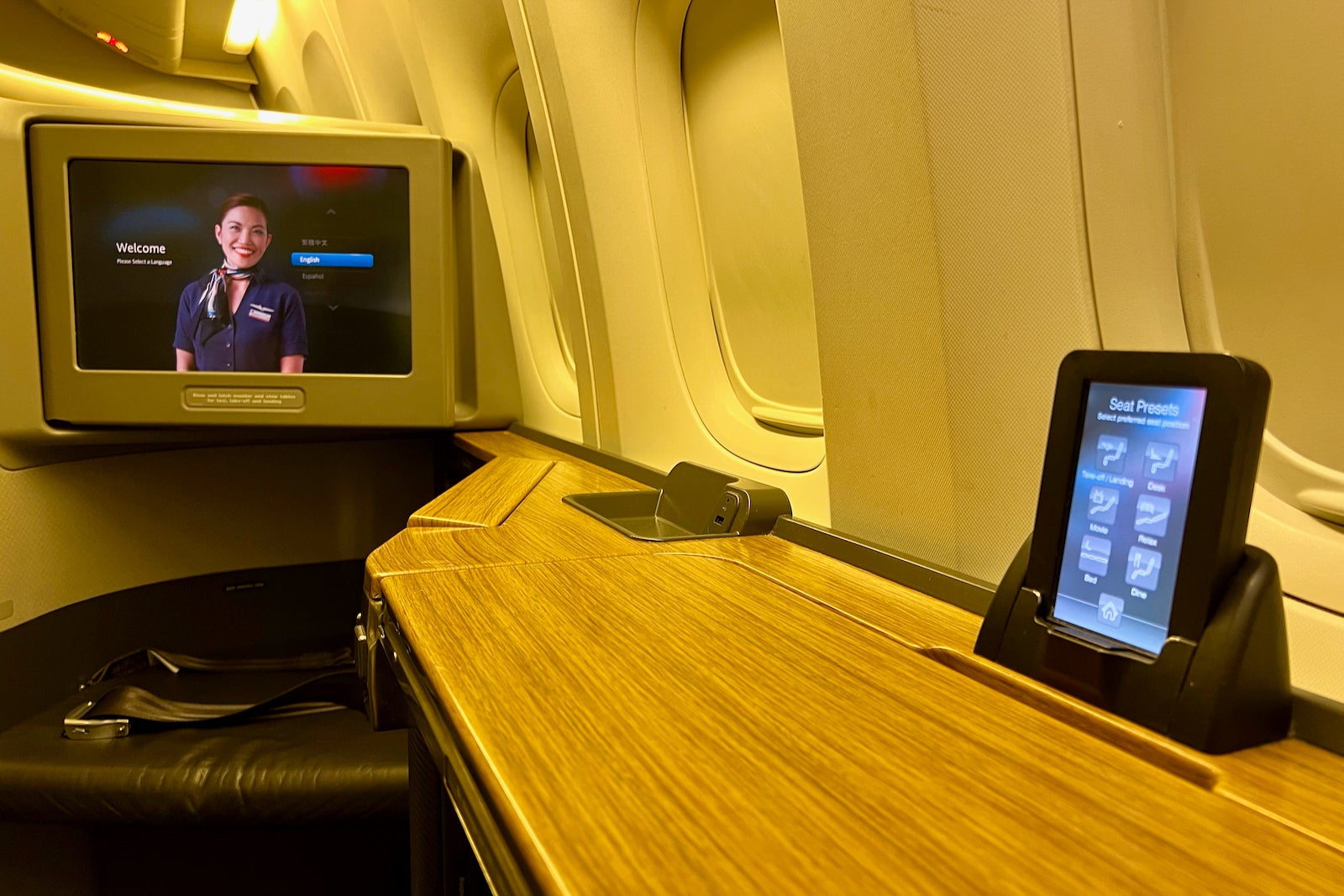 The seat does have a small shoe cubby and a slipper holder, but neither of them was ideal for my loose items.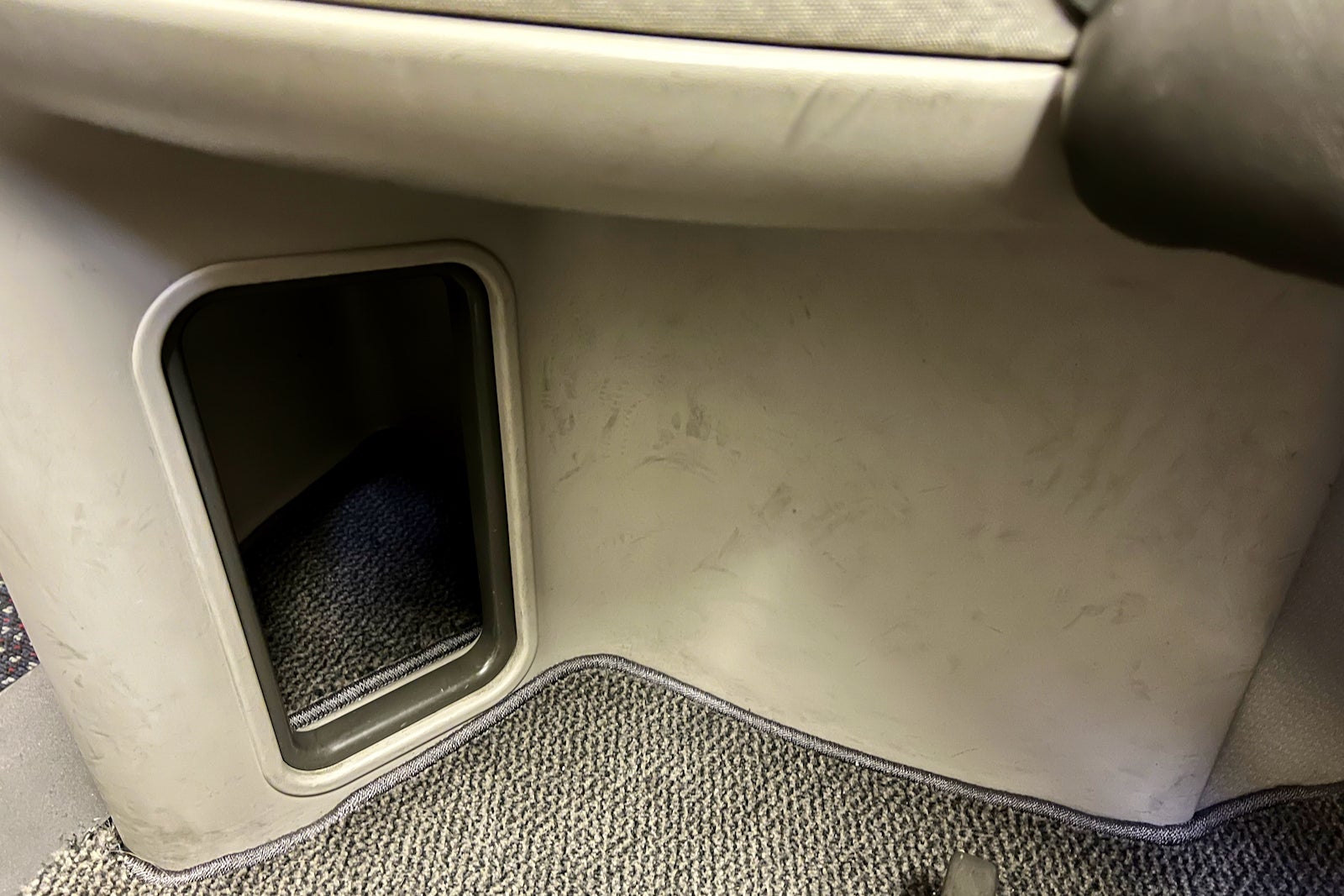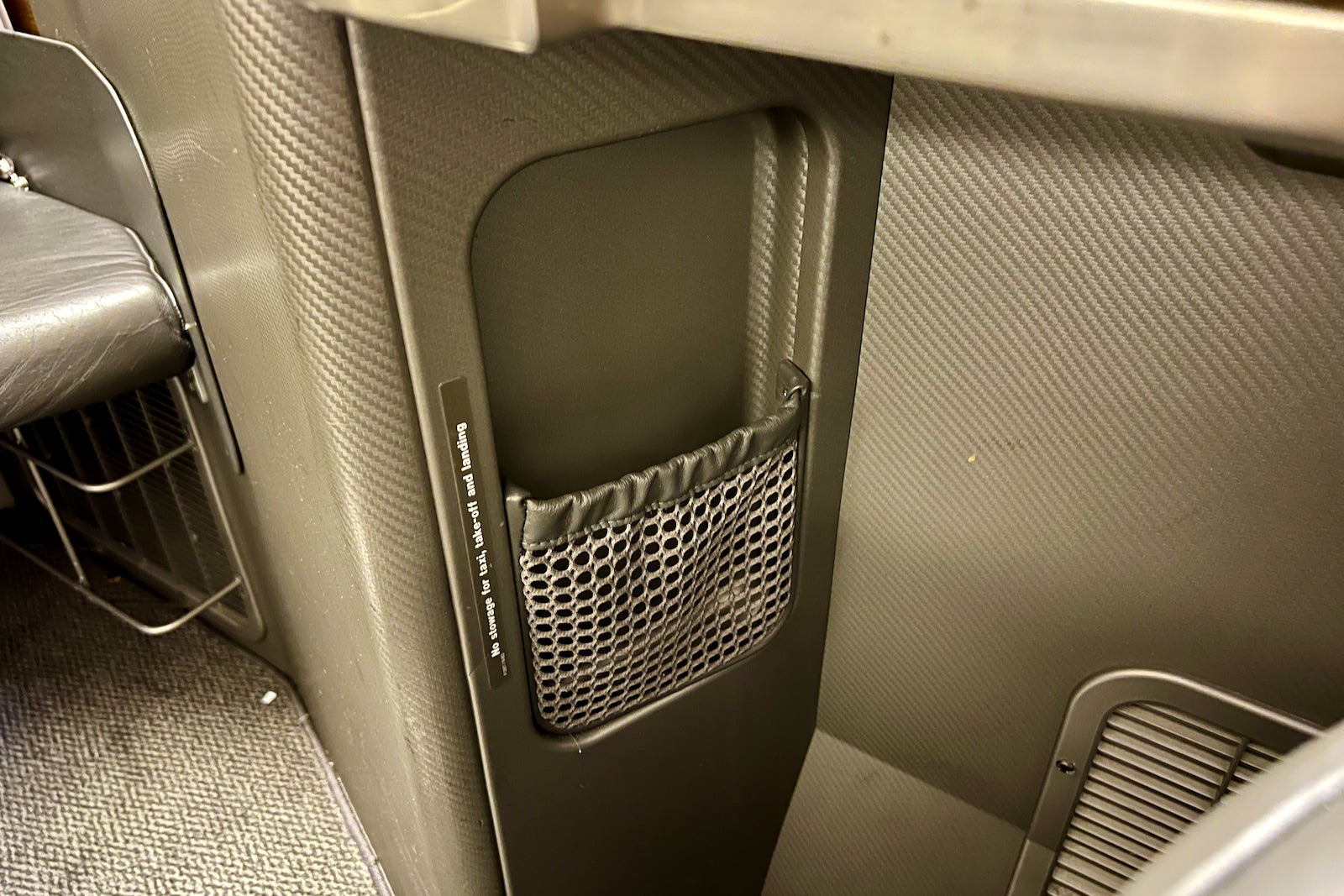 There are two lavatories reserved for Flagship First passengers, both of which were located at the front of the cabin.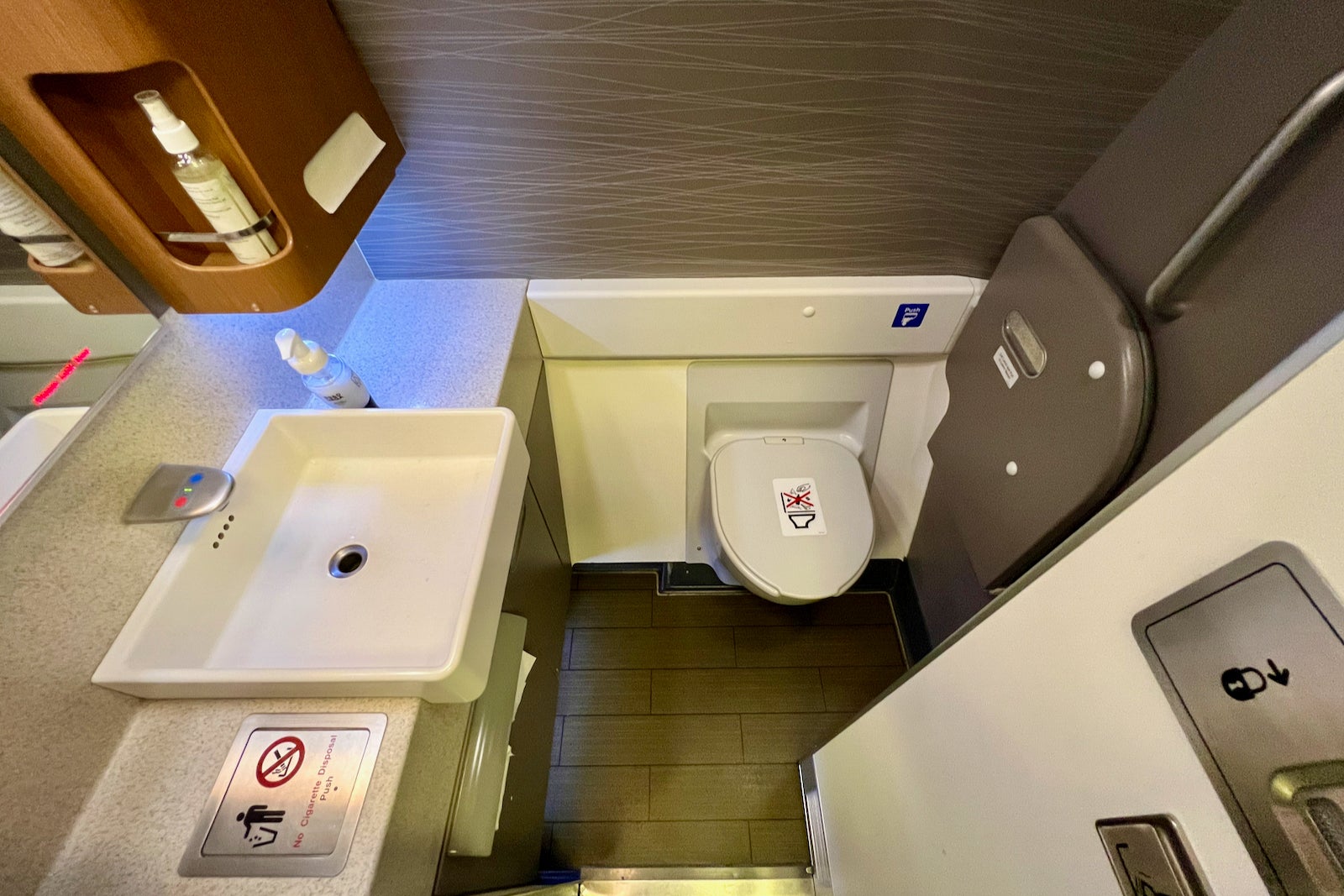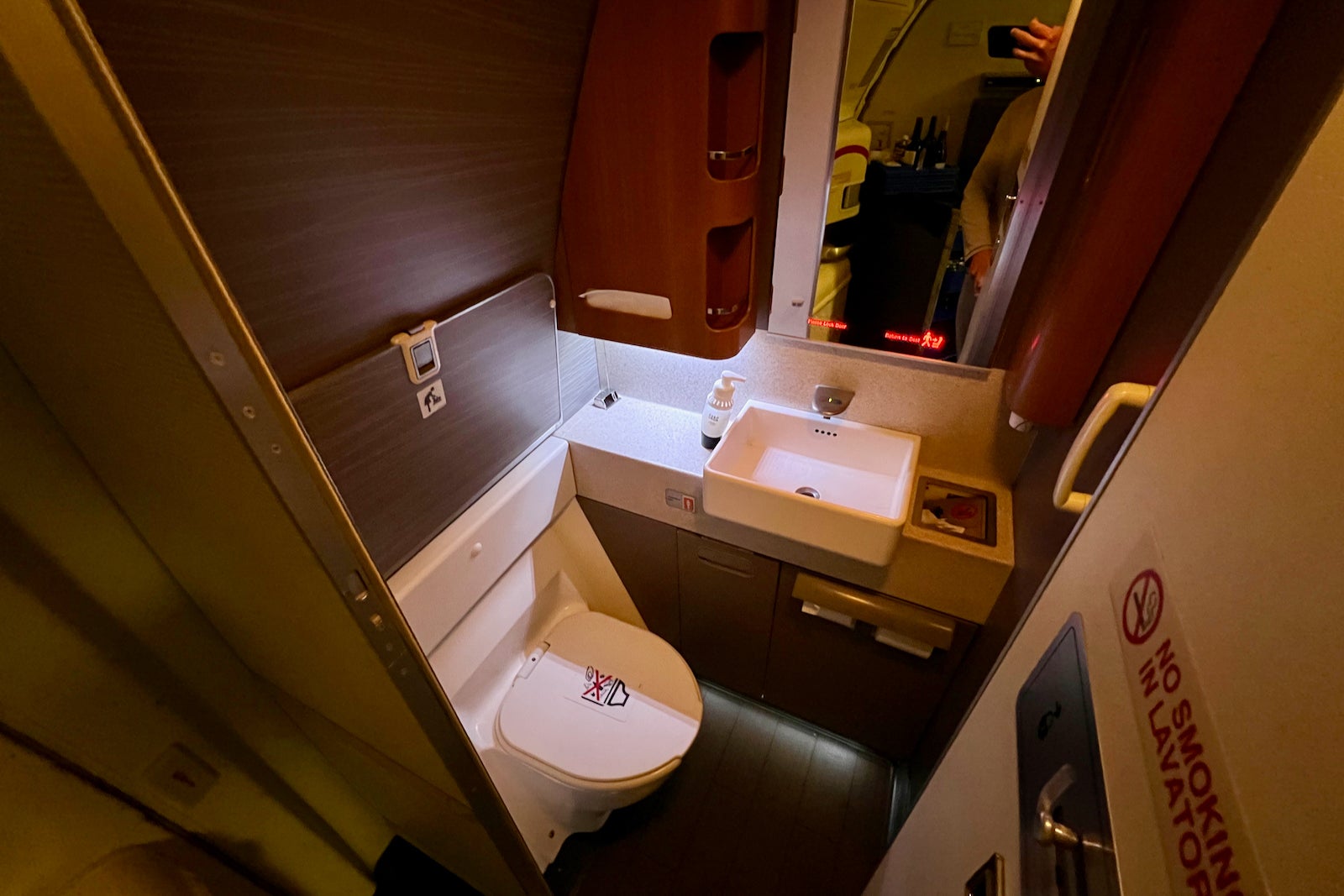 One was a bit larger than average, but neither featured any additional products, such as hand lotion or fabric freshener.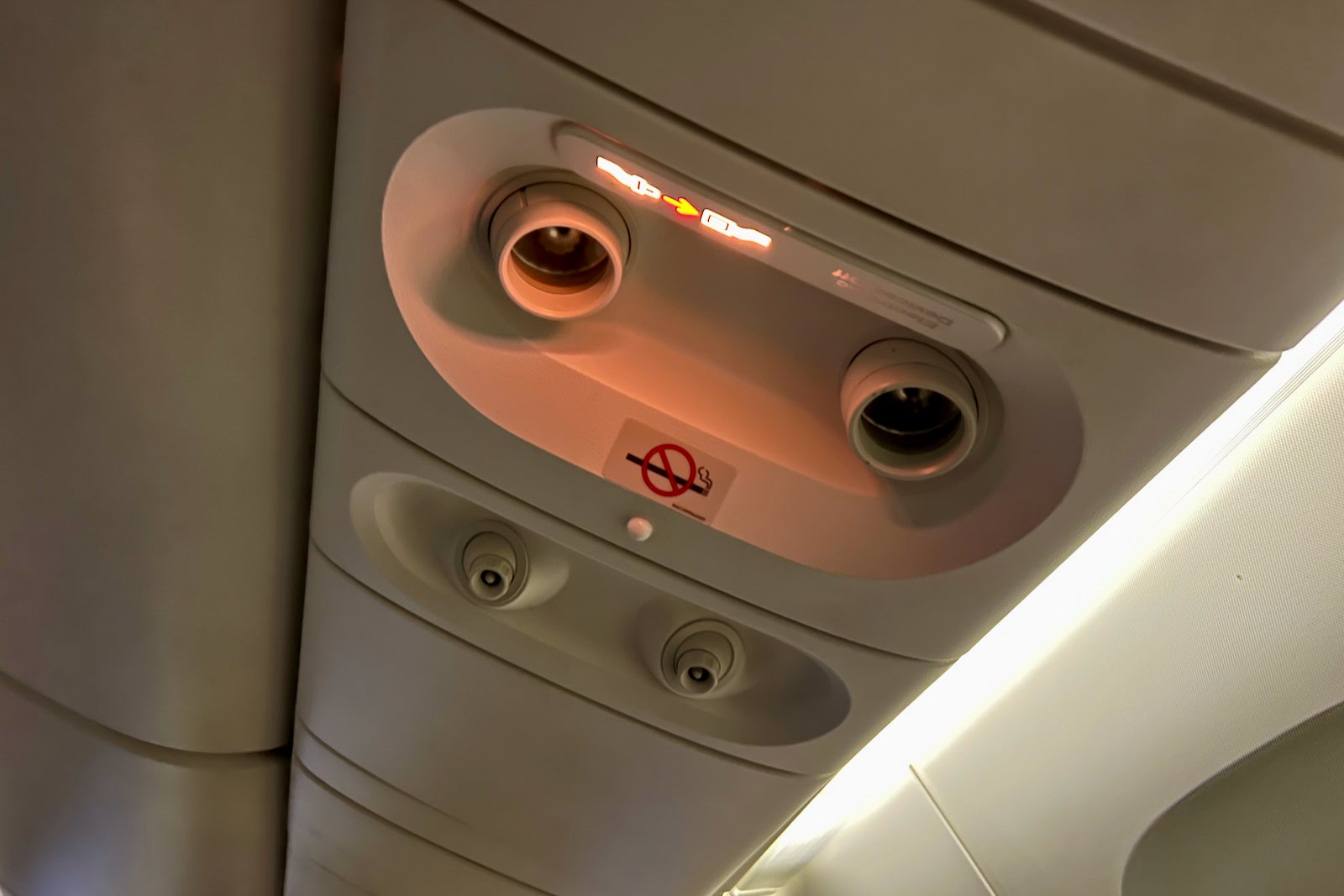 On the plus side, individual air nozzles are available at each seat on American's 777-300.
Amenities and IFE
The sheer amount of amenities waiting at my seat when I arrived made it clear I was flying first class.
They included a thick Casper-branded mattress pad, duvet, day blanket, head pillow and lumbar support pillow.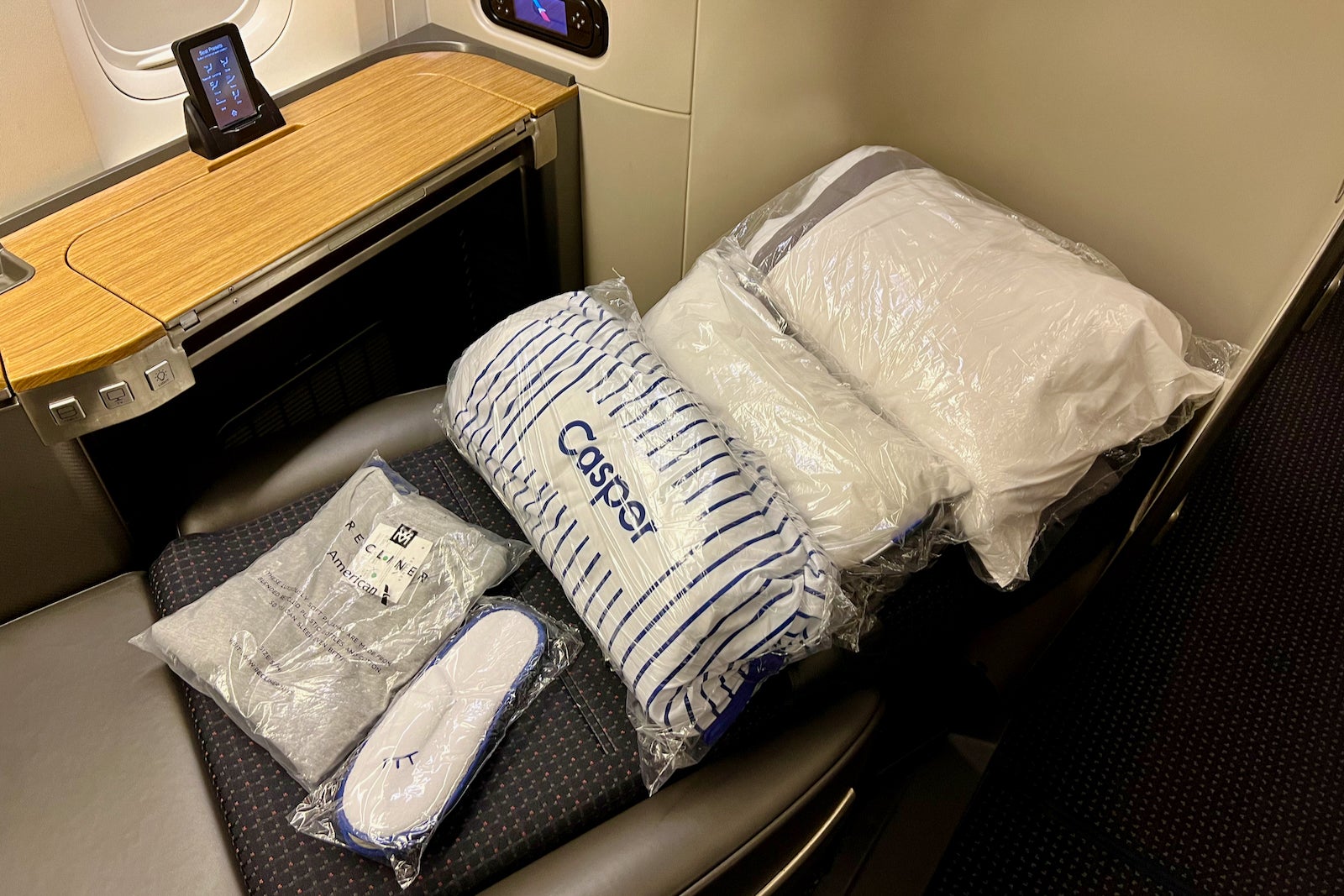 All of these amenities combined to make the bed even more comfortable. American's mattress pads are some of the cushiest in the sky, and this one helped me get seven hours of uninterrupted sleep.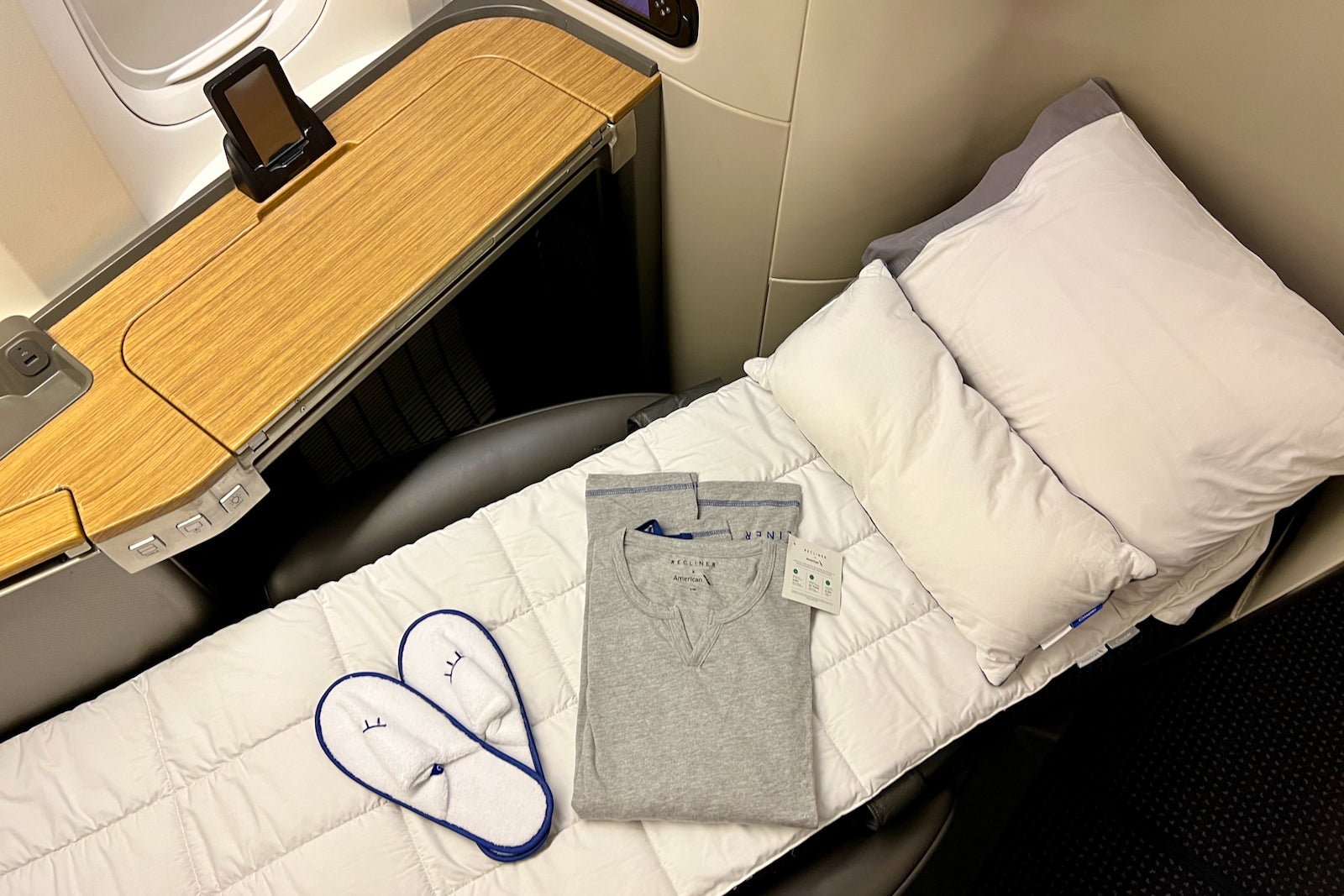 In addition to the bedding, there was a pair of (flimsy) Casper-branded slippers waiting at my seat. Unisex pajamas were available in either a small/medium or large/extra-large size.
Unlike my previous American Airlines flights, which offered Casper pajamas in a blue bag, these pajamas were branded by Recliner and made from a blend of recycled plastic bottles and cotton.
A black Shinola-branded amenity kit was also waiting at my seat during boarding. Flagship First passengers received the fanciest of the four bags that American offers, and it was stocked with all the usual goodies, including D.S. and Durga skin products.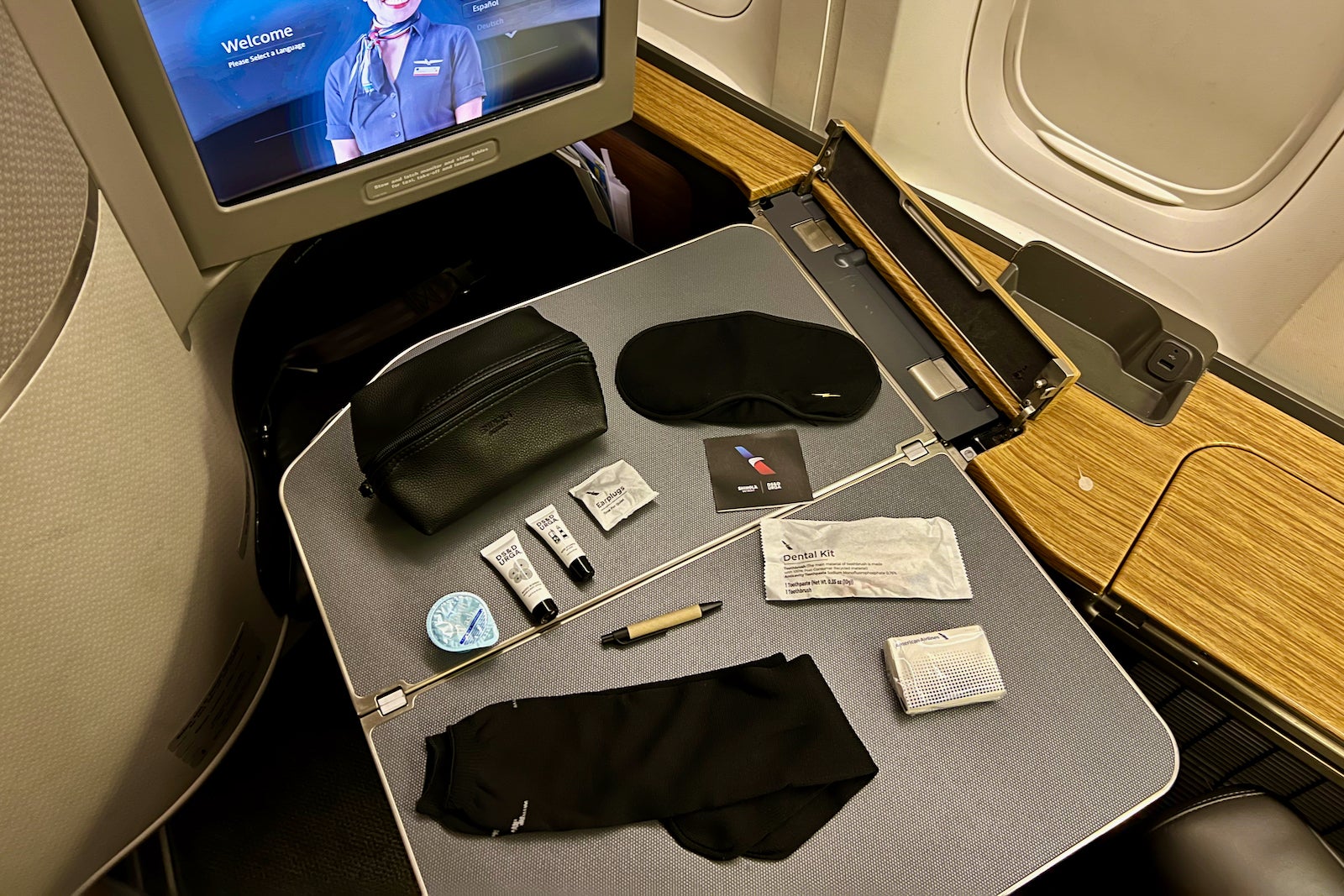 In terms of connectivity, there were two power outlets located in a small cupboard on the side of the seat. Unfortunately, my 63-Watt power adapter kept falling out of the wiggly outlets. It did stay in place once I replaced the U.S. duckhead with a European one.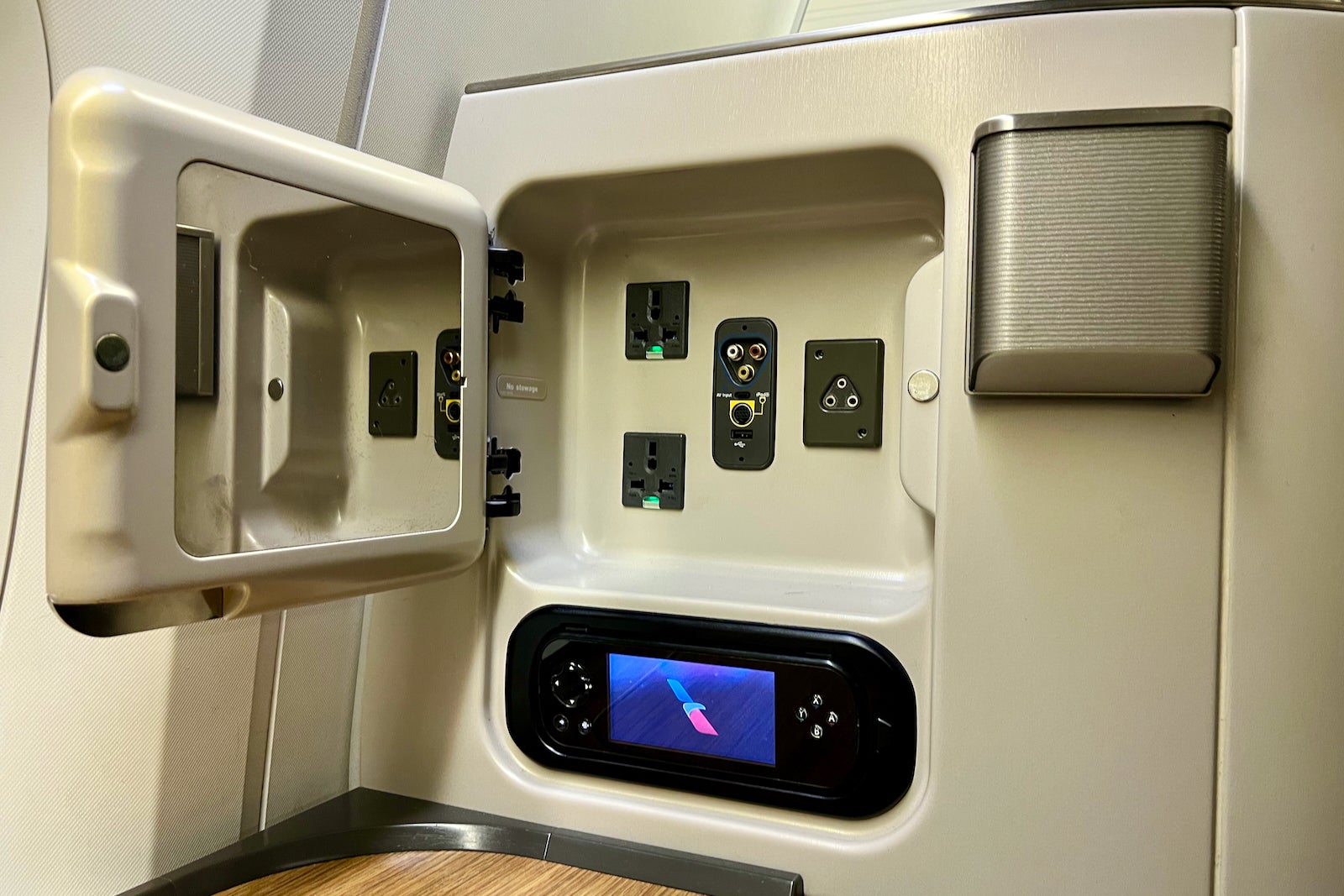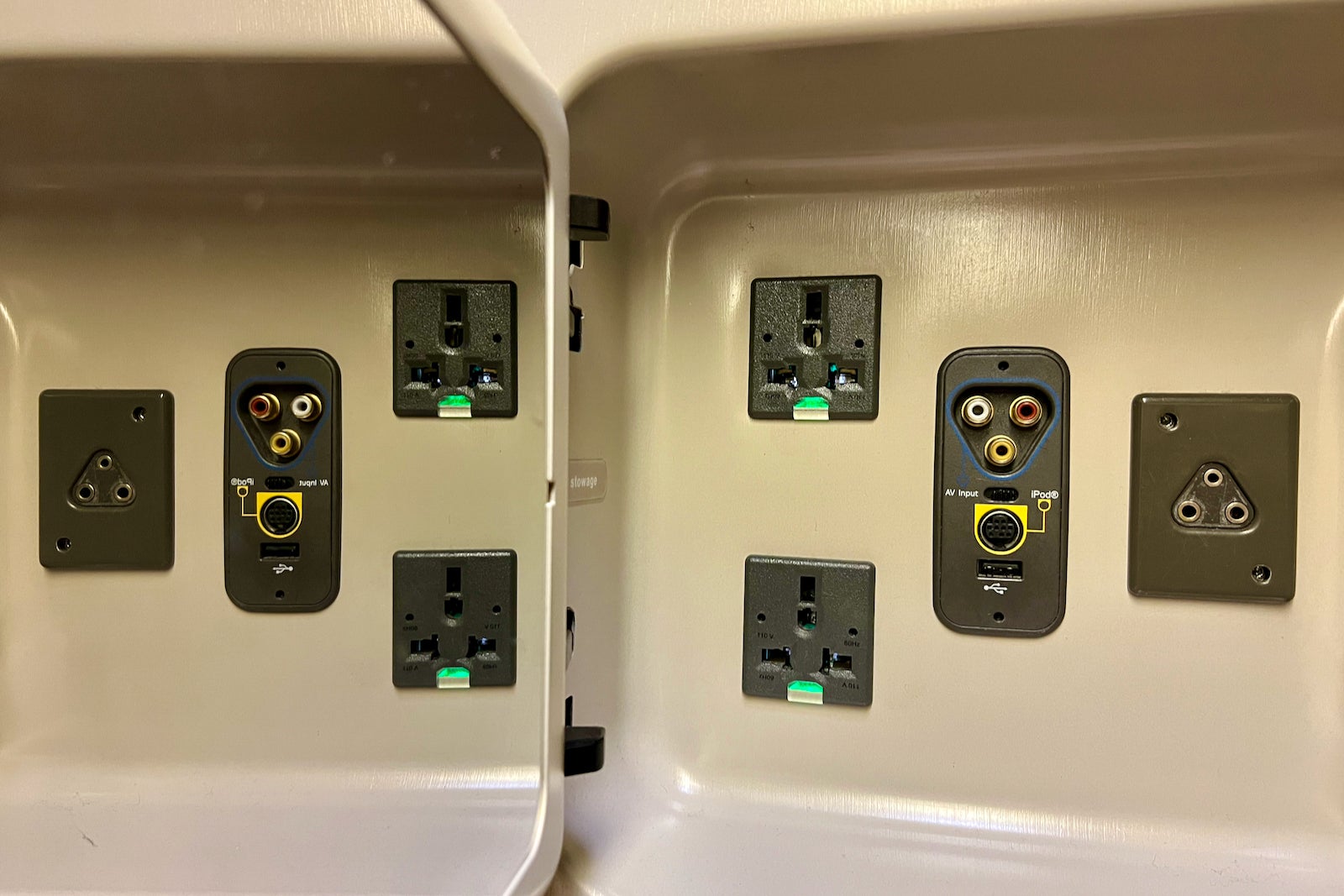 There were also two USB-A ports at each seat — one in the cupboard and another one exposed on the self.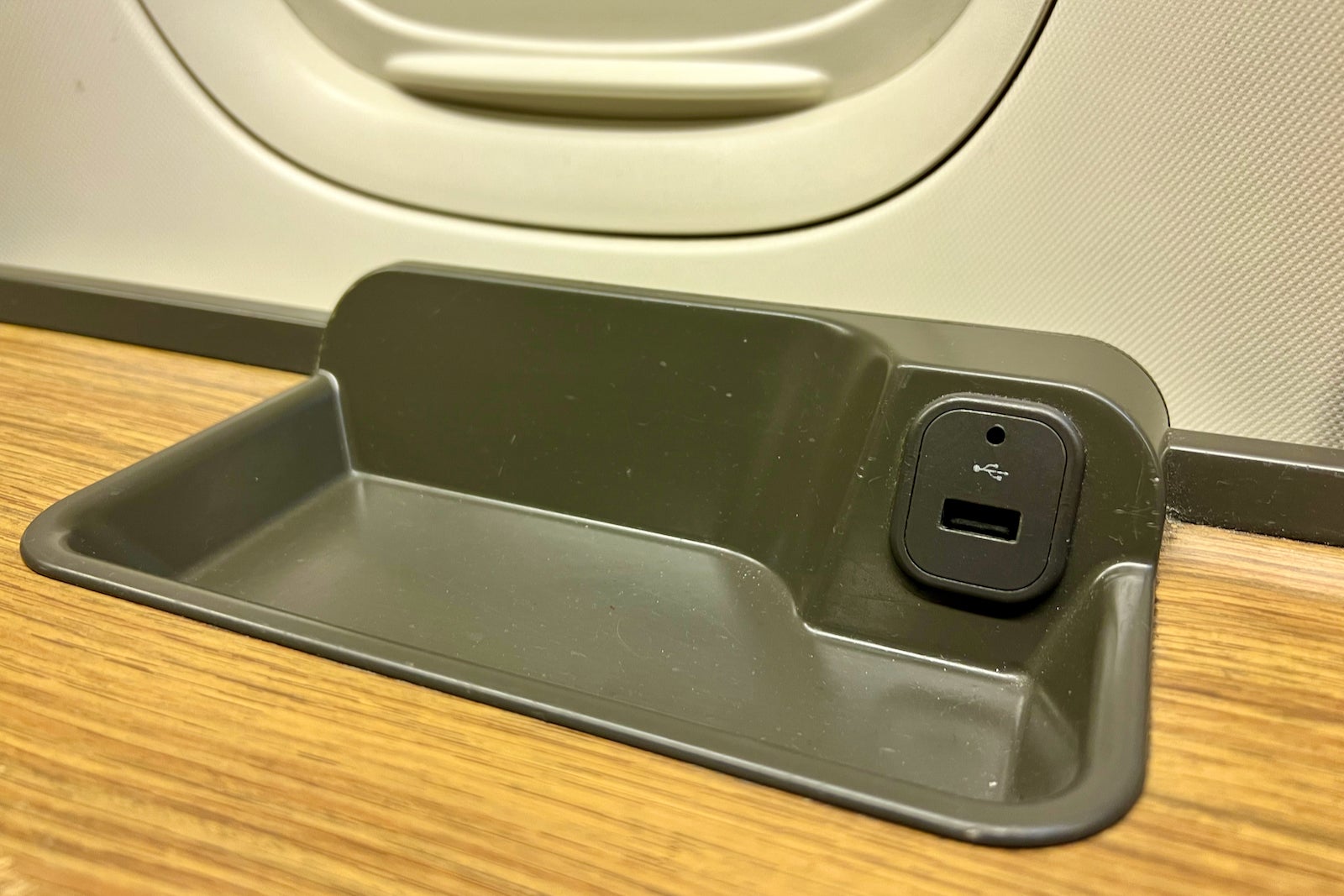 A sign of the times of when this seat was designed, there was even an RCA video and audio connector available if you wanted to cast your own content onto the IFE screen.
Wi-Fi was available for purchase, with a full-flight pass priced at $35. The Panasonic-provided service cut out for the first five hours of the flight. (The service signal read as "disconnected" on the landing page.) Once I eventually connected mid-way through the flight, the speeds were acceptable, though all of my attempts at a speed test failed.
Each first-class seat featured a 17-inch touchscreen entertainment system, which I controlled using the touchscreen remote that could be removed from the connectivity panel.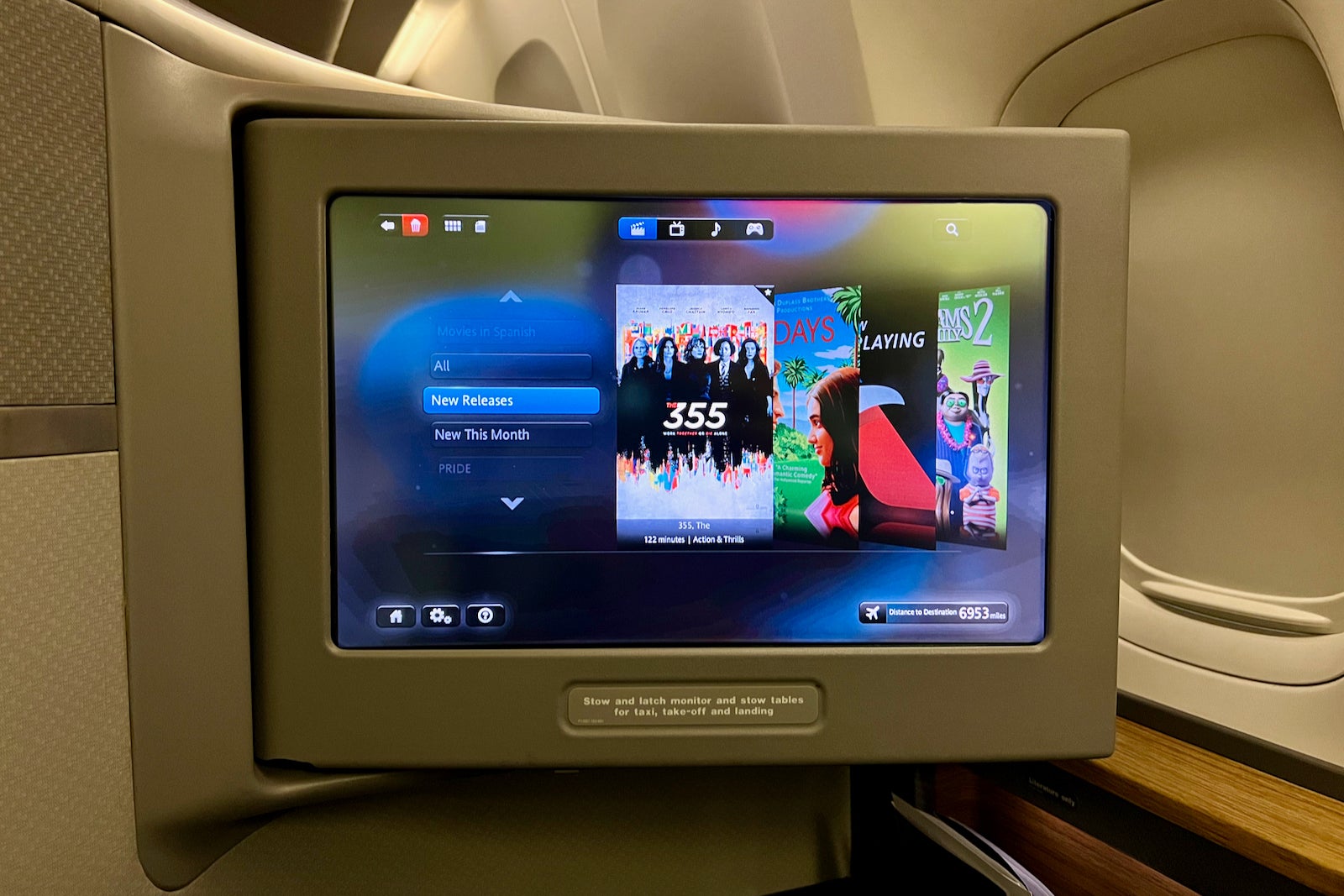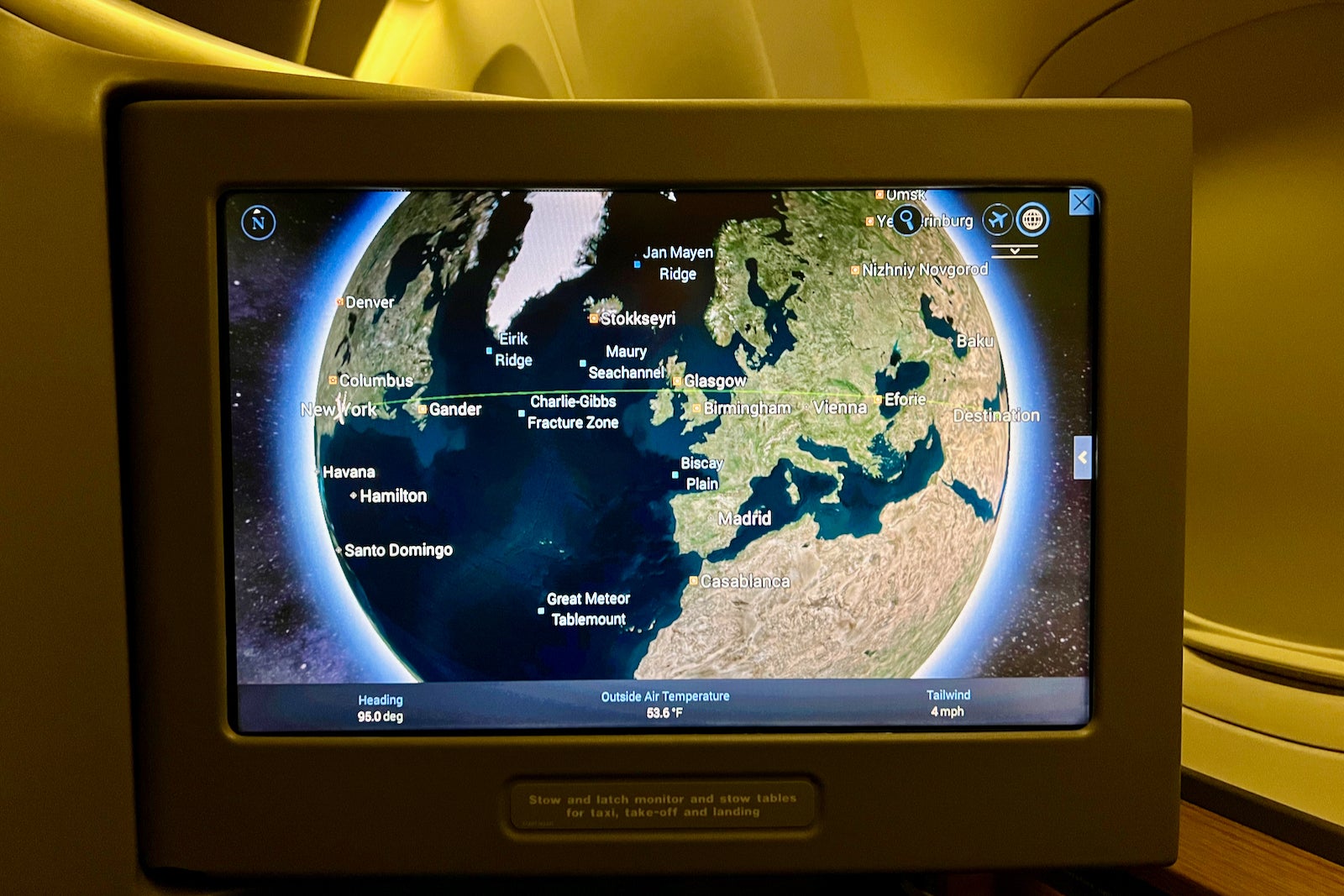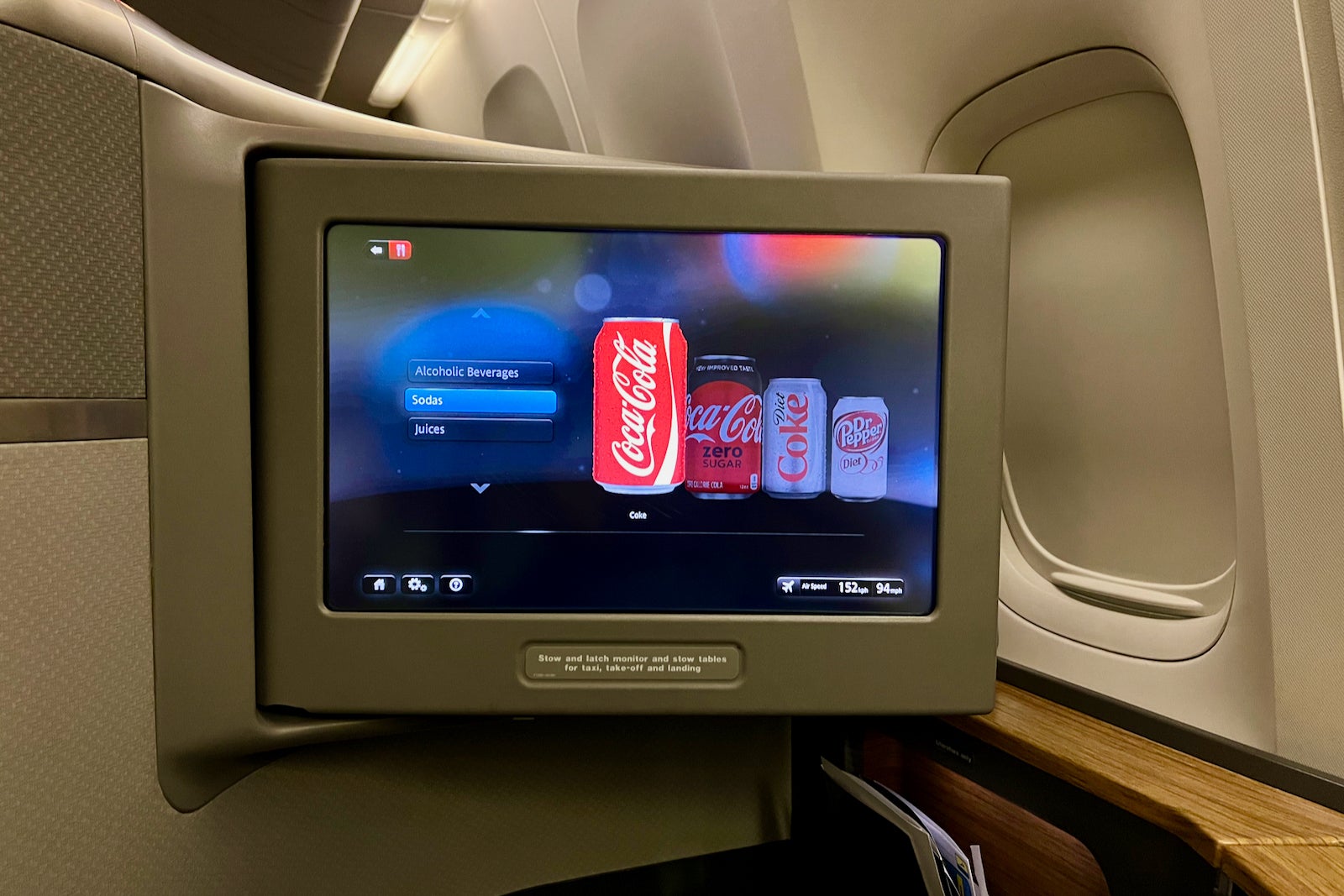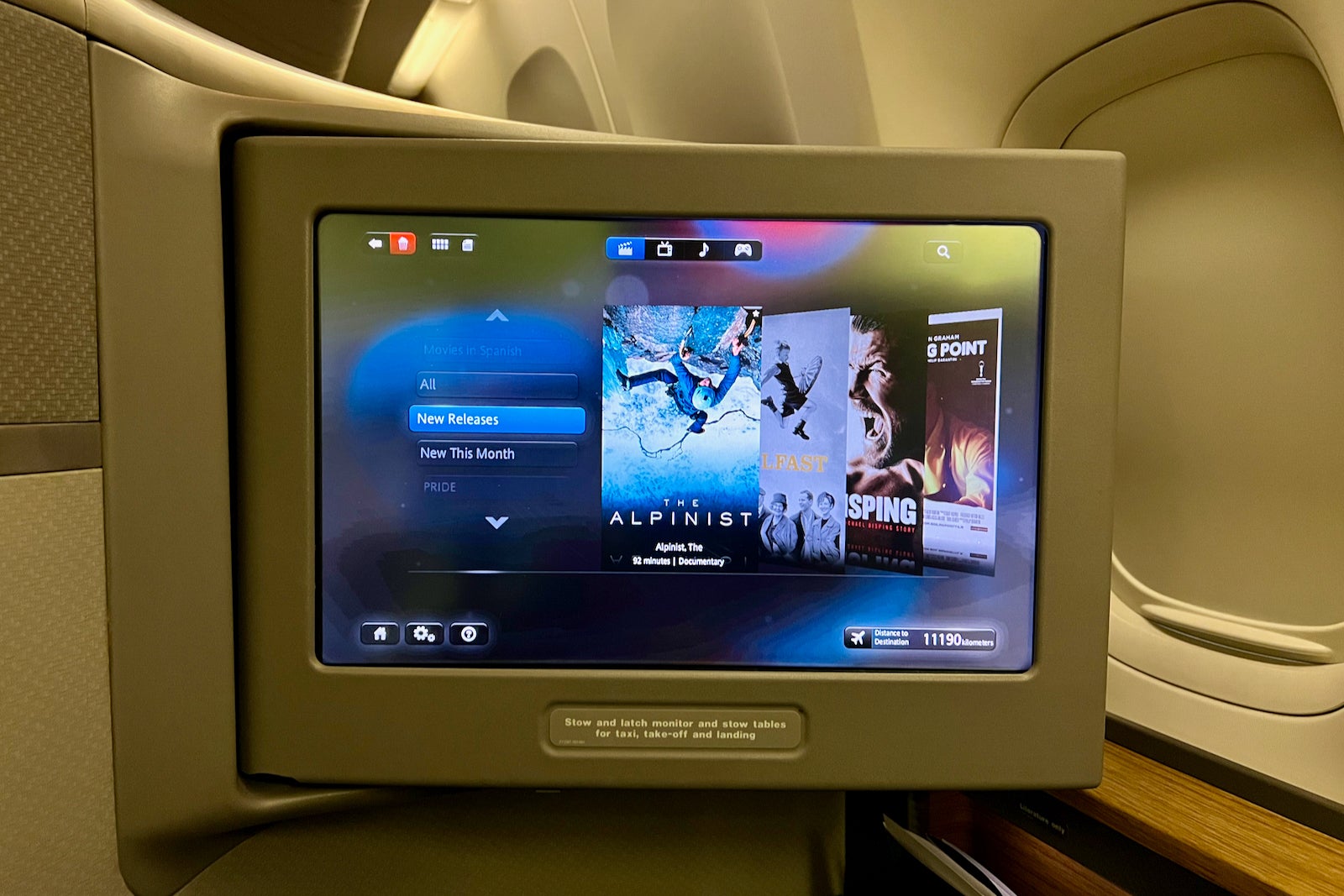 The TV itself pops out from the back of the seat and swivels on its track for a customized viewing angle.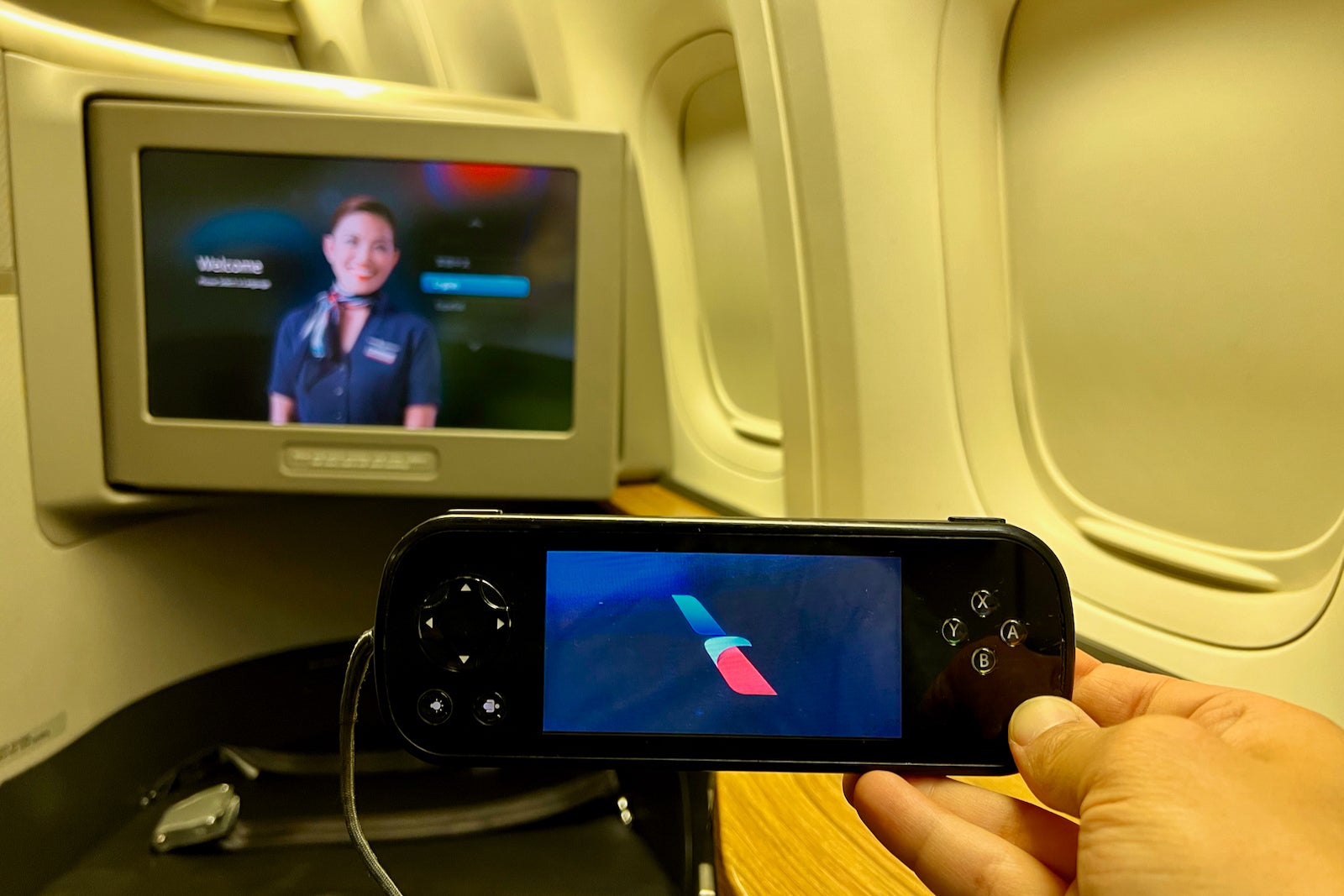 The entertainment system featured more than 250 movies and more than 50 TV shows, including new releases such as "The 355" and "7 Days."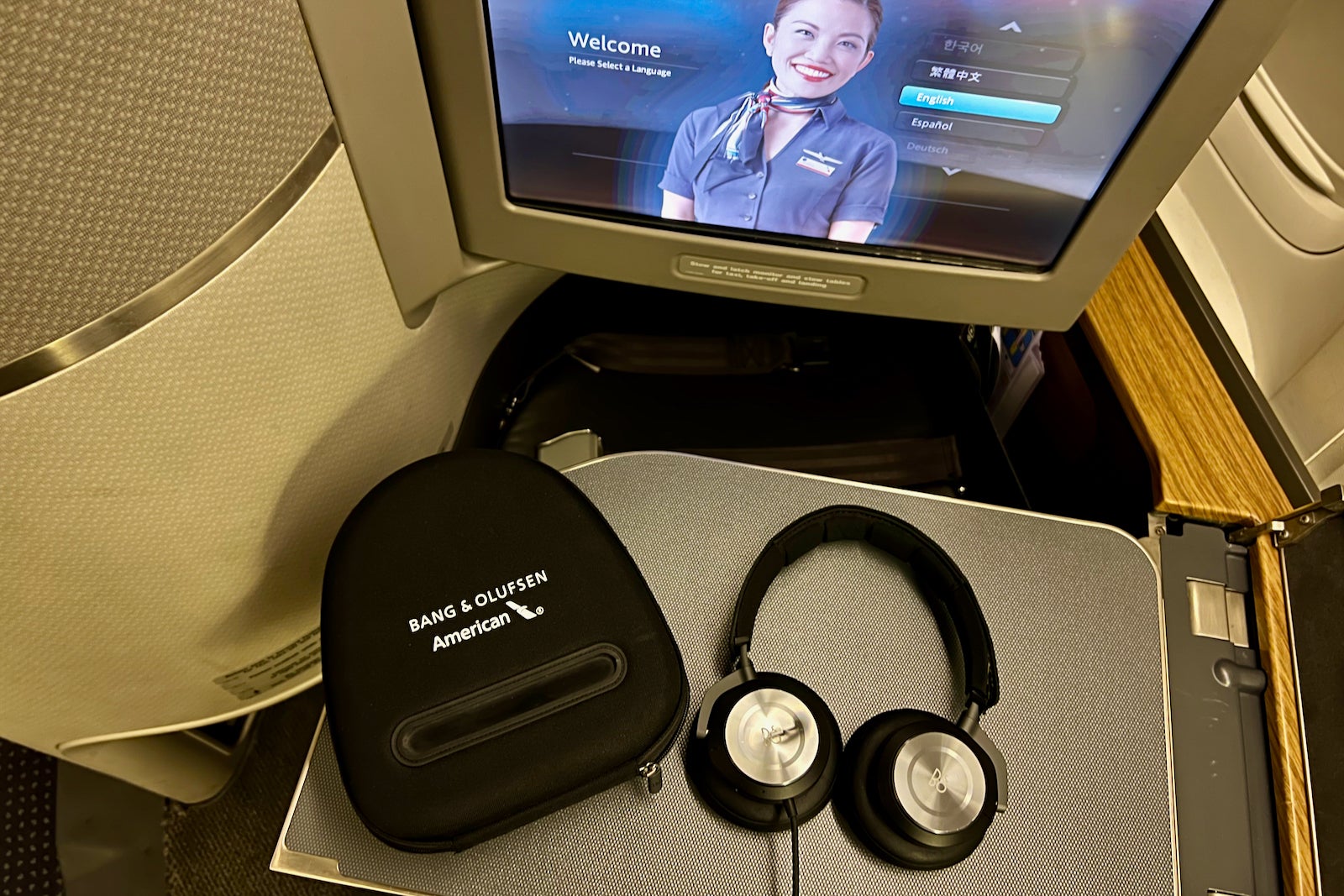 American's brand-standard Bang and Olufsen headphones were waiting at each seat during boarding. These are some of the best headphones you'll find in the sky, so kudos to American for delivering superior sound quality.
Food and beverage
American has done a great job restoring pre-pandemic service levels, and it showed on my flight.
The menu was waiting at my seat during boarding and attendants collected orders while we were still on the ground. (In my case, the flight attendant just reconfirmed that I had pre-ordered the fish.)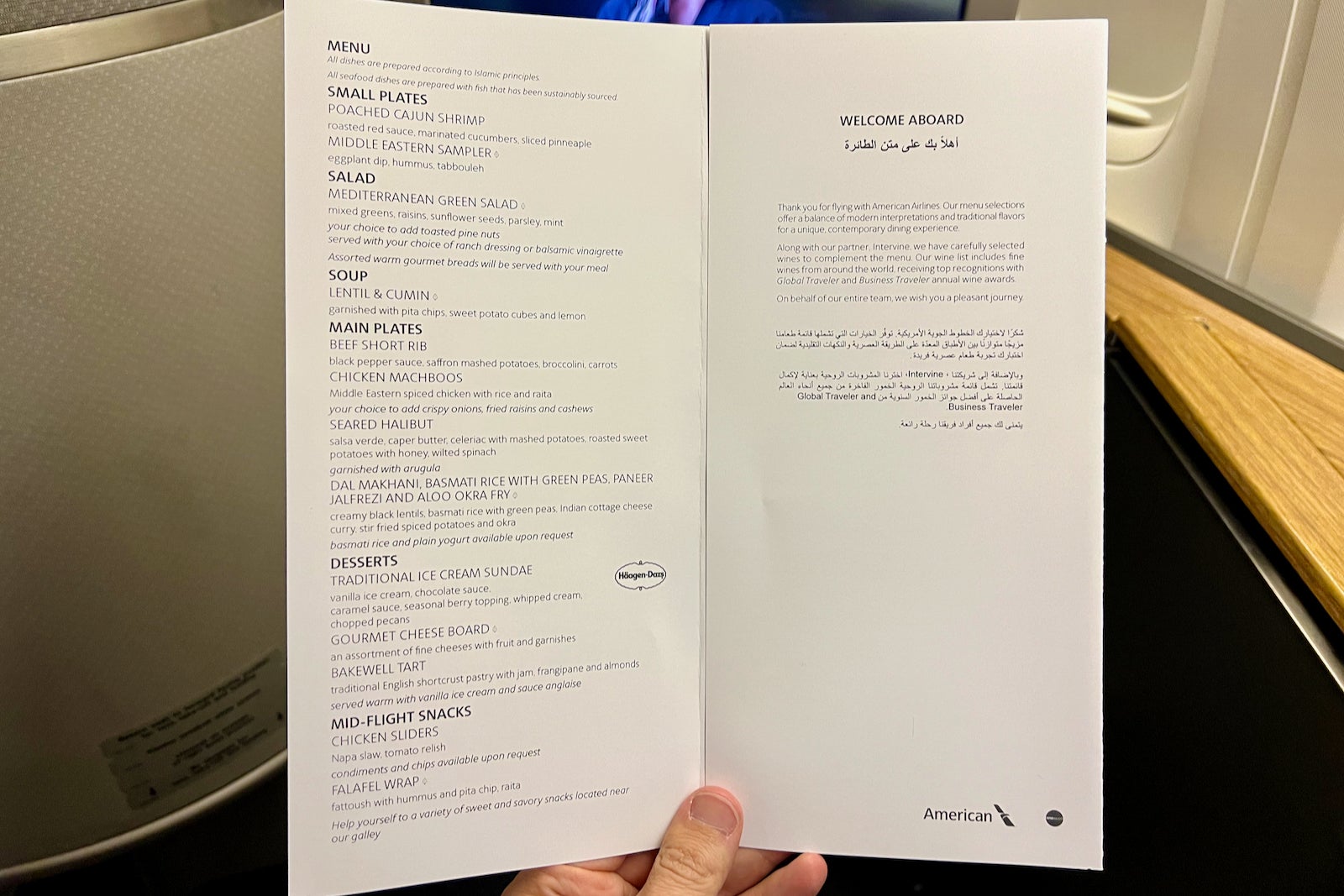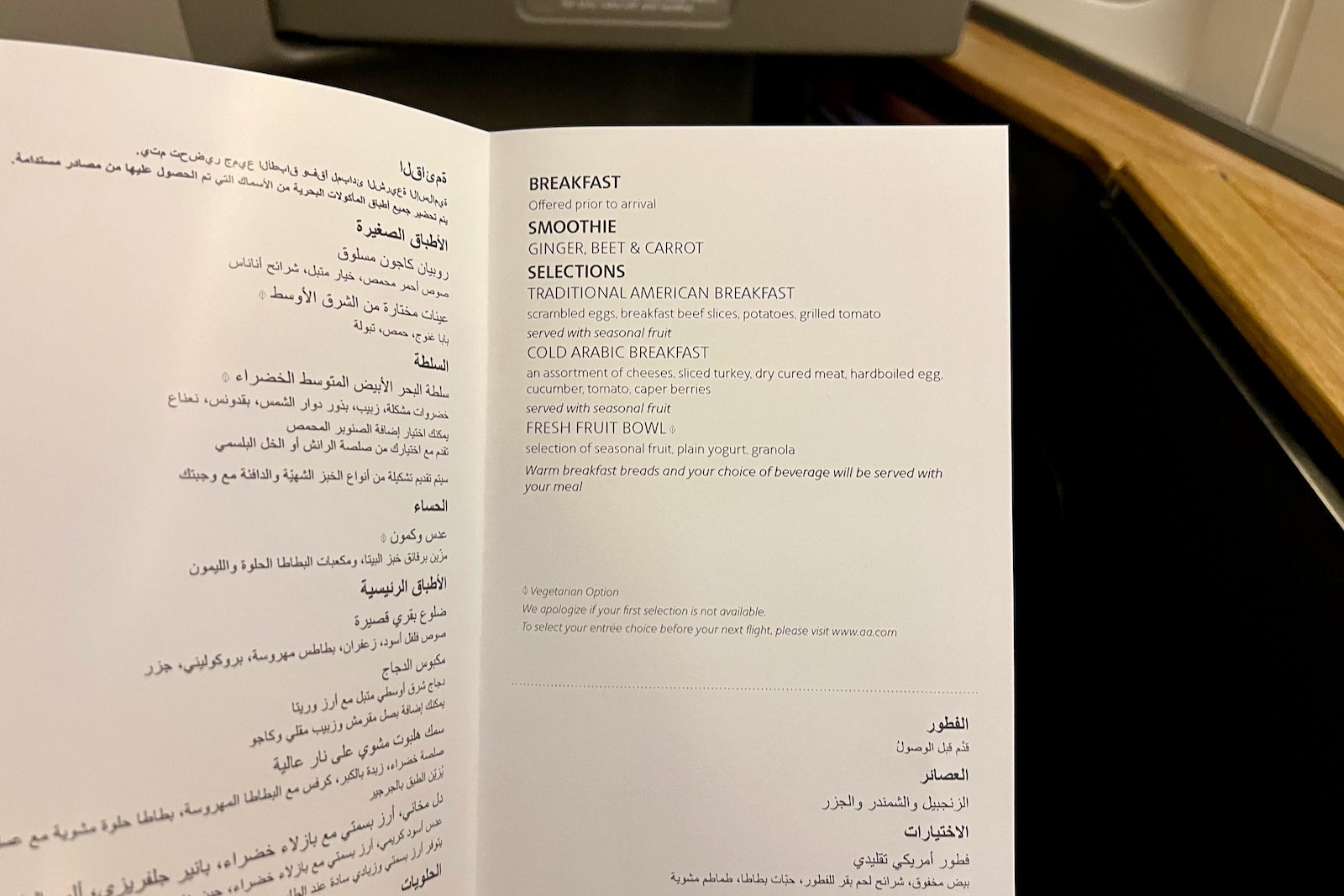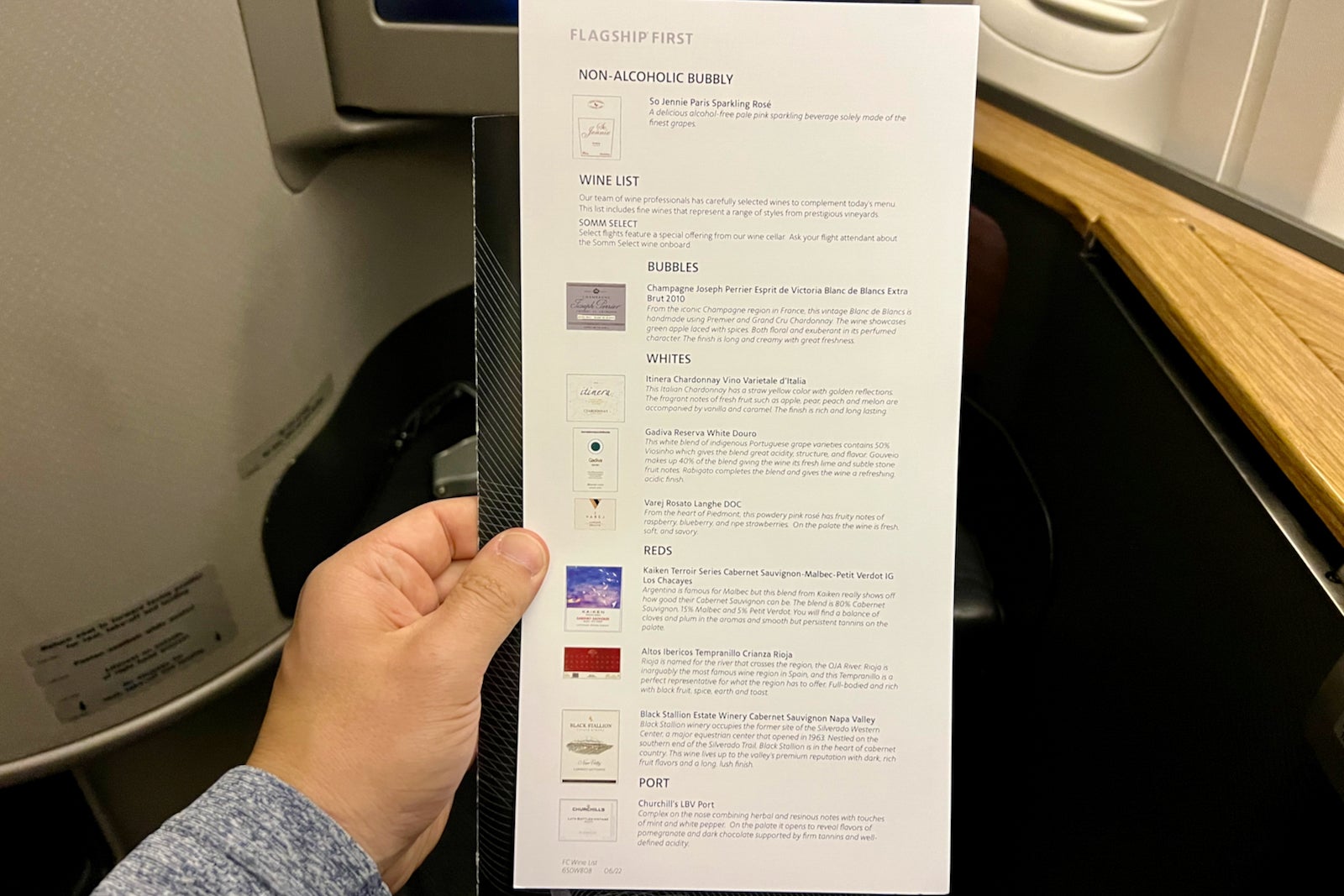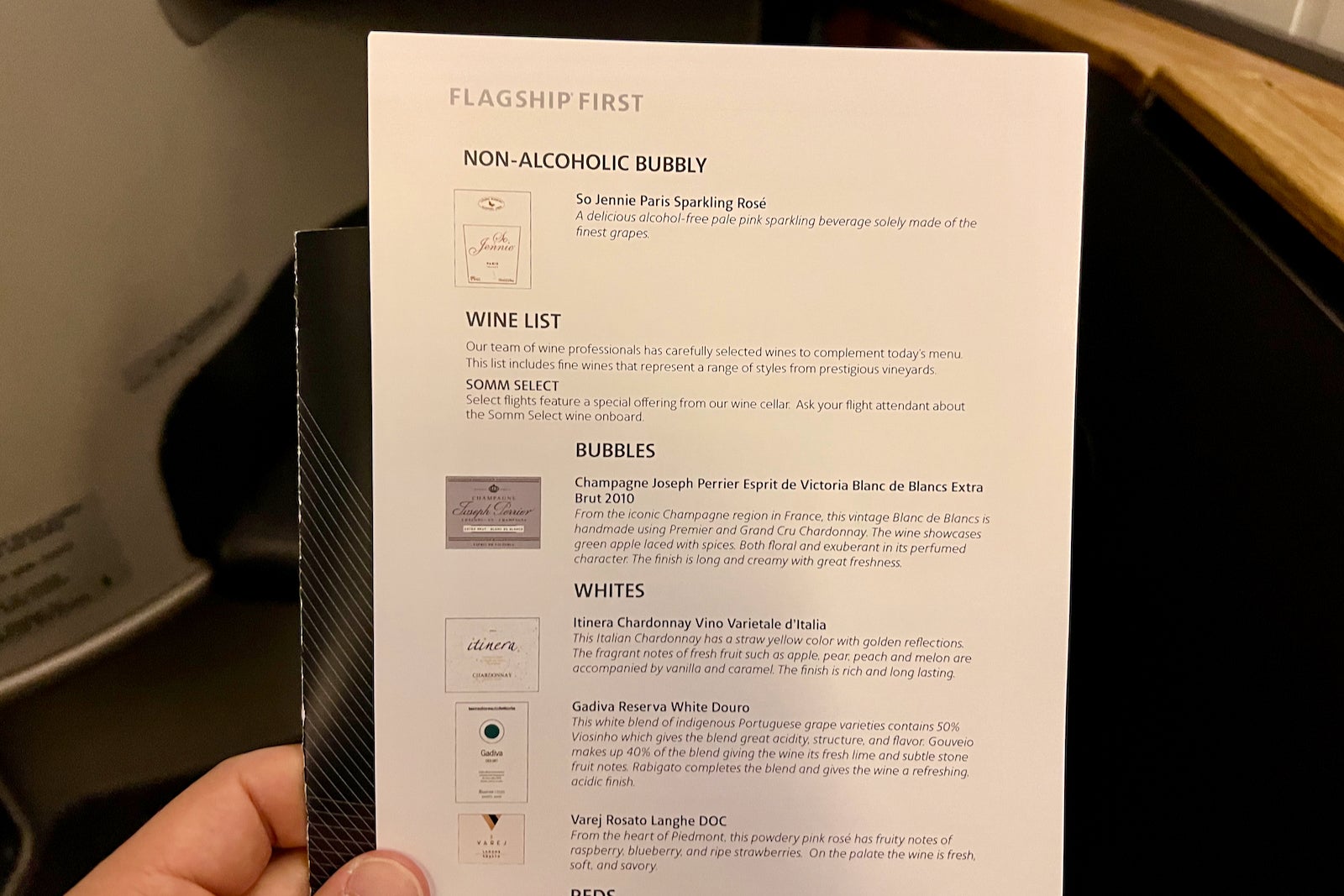 Once we passed through 10,000 feet, dinner service commenced with a choice of beverages, served alongside a ramekin of mixed nuts and pitted olives — the latter of which is exclusive to first class.
I received a hot towel along with my drinks, but it was flimsier than those you typically find in business class.
In addition to the standard Joseph Perrier Blanc de Blancs Champagne, American caters a non-alcoholic bubbly on the Doha flight for those who don't drink alcohol. I figured I'd give the So Jennie Paris sparkling rosé a taste, and it was better than I expected.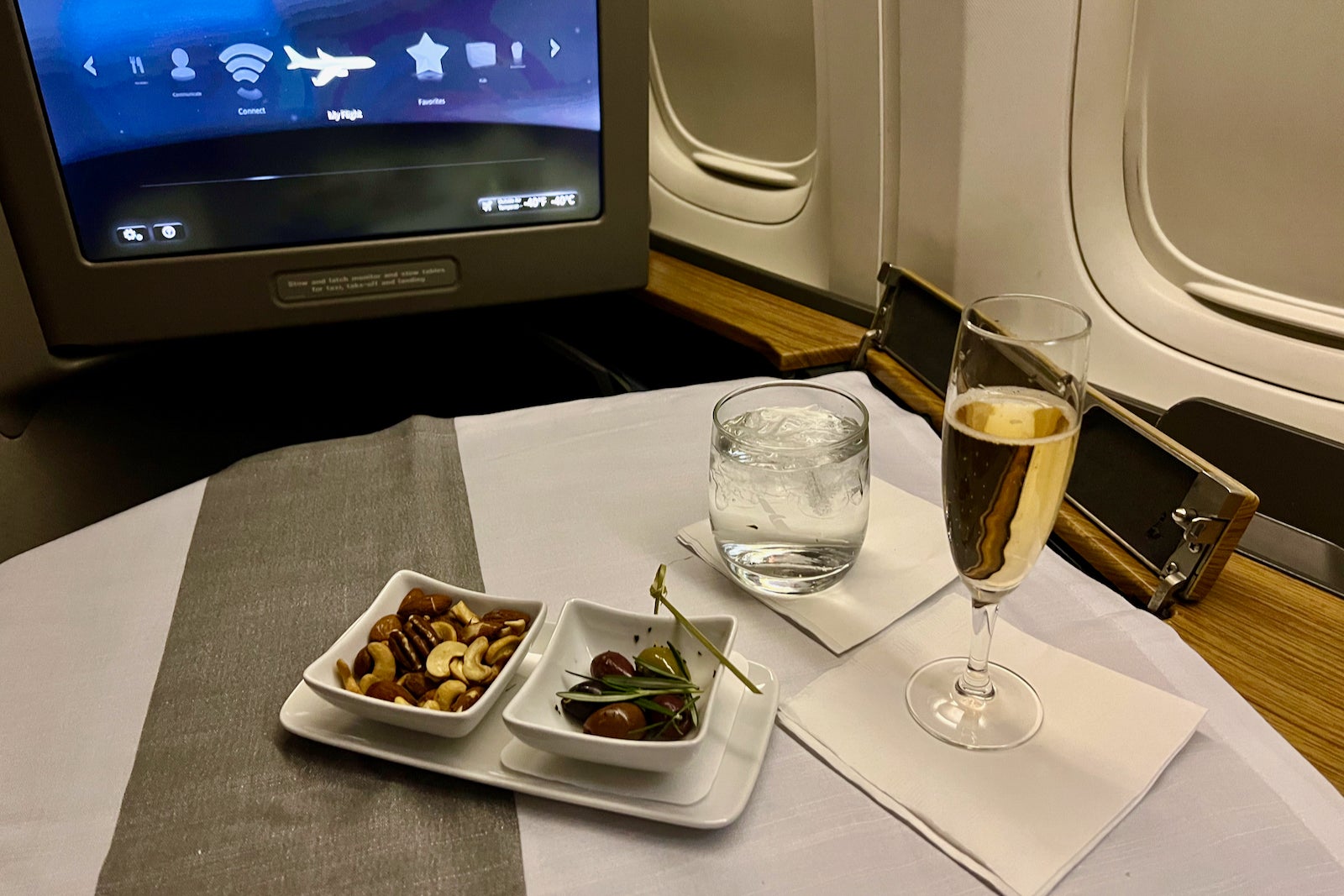 Soon after staff set the tables, the appetizer tray — which included a mezze platter, salad and bread course — arrived.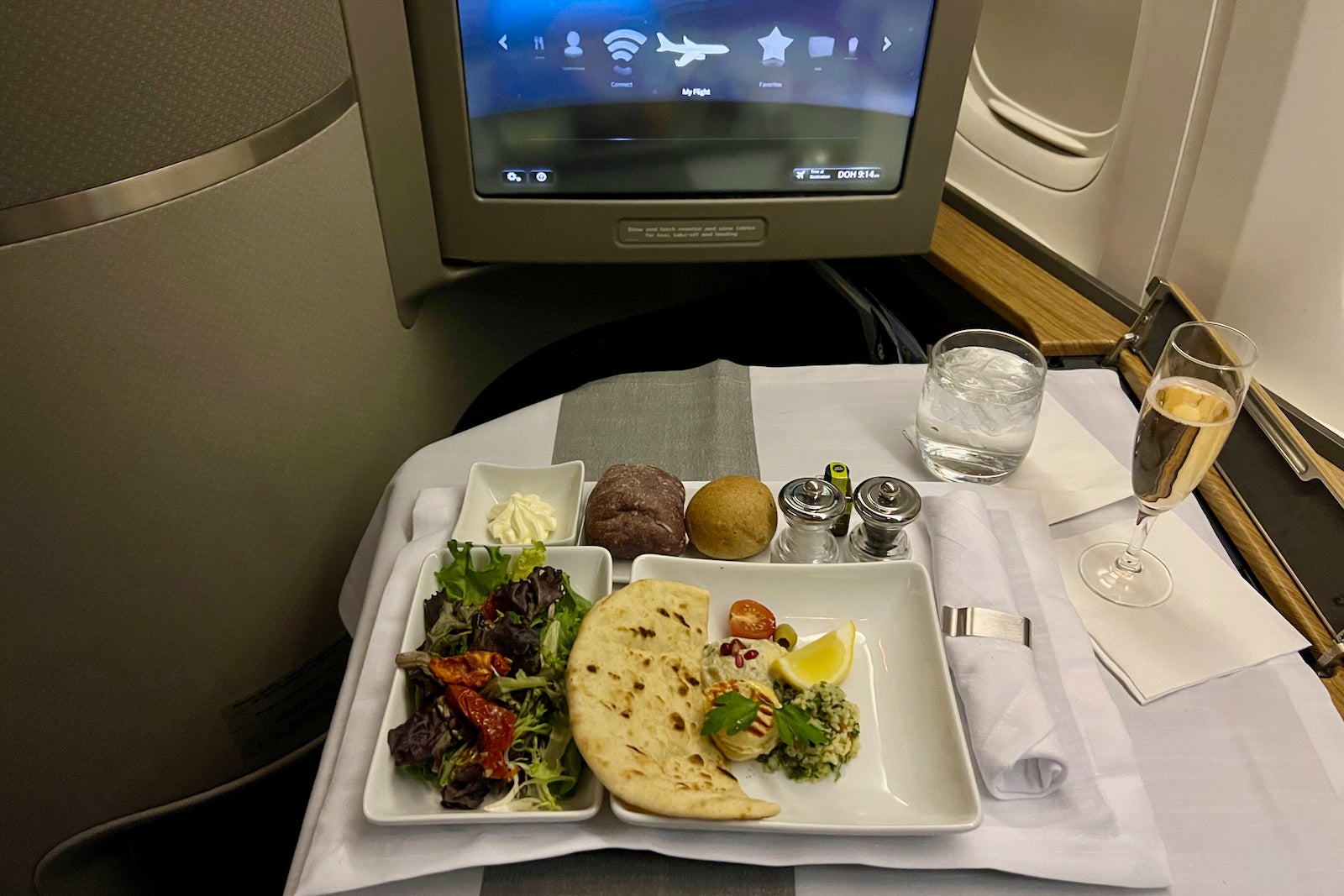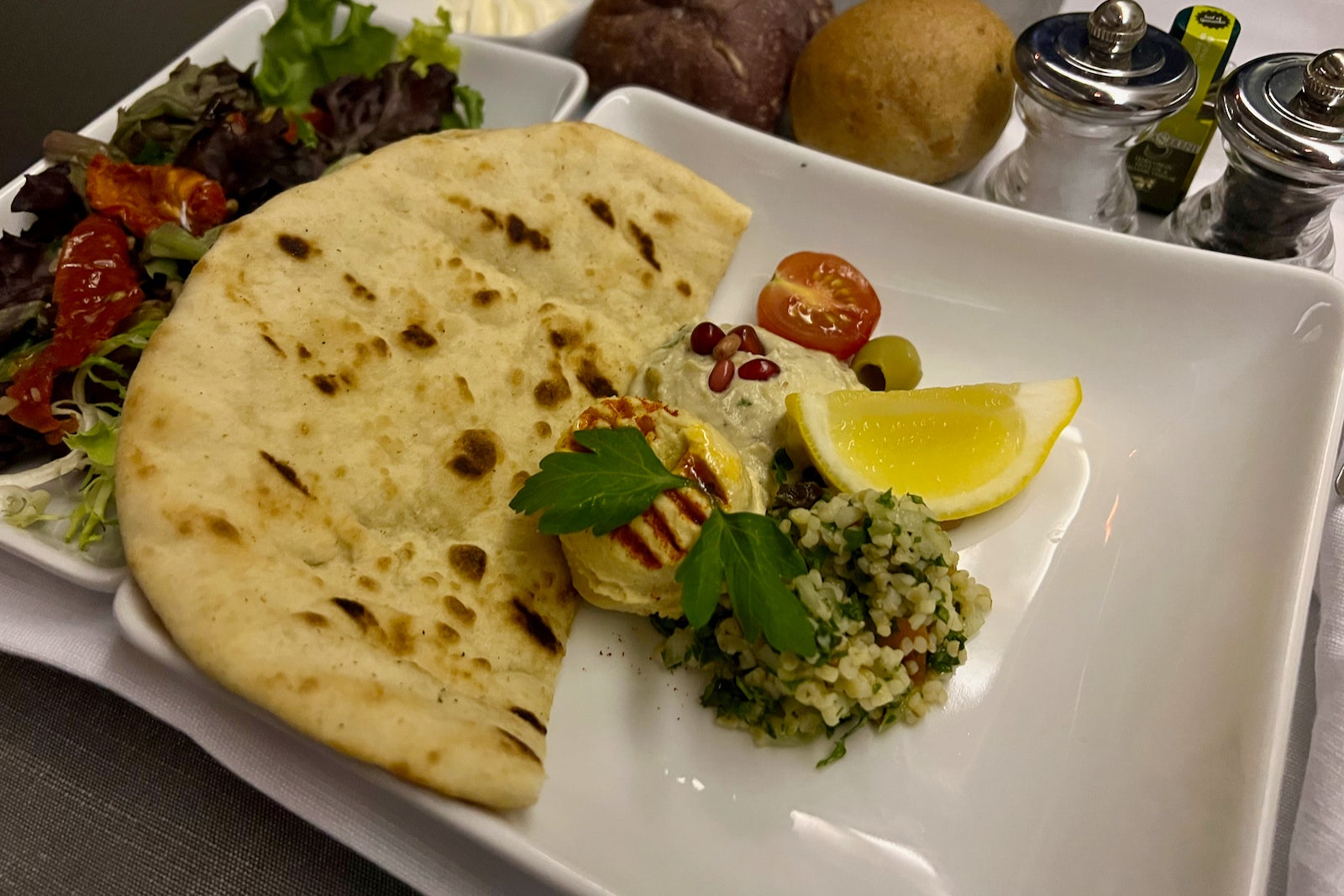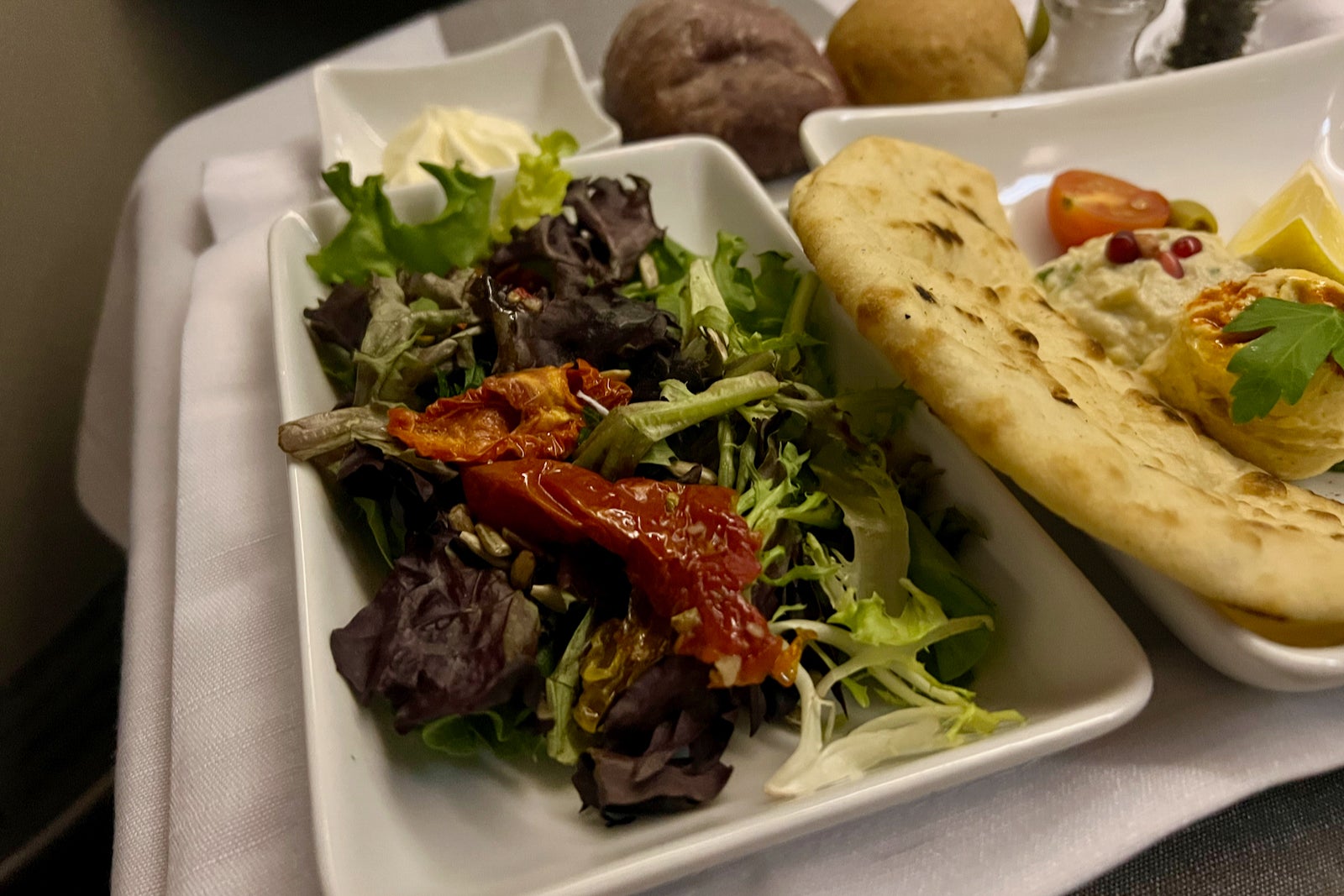 Despite the small portions, I loved the Arabic mezze. While not as good as the one Qatar serves, it was tasty – and innovative on American's part as it launches service to the region.
In fact, American went all-in with the Middle Eastern cuisine, as the bread basket was even stocked with pita bread.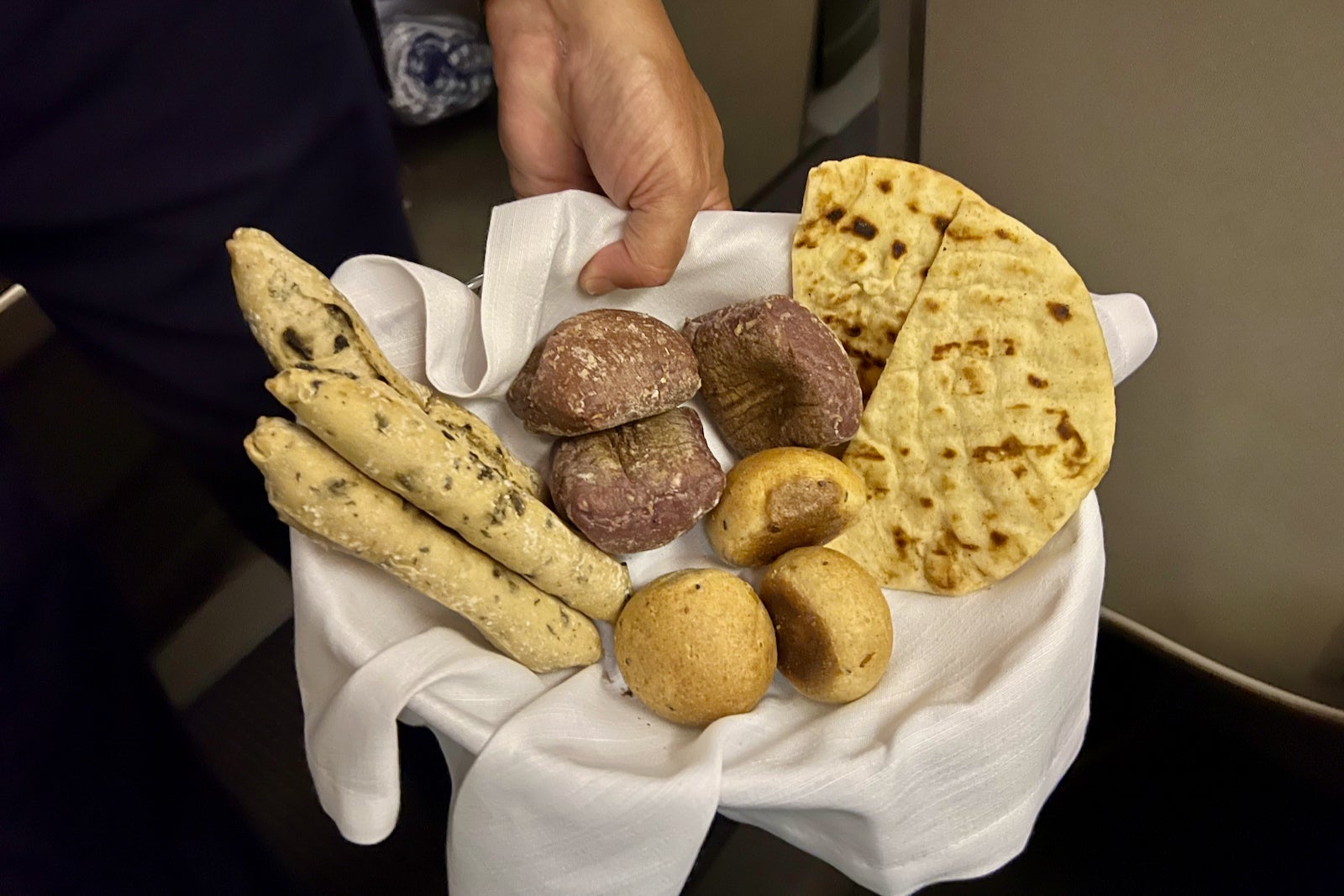 Even though it appeared overcooked and reheated, the lentil and cumin soup was fantastic. I've long said that airlines should serve soup in premium cabins since it reheats well and keeps its flavor at altitude. (Delta does a great job at serving interesting soups in business class.)
Then it was time for the entree. The halibut was good, but it was a tad overcooked, possibly because I was eating at a slower pace than my neighbors.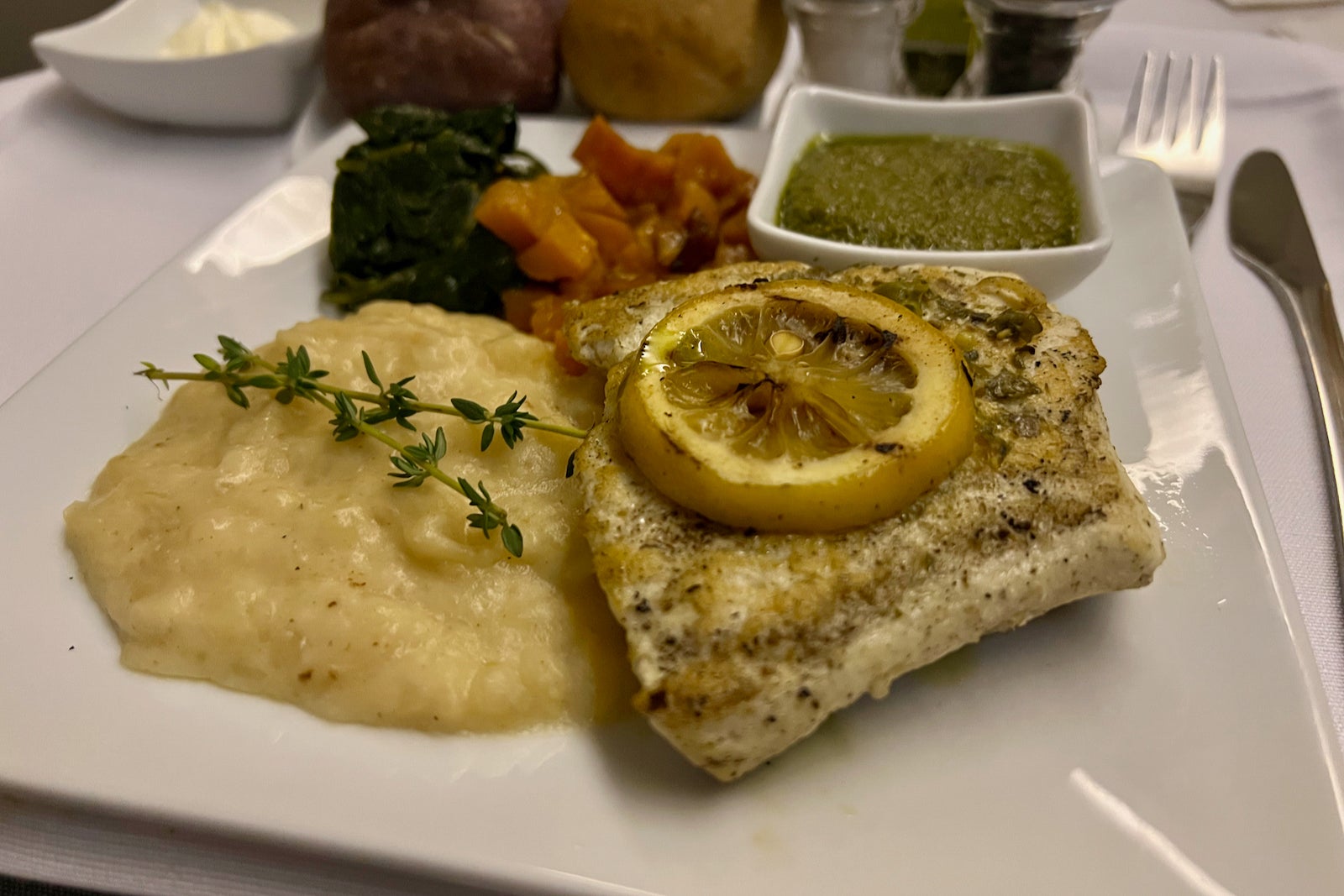 I finished the meal with American's flagship Haagen-Dazs sundae with all the fixings, including chocolate sauce, whipped cream, berries and mixed nuts. (I also tried the Bakewell tart, which wasn't great.)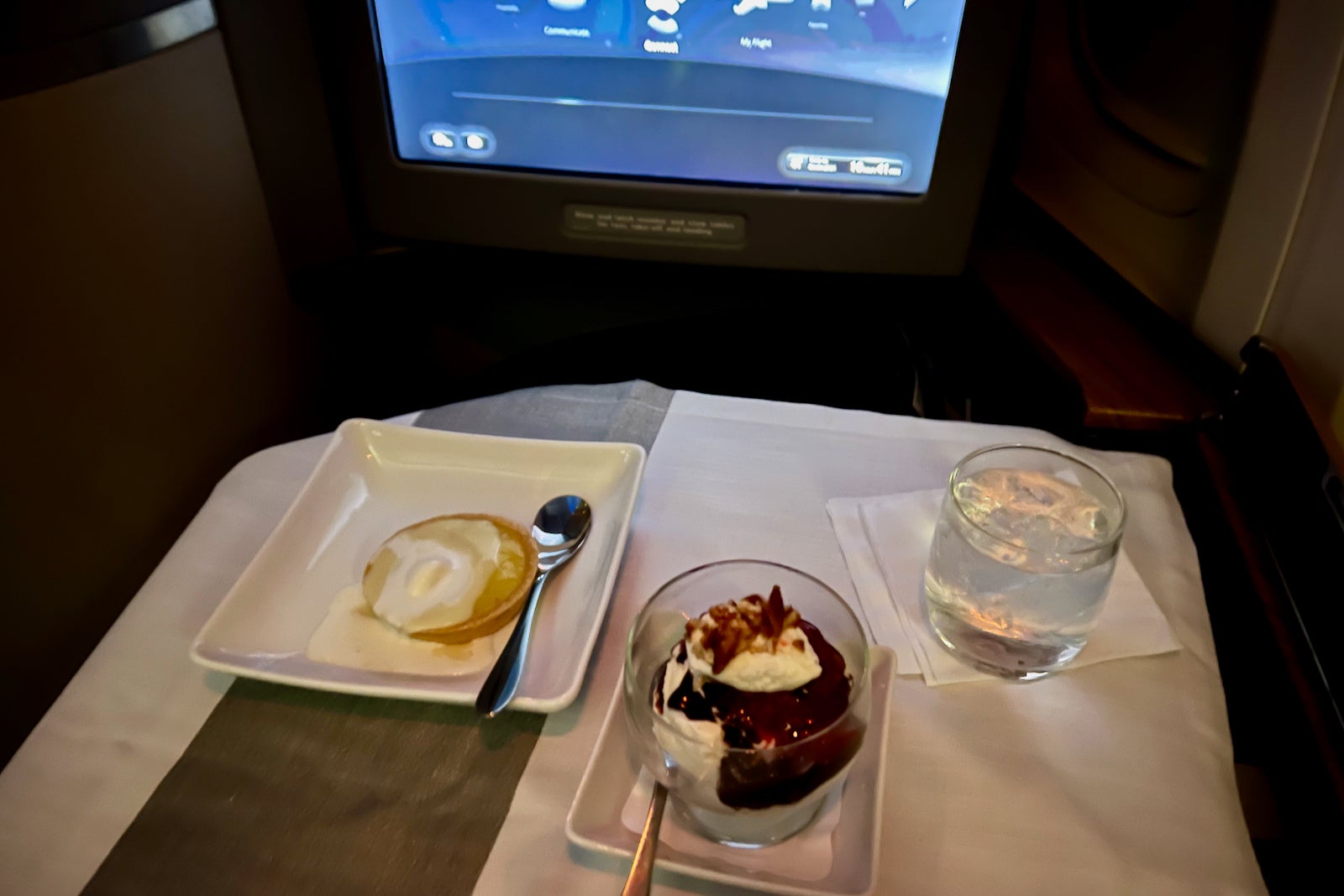 With the addition of the pitted olives and the soup course, the first-class dinner felt like an upgrade relative to business class. Additionally, I was impressed by how much customization the first-class menu allowed.
You could add toasted pine nuts to the salad; garnish the chicken entree with crispy onions, fried raisins and cashews; or order a side of basmati rice or plain yogurt with the Indian dinner.
After dinner, I napped for a few hours. When I woke up, I found that the flight attendant had set up a walk-up bar in the galley. The presentation helped make the small snacks look appetizing. I wasn't hungry, but I certainly appreciated the design effort.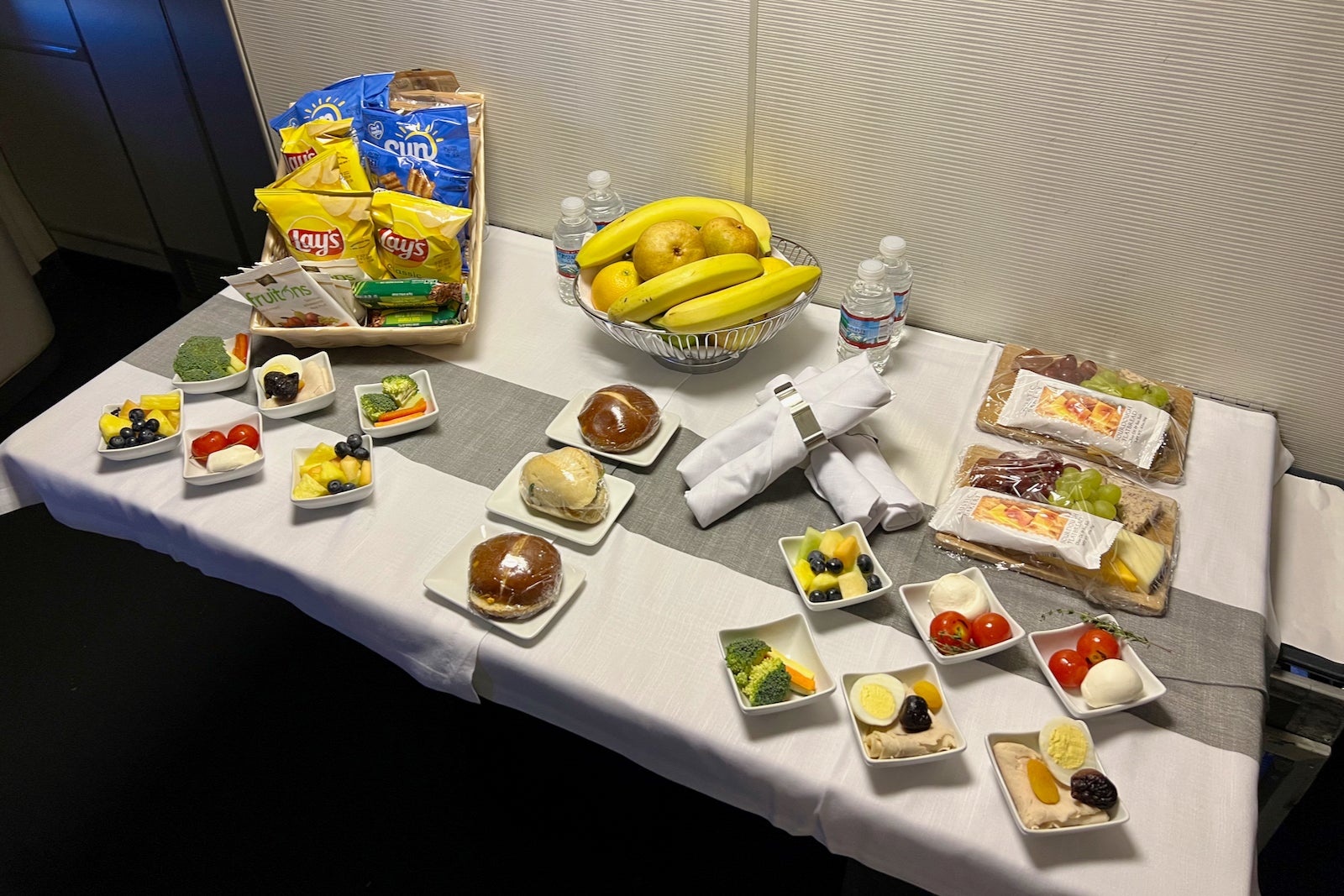 The final meal, breakfast, was served just before we landed, even though it was around 7 p.m. in Doha and lunchtime in New York.
Despite the odd timing, I ordered the cold Arabic breakfast, which included some cheeses, meats and a side dish of fruit. It was hard to tell exactly what the Arabic inspiration was in the dish, but at least it was tasty.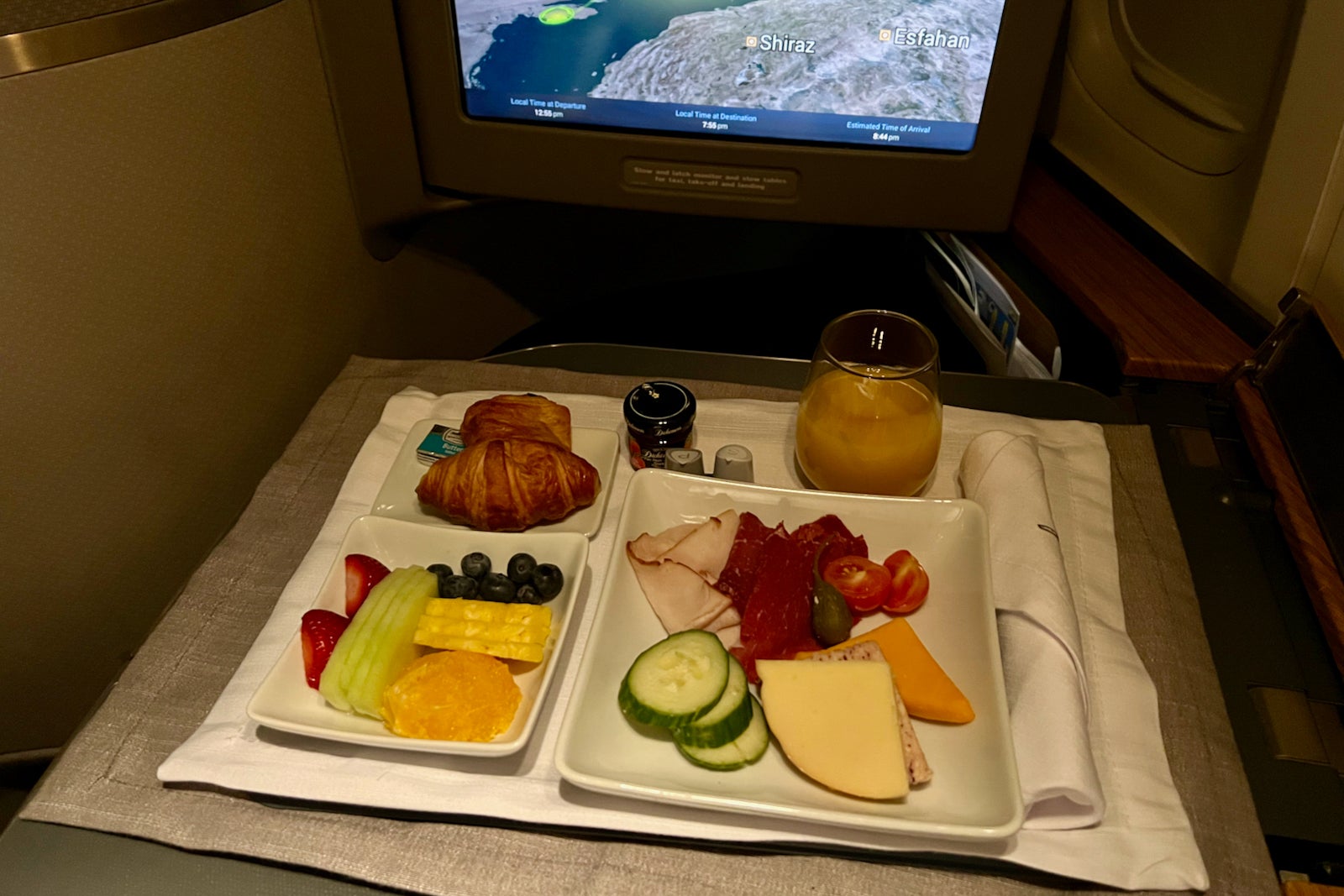 Overall, I was impressed with American's first-class dining options. Was it the world's best? No.
However, it was one of the best all-around meals I've had on a U.S.-based carrier in recent years (except for JetBlue). I appreciated all of the food and customization options, along with the return of full meal service on American.
Service
While very well-intentioned, American's Flagship First service falls short of international standards.
It begins when you board with the assortment of amenities waiting at your seat.
Whereas the top international airlines distribute first-class amenities during boarding and once in the air (when needed), American just leaves them on the seat waiting for the passenger. In most cases, the passenger then needs to store them in the overhead bin as needed.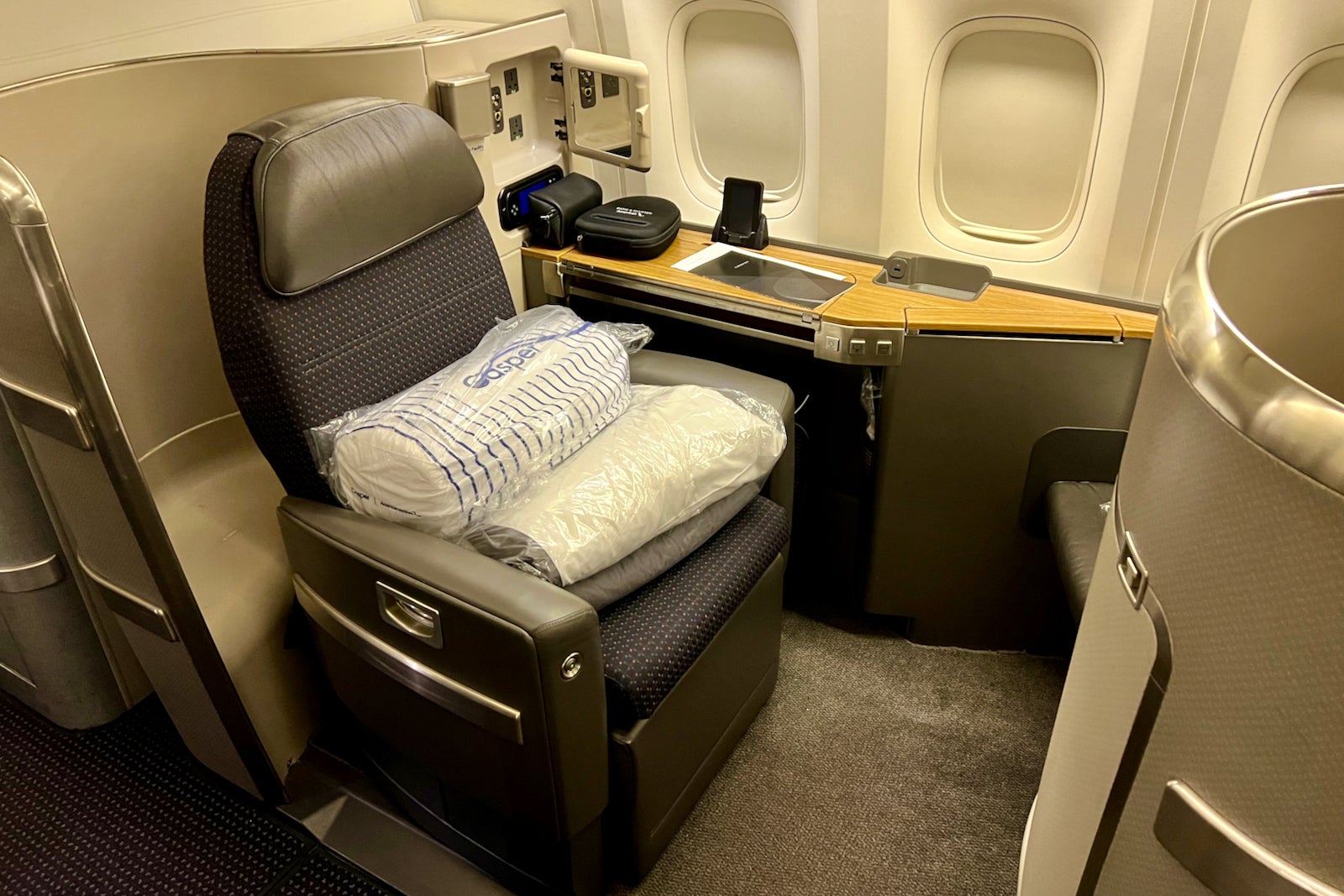 The same goes for the menu — in most international first-class cabins, the menu would be presented by the purser during boarding. Plus, on the world's best airlines, the menu would be presented in a binder or on thick cardstock.
My flimsy menu was instead waiting for me in the seat's literature pocket (next to some torn magazines).
Although American offered pre-departure beverages, the drinks were pre-poured, and there was no option to bring a beverage of choice, had I instead wanted something else.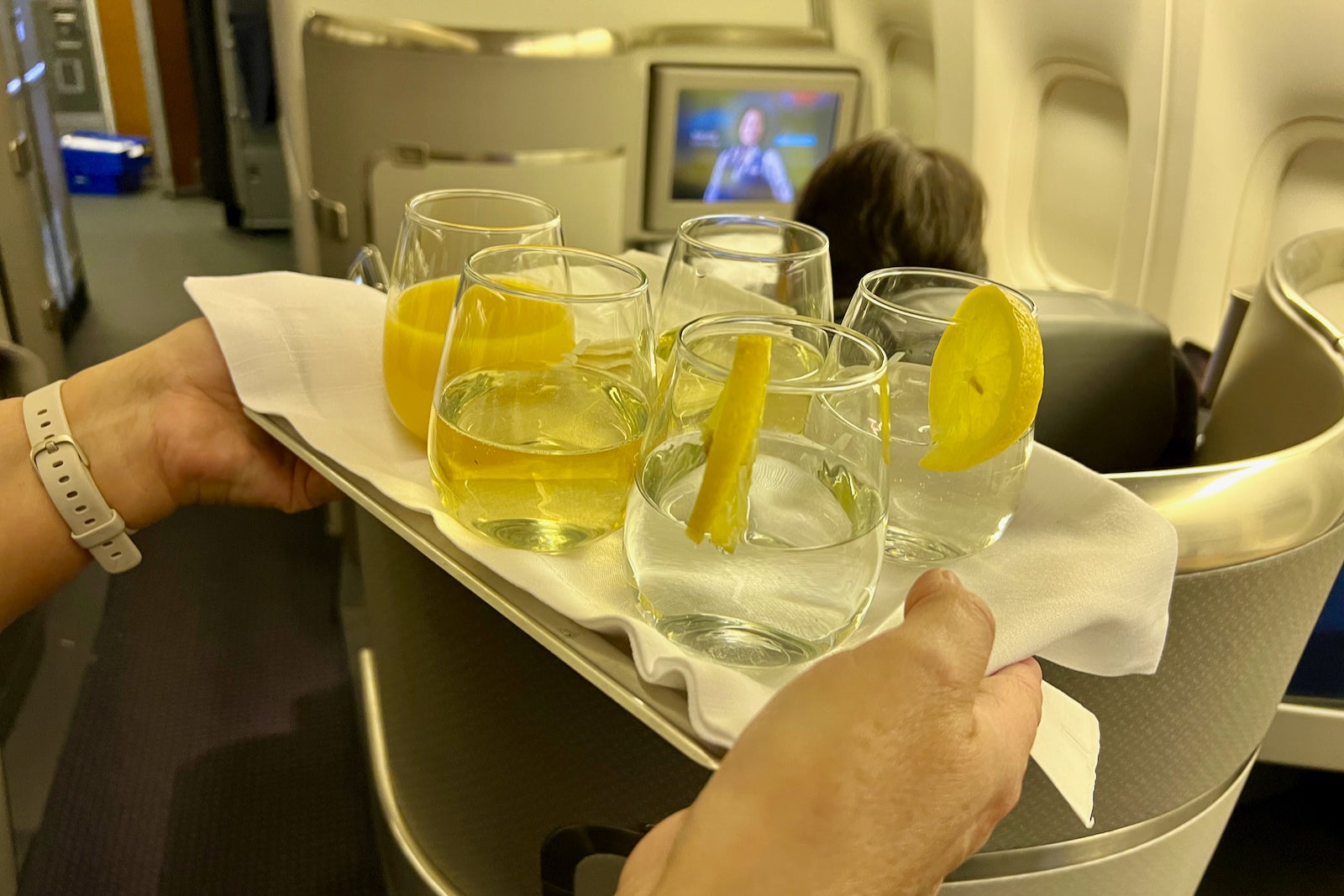 While minor, there was no turndown service offered — a staple of the first-class experience on many other international airlines.
Additionally, staff collected the Bang and Olufsen headphones about 30 minutes before landing. While the flight attendant passed out disposable earbuds, there weren't nearly as luxurious as the fancier headphones. (Fortunately, American's trialing a revamped service flow that includes letting customers leave the fancy headphones behind after landing.)
That said, the crew was not disappointing. The flight attendants themselves were incredibly friendly and welcoming. The purser Tara Lloyd, as well as the flight attendant who was staffing the galley (whose name I didn't get), were lovely and made sure to keep my drink filled throughout the flight.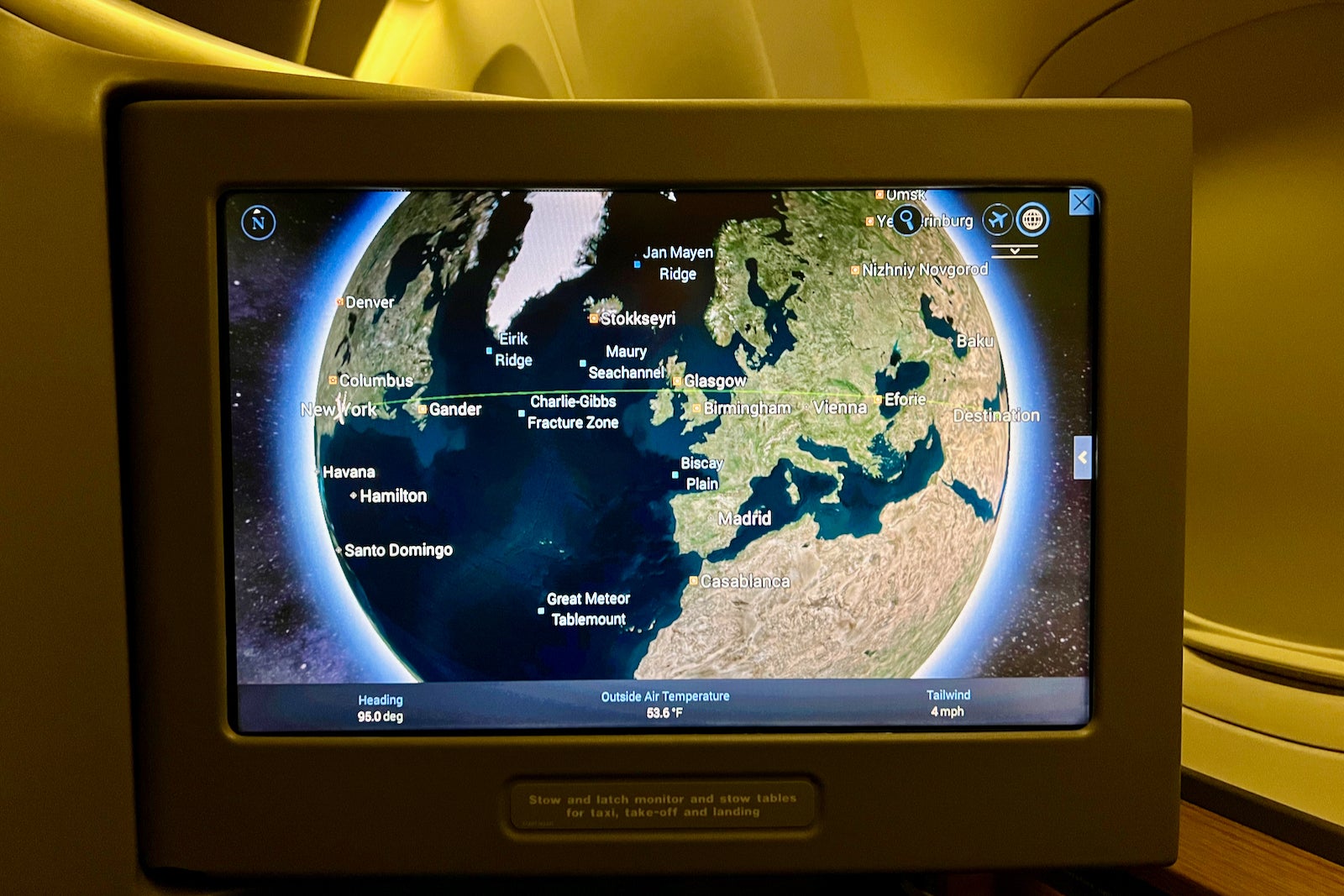 However, American doesn't seem to emphasize the importance of a distinctive first-class service flow. With such a small first-class footprint, that might make sense for American's bottom line, but passengers shouldn't expect a rarefied experience, even if they are paying top dollar.
As an aside, I found it interesting that there was no Arabic-speaking crew member on my flight. (Perhaps that's a consequence of the staffing challenges we've seen throughout the pandemic.)
Bottom line
American is now flying to Doha with its largest aircraft, the four-cabin Boeing 777-300ER.
Those seated at the very pointy end of the plane will enjoy spacious first-class pods, a plethora of amenities, and upgraded food and beverage options.
When American first launched this iteration of Flagship First ten years ago, it was much more competitive than it is today. The product is starting to show its age, and while the ground experience is certainly one of the best in the U.S., the onboard service flow isn't up to international first-class standards.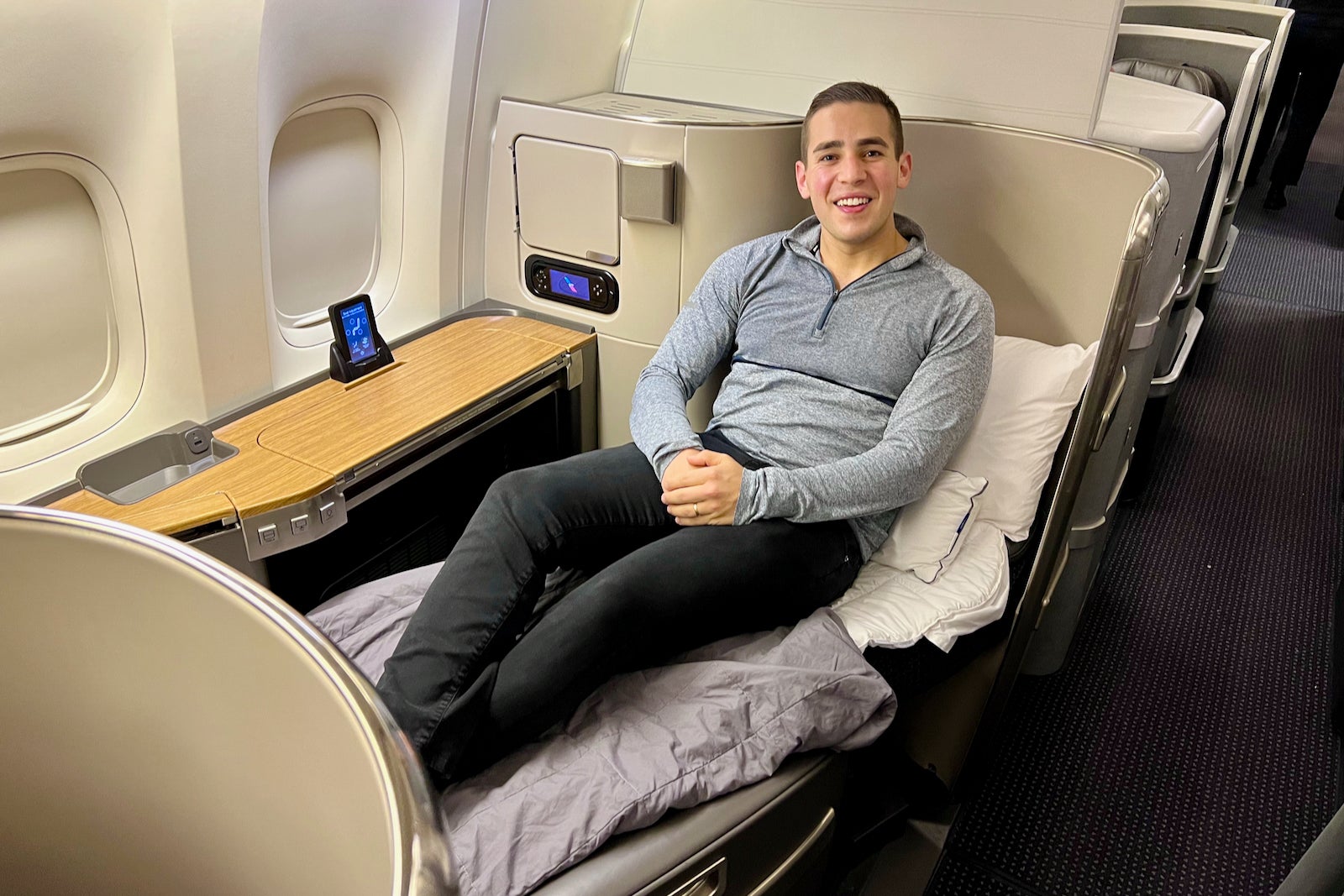 Relative to American's business-class offering, first class is a definite upgrade. You'll enjoy more space in a much more exclusive cabin. For those with upgrade certificates or extra miles, the splurge could definitely be worth it.
As for everyone else, it might make sense to book Qatar's Qsuite business class — stay tuned for a full head-to-head comparison!
Featured photo by Zach Griff/The Points Guy