Embrace your inner beach bum with some of the most gorgeous seashell crafts you've ever seen. If you love scouring the beach for seashells, sea glass, and other treasures as much as we do, you're going to love this list of DIY seashell crafts for the home.
We've rounded up stunning seashell vases, necklaces, picture frames, and other pieces of home decor to make you and your home look positively beachy. You'll remember your wonderful beach vacation every time you look at them.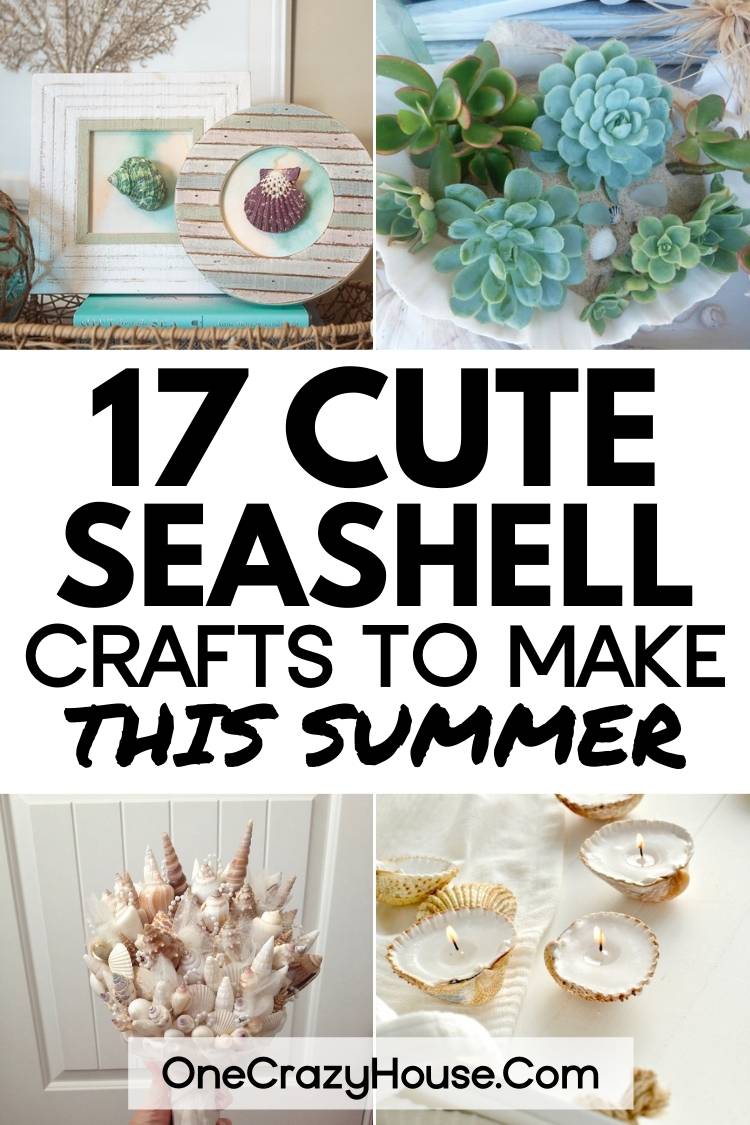 Seashell Crafts for the Home
Before you start, you may want to brush up on how to clean seashells as well as how to drill holes in seashells without breaking them before tackling these projects.
Seashell Candles
Turn some of your beach finds into gorgeous seashell tealight candles like these from Burkatron. You'll need pre-waxed candle wicks so that all you need to do is glue them to the bottom of the shell. Then, fill the shell with melted wax pellets (perhaps mixed with a few drops of your favorite essential oils). Let them harden, and voila! You have gorgeous candles that'll look terrific in your home or as gifts.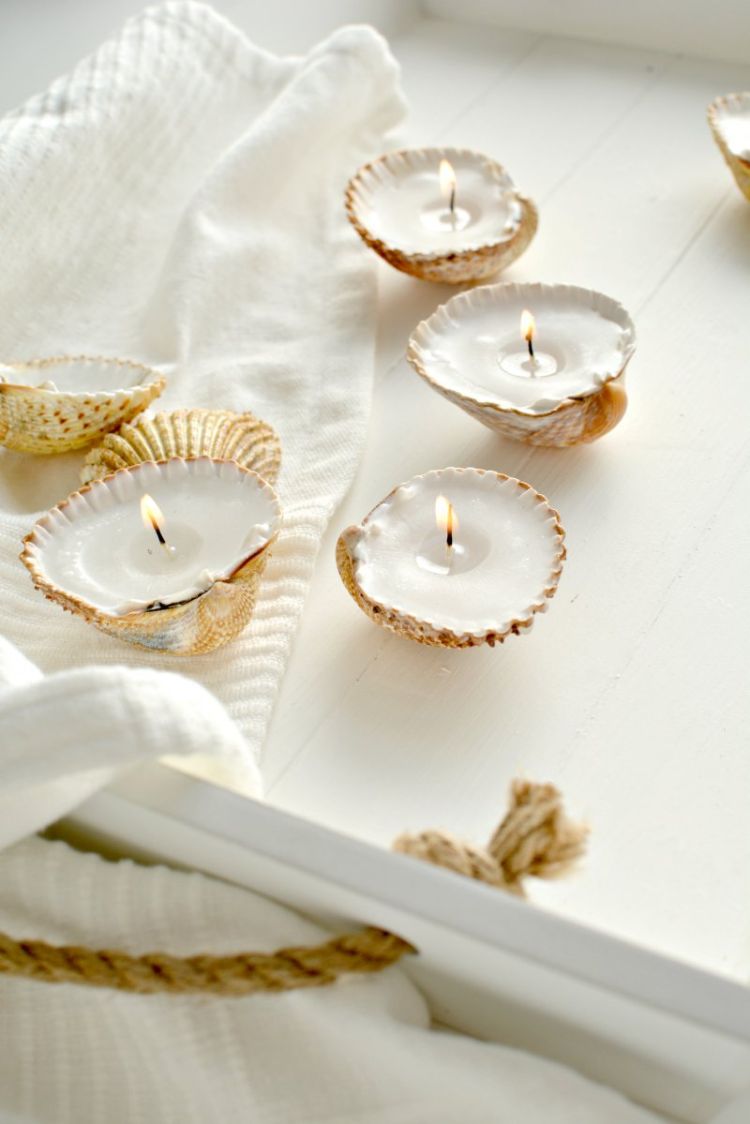 Seashell Wreath
Crafts by Amanda shows us how to make a stunning seashell wreath that'll give you all the summer beach vibes. While you certainly can use shells that you find at the beach, this craft will be easier if you purchase seashells that are a more uniform shape and size. Glue them to your wreath form, attach a beachy phrase in the middle, and your wreath is ready to hang on the door.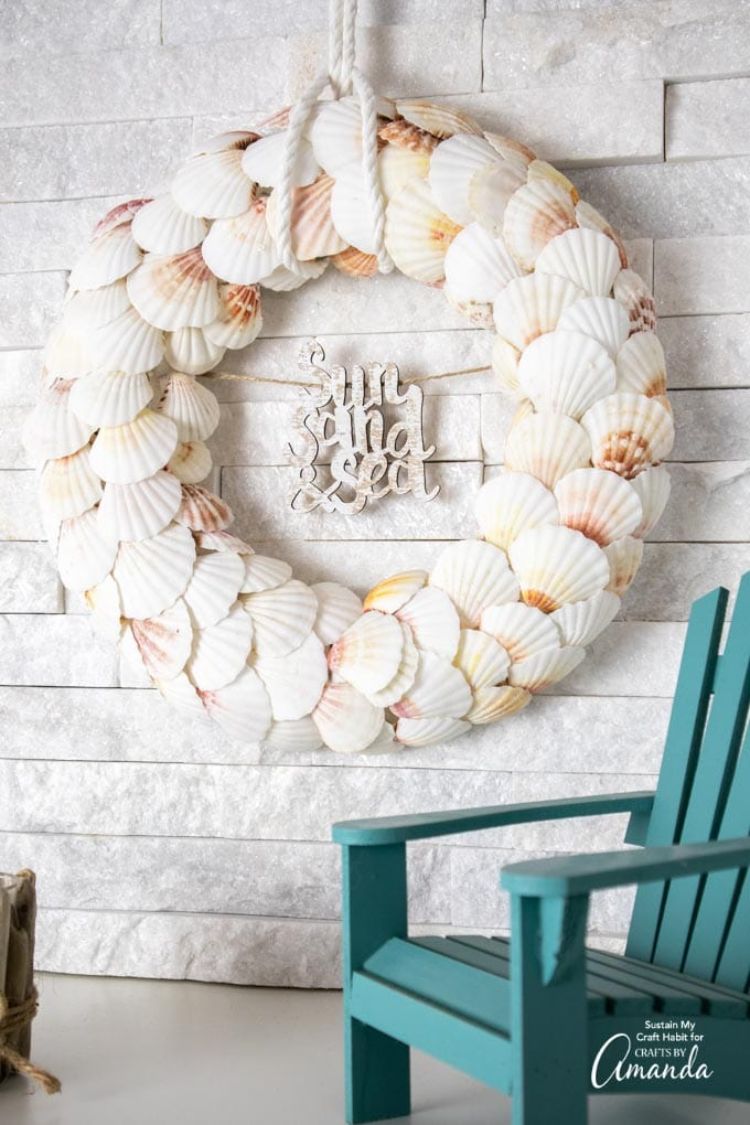 Seashell Heart Art
Show your love for the ocean with a lovely piece of seashell wall art like this heart from Feeling Nifty. This one uses medium and small seashells to form a heart shape. We love the addition of decorative pearls to add a little extra decorative shine to the piece.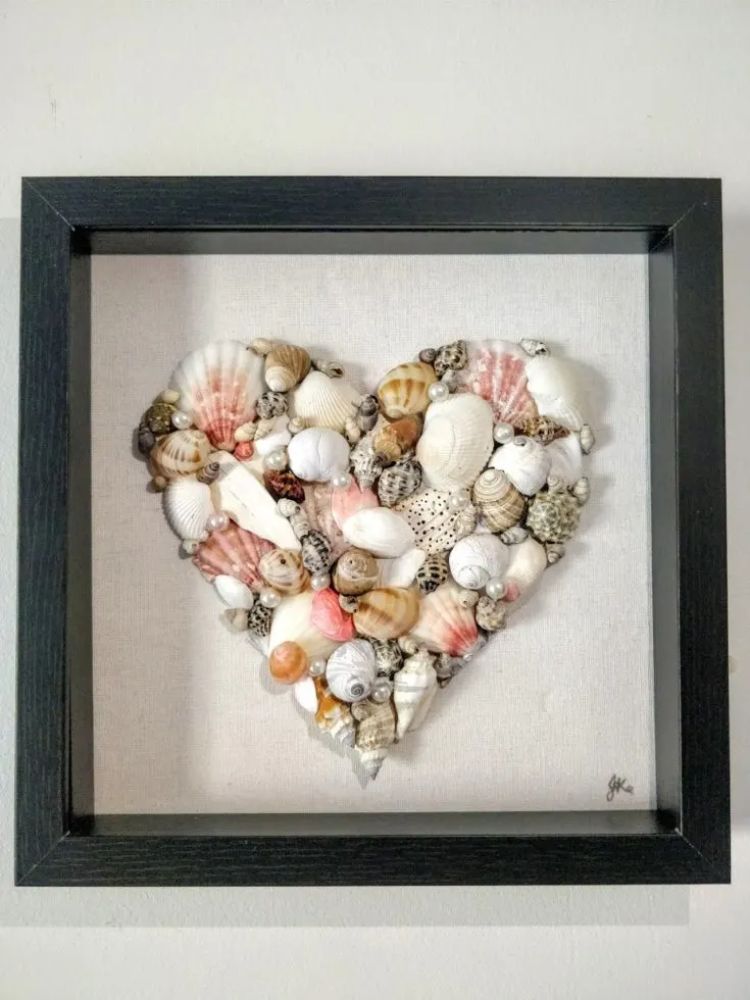 Seashell Wall Hanging
Turn a small piece of driftwood, some faux succulents, sea shells, and a bit of twine into a beautiful and creative wall hanging that looks like it's straight out of a magazine. Pair it with a small decorative mirror as you see here at Up to Date Interiors to complete the look.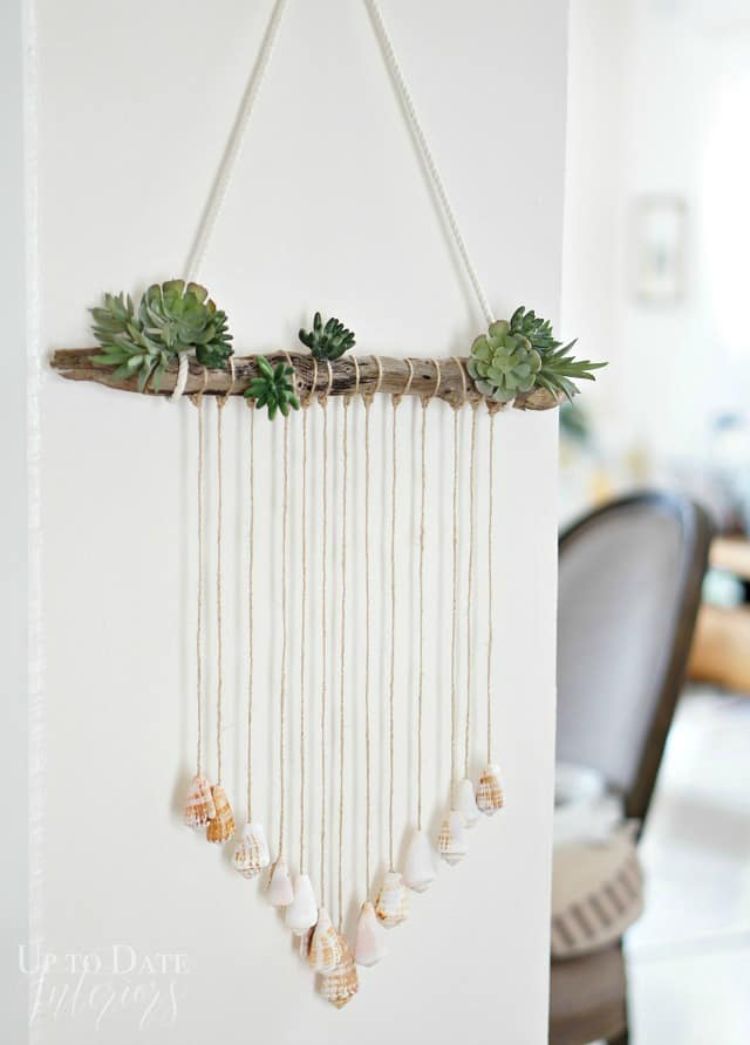 Seashell Monogram
Pick up a wooden letter and a pretty frame to start this seashell monogram craft from Purple Hues and Me. Place your largest shells where you want them first, and then add in medium and small shells around them to fill in the letter. It's a neat way to use up tons of seashells, and it'll look terrific on a mantle or in a kids' room.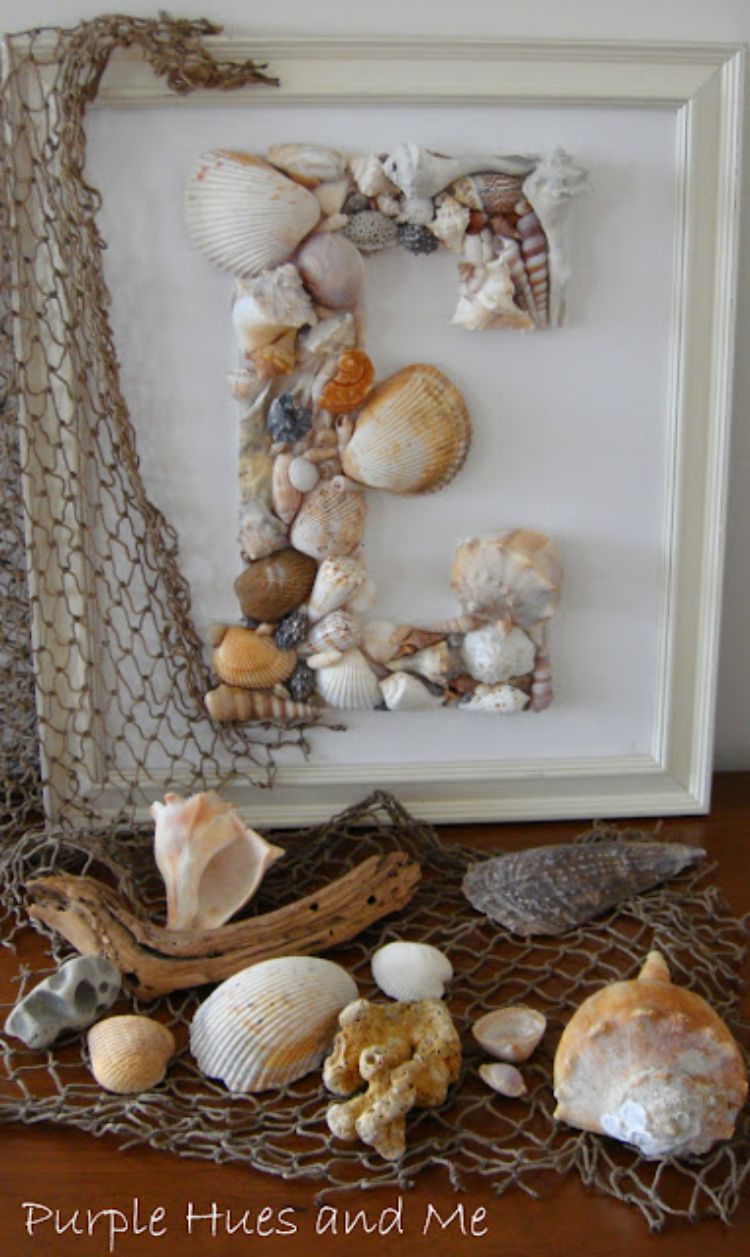 Seashell Windchimes
Simple seashells, buttons, and beads come together with string on a driftwood stick to make a beautiful seashore windchime. Every time the breeze blows, you'll hear the gentle tinkling of the seashells as they clang together. Follow the tutorial from Home Sweet Homemade to create one of your own.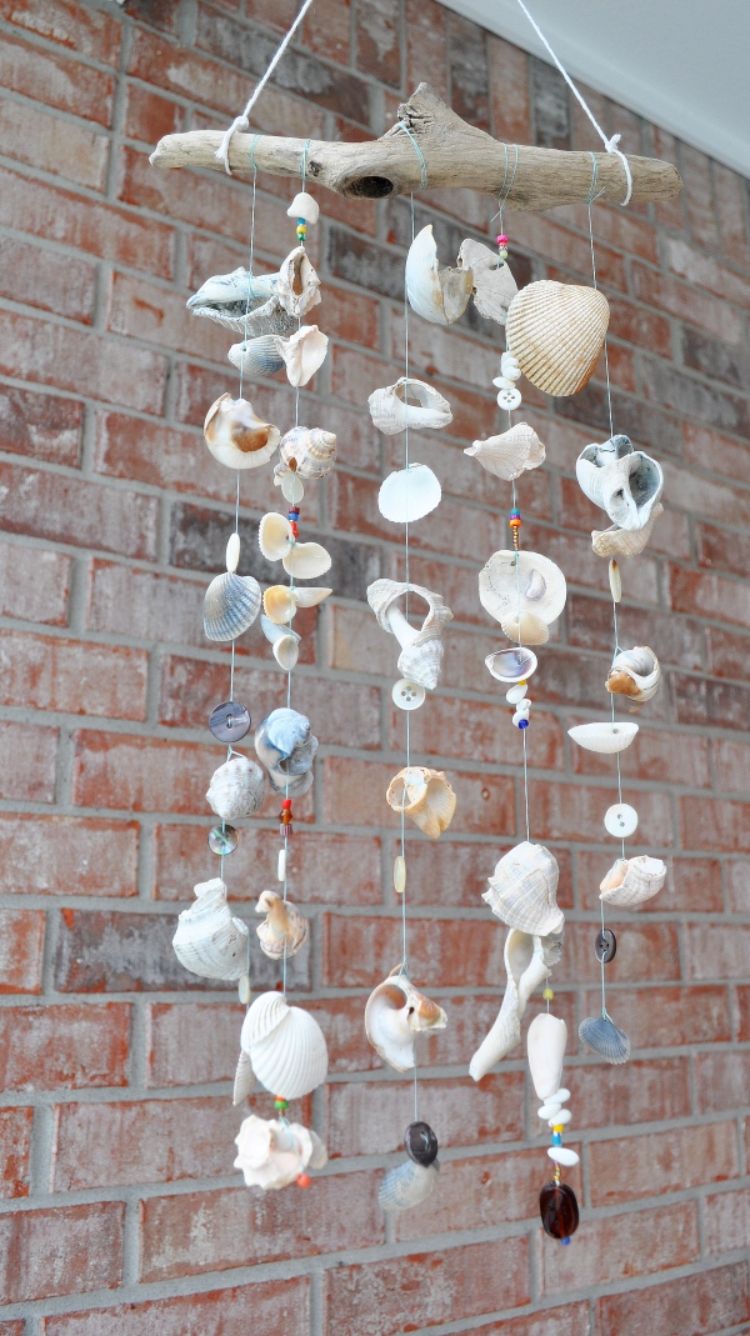 Coastal Candleholder
This coastal candleholder from Running with Sisters is one of our favorite seashell craft ideas. It looks so elegant, but it's so easy to make and will look fantastic as a centerpiece in your home or for a beach-themed wedding. You'll need a hurricane tumbler, some seashells, starfish, and faux pearls to decorate the hurricane glass. It doesn't hurt to add a bit of glitter and sparkle, either. Add a candle to use it as a candle holder or use it as a vase and fill it with gorgeous flowers instead.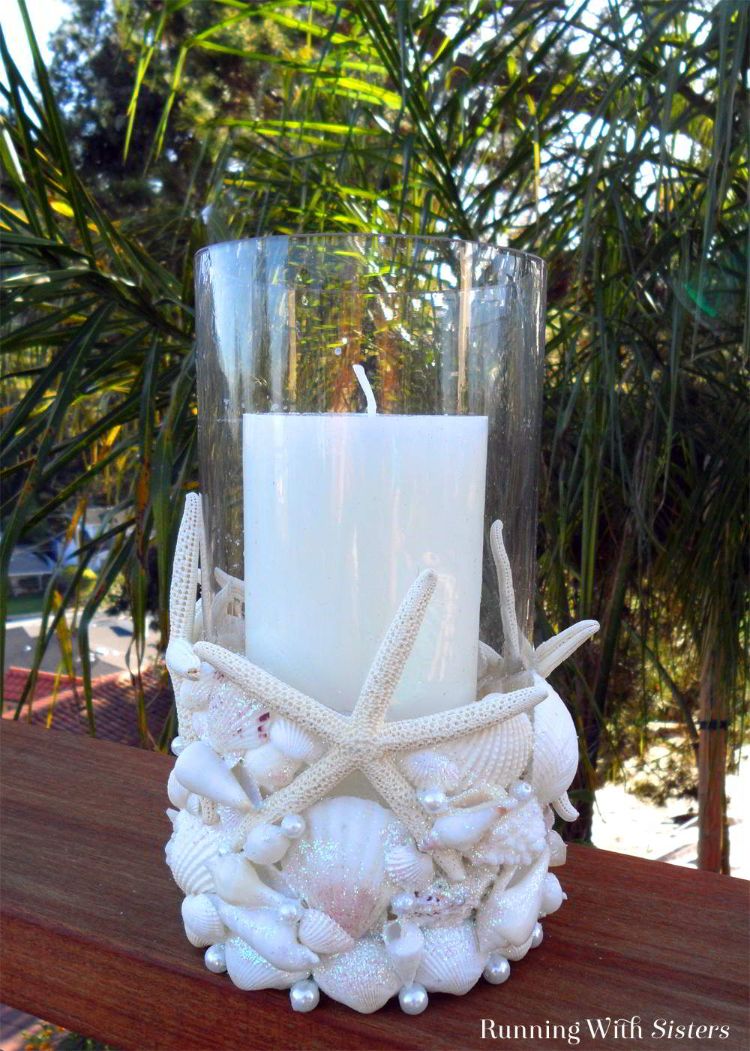 Succulent Seashell Garden
Large seashells make the perfect planters for small succulents. You'll need a really big shell, some potting mix, and sand to make your coastal succulent garden look like this one from Beach Comber. Surround your larger plant-filled shells with sea glass and smaller shells to complete the ensemble.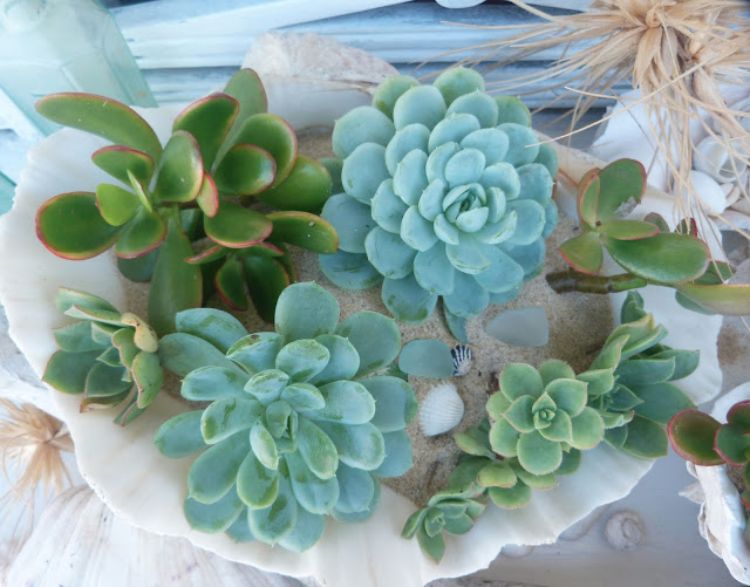 Seashell-Trimmed Basket
Trim a basket with seashells to make it look completely different! Add sisal rope around the top for a more nautical look. This basket will look lovely filled with washcloths in the bathroom linen closet or to hold napkins and utensils for a beach party (if it's a smaller basket). Learn how to replicate this look at Petticoat Junktion.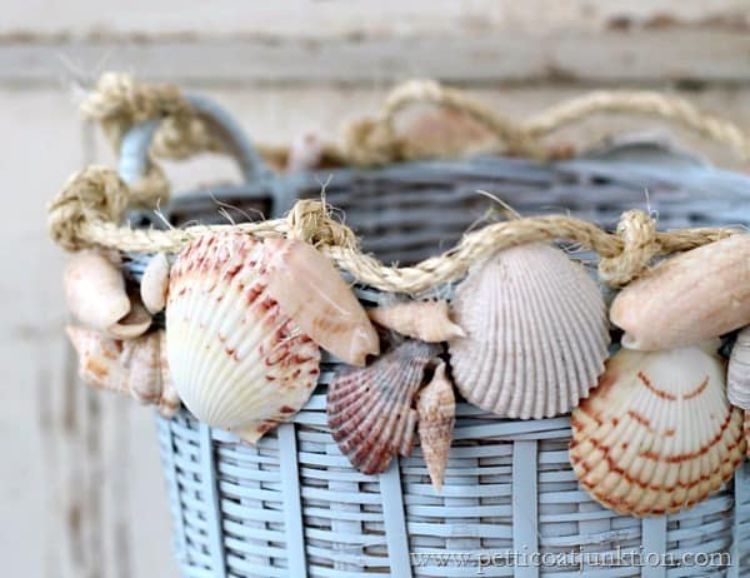 Seashell Necklace
Make seashell necklaces with the kids to serve as keepsakes of your beach vacation. Add a colorful cord and some beads, and you'll have a pretty piece of DIY jewelry to wear all summer long. Find out how to make them at Kids Activities Blog. Try making other accessories, like bracelets and earrings, using similar methods!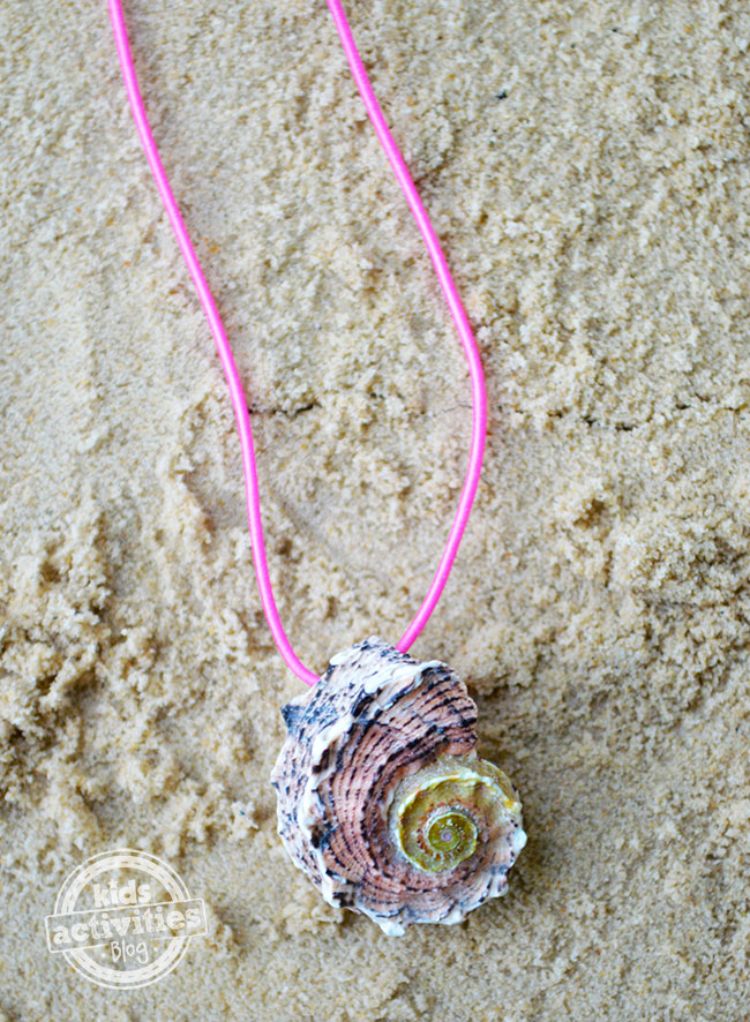 Seashell Decor Cones
These seashell cones will look fantastic in your house for the Christmas season, but you can display them any time of year, really. Instead of stuffing your beach finds away in a memory box, you can put them on display to remember all the good times you've had seaside. Adding the burlap ribbon underneath the shells is a genius idea. Once the shells are glued, you won't see much of it, but any that does peek through just looks like sand. It also helps the shells and glue grip better on the cone.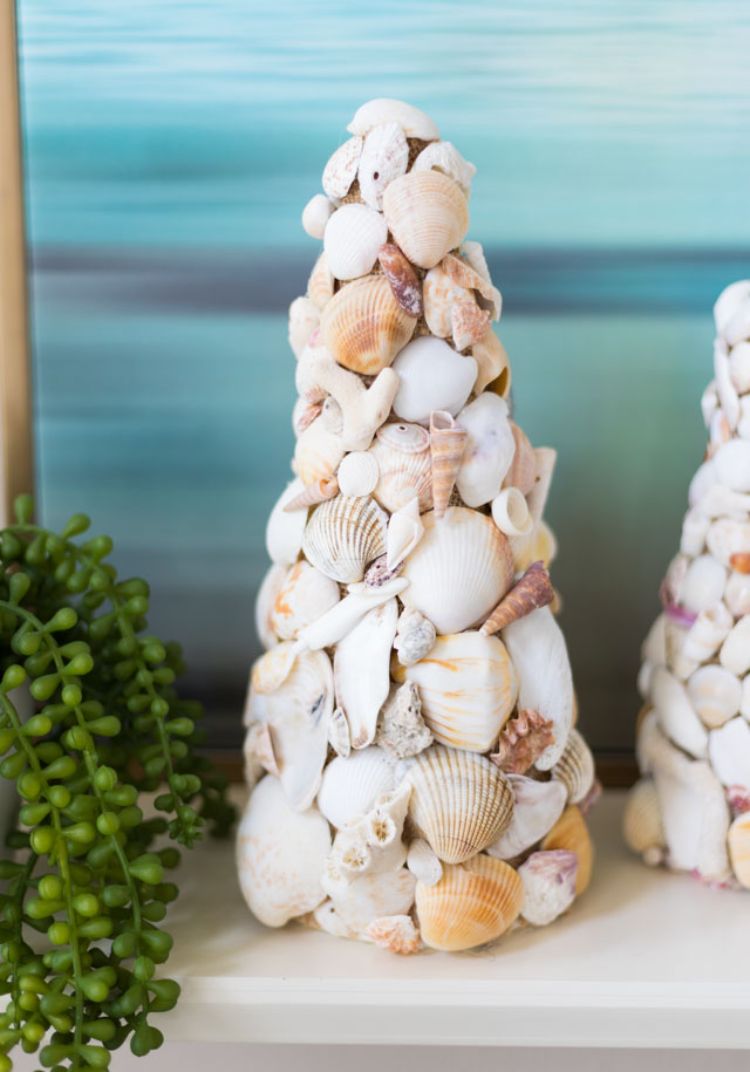 Shell Art
If you don't have the patience to work with lots of shells, don't worry. A single seashell can look dramatic and beautiful when paired with a dramatic frame. Just look at these coastal-themed shell art pieces from AttaGirl!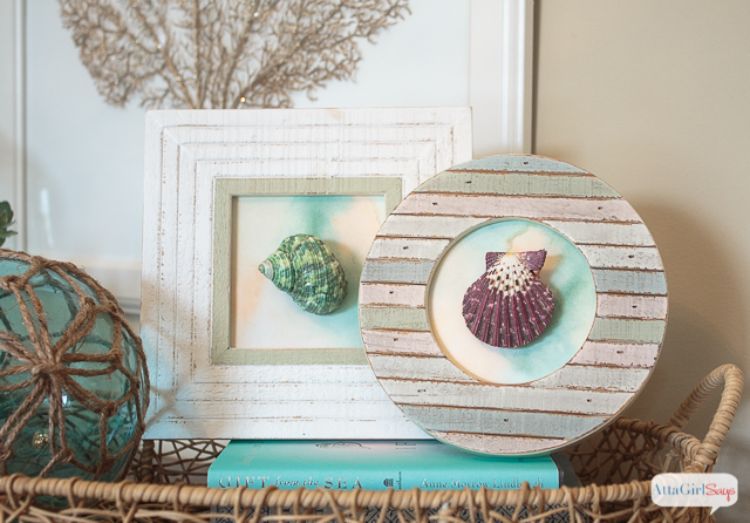 Seashell Shadow Box
Fill shadowboxes with shells for a dramatic piece of home decor that you'll love looking at. It's the perfect idea for the living room, bathroom, or bedroom. Plus, it's a really simple shell DIY that anyone can do. Just fill the shadowbox with shells, gluing each piece as you go. Then, add the frame once they're all dried, and they should stay in place for displaying on a table or hanging on the wall.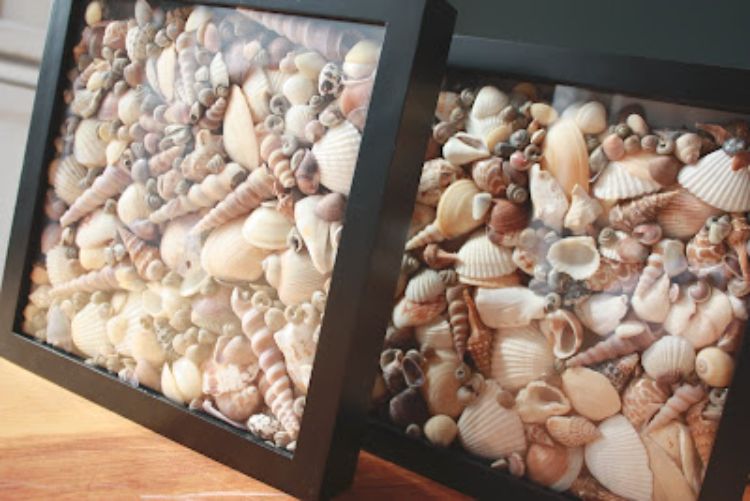 DIY Shell Planter
Cover a plastic planter pot in shells of various sizes to achieve this gorgeous look. Scallop shells work best since they're flat around the edges, but use whatever you have on hand. Try to use shells similar in color, such as mostly gray or mostly brown, to make it look nice. Put your shell planter by the door with a pretty plant, and you'll have a welcoming entryway into your home.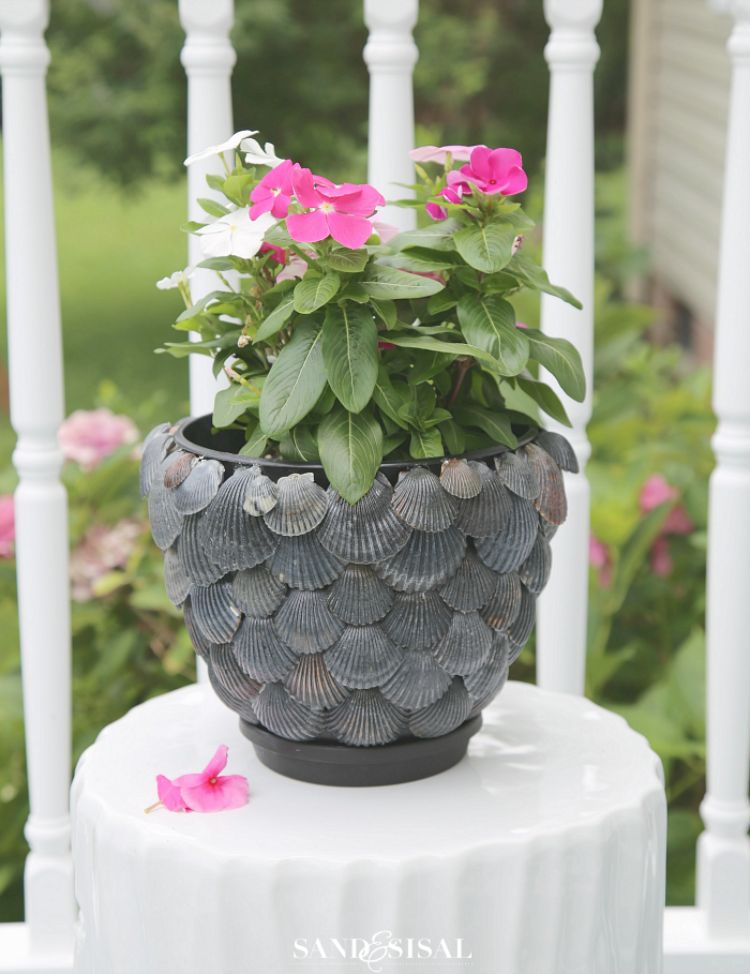 Square Seashell Vase
Can you believe this seashell vase started as an unfinished wooden box? Use assorted seashells and moss to decorate the box, and then fill it with faux plants (or real ones, if you have a green thumb).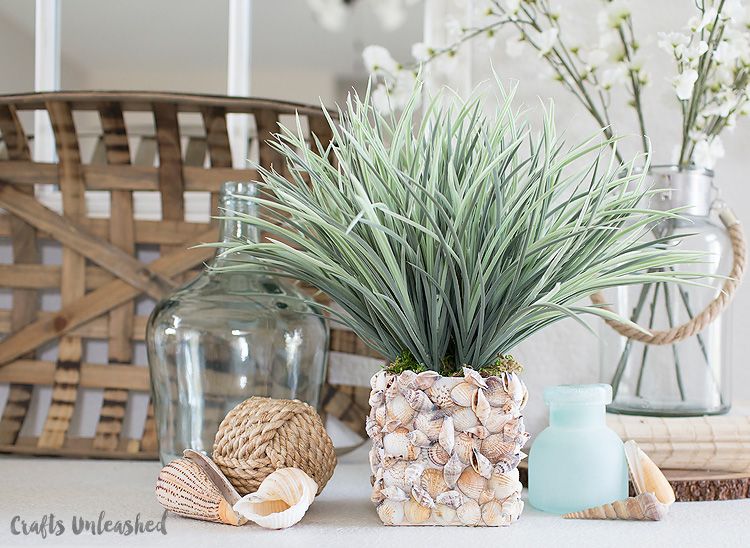 Seashell Bouquet
Any bride who's getting married on the beach should consider making this cute seashell bouquet by following the simple tutorial at Livingston Way. It's a gorgeous nontraditional option that's perfect for carrying down the aisle (or sand).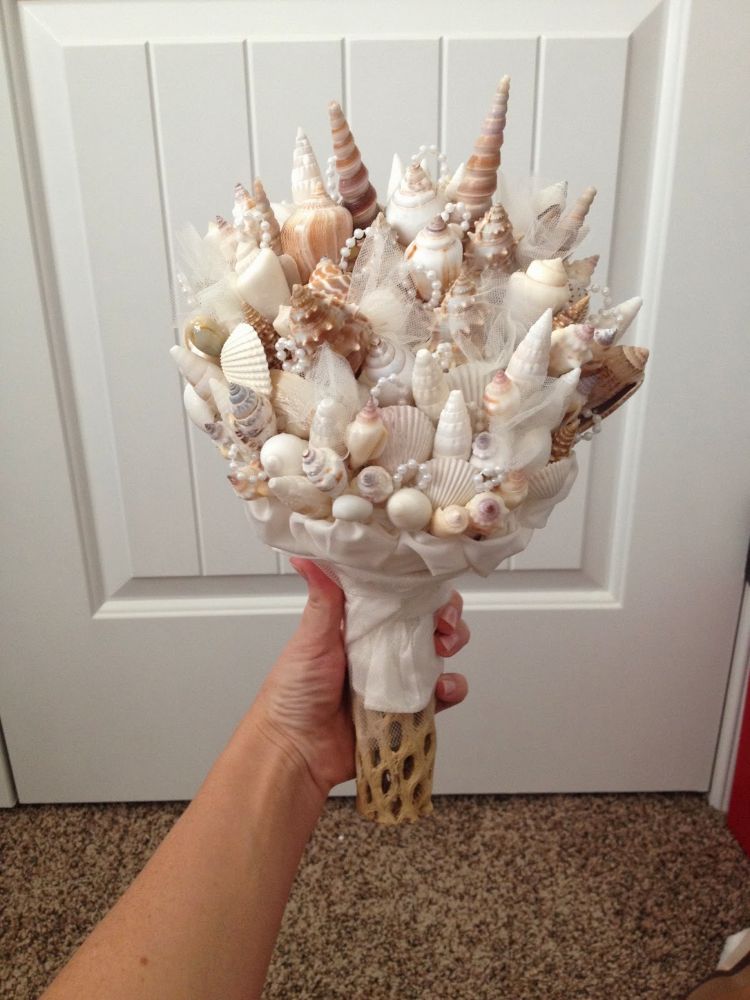 Seashell Frame
Here's another lovely project from Running with Sisters for a wedding or for your wedding photo! Glue some seashells, starfish, and pearls to make a seashell frame. It would also make for a beautiful family beach photo, too. It's best to get an ivory or off-white frame to blend in better with the seashells.
That rounds out our list of seashell DIYs. We hope you've enjoyed it! Pin this post to come back to it later when you're ready to turn your treasured seashells into something beautiful for the home.
More Beach-Inspired Tips & Tricks
The post 17 Gorgeous Seashell Crafts to Try This Summer appeared first on DIY House Hacks - One Crazy House.