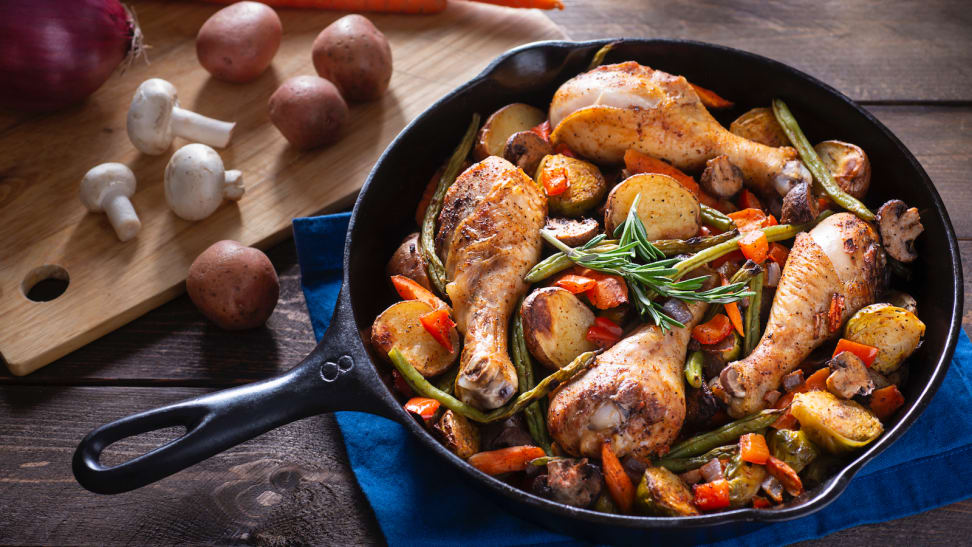 — Recommendations are independently chosen by Reviewed's editors. Purchases you make through our links may earn us a commission.
Cast-iron skillets are an American classic. Inexpensively priced and incredibly durable, these pans are prized for developing a natural nonstick coating (called a patina) and valued as family heirlooms. The pans' versatility lets you use them on any type of stovetop, in the oven, on the grill, or even over a campfire.
Because the skillets withstand high heat and hold their temperature, they're great for searing rib eyes, deep-frying chicken, and simmering a chili. And when used for cornbread or macaroni and cheese, these skillets make the crispest, crunchiest crust.
In recent years, a new crop of cast-iron skillets started popping up. These pans are lighter in weight, more polished, designed to be easier to handle, and are exceptionally stick resistant. But most come with a premium price.
Are there big differences? Are the high-priced pans worth the investment? We cooked up a whole lot of food to find out.
After intensive testing, the Lodge Chef Collection 12-Inch (available at Williams-Sonoma) is the best cast-iron skillet that you can buy. It's great at heating, and its lighter weight makes it easy to handle.
These pans are also available with porcelain enamel finishes inside and out, which makes them easier to clean. In this category, we recommend the Staub Cast-Iron 12-Inch Fry Pan (available at Amazon) as the best you can buy.
These are the best cast-iron skillets we tested ranked, in order:
Lodge Chef Collection 12-Inch
Lodge Blacklock 39 12-Inch Triple-Seasoned
Lodge Classic
Staub Cast-Iron 12-Inch Fry Pan
Ayesha Curry Cast-Iron Skillet
AmazonBasics Pre-Seasoned 12-Inch
Victoria 12-Inch
Smithey NO. 12
Utopia Kitchen Pre-Seasoned Cast-Iron Skillet
Staub 11-Inch Traditional Skillet
Finex Cast-Iron Skillet
Le Creuset Signature Skillet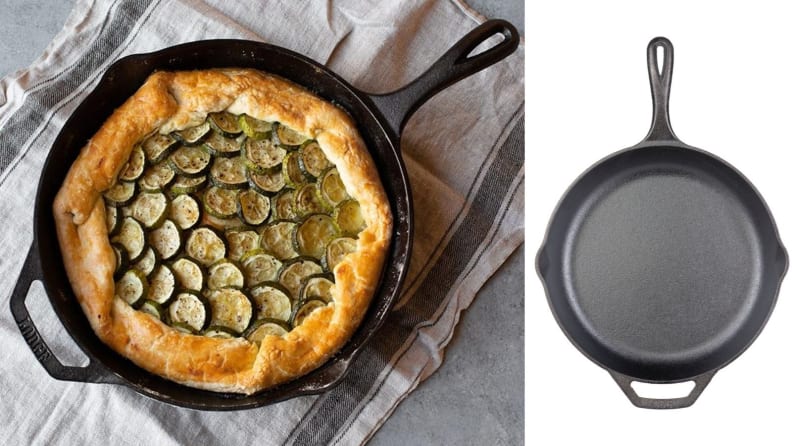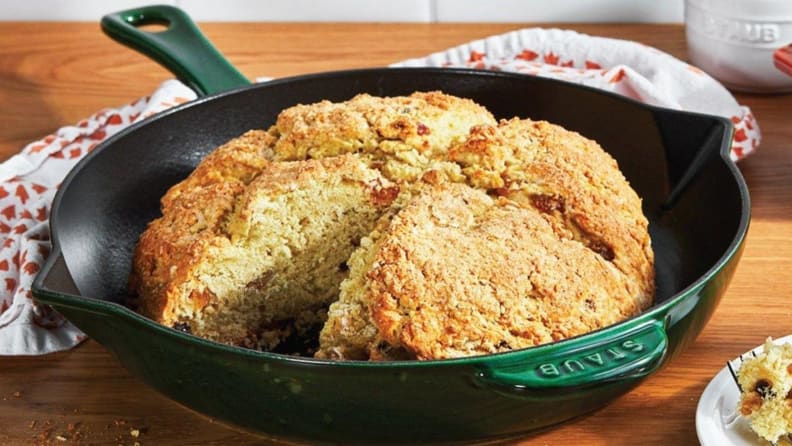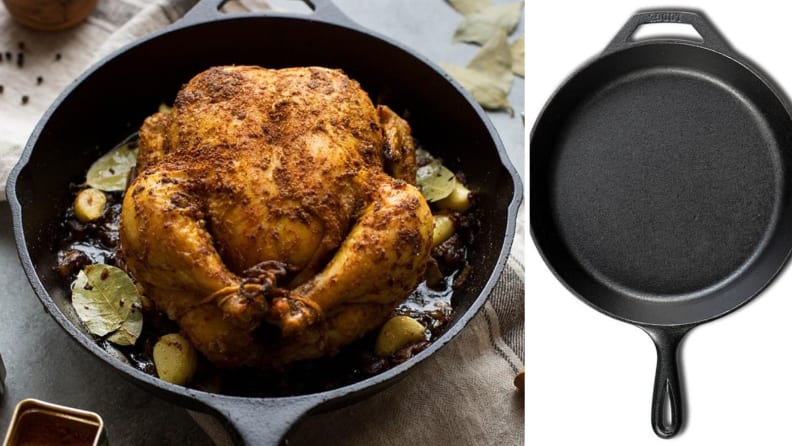 How We Tested
The Tester
Hi, I'm Sharon Franke, and I've been reviewing kitchen gear for more than three decades. Before that, I worked as a professional chef in New York City restaurants for seven years. But I've been cooking at home for even longer and now crank out two meals a day, every day.
In my kitchen, I have cookware made of virtually every material, but the pieces I'm most likely to grab are cast iron. I wouldn't think of making pork chops in a skillet made of any other material.
Because my pans are well seasoned, they're also my go-to choice for fried and scrambled eggs; I find them almost as easy to clean as my nonstick omelet pan. And yes, I've made more than my share of cornbread in the cast-iron skillet that once belonged to my grandmother.
The Tests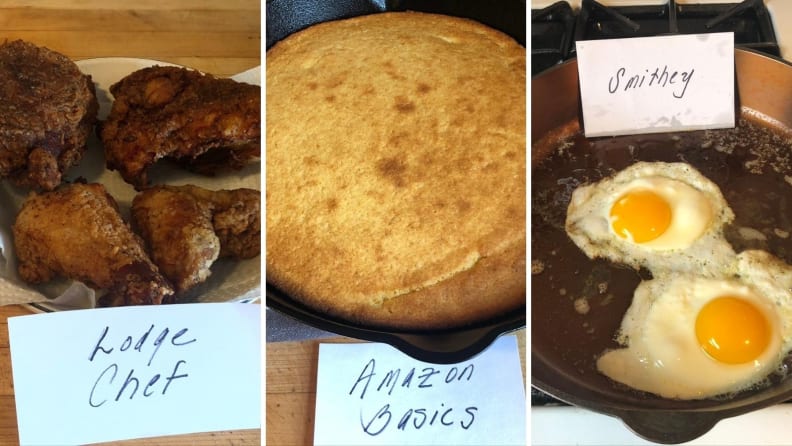 For this review, we tested 12-inch skillets. We believe this is the most versatile size as it's large enough to hold enough food for a one-dish dinner whether it's simmered, or fried on the stovetop, or baked in the oven.
Before the food tests, I greased and floured each skillet and heated it to see how evenly it browned across the bottom. My next step was to bake cornbread to check for thorough and even baking, and see how easy it was to flip the bread out of the pan.
Next, I deep fried chickens to help season the skillets. This test revealed differences in how much oil the pans were able to hold and how many chicken pieces they could fry at once.
Then, I seared strip steaks, looking for good browning, and fried eggs over easy to see if they stuck to the pan. I also evaluated whether it was convenient to use a spatula to flip the eggs over. Lastly, I scrambled eggs, noting how much the eggs adhered to the skillet and how much residue they left behind to scrub off.
Each skillet was weighed and measured to determine its heft and how much usable space it offered for cooking food.
As I worked, I considered the overall experience of using each pan: Did it develop a nonstick surface? Did the handles give a good grip and did the spouts make it easy to pour off grease? How easy was it to stash the skillet away and then pull it when it was time to cook?
What You Should Know About Cast-Iron Skillets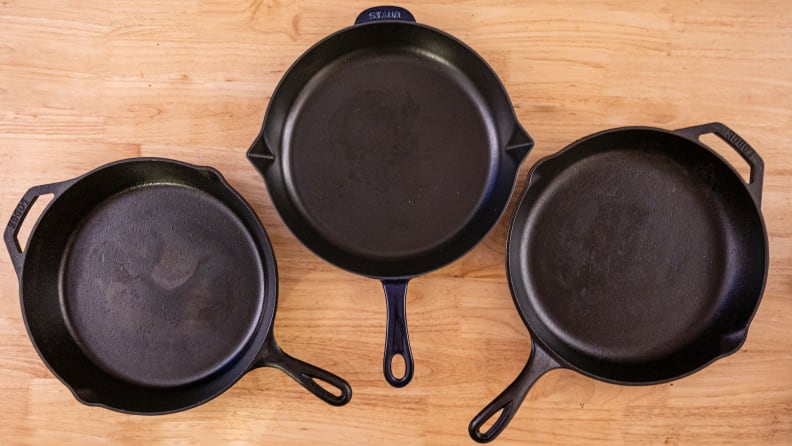 Cast-iron pans are prized for their ability to reach high temperatures and put a great sear on a piece of meat, as well as for their patina, which over time makes these pans almost as slick as pans with nonstick coatings.
But unlike nonstick pans, cast-iron skillets can keep their finish forever. If they do begin to stick, you can re-season them, giving the pans unlimited lifetimes. Considering these pans generally come with a low price tag, cast-iron skillets are incredibly good buys.
Once cast-iron skillets get hot, they stay hot. That means after preheating, there won't be a drastic drop in temperature when you plop in a sirloin. One thing to keep in mind is that because they get so hot, they can cause smoking. Remember to turn on your exhaust fan when you're searing in cast iron.
However, these pans don't heat evenly across its entire surface, so you may have to rearrange bacon strips or hamburgers in the pan to get even browning.
Cast-iron skillets are heavy. Even the new generation of lighter pans are several pounds heavier than typical stainless-steel or aluminum pans. Because of their weight, it's pretty much impossible to toss items like mushrooms or peppers when you sauté them by picking up the pan and shaking it with a flick of your wrist.
And you probably won't want to use your cast-iron skillet for rolling out an omelet or flipping a crepe. For turning or stirring, you'll need to use a spoon or spatula but you can go ahead and use metal utensils without worrying about ruining the finish.
As cast-iron skillets are molded in one piece, the handles get very hot and you will always need to use potholders to grasp them.
They also require more careful maintenance than other types of cookware. If you love to throw everything in the dishwasher, cast-iron cookware isn't for you. It requires hand washing and needs to be dried immediately.
Occasionally, you'll need to oil and then heat it to keep the surface slick. For storage, we recommend that you find a spot that doesn't require too much bending or reaching.
Why Should I Buy a Cast-Iron Pan?
A cast-iron skillet is a real workhorse. Heat it up and use it for crusty hamburgers and steaks that rival the ones you turn out on the grill. I know that grill pans are really popular, but trust me, you'll get results closer to the ones you get when you cook outdoors when you use a cast-iron skillet. A grill pan may provide those attractive grill lines, but a cast-iron skillet better browns the meat, and that's what gives you that great taste.
Because cast iron excels at holding in heat, it's also a great choice for frying. Once a layer of oil— whether it's deep or shallow—gets hot, it stays that way, even if you add cold shrimp or frozen mozzarella sticks. It also maintains heat when you're simmering chicken and peppers or lamb curry so you don't have to constantly turn the heat up and down.
When using a cast-iron pan in the oven, the bottom of the pan gets hot and then holds in the heat. If you're the kind of person who prefers the crispy, crunchy corners and edges on baked goods and casseroles, these pans are great for cornbread, brownies, Irish soda bread, macaroni and cheese, and lasagna.
Cast-iron skillets also do a much better job at releasing foods and cleaning up than stainless steel pans. Eggs will release from a well-seasoned cast-iron surface easily and cleaning won't require much scrubbing. Even when searing chicken breasts, chops, and burgers, less scrubbing to clean the pan is necessary.
How Do I Season a Cast-Iron Skillet?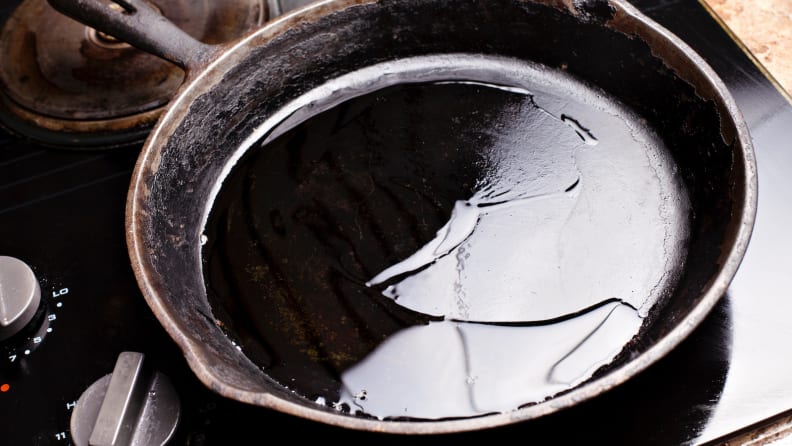 While it used to be that you had to season a cast-iron skillet before you even used it, virtually all cast-iron skillets now come pre-seasoned and ready to be used as soon as you get them in your kitchen. Wondering what seasoning is? It's polymerized oil that's bonded onto the cast-iron pan, turning it black and forming a surface that's stick and rust resistant. Each time you cook, the seasoning builds up until your skillet becomes slick and shiny.
If you notice that your skillet is losing its patina or if it develops rust spots, it's time to re-season the pan.
Start by giving it a good scrubbing. You may need to use steel wool to banish any ust spots. After cleaning and thoroughly drying the skillet, rub a very thin layer of cooking oil into the entire surface, inside and outside.
Place the skillet in the middle of the oven, upside down and position a large baking sheet or piece of aluminum foil on the bottom rack underneath it to catch any drippings. Bake at 450° F for one hour and then allow to cool.
How Do I Clean a Cast-Iron Skillet?
Go ahead and clean your skillet with dishwashing liquid, hot water, and a sponge, gentle brush, or nonabrasive scrubbing pad. Contrary to popular opinion, using soap will not remove the coating that you've worked so hard to build up.
After all, if you've fried catfish, you certainly want to get rid of any fishy residue before using your skillet to bake an apple crisp. However, using steel wool could remove the seasoning as well as cooking residue so be sure to avoid it during after-dinner cleanup.
Moisture is the arch nemesis of a cast-iron skillet. If you have a lot of stuck-on bits, you can soak your pan briefly but don't leave it filled with soapy water during dinner or overnight.
After you've cleaned the skillet, dry it very thoroughly. It's a good idea to heat it over low heat for a minute to make sure there's no droplets lingering on the surface. Occasionally, use a paper towel to rub a very thin layer of oil into the cast iron. And whatever you do, resist the temptation to put your skillet in the dishwasher.
---
Other Cast-Iron Skillets We Tested
More Articles You Might Enjoy