It's pumpkin season once again and that means it's time to get creative. Don't worry, we did some research so you don't have to and we're ready to show you the results. We've selected a bunch of pumpkin crafts for this fall that we think you'll enjoy. Some require real pumpkins, others make use of the faux kind and there are also a bunch of projects that are actually inspired by pumpkins without physically requiring them in any way. Let's now check out these cool pumpkin designs and see what makes each one special.
30 Pumpkin Crafts to Spice Up Your Home for Fall
1. Cinnamon Pumpkin Candles
The first of the many pumpkin decorating ideas that we've prepared for you today brings the aroma of fall into your home. These lovely cinnamon pumpkin candles will make your home smell great and they'll also double as seasonal decorations. To make them, you obviously need pumpkins and cinnamon sticks (actually just candle scent if you want to simplify things). Get some soy candle wax flakes, some wicks, and a few bamboo skewers as well.
2. Rustic Wooden Pumpkins
What do you say? Do these look like pumpkins? The resemblance is abstract but that's actually the whole point of the design. You can use these rustic wooden pumpkins in a variety of settings. They can be displayed on the fireplace mantel, on a shelf, or on a table and they can even double as seasonal bookends. You're probably curious how they were made so let's get to it.
Here's what you need to make your own wooden pumpkins: unfinished wood blocks, wood spools, glue, orange and white craft paint, sisal wire, and burlap. These square pumpkins are simple to put together, so they're a fun craft to sit down and assemble with children. 
3. Wood Pumpkin Basket
This wood pumpkin basket is another lovely craft you can occupy your time with this fall. Although it may seem like a complicated project, it's actually pretty simple. It starts with an unfinished wood box or planter and a pumpkin cut-out. these two come together and you can attach them with glue. then you paint the whole thing orange. You can use the box in many different ways. Put some plants in it, use it for your tools, or as a storage container for the kitchen.
4. Fall Faux Pumpkin Vase
As it turns out, pumpkins make great vases. You should use a faux pumpkin for this craft to avoid making a mess but also so it lasts longer. Cut out a section at the top and put some floral foam inside so you can better stick your flower stems in. Make a bouquet of seasonal flowers (real or faux) combined with leaves, pine cones, branches, and anything else you see fit. This is just one of the many ways in which you can use pumpkins in your centerpiece crafts.
5. Square Wooden Pumpkins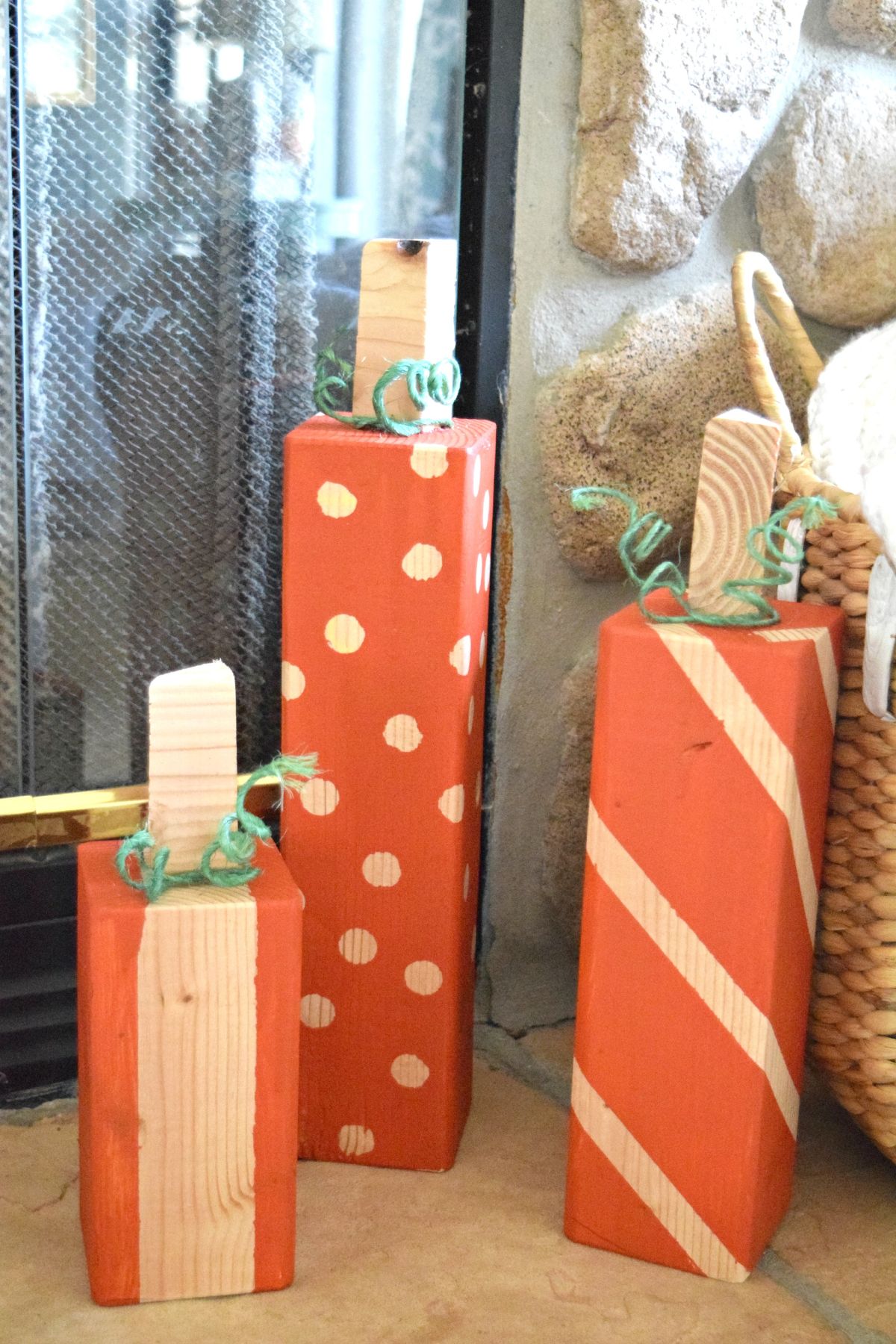 Ever seen square pumpkins? Probably not so let us show you a secret. You can make easy fall decorations inspired by pumpkins using blocks of wood. It's very simple. Take a 4×4, cut it straight and sand down its edges to get slightly rounded corners, and then apply tape or stickers so you can then paint the block orange and obtain a pattern. When the paint is dry, take a scarp piece of wood and glue it at the top, then tie some twine around it. This will be the stem of your square pumpkin.
6. Sweater Pumpkin
Doesn't this sweater pumpkin look adorable? We love how cozy it looks and we want to share with you the details of how it's made. First, the necessary supplies: an old sweater, fabric scissors, embroidery thread, a needle, a thick stick, pillow stuffing, and something to cut the stick with (like a saw). Cut the stick down into smaller pieces to use as stems and then cut out a circle out of the sweater. Gather some pillow stuffing into a ball and put it at the center of the circle, then use a needle and thread to wrap the fabric around the stuffing and to make a ball. Don't forget to insert the stick at the top. At the end, shape the pumpkin using matching thread or leave it as it is.
7. DIY Pumpkin Pie Slice Place Cards
There are plenty of occasions to throw a fall party or dinner gathering so how about some themed place cards? We have just the thing for you: a tutorial showing you how to make pumpkin pie slice place cards. For this, you require a template, scrapbooking paper in several colors (brown, orange, white, and yellow), clothespins, a hot glue gun and stamp letters. A sticker maker would help too. These place cards are a smart choice for Thanksgiving, but they could be used for any kind of autumn social event that requires organized seating. 
8. Leaf and Pumpkin Wall Hooks
If you worked with plaster or air-dry clay before then you know just how versatile it is and how many cool things you can do with it, including these cute leaf and pumpkin wall hooks. These were made using plaster, orange powdered dye, silicone molds, and wall hooks with screws. Of course, you can come up with your own version and even pick a different theme for the designs. These little wall hooks go to show that it doesn't always require a large accent to make a huge impact in a fall decorating scheme. 
9. Stacked Pumpkin Centerpiece
Put your pumpkins on a pedestal and make them the centerpiece of that room's decor. In case you need some inspiration for that, check out this stacked pumpkin centerpiece. It features two faux pumpkins painted in metallic colors and stacked on a large candle holder. You can add a few faux leaves as well. The pedestal is a nice accent for homes that are decorated in a neo-classical or formal theme.
10. Pumpkin Air Plant Holders
How about something in the spirit of Halloween? These pumpkin air plant holders should do the trick, although they're actually too cute to be scary. In any case, you can have a lot of fun decorating them. The hard part, however, is actually crafting the pumpkins and for that, you need a  silicone mold, plaster mix, water, a sculpey, and orange paint. Be sure to make the pumpkins with a small hole at the top to fit the air plants in there. If you're not into caring for live houseplants, this project can also be done with artificial plants for similar results. 
11. Washi Tape Pumpkins
Pumpkin carving and decorating can be a lot of fun but it also gets messy if you use real pumpkins. You can avoid all that by opting for the faux kind instead. For the ideas that we have in mind, there's no carving involved. The pumpkins are decorated with washi tape. It's all very simple and you hardly need any instructions. Just take your faux pumpkin, paint it if you want and then stick some pieces of washi tape on it. You can combine different colors, patterns, and geometric shapes.
12. Jewel Tone Pumpkin Votives
Pumpkins make great decorations not just for Halloween but for fall in general. We have a project that can prove it. Check out these jewel tone pumpkin votives. They're not festive in any way and they're not even orange which actually makes them a lot more versatile. If you'd like to make your own votives, you'll need mini pumpkins, a paring knife, a spoon, votive candles and spray paint. You can choose any color of paint you want. we like this blue because it looks precious.
13. Bespoke Key Fall Pumpkin Display
We find it interesting to take a classic or traditional idea and to give it an update. We'd like to illustrate this concept with an updated pumpkin project perfect for fall. It's based on the idea of using small pumpkins to decorate the fireplace mantel. In this version, the pumpkins are artificial and ivory-colored and each has one or more antique keys glued onto them. Together they spell out "fall" in a stylish and bohemian way.
14. Jack-O-Lantern and Caudron Candle Holders
We'll end this list on a fun and somewhat spooky note by showing you how to use glass bowls to make jack-o-lanterns and cauldron candle holders. It's all very simple actually. To make the pumpkin jack-o-lantern you have to put stickers on the bowl to mark the eyes, nose, and mouth and then to paint the bowl orange. When you remove the stickers, you have your lantern. The cauldron is a bowl painted black, with a handle glued onto it on two points.
15. Wood Slice Pumpkins
Neutral and earthy tones are all the rage for Fall 2021, and these wood slice pumpkins are a classy way to bring a rustic look into any indoor space. This project utilizes chalk paint, which is easy to put together and can be dyed in a wide variety of colors. You can paint any kind of pumpkins on these wood slices that you want, but combining a painted pumpkin with a calligraphy message can help welcome guests into your home.
16. One Hour Loom Knit Pumpkins
Traditional knitting can be complicated for some crafters, but loom knitting is an easy way to get into the craft. These loom knitted pumpkins can be thrown together in only an hour, making them the perfect addition to your decor scheme if you need to get your home ready for fall in a hurry. These cushy little pumpkins are the perfect way to use up yarn remnants in your collection, too.
17. Pumpkin Tea Towel
Tea towels (also known as dish towels or dish rags) are an easy way to add a seasonal accident to your kitchen. With just an embroidery hoop, some embroidery floss, and some scrap fabric, you can create a darling little pumpkin scene and display it on these pumpkin tea towels. Place them on a tabletop, or you can tuck them into the handles of your oven and stove. Since you can use any colored scrap fabric to create these pumpkin tea towels, you can use them to pull any accent colors you have in the room already.
18. Stacked Painted Pumpkins
For a more contemporary look, you can incorporate pumpkin crafts with some non-organic patterns like stripes, checks, and polka-dots. Combining multiple pumpkin patterns but keeping the paint colors consistent between them can help you create a collection that looks both ordered and whimsical. The faux pumpkins used in this craft project can be bought for just a few dollars. That makes these painted pumpkins an affordable way to add some fall cheer to your foyer table or autumn centerpiece.
19. Glow in the Dark Pumpkin Wall Art
This glow in the dark pumpkin wall art uses a printing paper that's been loaded up with glow in the dark pigment, making it perfect for all kinds of spooky seasonal crafts in the fall. To create the wall art, simply take some photographs of pumpkins or download them from the Internet. Edit them into a black and white format to increase the contrast between the image and the glowing background, then print the images onto the glow in the dark paper. While these glowing pumpkins are perfect for fall, this craft project can be put up any time of the year!
20. DIY Faux Warty Pumpkin
Faux pumpkins are a great way to decorate your home for fall because they don't decay like real pumpkins. However, some of these fake pumpkins can end up looking too perfect and artificial. This DIY tutorial uses craft pumpkins and adds a warty exterior to make them look more authentic. Warts on your craft pumpkins add charm and can help you create a much more realistic-looking centerpiece. Plus they're a perfect way to add value to cheaper-looking plastic craft pumpkins.
21. DIY No-Sew Velvet Pumpkins
For a more sophisticated fall space, try upgrading the fabrics and textures you incorporate into your fall crafts. These velvet pumpkins are a great DIY project since they require no sewing, which makes them perfect for anyone intimidated by more advanced embroidery techniques. You can also get velvet fabric in many different colors to match whatever color scheme you already have in your interior design if you don't want to put a bunch of pumpkin oranges around the house.
22. DIY Fabric Pumpkins
If velvet fabric is a little too rich for your taste, there are various other fabrics you can use in craft pumpkins instead to create a more casual look. These DIY fabric pumpkins only require some light sewing to complete and can be created to match the color palette of any interior design scheme. The pumpkins are stuffed with cotton batting to give them their shape and shaped with twine to create the pumpkin's iconic ribbed shape. Keep in mind that the textures you use for your pumpkins will have a big influence on how formal (or not) they look. For example, using twine will make your fabric pumpkins look more farmhouse chic than velvet cording, which will give off a more uptown vibe.
23. DIY Modern Tiny Terrazzo Pumpkins
Some pumpkin crafts are more rustic, while others lend themselves better to a more contemporary style. In interior design, terrazzo is a type of composite material that is composed of chips of marble, quartz, glass, and other decorative materials bound together with a filler. This leads to a solid background flecked through with different colors. These DIY modern terrazzo pumpkins mimic that same style by painting multicolored flecks on white pumpkins for a festive fall look.
24. Simple Gold Leaf Painted Pumpkin
Sometimes you don't need a complicated fabric pattern or a wreath with multiple elements to get your seasonal theme across. This painted pumpkin with a simple gold leaf pattern manages to be both whimsical and elegant. It would work especially well with neutral interior designs since the metallic gold acts as a bright accent without overwhelming the room. You could even choose to use different metallics such as copper or silver to complement different color palettes.
25. DIY Confetti Pumpkins
Here's another neutral craft pumpkin project with a striking metallic accent. These DIY confetti pumpkins are great for adding some seasonal motifs to your home while still making it look more refined and put-together at the same time. Many DIY holiday crafts can look cheap, but this isn't one of them. The gold confetti over a rich cream base conjures up the feeling of seeing warm autumn fireplace sparks rise up. Since both colors in this project are neutral, you can use these confetti pumpkins just about anywhere.
26. Fairy Light Pumpkins
For a more feminine spin on the traditional faux pumpkin display, check out this tutorial on putting together a fairy light pumpkin that incorporates lighting and artificial flowers. With just a few supplies from the dollar store, this decoration can come together in minutes. Choose orange faux flowers to emphasize the pumpkin form of the project, or go with whatever flowers you like to create your own personalized accent. This project only requires faux pumpkins, fairy lights, artificial flowers, and washi tape to put together.
27. Braided Dollar Tree Pumpkins
Looking for an inexpensive pumpkin crafting project that looks like it costs a lot more? Look no further than these braided dollar tree pumpkins. With base plastic pumpkins costing just a few dollars apiece and any spare yarn you have lying around from other crafting projects, you can throw together some textile pumpkins nice enough to be on the cover of a magazine. Choose sumptuous yarn types like velvet ribbon or yarn with metallic glints added to give your pumpkins an even more luxurious feel.
28. Painted Buffalo Check Pumpkins
Gingham and buffalo check are two patterns that are commonly associated with fall, and a black and white buffalo check pattern works well with faux pumpkins for an eye-catching take on the painted pumpkin trend. Using just three colors – black, white, and gray – you can make a neutral pumpkin for your decor that works equally well as a centerpiece or just as a decoration to take up space in an unused corner. Be sure to be precise in your painting work to give these pumpkins an authentic checkered look.
29. Toilet Paper Pumpkins
Need a fall craft you can throw together in just a few minutes? These DIY toilet paper pumpkins have got you covered. Using any kind of fabric you like, you can cover up toilet paper rolls to create adorable fabric pumpkins that are easy to dismantle after the holidays so you don't waste your paper. Adding eucalyptus leaves and cinnamon sticks to act as the stem and leaves at the top of the pumpkins not only adds a touch of foliage to your design, it also helps bring in some delicious fall fragrance.
30. Glow in the Dark Painted Pumpkins
Want to decorate pumpkins for the fall but you don't want to carve jack-o-lanterns? Glow in the dark painted pumpkins are a fun way to let your creative side run wild without having to worry about a bunch of pumpkin guts all over your kitchen. The colorful designs on these pumpkins are perfect for a Day of the Dead celebration, but they're also a good way to provide beauty on your unlit porch all autumn long.
Pumpkins are one of the most popular decorating motifs used in fall decor. Along with the vegetables themselves being very durable and long-lasting for use in crafting projects, faux pumpkins can be manipulated in all kinds of amazing ways to create decor accents that fit any room. Changing up different elements of the projects, such as incorporating a different type of pattern or fabric, can help you put a personal mark on the design. No matter which crafting pumpkin project you go for, these DIY pumpkin crafts are bound to get you ready for fall festivities.
The post Our Top Favorite Pumpkin Crafts For This Fall appeared first on Home Decorating Trends - Homedit.