We didn't expect this, but our favorite room in the new house has turned out to be the bathroom / laundry room combo.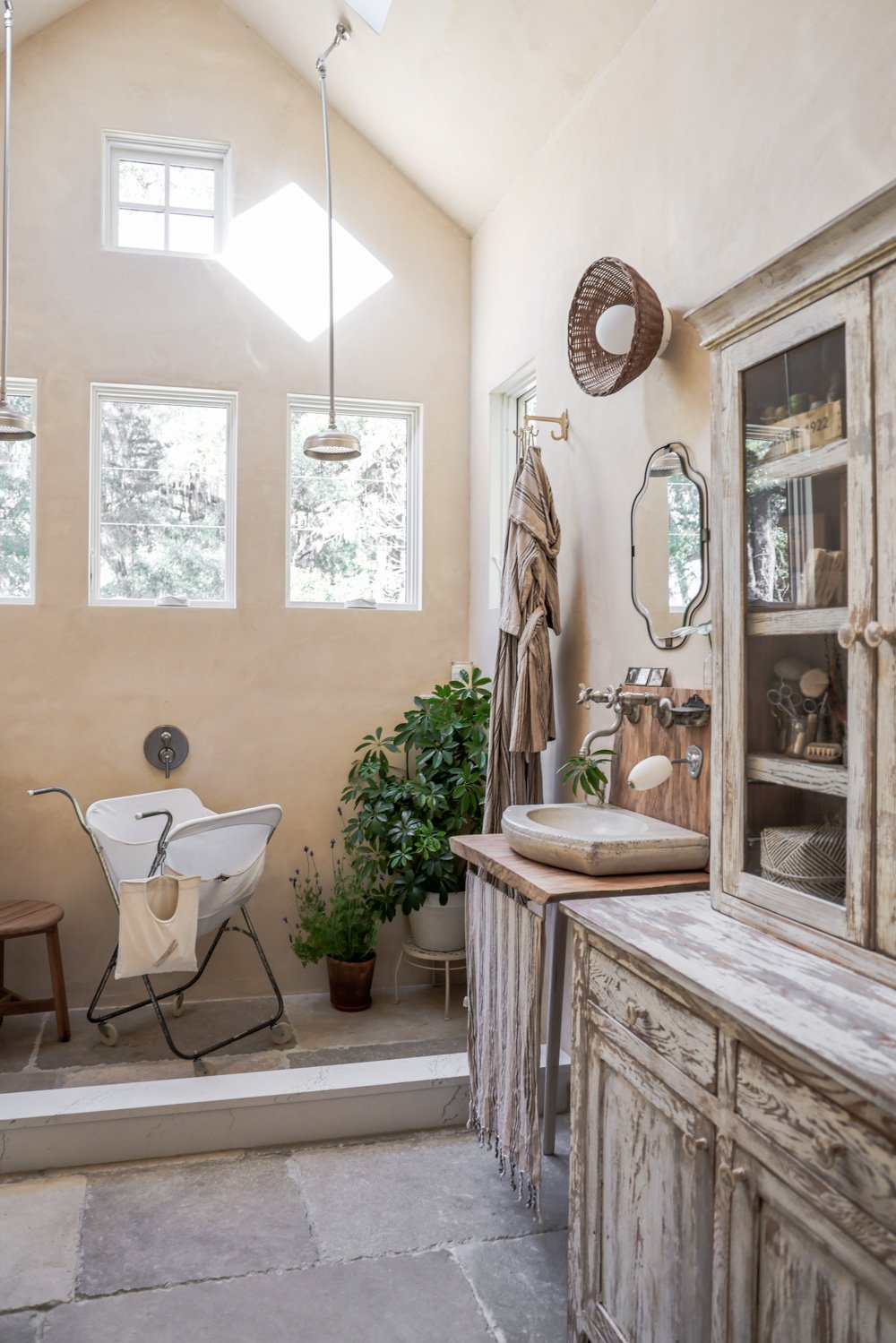 While it's bright and airy thanks to the windows and venting skylights, it is also intimate and grotto-like with it's plastered walls and stone floors.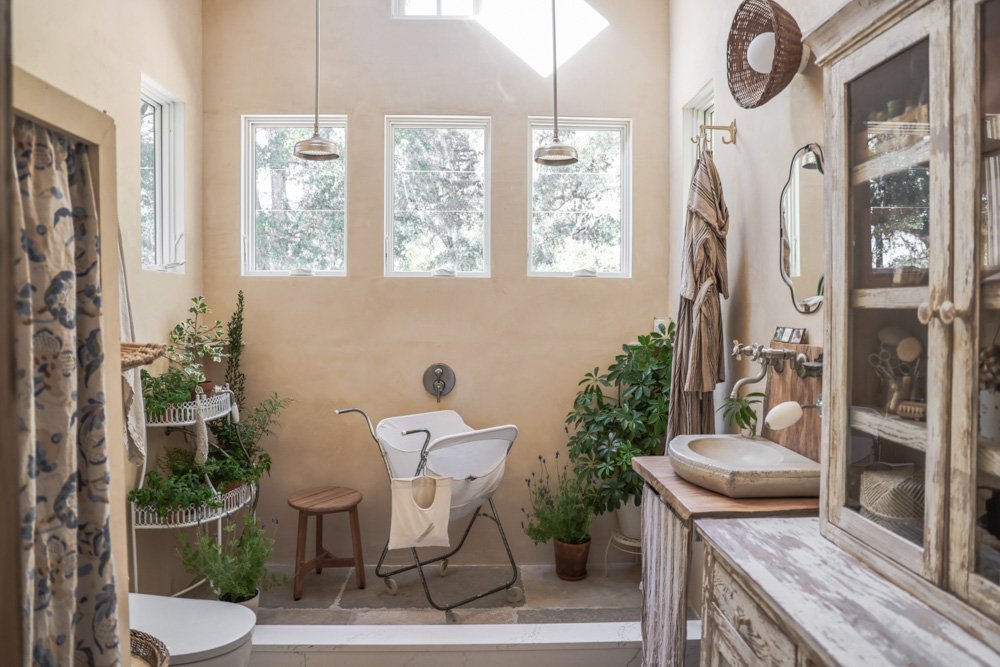 The entire space was an experiment. If we had windows on the three surrounding walls, could we manage the extra long shower down-rods? If we used a neglected slab of recovered Cypress wood as both a counter and a backsplash, could we waterproof it, customize the faucet, and get it all to fit within our slim parameters? If I designed a custom hutch, would it offer all the storage space needed for bath + cleaning + self-care products for a family of four? Could the shower remain in use throughout the day for laundry and rehabilitating plants? Could we create privacy while also keeping everything so exposed? Would the ventless washer / dryer combo take up too much space?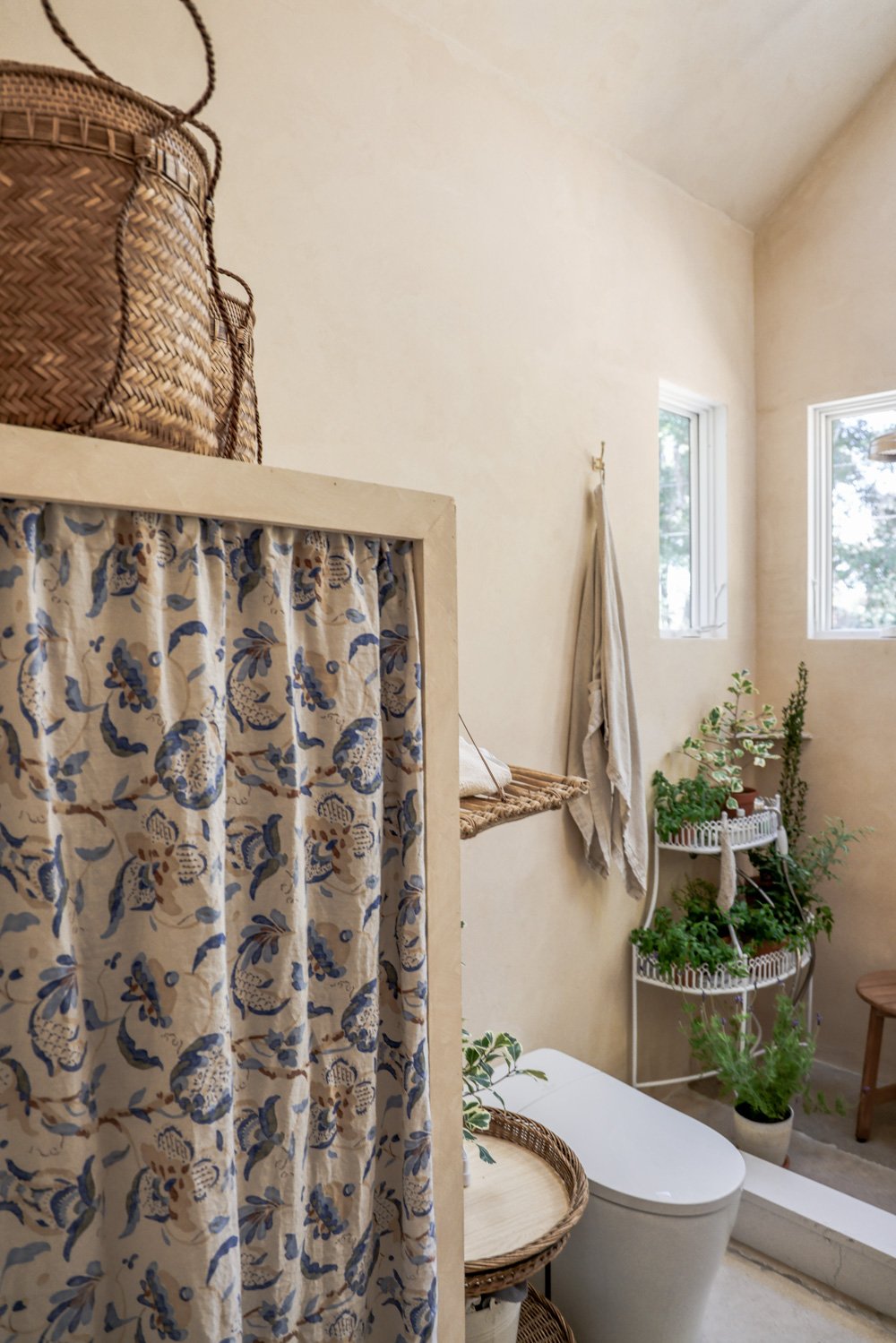 Somehow it all worked out exactly as we'd hoped. It's not perfect— there are wonky lines and odd dimensions and out-of-the-ordinary combinations of materials and textures. And we are loving it all.
Due to its versatile design, the room is constantly in use by the entire family for activities beyond the obvious, so the square-footage (about 8'w x 10'l) is earning its keep.
At some point I'll publish a detailed before + progress + after post about this unique space, but after seeing it under construction for so long, the last thing I want to do now that we've finally moved in is relive that lengthy process.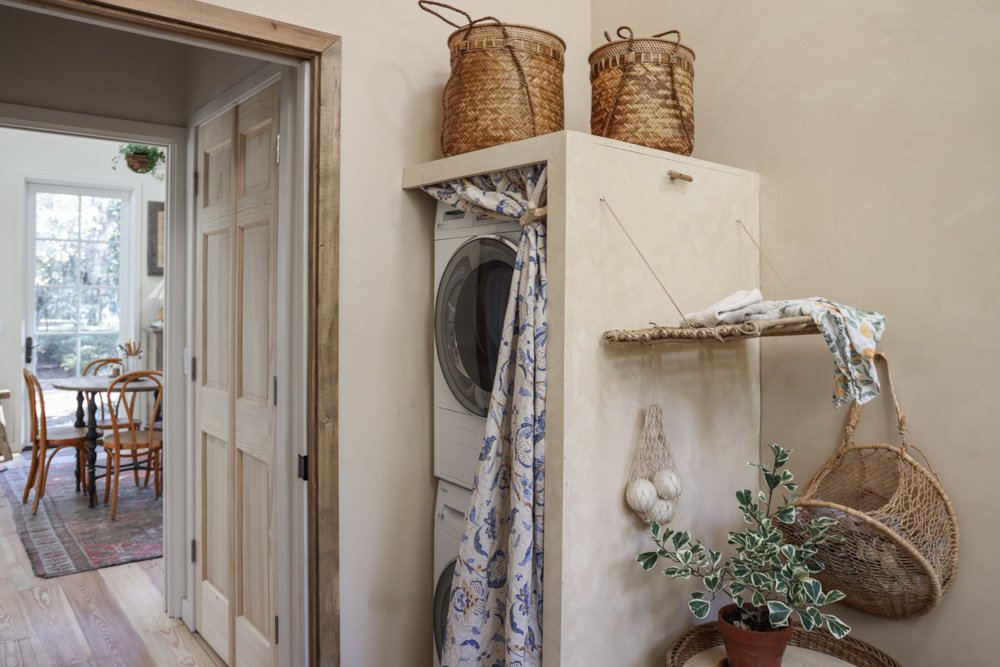 For now, I simply want to enjoy how it all came together. I hope you do, too! More images + sources are below.
Sources are listed at the bottom of this post, and below are some responses to commonly-asked questions:
• While we were initially eyeing raised-tank, vintage-style toilets, we eventually opted for a toilet / bidet combo and are happy we did so.
• We string up a basic line of twine and an oilcloth tablecloth for a curtain when we shower, offering complete privacy from the rest of the room.
• We chose a pocket door to save space, as always.
• The stacked washer + dryer combo is ventless, allowing it to be enclosed in a custom cubby. We pull the curtain aside when the machines are on, just to be safe.
• The pull-down drying surface is a vintage French bread drying rack, which we attached to the wall with four mug hooks and leftover leather cords. The lock that holds it flat against the wall when it's not in use is a scrap of driftwood.
• The wooden sink vanity is coated with matte Rove & Dwell Finish Coat.
• The items attached to the sink backsplash on the right of the faucet are a vintage match holder and a rotating French soap holder.
• The skylights both vent / open, and have screens.
• The casement windows have optional screens, and the hardware isn't problematic for water given their height and the rain-style showerheads.
• The concealing curtain over the laundry zone is cut from a flat sheet.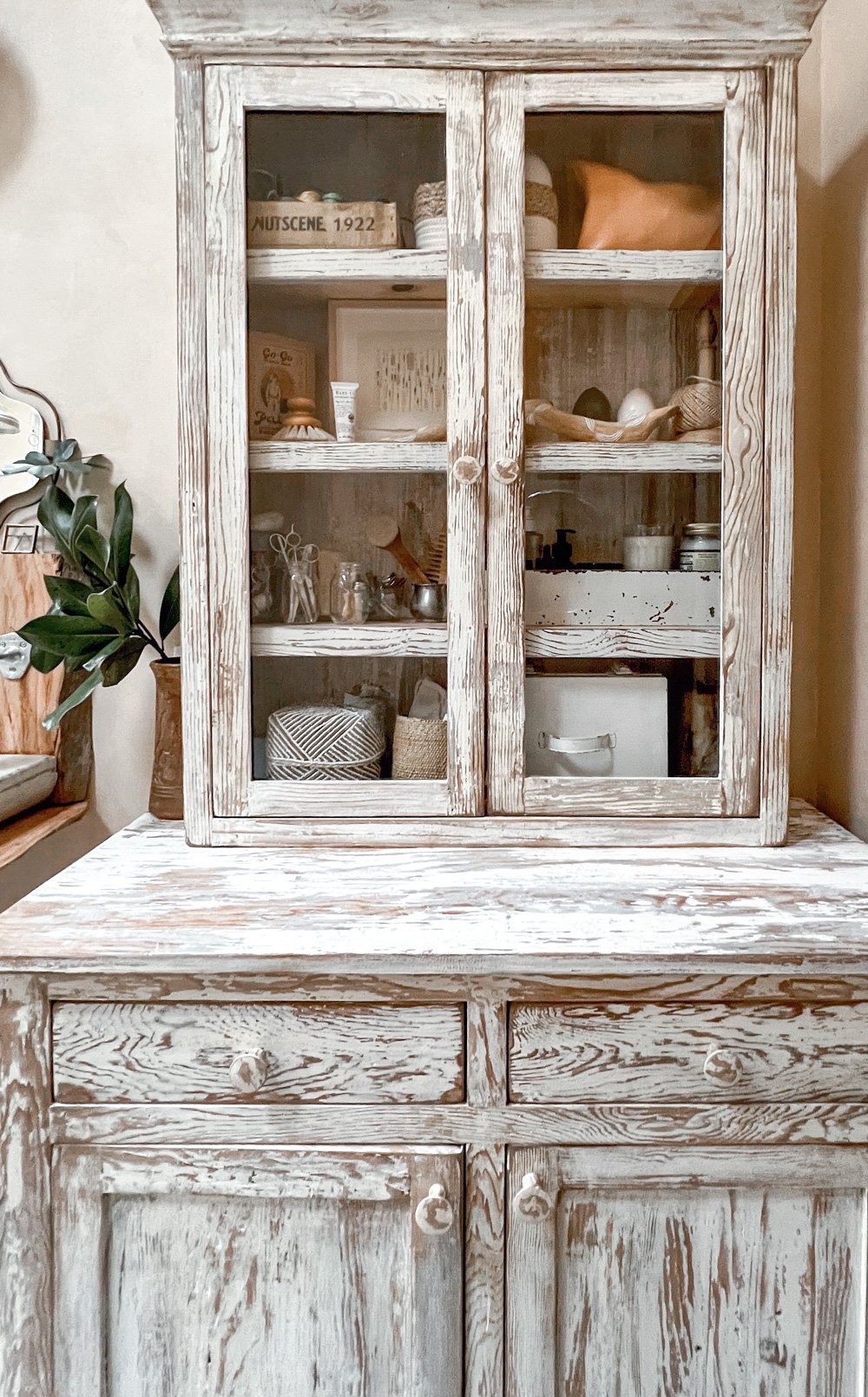 Thank you as always for sharing our li'l home with us by visiting my blog.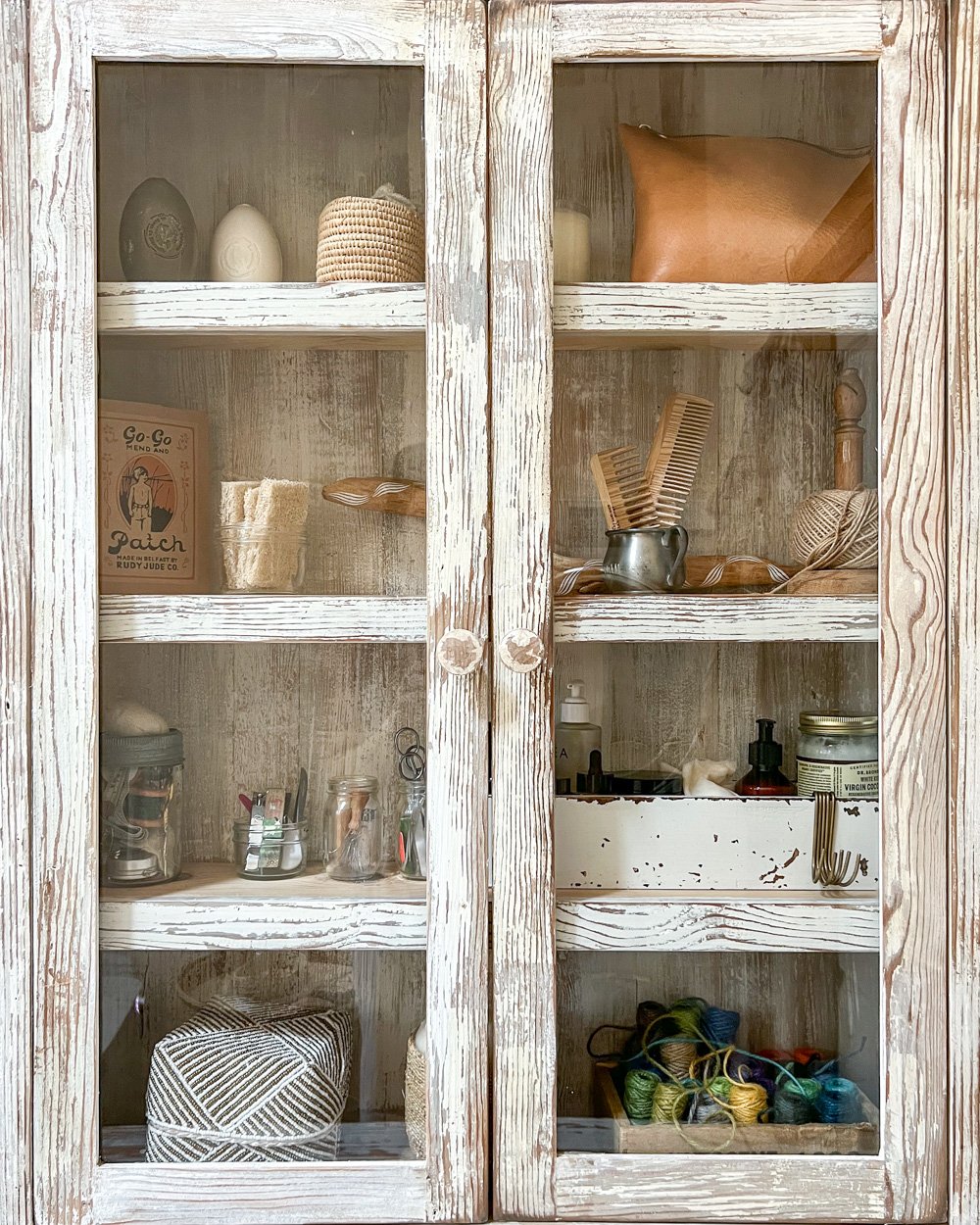 Sources:
Tadelakt Plaster (Color: Nue) by Color Atelier
Montpellier Stone Floors by Historic Decorative Materials
Custom Hutch by Tumbleweed & Dandelion
Skylights by VELUX
Windows by Marvin
Curb (Color: Colton) by Cambria
Recovered Cypress Slab from Goodwin Company
Small Space, Ventless Washer + Dryer from Haier
Linen Hanging: Garnet Hill
Folding Laundry Cart: Vintage via Etsy
Two-Tier Basket Table: Vintage via Etsy
Folding Drying Rack: Vintage Bread Drying Rack via Etsy
Wood Sealer: Rove & Dwell Finish Coat
French Wall Soap via Vivi et Margot
Baskets via Connected Goods
Fixtures via Delta and Signature Hardware
Extra-Long Hand Towel + Robes for the Entire Family via OddBird
Sconce: Reveal Home via Etsy