When planning your European kitchen cabinets, you can consider a lot of elements like style, color, and overall appearance, but the number one thing you need to consider when renovating your kitchen is functionality! The kitchen is the center of the home and needs to suit all your needs, from cooking and eating to entertaining and hosting. By maximizing your storage options with European kitchen cabinets, you can get the most out of your kitchen.
Minimalist Style with European Kitchen Cabinets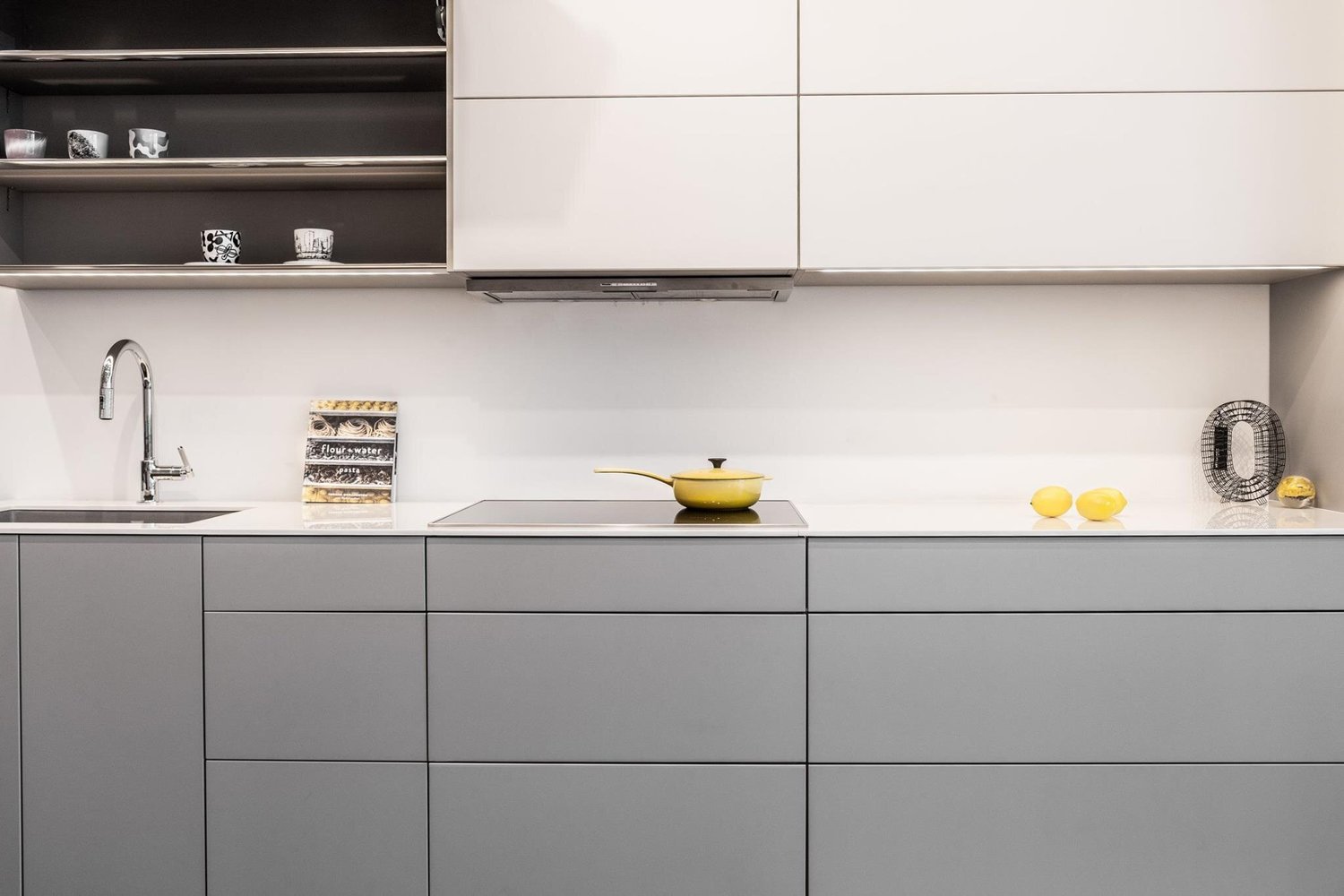 European cabinets are distinct thanks to their frameless style. Without a face frame, European cabinets have a sleek design that works in many modern and contemporary kitchens. Without any ornate details or beveling , Euro kitchen cabinets are the definition of minimalist style.
But they serve a functional purpose too! Euro kitchen cabinets are typically very sturdy, made from high-quality materials. They can also store more than framed cabinets, thanks to their extra space, and can easily be outfitted with additional storage solutions to make your kitchen work.
Upgrade Your Cabinets With Add-On Drawers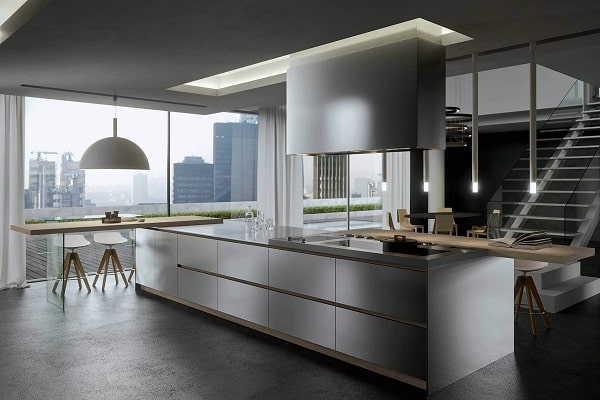 Since Euro style cabinets are already naturally sleek, you shouldn't add any bulky hardware. Instead, opt for push-pull opens, including a toe-kick drawer! These drawers are typically installed below lower cabinets in a space that is rarely used. By adding a thin drawer that you can simply push to open, you've added an extra spot for storage. Your toe-kick drawers can store pan lids, or baking sheets and other thin items. 
Another place to add an extra drawer is under the sink. Most kitchens will have doors in this space, but by switching to drawers you can organize the space more easily. Instead of a large, open cabinet with garbage bins and plastic bags, you can have a series of drawers (or a sliding organizer!) that house your daily items.
Keep Your Counters Clear By Hiding Your Essentials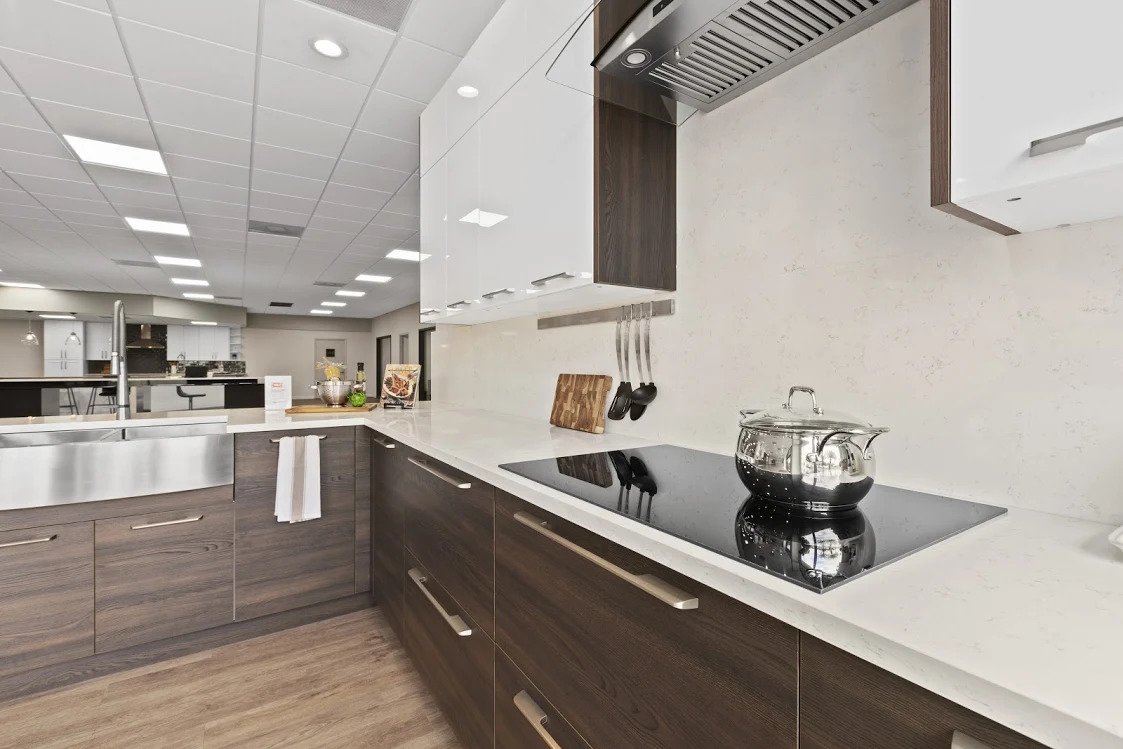 Something that can make your kitchen look sleek and luxurious is one of the simplest decor tips you could do: put things away! Clean up your countertops and hide the clutter away in Euro kitchen cabinets. An appliance garage can hide small appliances like toasters and coffee makers, and hooks and racks on the side of your cabinet doors can hide spices and utensils. This keeps everything within arms reach without adding a mess to your countertop.
Another thing you might want to consider is hiding larger appliances behind cabinet doors. You can build your microwave into your cabinetry to keep it off your countertop and out of sight when it's not in use, or hide your dishwasher behind a cabinet door so as to not break up the clean line of your cabinets. 
Think About Custom Solutions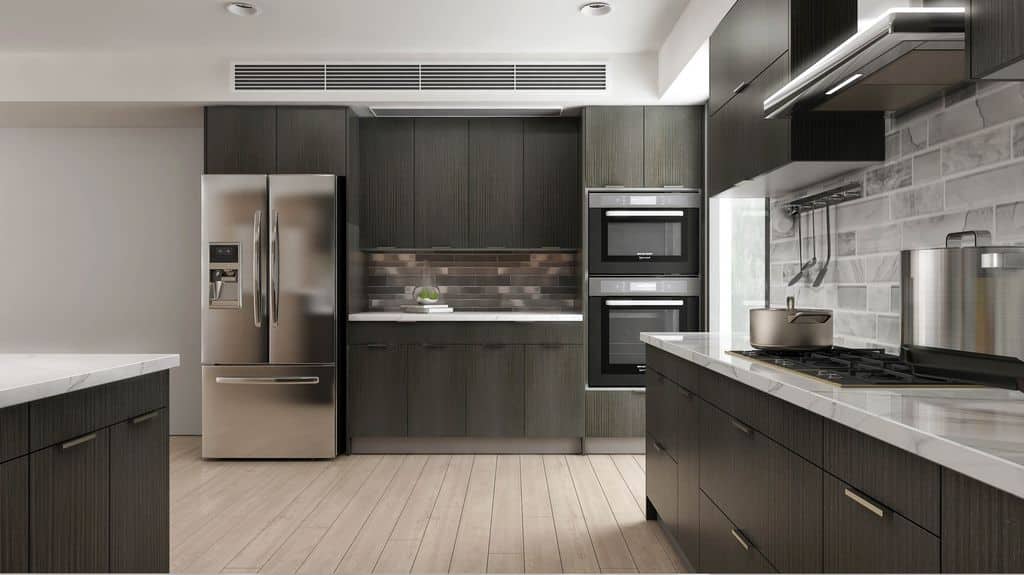 No two kitchens are built the same, and that's for good reason. One family may need lots of storage space for child-friendly snacks, while a regular party host would rather use that space for a bar cart. That's why you should consider creating custom spaces in your kitchen to store exactly what you need!
If you have the space, a pantry is a great item to add into your kitchen. This extra storage will free up a lot of room in your cabinets and keep non-perishable food items close by.  For entertainers, wine racks and bar carts might be the way to go. You can install racks to hang stemmed wine glasses from your cabinets, add a rolling bar cart to house all your bottles and wheel it to the living room when you have guests over.
A more practical custom solution is to install a tall cabinet to house your cleaning supplies! You can keep your brooms and mops hanging on the inside door, with added shelving for soaps and sponges. This less-glamorous option will save you a lot of time running to a hall closet to find a dustpan!
The Importance of a Kitchen Island
Your kitchen island is a secret weapon. It can be whatever you need it to be: extra prep space, extra storage space, extra entertaining space. You can outfit the island with cabinets to keep the look uniform in your kitchen. European cabinets are great in this regard since they are not too bulky and won't take up space in your kitchen. You should be able to fit two sets of cabinets under the countertop of your island.
Another way to maximize the use of your kitchen island is by adding a pull-out extension that automatically gives you extra prep space.
Find Ways to Use Storage as Décor
Another way to make sure your kitchen looks clean and put together is by choosing storage items that multitask as decor. You can store extra linens in chic baskets above your upper Euro cabinets, or select some open shelving to fill with cookbooks and vases.
Similarly, hanging pots and pans above your kitchen island can be a visual point for your kitchen. It's important to make sure these areas look intentional — make sure your pots are facing one direction, and your vases are of similar sizes and heights. Otherwise, it may just look like additional clutter.
Don't Let Any Space Go to Waste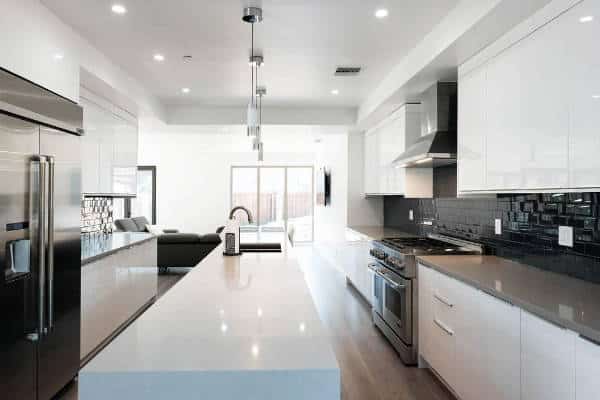 Anywhere you have space, make use of it. This is especially true of small kitchens, where space is hard to come by! You can find creative ways to use the little bits of space that normally go to waste, like adding a towel holder to the side of your European kitchen cabinets or installing organizers in the awkward gaps between cabinets and appliances.
Another way to use the space cleverly is by adding more outlets where you can. Your appliances will need power, of course, but you may also want to have a phone or iPad nearby for recipes. Instead of breaking up the clean lines of your backsplash, have the outlet placed into a drawer to create a makeshift charging station. You can also outfit your kitchen island with an outlet so that it's fully prepared to be used as a workspace. With more and more devices entering our kitchens, it's important to have plenty of power outlets!
The post Minimal Look, Maximum Storage with European Kitchen Cabinets appeared first on Best Online Cabinets.