Cleaning dishes after preparing dinner at home is an unavoidable part of the cooking process. Unfortunately, your filthy dishes will not clean themselves, and not everyone has the luxury of owning a dishwasher. If you don't have a dishwasher or like to clean your plates and pots by hand just as I frequently do after cooking, then you'll need a dish rack (since it's unlikely that you'll want to dry and put away all those dishes at the same time). Dish drying racks are perhaps the least sexy kitchen accessory, but they are also one of the kitchen's most utilitarian and necessary equipment. After all, you don't want to hand-dry everything you've cleaned (after all, how clean is that towel? ), and you certainly don't want to put your damp dishes away (oh, you like mold and mildew?).
Every household's perfect dish strainer is unique. In-sink or over-sink setups may be more practical than countertop options depending on the size of your kitchen sink and counter space. Dish strainers encourage ideal airflow, allowing dishes to dry efficiently and fast after you've already done the hard work of cleaning them.
However, not all dish strainers are created equal. The best one for you will depend on various criteria, such as how much room you have available, how many dishes you typically clean at once, and so on. Here are some of the greatest dish strainers for kitchen sink to buy right now, ranging from a double-decker dish rack to one that collapses into almost nothing.
Top 10 Best Dish Strainers for Kitchen Sinks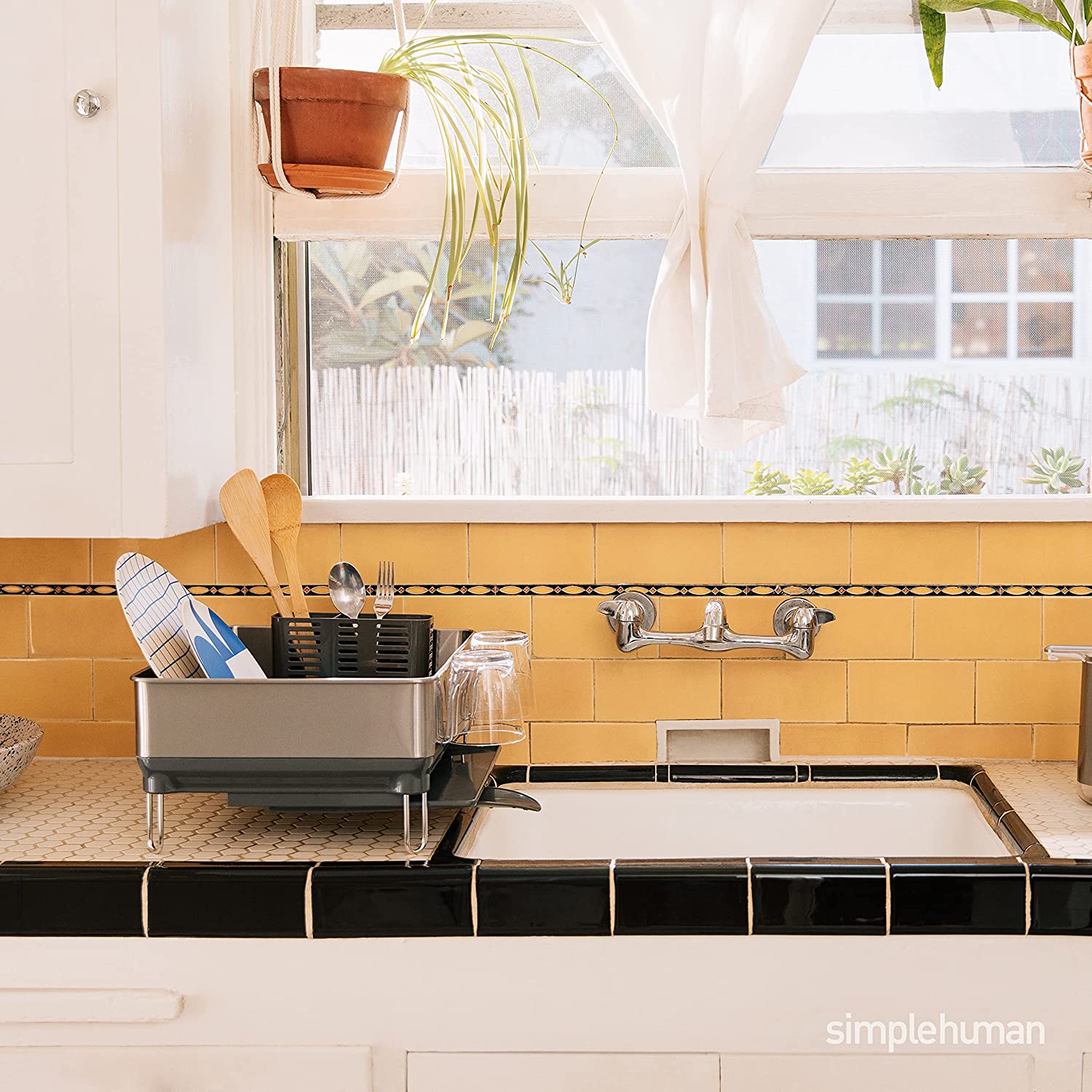 Simplehuman is a top-selling model, and it is practically impossible not to find it on a list of the best dish-straining racks. It's simple to understand why it's a favorite in terms of design. Its enclosed stainless-steel frame can securely hold a large number of dishes and cookware. Everything drips onto one sizeable plastic tray, and the moveable drain spout allows the user to direct all of the water back into the sink. There are also two exterior prongs for holding glasses or other items that are too fragile to be put into the rack itself.
Features
Extendable drip tray
Coated steel wire
Anti-residue coating
Fingerprint-proof
Pros
Drip tray makes it very easy to use and maintain
Swivel spout makes it possible to place the rack how you like
Very spacious and sturdy
Cons
Many users complain of its small size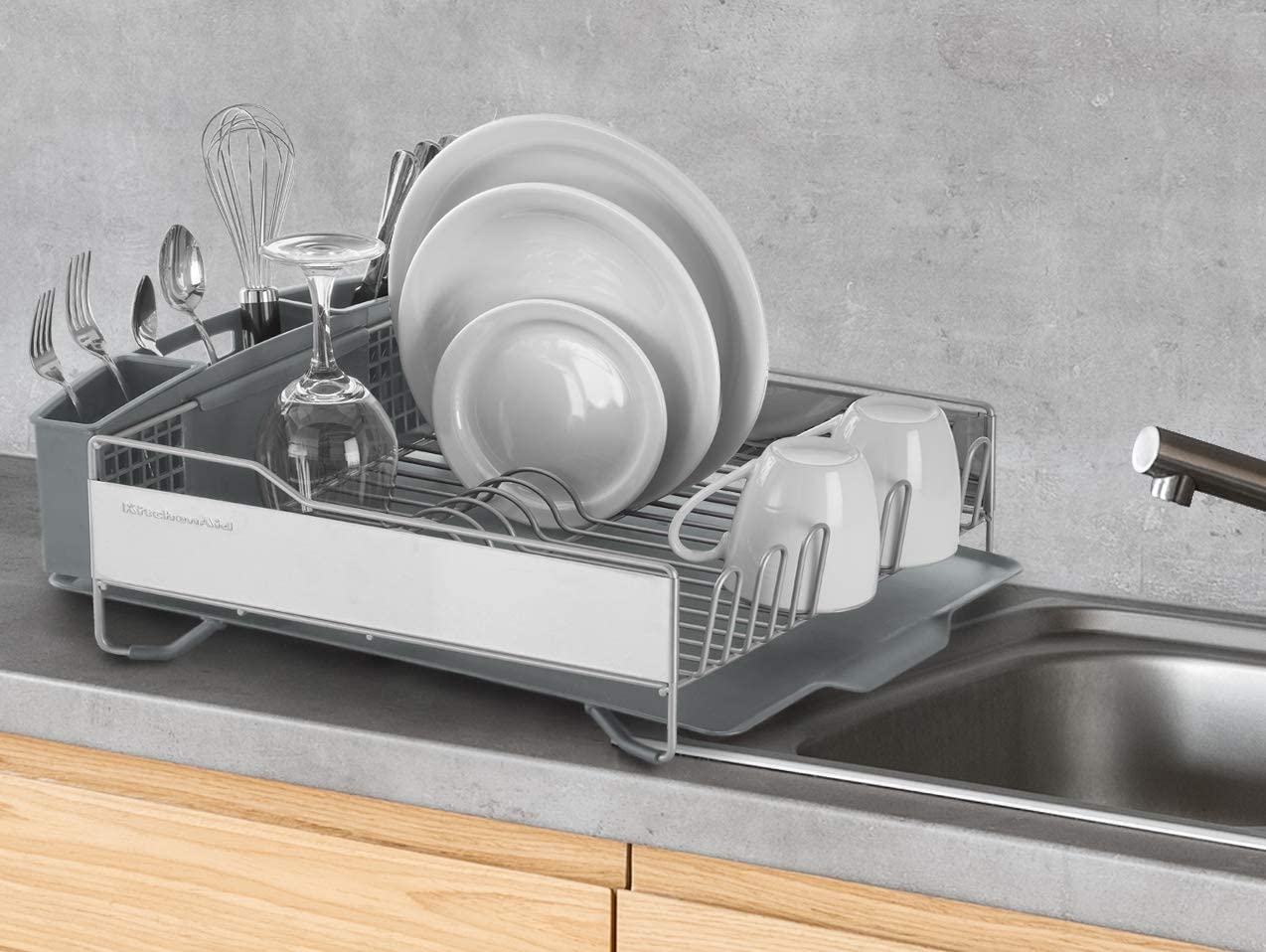 The dish-drying rack from KitchenAid is 20 inches long and more than a foot broad, so it takes up a lot of counter space — but if you wash a lot of pots and pans every day, this is the one to get. Any extra water is adequately captured and sent down into the sink by the drain tray. Steel sides strengthen the rack and keep dishes from slipping out. This rack also has a set of soft, rubbery tipped feet, which is a little but noticeable feature. The rack's rust-resistant wires feature a glossy finish that preserves dishes, and its soft soles minimize tabletop scratches. A lifetime limited warranty and a one-year replacement policy are provided.
Features
Multifunctional
Easy draining
High-capacity storage
Stainless-steel material
Pros
It can be disassembled for easy cleaning and maintenance
Soft feet help prevent countertop scratching
It comes with a lifetime warranty
Cons
Tray begins to rust after an extended period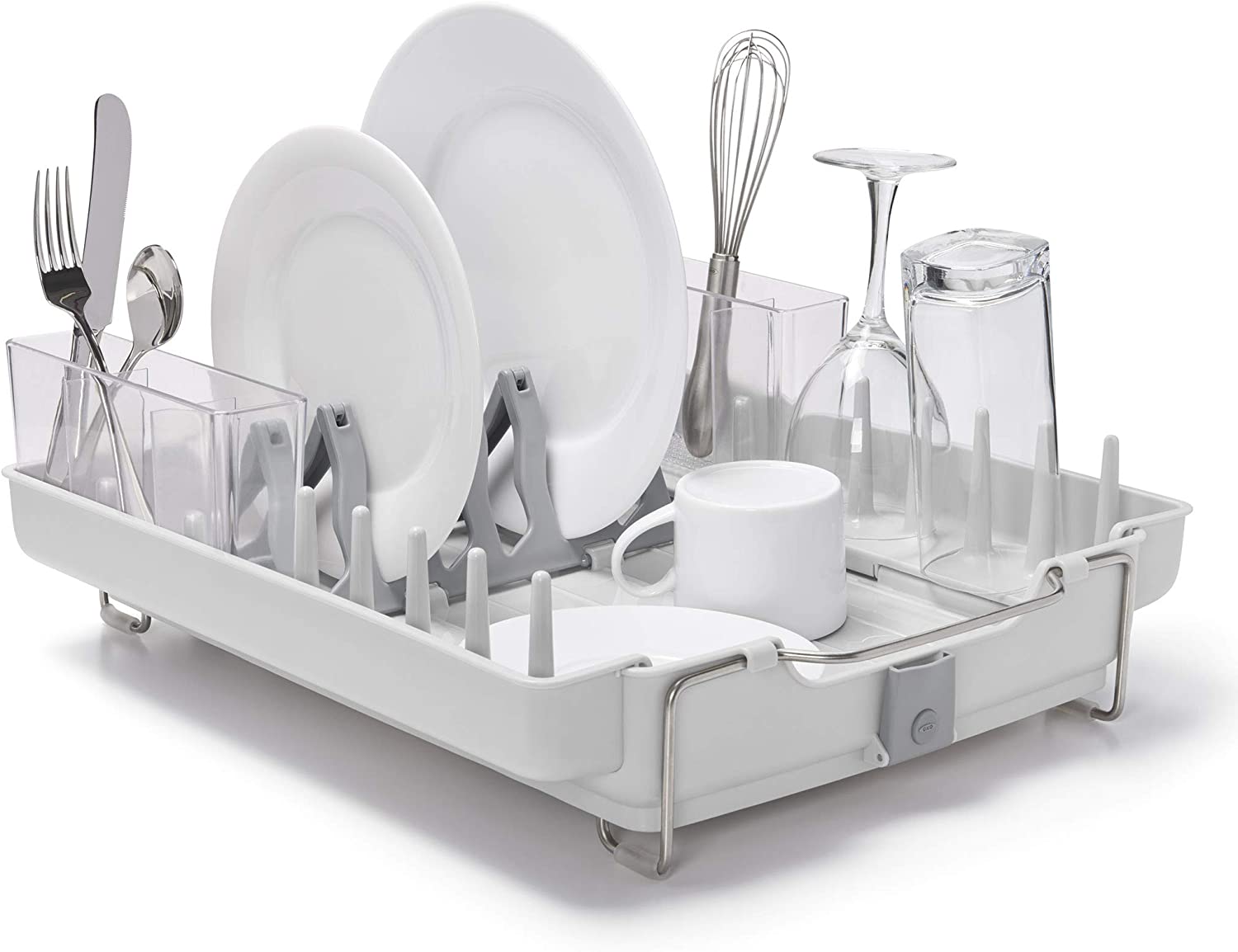 According to reviewers, the "ingenious" drain plug at the bottom is what makes this model "THE BOMB," as one user called it, and sets it apart from others. If you don't have a lot of counter space, this is a great dish rack to have – take it out when you're done with your dishes, then fold it up and store it under your sink cabinet when it's not in use. The plate rack can be adjusted to accommodate larger objects such as pots and pans, and there are clear plastic holders for utensils and a funnel for simple draining.
Features
Compact convenience
Versatile design
Convertible foldaway rack
Divided utensil holder
Pros
Easy to clean
The plate rack folds down to make space for large utensils
Sidewalls, legs, and spout fold in for convenient storage
Cons
Includes some plastic parts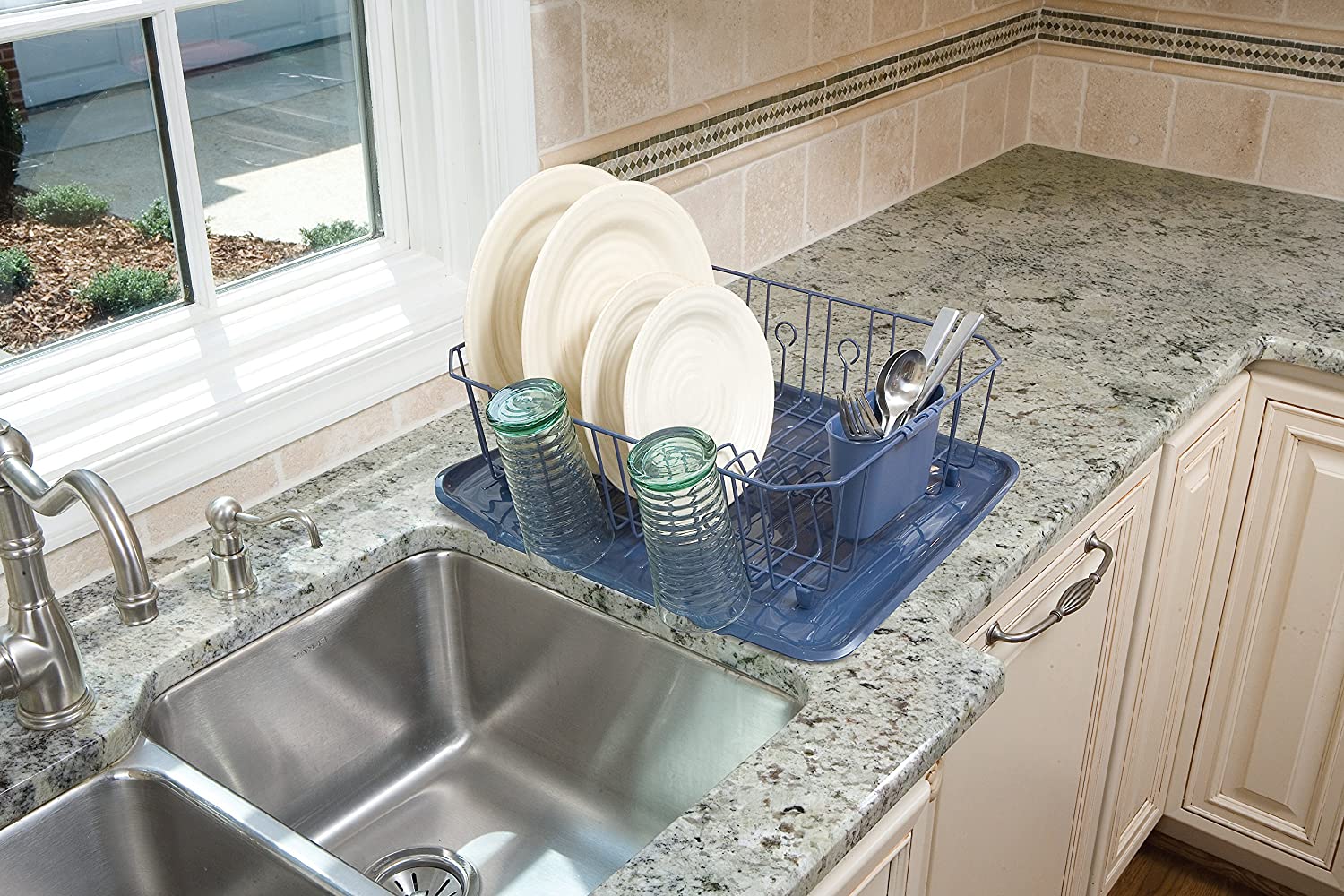 This ubiquitous dish drainer is seen on kitchen countertops worldwide for a reason: its usability for the price is unrivaled. I've been a Rubbermaid fan since I moved into my first apartment. They can hold a lot. The coated wire on the Rubbermaid rack is a little flimsier and more prone to bending, but this isn't always a bad thing; bendiness can sometimes be advantageous, making it simpler to fit cumbersome plates or angle your cups on the tines as desired. In our tests, the cup holders held heavy glasses nicely and had enough space between them to prevent any clanking or scratching.
Features
Coated wire cushions
Sturdy base
Built-in product protection
Lightweight
Pros
Extra deep for maximum capacity
Microban treated surface to fight bacteria
Sturdy feet provide balance on the counter
Cons
It doesn't come with a drainboard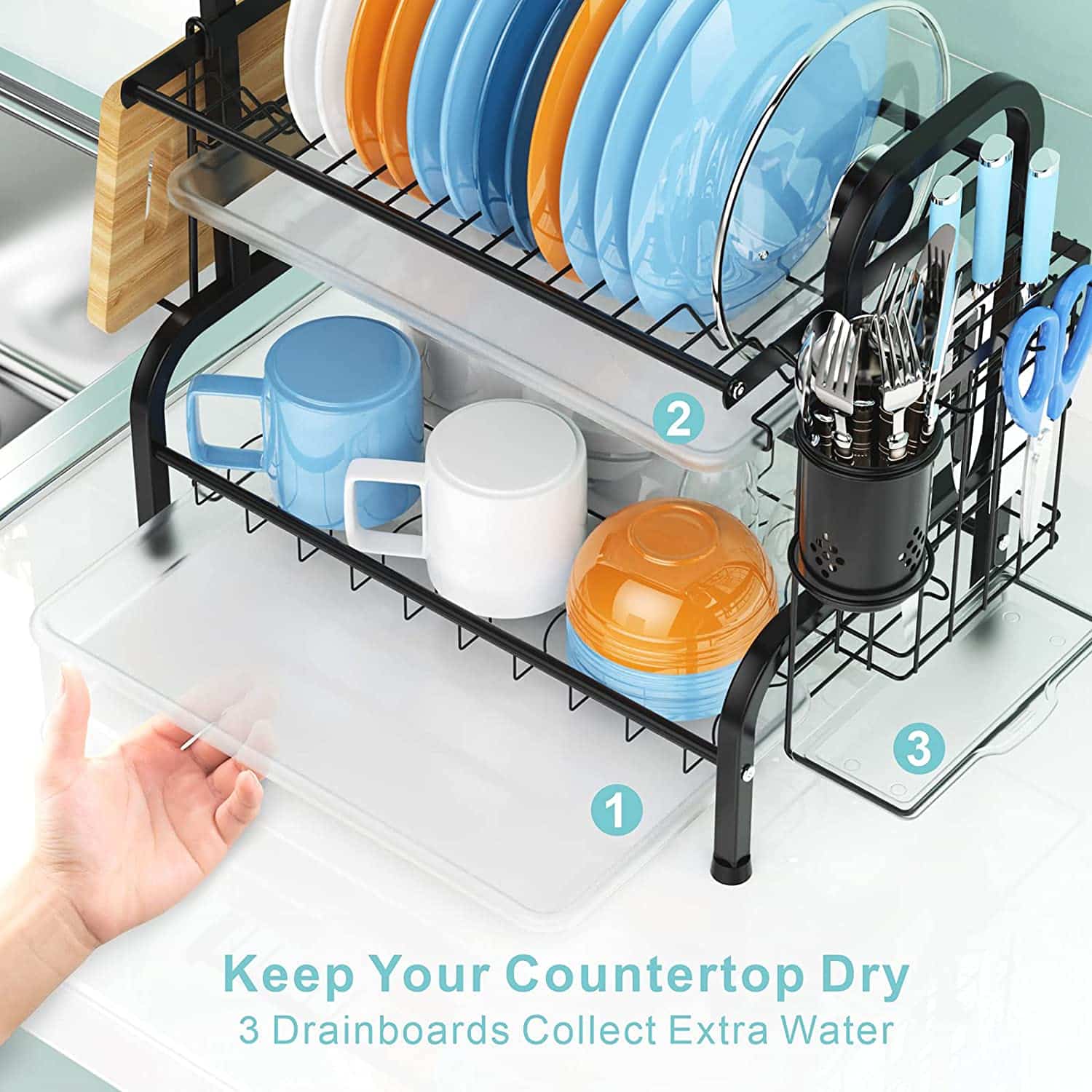 This two-tier dish-drying rack saves room on the countertop while holding a surprising number of dishes and kitchenware. This one requires some assembly, but many reviewers say it's quick and simple to put together. The rack is made of metal and available in four different finishes, but the drip trays are plastic and flat. This implies they must be emptied and washed regularly to avoid becoming soiled. Aside from the two horizontal wire-frame tiers, the dish-drying rack has unique characteristics on both sides. One features a rack designed to accommodate significant flat things such as cutting boards, while the other has a utensil pail and small hooks for hanging kitchen tools. Another helpful feature is the rubber feet.
Features
Stainless-steel material
Sturdy adjustable feet
Rust-proof
Extra-large capacity
Pros
Large capacity makes it possible to accommodate different utensils
Has 3 pull trays to collect extra drips from the dish holder
Stainless steel is easy to put together and install
Cons
Not suitable for a large family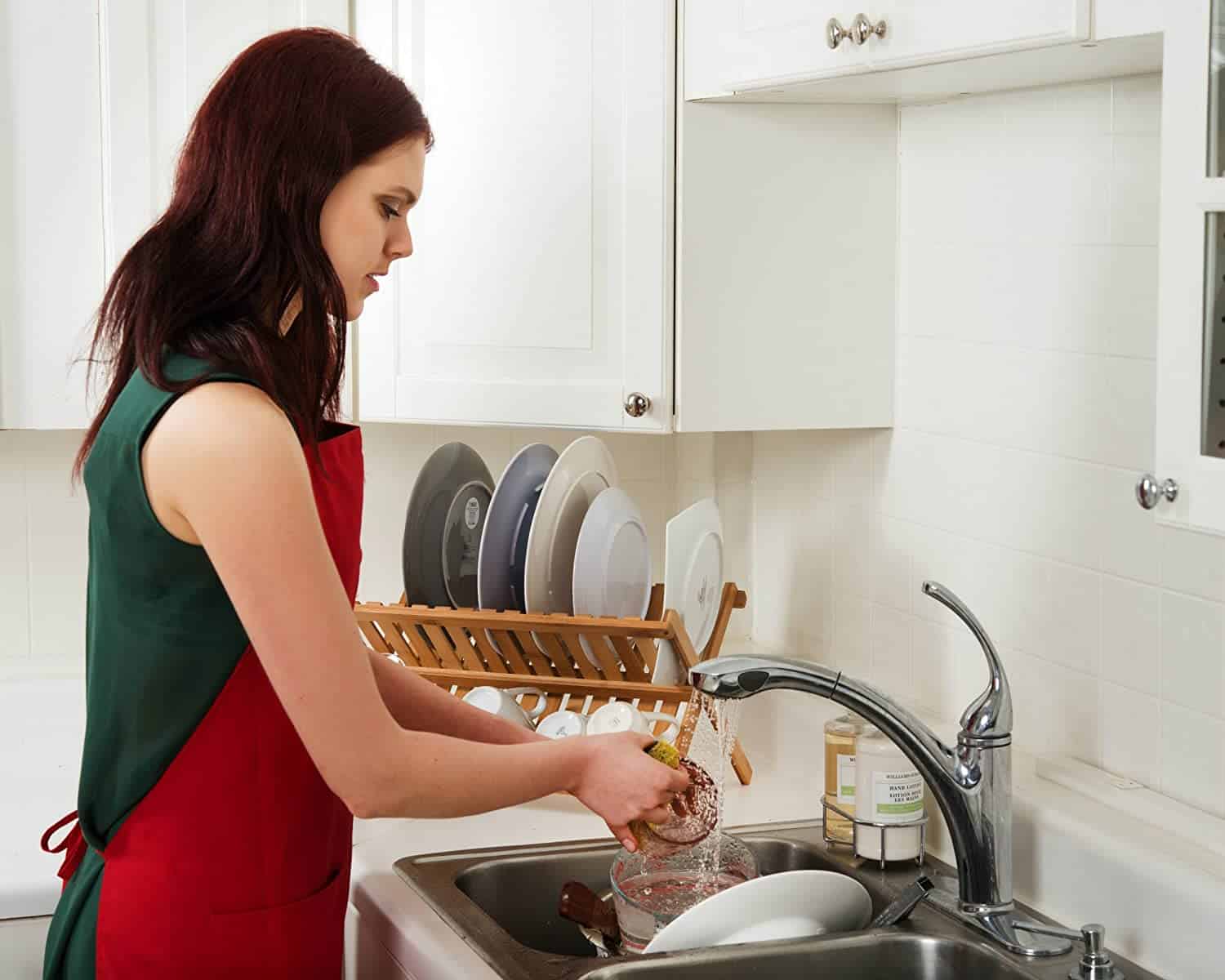 Bamboo dish racks may be restricted in what they offer, but they have a devoted following, particularly those reducing their plastic consumption. This Bambüsi model is praised for its high-quality appearance and relatively lengthy 3-year lifespan for an untreated wood component.
Plates and bowls can be stored upright in the slots on the top layer, while cups and mugs can be stored underneath. To complete the setup, you should also consider purchasing a second utensil holder and a drying mat. 
Features
Natural bamboo color
Stain-resistant
100% natural and safe bamboo material
Foldable rack
Pros
Unique style and material design
Additional slots for drying out cups
Natural bamboo material makes it easy to clean and maintain
Cons
Begins to discolor after prolong use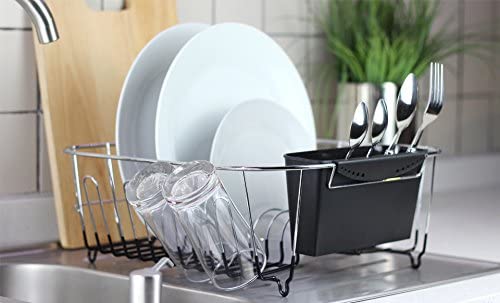 Don't have any extra counter space? This steel dish rack fits into your sink and allows you to organize and dry your dishes even if you have limited room. It can easily hold plates, glasses, and flatware, and its elevated design prevents water from pooling on any of your items. And don't worry if you don't need a dish rack for your sink—this one may also serve as a dish drying rack on your counter.
Features
Alloy steel material
Detachable plastic cutlery cup
Chrome finish
Coated wire base
Pros
Small size to fit in the sink or kitchen counter-top
Lightweight for easy movement
Very easy to clean and maintain
Cons
It easily rusts over time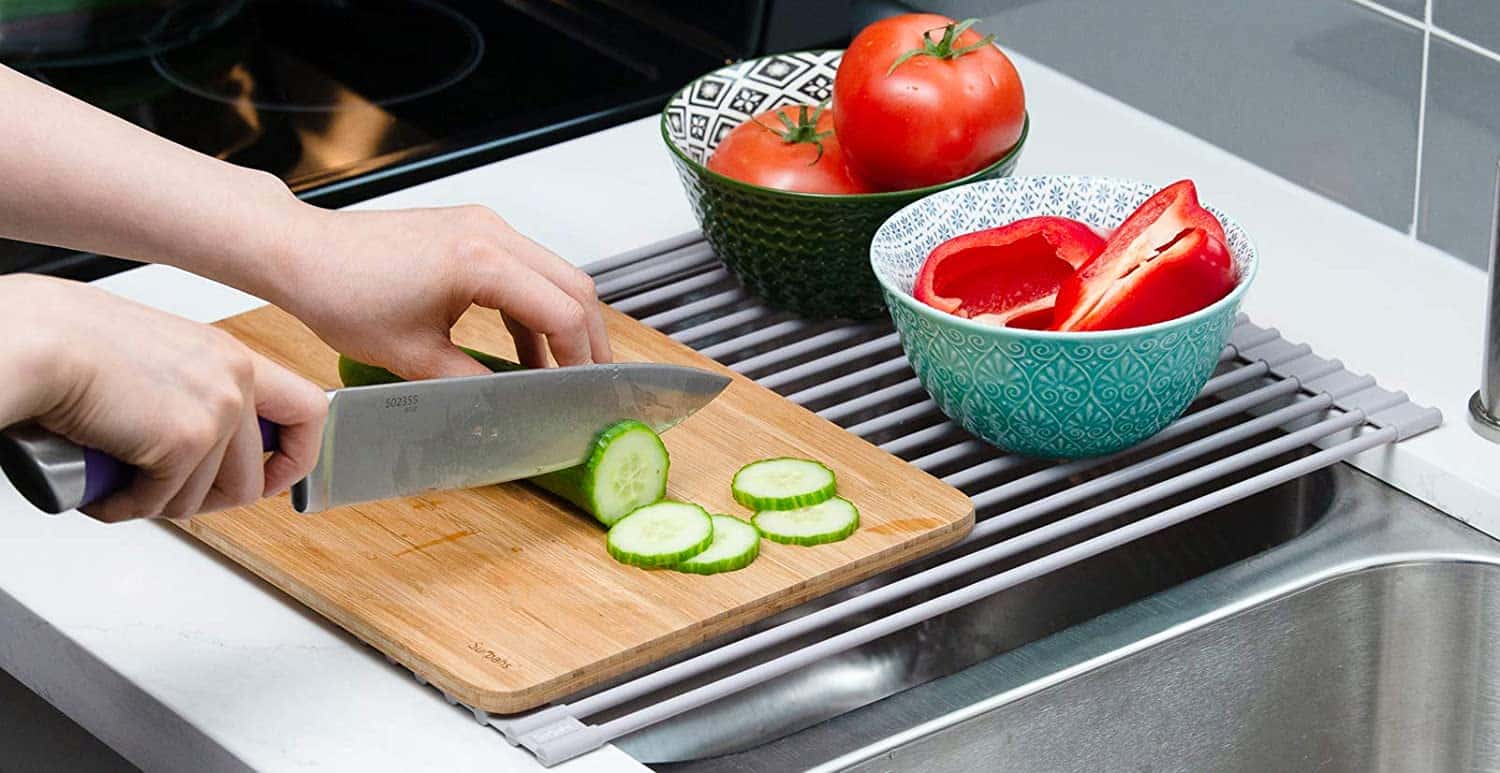 This multifunctional piece of kitchen equipment unfurls over your sink, then rolls up into an easy-to-store cylinder that you can slip into any storage area when you need a place for hand-washed dishes to air dry. It's built of stainless steel and can support even the heaviest pots and pans. It also provides space for drip drying fine china, pottery, and porcelain. But it is only the tip of the iceberg when it comes to the applications of this ingenious product. It can serve as a convenient location to store clean fruits and veggies while you're washing them in the sink. It can also be used to hang dry kitchen linens such as dish towels, cloth napkins, potholders, and rags. It's a good option for swiftly and safely defrosting frozen items because its slatted design allows air to circulate.
Features
Rust resistant
Non-slip steel racks
Heat resistant
Oil-resistant
Pros
Collapsible rolls for easy storage
Oil resistant material makes it easy to clean
Saves space on the counter
Cons
Size may not fit all sinks

The last thing mothers need is stress when it comes to all of the bottles and accessories they need to wash by hand and have on hand. This well-designed lawn-style rack is ideal for new mums to dry baby bottles, making dishwashing time more bearable. The Lawn is simple to clean, beneficial, and contains more than you might anticipate. The rack is divided into two sections: the "grass," where you place your bottles, and the bottom tray, which collects drips. The network of flexible plastic blades provides for a great deal of flexibility, and it will fit into the forms of any baby gear you need to dry.
Features
Stylish design
Flexible grass blades
Polypropylene material
Organized parts
Pros
Easy to clean
Holds bottles securely
Tray to collect excess water
Cons
Not suitable for dishwasher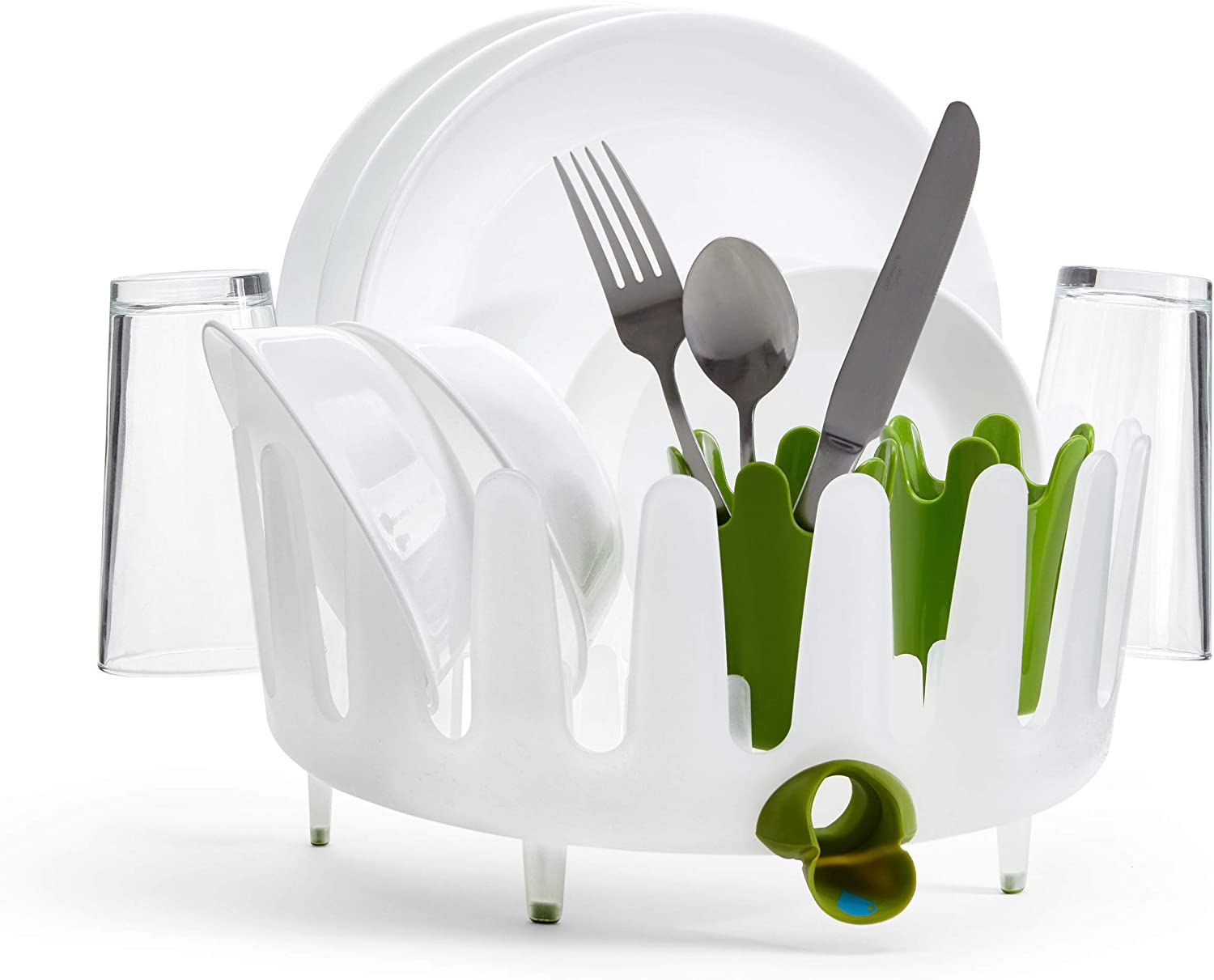 The Chef'n DishGarden Dish Rack is an ingenious technique to dry dishes in a small space. While most dish racks are metal and rectangular, this one is circular and plastic, and it doesn't waste an inch of room. The pegs that line the interior are ideal for storing various dishes, and the attachable green cups are intended for flatware. And, even though the rack is fashioned like a bowl, you won't have to worry about it gathering water; the rack's built-in drain spout will direct water away from your dishes and into your sink.
Features
Plastic material
Multi-purpose
Modern design
Small size
Pros
Easy to clean
Works on counter-top and in sinks
The drain spout opens and closes for more efficient cleaning
Cons
It doesn't come with a drainboard
Product Guide
Features
What is most essential to you is determined by what you cook and clean, the arrangement of your kitchen, and whether or not you have a dishwasher. If you have a small kitchen, a folding or over-the-sink rack is excellent. If you cook for a large group, you'll want an extended rack or, at the absolute least, one that allows you to stack many dishes into its tall sides. Antimicrobial coatings, like Microban, help keep bacteria and odors at bay, but so does putting dishes away and cleaning your rack in between usage.
Size
Counter space is valuable, and a dish rack is very likely to remain on your counter indefinitely, occupying a chunk of it. You can choose between a little dish rack and a dish rack that can collapse and be stowed away. You should also consider how many foods you prepare at once. A little dish rack will suffice if you're only cleaning up after yourself. However, if you live with people or frequently host large dinner parties, you'll need a larger dish rack to handle more dishes, such as a two-tier dish rack.
Material
Stainless steel, plastic, and wood all have advantages and disadvantages. Knowing the pros and cons of each material allows you to narrow down your alternatives. Stainless steel is rust-resistant but not rustproof. Rust will follow if damp dishes are left there. Plastic is a lightweight material, easy to clean, and rustproof, but it's also, well, plastic, so it looks cheap and isn't sustainable. Bamboo is a sustainable, low-cost, and odor-resistant wood. However, it is susceptible to mold growth.
 

View this post on Instagram

 
Type
Collapsible Dish Rack: As the name implies, these are dish racks that collapse into themselves when not in use. These are ideal for those with limited counter space or who do not believe that a dish rack on full display is in keeping with their interior design sensibilities.
Over the Counter: You can dry your dishes without taking up counter space by building a ventilated platform over your sink. You'll have less sink space, but this form of a dish rack is ideal for those who have fewer dishes.
Two-tier Dish Rack: Build upward if you can't build outward. Two-tier dish racks allow more dishes to dry at once by leveraging vertical space. These are ideal for households who go through a large number of dishes at once. However, a typical complaint about this dish rack design is that water drops from the top layer onto the first layer, causing the bottom layer of dishes to take longer to dry.
Drainage
The water that drops from your dishes must be disposed of in some manner. Water that sits at the bottom of a tray will quickly become soiled, requiring you to clean it more frequently. This isn't a problem with over-sink or in-sink types, but I prefer countertop drying racks with ingenious drainage mechanisms because they require less maintenance in the long run.
Maintenance
I recommend cleaning your dish-drying rack regularly to avoid mildew from forming. If you choose an easy-to-clean dish rack, your future self will thank you, so you don't skip this duty.
 

View this post on Instagram

 

Conclusion
That's a wrap on my 10 Best Dish Strainers for Kitchen Sinks. I recommend getting the basic Rubbermaid Antimicrobial Dish Drainer for an all-purpose rack that will serve your drying needs for a very long time. The Simplehuman Dish Rack is my favorite stainless-steel option since it is sleek, attractive, and corrosion- and stain-resistant.
The post Best Dish Strainers for Kitchen Sinks appeared first on BlogChef.