Here are 16 simple hacks for repurposing old household items instead of throwing them out. We as Americans create a ridiculous amount of trash every single day. To put those numbers into perspective, the US produces nearly 268 million tons of trash annually. That's about 4.5 pounds of trash per person, per day! And what's even more staggering, is that a majority of everything that we throw out each day could have been recycled.
So the next time you go to throw something away, stop and think or do a bit of research and see how you might be able to reuse that item around the house. I've taken the time to come up with a few ideas for you. Some of the items can even be used and repurposed as part of your prepping emergency supplies.
If you find you can't reuse them, consider putting them in a recycling bin. Most municipalities have recycling programs, and many don't charge for the service. Take the extra time and effort to sort the items for the proper bin designation.
We've all heard the term one man's trash is another man's treasure, let's see if we can't help that become a for real truth!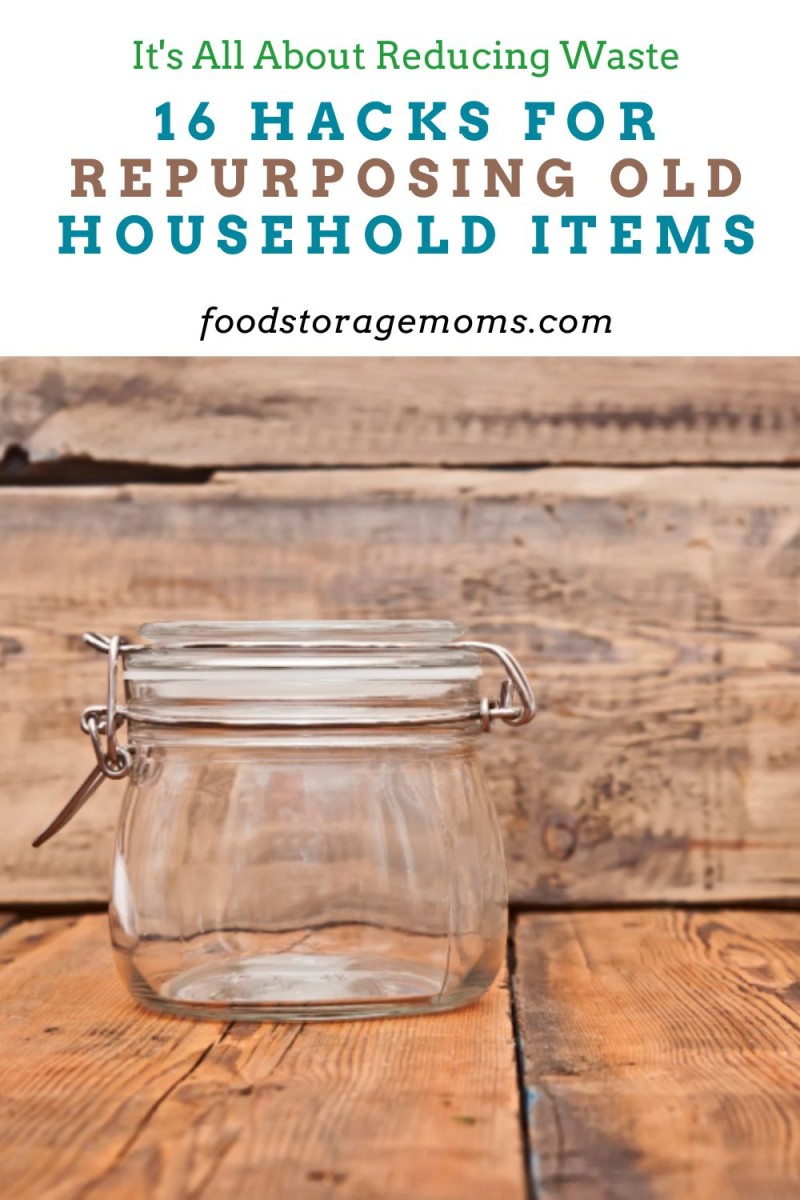 16 Hacks for Repurposing Old Household Items
Items I Recommend
In case you missed this post, Thrift Store Items To Stock Up On
Repurposing Old Household Items
1. Save Your Containers
Instead of always throwing away plastic and glass containers that once held food, repurpose them so that they can be used for storage. They work great when storing some tools, screws, nails, washers, and other small items that you want to keep organized. Did you know you can even use wine bottles for storage? There are tons of DIY options for reusing those wine bottles. Here are some other items you can save and reuse for other things or make appropriate recycle items for those local bins:
Orange Juice Carton
Glass Bottles
Soap Dispensers
Egg cartons
Mason jars
Plastic grocery bags
Tissue boxes
Cardboard boxes
All of these containers might come with something else in them, but you can always reuse, recycle, and even upcycle them in some cases.
Other common household items that aren't containers that you can also hang on to in order to reuse later…
Silverware
Broken dishes
Old shutter(s)
Old clothes
Shower curtains
Dressers, old dresser(s) work best
2. Milk Jug Scoop
An empty milk jug may not look like much but it's an extremely versatile tool. If you cut the tops off they can be used as a planter. Cut the bottom out and you'll have a scoop for pet food, potting soil, fertilizer, and whatever else you wish to use it for. Take the cap off and it can be used as a funnel.  
3. Amplify Your Bluetooth Speaker
Having a party and want to provide a little extra boom to your tunes? An old worn-out trashcan can do more than just contain garbage. Simply take an old trashcan and lay it on its side. Then place the speaker inside and you'll be good to go. Just make sure that you've sanitized and deodorized your trash can ahead of time. 
4. Baby-Proofing with Foam Piping or Pool Noodles
You can never be too careful with a little one running around. There's always that chance that they'll bump their head on the corner of a table or another piece of furniture. Instead of waiting for that to happen, cut the length of an old pool noodle or foam piping and apply it around the edges. Even if they do bump their head on it, it shouldn't hurt much at all.
5. Keyboard Wrist Rest 
Besides being used for baby-proofing, a pool noodle can also be repurposed as the perfect keyboard wrist rest. Just use a utility knife and cut the pool noodle lengthwise until you've reached the desired height for your wrists to rest on when you plan to spend hours on that computer.
6. Tennis Ball Bottle Opener
Just because your tennis balls are worn out and faded doesn't mean that it's time to throw them away. Instead, use a utility knife and cut them in half. The inside of a tennis ball is rubbery and perfect for helping you open up even the toughest bottle caps and jar lids.
You can also use a tennis ball in your garage to determine how far to pull in a vehicle. Put a screw in the tennis ball and tie some strong string to the head of the screw. Have someone pull the car or truck into the parking stall of your garage and see how far they can pull forward to be able to clear the garage door. Hang the tennis ball from the ceiling of the garage so it's just touching the windshield. You even center the vehicle by having the ball positioned behind the rearview mirror.
7. Picture Frame Pull-tab Hook
If there isn't a hook to be found when you're trying to hang up pictures, all you need is a pull tab from a pop can and a small screw that will help you attach it to your picture frame. 
8. Dryer Lint for Fire Starter
Are you someone that likes to go camping or have a bonfire in your backyard? If so, be sure that you set aside plenty of dryer lint ahead of time because it works great as a fire starter. Save your empty toilet rolls and start filling them with the dryer lint. Fill a small bucket so you can see how many you have collected and filled. Even if you just have a fire pit for fun, for now, don't forget to collect that dryer lint!
9. Pie Plate Storage Pockets
Old worn-out pie plates work great for holding circular saw blades, abrasive discs, and sanding discs. All you need to do is cut your pie plates in half and hang them in your garage using a couple of screws. Cover the sharp edges with duct tape to protect your hands when using them. Bend the edges so they form a "pocket" to hold those blades and discs. Since pie plates come in a variety of sizes, you should be able to find some that fit exactly what you need.
10. Save Your Glass Jars
How about repurposing your empty spaghetti jars by turning them into a flower vase or a candle holder? You can also use them for storing food or spices in the kitchen.
11. Organize Your Cords and Cables with Cardboard Rolls
While you may think that an empty toilet paper roll or a paper towel cardboard roll has fulfilled its purpose, that's not the case. Cardboard rolls can be used to keep all of your household cords and cables neat and tidy. 
12. Use an Old Ladder as a Bookshelf or Quilt Holder
Instead of having to buy a bookshelf that takes up way too much unnecessary space, consider hanging parts of a usable ladder to your wall that you can put your books on. Now that's a clever way to get your favorite reads on a shelf!  Plus, if you have some quilts you have been gifted or made, please show them off, I love seeing homemade quilts.
13. Turn Old T-shirts into Rags
Old t-shirts are great for making cleaning rags. Whether you want to use them for wiping down surfaces or for buffing out your car, all you need to do is cut the fabric into small pieces and store them in a container. You can also keep old socks for rags!
14. Catch Chicken Droppings
Do you own chickens? Then you already know how much of a mess they can make. Instead of having to always clean up the floor of the pen, try using an old rain gutter that can be repurposed to catch a majority of their droppings by hanging them beneath their roosts or cages while using the French cleat method. Make this your next DIY project and research how to apply the French cleat method to secure things.
15. Turn an Old Tea Pot into a Planter
You can add a lot of character to your garden by using old items like a teapot, kitchen pots and pans, and old kettles, etc. that can be transformed into a beautiful planter with colorful flowers and other small plants flourishing inside. How neat!
16. Hang Your Kiddos Stuffed Animals with a Mesh Storage Hammock
Want to create an organized yet cool cradle effect with your child's overabundance of stuffed animals? Then try hanging an old mesh storage hammock from your ceiling so that you can still see the floor every time you walk through their room. This is one of my favorite ways of repurposing old household items.
Later down the road, you can take all of these items to the recycling bin, after you no longer have any use for them. Try not to hang on to too many broken items because you want to make sure you can repurpose and make use of items!
Final Word
As you can see, there are plenty of different ways to repurpose old and worn-out items. So the next time you get ready to throw something away, take a few minutes to think of how it might be able to be reused.
You never know what creative idea you can come up with! What are some clever ways you've repurposed old household items around your home? I'd love to hear from you. May God Bless this World, Linda
Copyright Images: Glass Jar On Wood AdobeStock_56894195 By Vadim yerofeyev
The post 16 Hacks for Repurposing Old Household Items appeared first on Food Storage Moms.