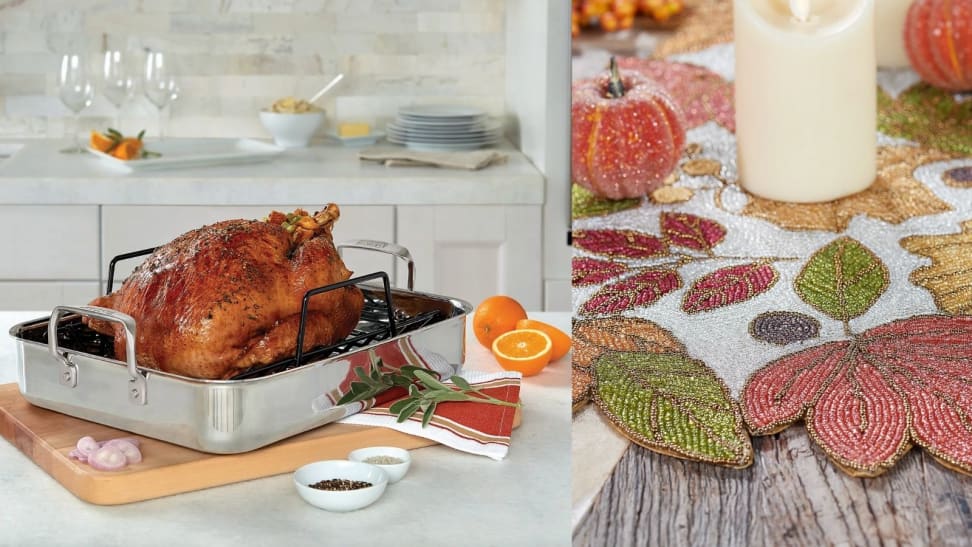 — Recommendations are independently chosen by Reviewed's editors. Purchases you make through our links may earn us a commission.
Thanksgiving is quickly approaching, which means you've likely already begun thinking about all the delicious dishes that will soon be crowding your kitchen table. But the real question is: Have you thought about all the items you'll need to bring those dishes to life? This year, thanks to shipping delays and supply chain issues, last-minute planning is one mistake you won't want to make.
Thankfully, shopping for said essentials now doesn't have to be some big stressful event. All you have to do is head over to QVC to find everything from small kitchen appliances and protective kitchen gear to beautiful table goods to set the stage for your spread. Ahead, uncover 15 Thanksgiving essentials from QVC, which are bound to make you that much more grateful come Thanksgiving prep day.
1. A spacious roasting pan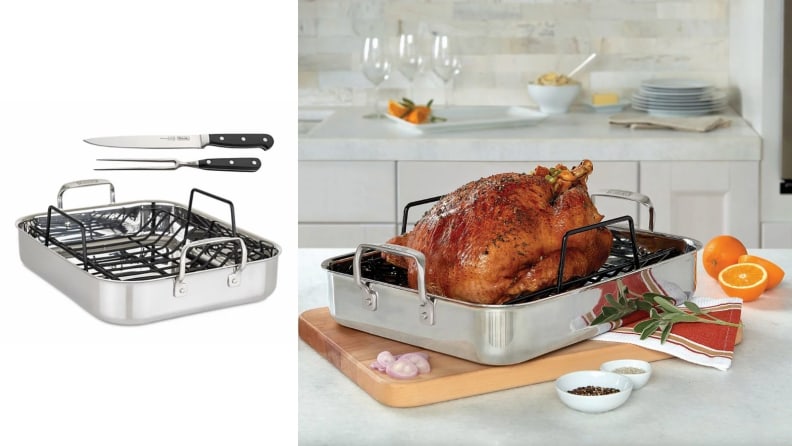 We ranked this Viking 3-Ply Roasting Pan as our #1 pick for Turkey prep. The reason? It's sturdy, has comfortable handles, and distributes heat evenly, so it will help you roast your best turkey yet. It's even great post-use! While it's recommended for hand-wash, it is dishwasher-safe in the event you want to give it a heavier-duty rinse. With all rave reviews come some downsides though, so we'd be remiss not to mention that this pan is a bit bulkier. But what can you expect from a pan fit for a 25-pound bird? (P.S. As if the pan itself weren't enough to make you want to click "Add to Cart" perhaps the fact that it comes with a carving set will push you over the edge.)
Get the Viking 3-Ply Roasting Pan with Rack & Carving Set from QVC for $169.99
2. An easy-to-use electric knife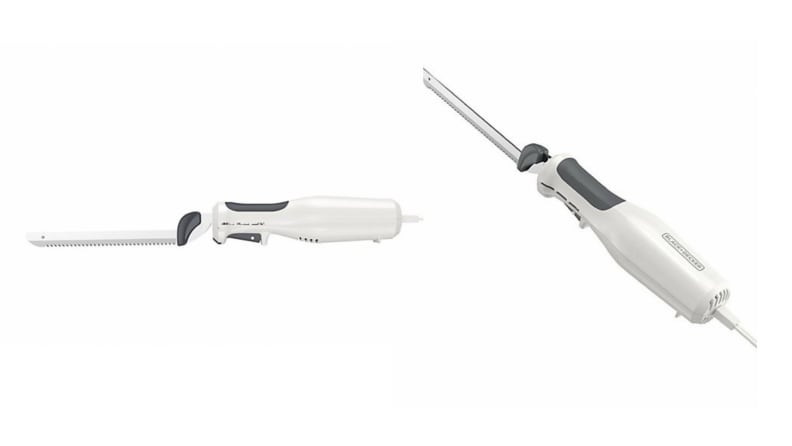 Sometimes a manual knife simply won't cut it for carving the turkey. Thankfully this electric knife (which we also named our favorite electric knife) exists. In addition to being able to expertly slice through the turkey, our reviewers found that this knife is surprisingly quiet and incredibly comfortable to maneuver, making it that much more appealing for Thanksgiving Day prep. v
Get the Black + Decker Slight Right Knife from QVC for $22.99
3. A durable potato ricer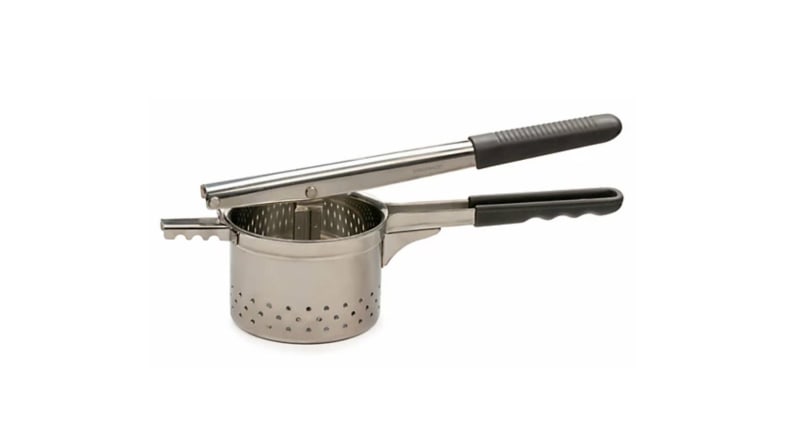 While you might be accustomed to blending your potatoes with a handheld mixer or even smashing them with a fork or potato masher, our reviewers found that using a ricer is the key to creating fluffy, airy mashed taters. We chose a similar model as our best value pick for potato ricers, but this one is made with stainless steel and is dishwasher safe, so it's a bit more durable and bound to last longer.
Get the RSVP Stainless Steel Potato Ricer from QVC for $56.34
4. A non-stick half-sheet cookie pan
A cookie pan will always come in handy during the holidays. Whether you use it to make roasted potatoes, biscuits, cookies, or any number of dishes in between, this non-stick pan will be a godsend. So much so that we named it the best option on the market (sans lid). The reason being is that it's versatile, distributes heat evenly, and is large enough to accommodate Thanksgiving-size portions. Best of all, this particular Nordic Ware half-sheet comes with a lid, so it's great for bringing over to the in-laws or storing in your fridge (so long as you have a large fridge, that is).
Get the Nordic Ware Baker's Half-Sheet Pan with Lid from QVC for $25.75
5. A stainless steel breadmaker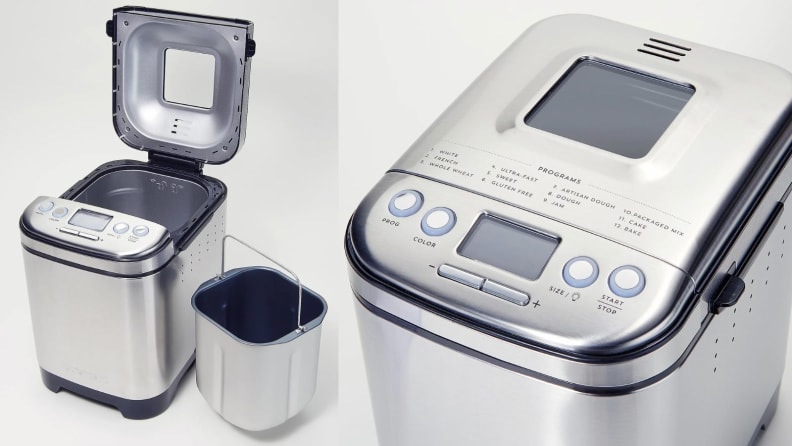 Why buy bread when you can make your own? If 2020 taught us anything, it's that. If you were one of the few folks to not buy a bread maker during the pandemic, now's the perfect time to do so. This Cuisinart one is a fan favorite for its 12 programmable options, 13-hour delay start timer, and ability to make loaves up to two pounds. Just think of all the things you'll be able to make!
Get the Cuisinart 2-pound Automatic Stainless Steel Breadmaker from QVC for $129.98
6. An all-in-one immersion blender and food processor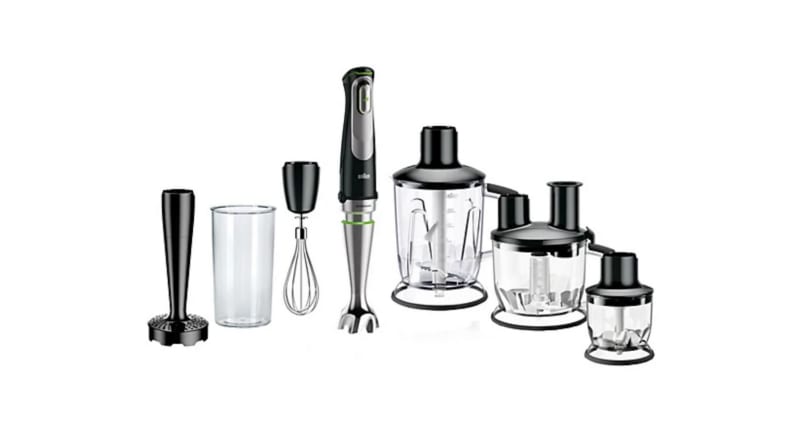 If you have limited kitchen storage space but want to be able to whip up a bunch of different Thanksgiving dishes, you can't go wrong with this versatile kitchen gadget. Complete with nine pieces, the Braun MultiQuick acts as a chopper, hand blender, food processor, and more. With a simple change of accessories (all of which are included), you can use it to mash potatoes, whip cream, julienne veggies, and knead dough, among other things. In other words, it's a no-brainer of a buy for hopeful chefs—Thanksgiving or otherwise.
Get the Braun MultiQuick 9 Hand Blender/Food Processor from QVC for $209.95
7. A speedy, 14-cup food processor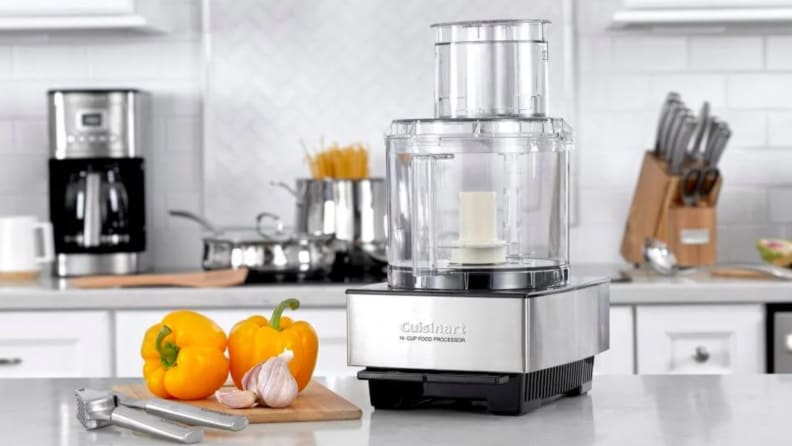 If you prefer the idea of a standalone food processor, however, we're big fans of the Cuisinart 14-cup food processor. It's our top pick for being quiet, fitting under standard cabinets, and excelling at every task—whether that's chopping onions, celery, and garlic for stuffing or using the included attachment to slice potatoes or shred cheese. And since it's a bit larger, you won't have to make as many batches.
Get the Cuisinart Custom 14 Food Processor from QVC for $249.95
8. A festive pumpkin loaf pan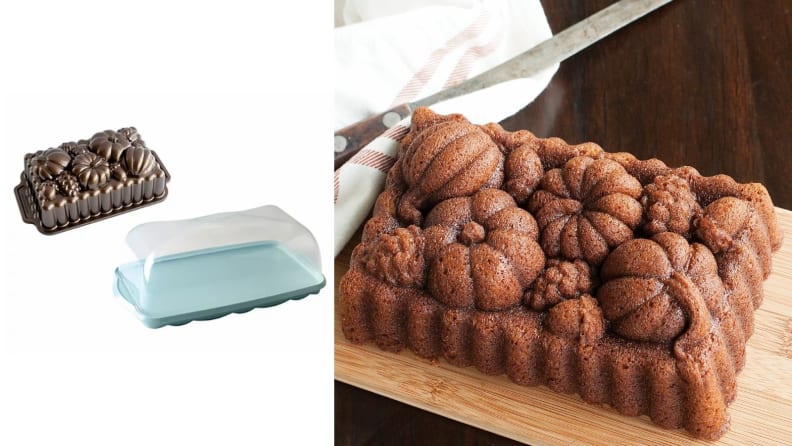 Why make a boring loaf of bread when you can whip up a gorgeous harvest loaf instead? This 6-cup pan works wonderfully for creating pumpkin bread, pound cake, banana bread, and more. In addition to the non-stick cast aluminum pan, this purchase will deliver you with a loaf keeper, too, so you'll have somewhere to keep your pretty baked good fresh.
Get the Nordic Ware Harvest Bounty Loaf Pan & Loaf CakeKeeper from QVC for $51.86
9. A cast-iron casserole dish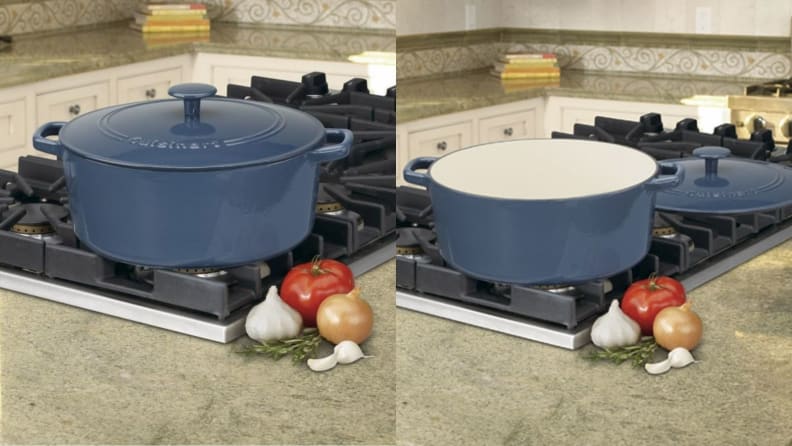 Have you ever made a casserole for Thanksgiving only to wish you had a better way of keeping it warm and fresh than a flimsy piece of aluminum? This covered casserole dish might just be the answer to your prayers. The 7-quart cast iron dish is made with a porcelain exterior and is designed to keep food warm post-cook. And since it's compatible with induction stovetops and is dishwasher-safe, it's a versatile and easy-to-care-for piece that will most definitely go to good use in your kitchen for Thanksgiving and beyond.
Get the Cuisinart Chef's Classic Cast-Iron 7-quart Round Casserole from QVC for $114.95
10. A top-rated hand mixer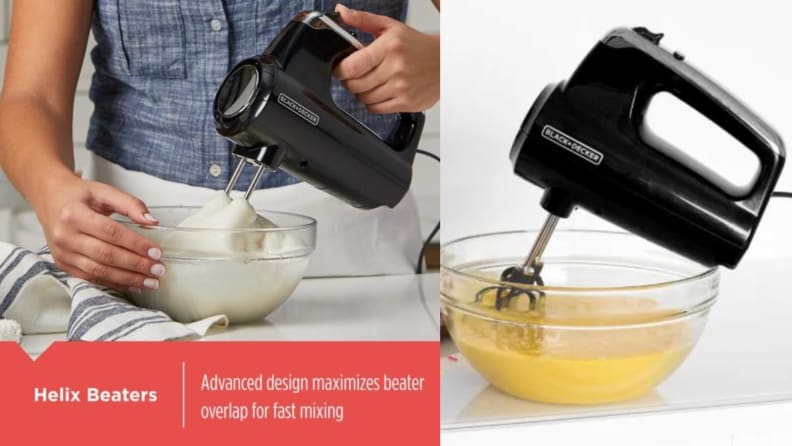 Love the texture of whipped potatoes? Or maybe you plan to make a batch of your famous chocolate chip cookies? Whatever the case may be, it's never a bad idea to have a high-quality hand mixer on hand (no pun intended). This one, which is sold in four colors, is beloved for its 5-speed, turbo-powered design, which makes blending ingredients of all densities and kinds a piece of cake.
Get the Black + Decker Helix Performance Premium Hand Mixer from QVC for $42.99
11. A non-stick muffin pan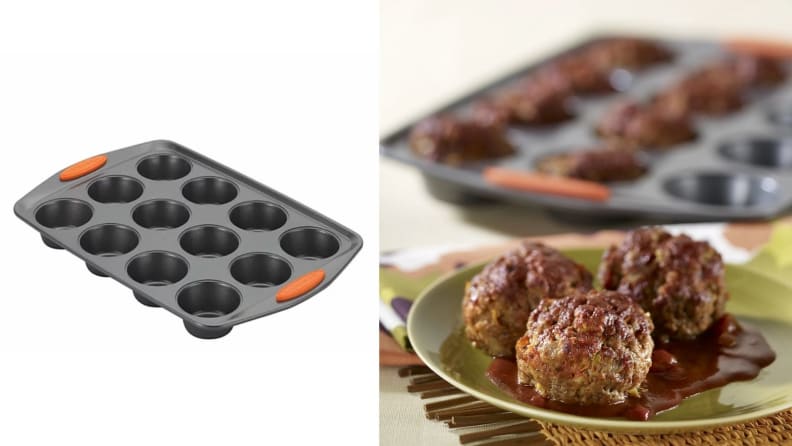 If cornbread is on the menu or you're simply in the market for a pan that can be used to portion out appetizers (like meatballs), this non-stick 12-cup muffin pan is a must. In addition to taking the stress out of potential sticking, this pan comes with grippy silicone handles, so it's easy to take out of the oven, too.
(Fun Fact: If you want to make the easiest and most delicious Thanksgiving rolls, take a page out of my mama's book and fill this pan with not one but two frozen Rhodes dinner rolls per cup. The result is big, easy-to-split rolls that are perfect for cradling butter and other spreads.)
Get the Rachael Ray Yum-o! Nonstick 12-Cup Oven Lovin' Muffin Pan from QVC for $19.49
12. A unique pot holder
The last thing you want to do is injure yourself on Thanksgiving. So, to save yourself from a painful and unsightly burn, equip yourself with one of these unique machine-washable potholders. Simply slip your hands into the spacious mitts and remove whatever you need from the oven. When not in use, you can throw it over your shoulder for easy access. Or, if you need a safe place to put your hot dishes, fold it in half to act as a protective trivet.
Get the Cooking Buddy Embroidered Towel & Pot Holder by Campanelli from QVC for $22.75
13. A seasonal apron
Another thing you'll want to protect while cooking on Thanksgiving is your outfit. This cute seasonal apron will help you do just that. The 100% cotton apron is adjustable thanks to a tie neck and waist, and is machine-washable, making it easy to care for post-use.
Get the Design Imports It's Fall Y'all Apron from QVC for $32.56
14. A beaded table runner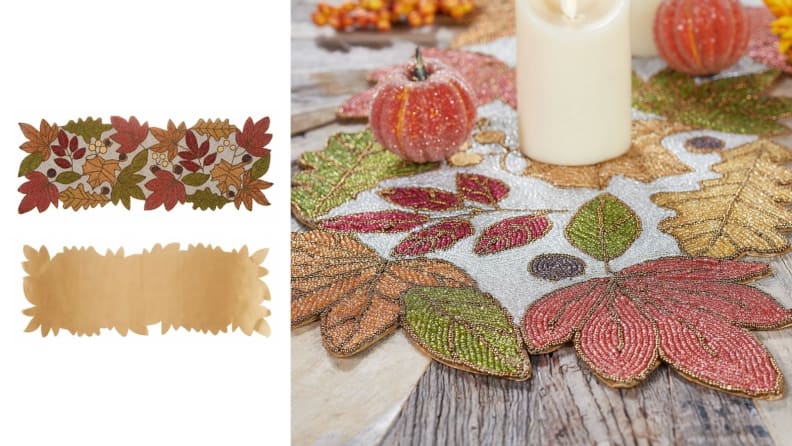 You don't want to put the delicious dishes you worked so hard to make on a boring table, do you? Jazz things up with this beautiful beaded harvest table runner. It will immediately brighten up your tablescape. (Just keep in mind that it's 36 inches long by 13 inches wide so that you can get an idea of how it will look on your specific table.)
Get the 36-inch Beaded Embellished Harvest Leaves Table Runner by Valerie from QVC for $52
15. A trio of seasonal candles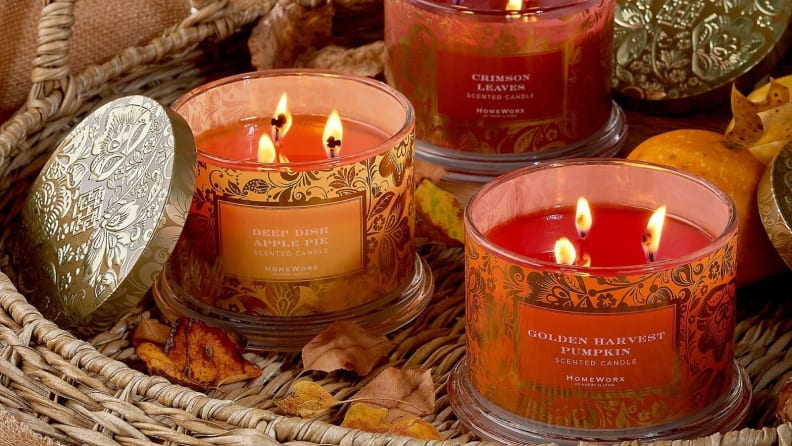 Last but not least, a set of three deliciously-scented seasonal candles will help create a nice ambiance this Turkey Day. After all, as yummy as your Thanksgiving dishes may smell, your home will smell even better with Golden Harvest Pumpkin, Deep Dish Apple Pie, or Crimson Leaves as the backdrop. And, if you fall in love with the scent, you don't have to worry about it burning out before the end of the day. Each 14-ounce candle is designed to burn for up to 40 hours!
Get the HomeWorx by Harry Slatkin Set of 3 14-ounce Fall Favorites Candle Set from QVC for $49.50
The product experts at Reviewed have all your shopping needs covered. Follow Reviewed on Facebook, Twitter, and Instagram for the latest deals, product reviews, and more.
Prices were accurate at the time this article was published but may change over time.