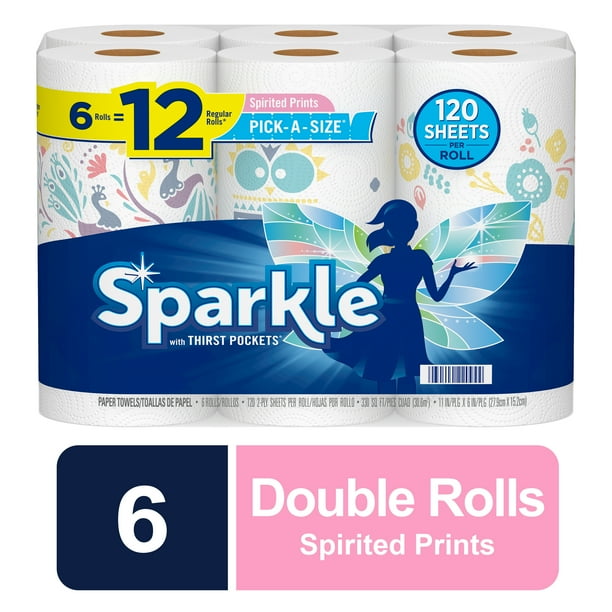 Paper towels were scarce at my local store, and there was a shortage of them last year. Unsure if we will see another shortage of paper towels, but massive shortages are being predicted for the US in the coming months. You can stock up for a great price from Walmart, where a package of 6 double rolls of Sparkle Paper Towels is just $6.44. That works out to just 0.54 per regular roll, and shipping is Free with your order of $35.00 or more, or else you can ship to store and pick up for Free! For comparison, you'll pay 0.71 per regular roll over on Amazon!
Sparkle paper towels with Thirst Pockets
are specifically-designed to be strong and absorbent, and offer all you need to shine at an affordable price. Sparkle Pick-A-Size paper towels work perfectly to clean everyday messes and brighten up your home whether in the kitchen, garage, or bathroom. Each Double Roll contains 120 2-ply sheets. From the kitchen to the bathroom, on a paper towel holder, or on the counter-top, you'll absorb moisture and leave counters and mirrors clean for a house that shines bright every time. Why pay more for everyday little messes? Stock up and save by ordering Sparkle paper towels online!
Sparkle Pick-A-Size Paper Towels, 6 Double Rolls (= 12 Regular Rolls)
Skip the drips with Thirst Pockets™—designed to be strong & absorbent for an affordable, effective clean!
Great for kitchen & household clean-up, with even more uses for food prep, DIY, outdoors & more.
Made with pulp from sustainably sourced trees
Each pack contains 6 Double Rolls of Sparkle Pick-A-Size Paper Towels, with 120 2-ply sheets per roll
Get this deal from Amazon here!
The post 0.54 Regular Rolls of Sparkle Paper Towels from Walmart! appeared first on The Shopper's Apprentice.